Review: Netgear Orbi Blows Away Wi-Fi Mesh Competition
Pros: Incredibly speedy, dedicated Wi-Fi lane for nodes to talk to each other, nodes are clearly labeled

Cons: One of the most unintuitive Wi-Fi mesh systems to set-up, lack of 'on' status, does not allow a 'guest' network
In its marketing literature, Netgear claims its Orbi mesh "whole home" Wi-Fi system provides twice the speed of "other" – either other regular routers or competing mesh systems.

While our tests didn't quite achieve this clean comparative advantage, Netgear's Orbi did blow away the mesh competition for speedy connections.
While Netgear may be glad to grab that exclamation for future marketing collateral material, there is a caveat: Orbis are the largest mesh devices we tested and among the most unintuitive to set-up.
But once you work your way through the process — let's just say it was worth the trouble.
Why does Netgear's Orbi perform so much more robustly than other mesh systems? Netgear has created a dedicated Wi-Fi lane for the nodes to talk to each other — a quad-stream 1.7Gb AC connection for the technical among you. This means node communication doesn't eat into the frequencies you need to connect your varying devices to the internet.
Ergonomics
Each of the two essentially identical white oval tower Orbi nodes, the router, which connects to your cable modem, and the satellite, which is placed elsewhere in your abode, are nearly 9 inches tall, nearly 7 inches wide and just over two inches thick — essentially the size of a hardcover book, about twice to three times the size of other mesh system nodes.
Fortunately, each mode is clearly labeled, "router" and "satellite," so there's no chance of mixing them up. Both the router and the satellite include four Ethernet jacks on their rear in case you want to physically connect a device to your network.
Neither node includes a light to indicate current operational status, just varying colored lights to indicate syncing or if there's a problem. I found this lack of an "on" or status LED to be a bit disconcerting. Such a status "on" light is comforting — that notifier just lets me know all is well.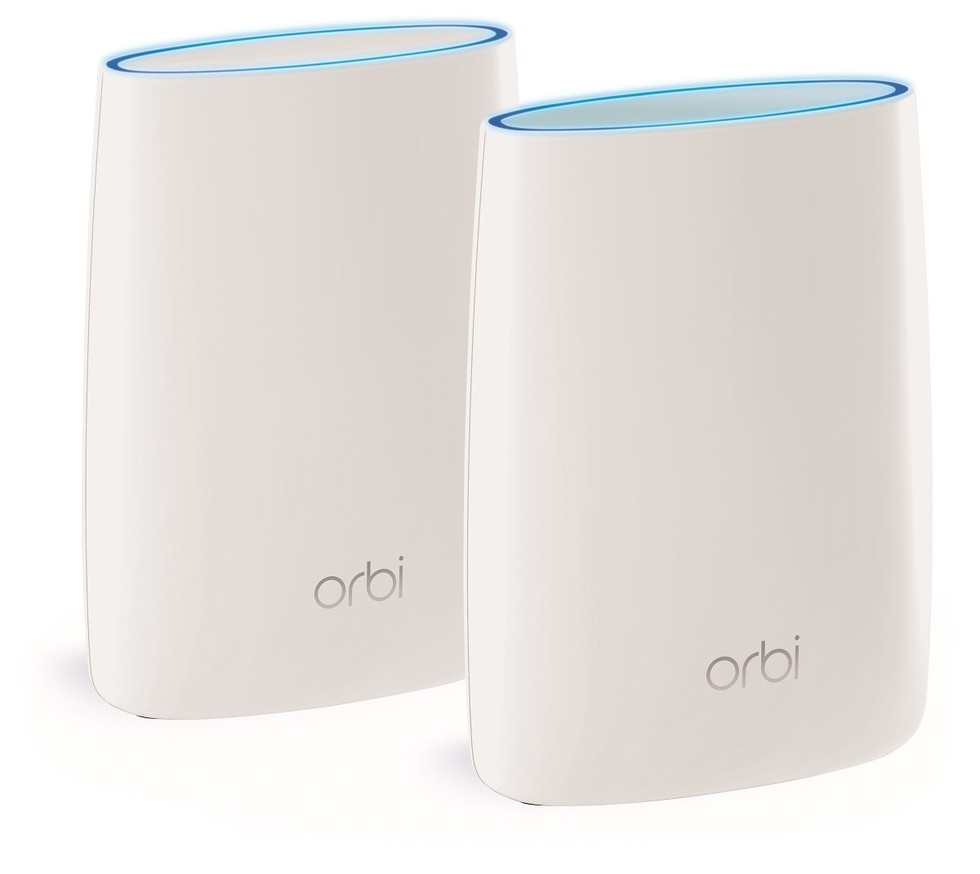 Netgear Orbi lacks lights to let you know it's on—but speeds are impressive.
Set-up
It almost seems Netgear intended to make set-up and control of the Orbi as difficult as possible. For one thing, there was no smartphone app as there are with other mesh systems to guide me through the setup, just a printed "Quick Start Guide."
But the first instruction in this Guide is to "remove and replace the backup battery if it uses one" from the cable modem. First, how am I supposed to know if my modem has a backup battery, and replace it with what? You mean take it out and put it back in? When do you put it back? Mind you, this is the FIRST instruction, which doesn't bode well. (I did neither, by the way, which means this initial step is actually unnecessary.)
In late November, weeks after I got my review system, Netgear released a smartphone app. Since I already had my Orbi system set-up, I can't judge its effectiveness. Even though this new app hasn't been positively received by users, it has to be better than the unnecessarily confusing and jargon-filled process at http://orbilogin.com, which the Guide instructs you to navigate to on your PC.
If you buy Orbi, download the app – don't use the web site. I theoretically know my way around this stuff, yet managed to successfully set-up the system with my own password only through time-consuming trial-and-error.
Performance
Once I managed to get the Orbi system set up — wow. On my MacBook Pro, Orbi delivered up to 351.52mbps of download speed, and averaged nearly a third speedier performance than other mesh systems.
More practically, Orbi downloaded a 3GB film in less than 8.5 minutes. Only the Portal delivered the same file as fast, with all the other systems needing more than 10 minutes to complete the same download.
Orbi also delivered equally speedy service up to around 45 feet away, consistently connecting to Netflix in less than 15 seconds on my iPad Air 2, the fastest of all the systems I tested by several seconds.
Unfortunately, the app doesn't offer ways to set up a guest network or offer any parental controls.
Conclusion
Much of Orbi's speed advantage could disappear if you don't have 300mbps service. If you have 100mbps service or less, Orbi's performance could level out with the other mesh systems, bringing other considerations to bear, such as price and your home's layout.
Orbi says its router-satellite bundle can bathe a 4,000 square foot home with Wi-Fi, but your results will depend on how many physical barriers the system's signal will encounter. Orbi also is pricey — $400 for the two-piece system, $250 for each single add-on satellite.
Therefore, I'd recommend Orbi mainly for those with expansive homes with few rooms, who subscribe to the speediest internet subscription package available, and those with demanding internet connectivity needs. Less demanding users in more expansive environments may want to opt for a less powerful, less expensive but more expandable system, such as Ubiquity's AmpliFi or Plume, which we have also tested — and will have reviews coming soon.