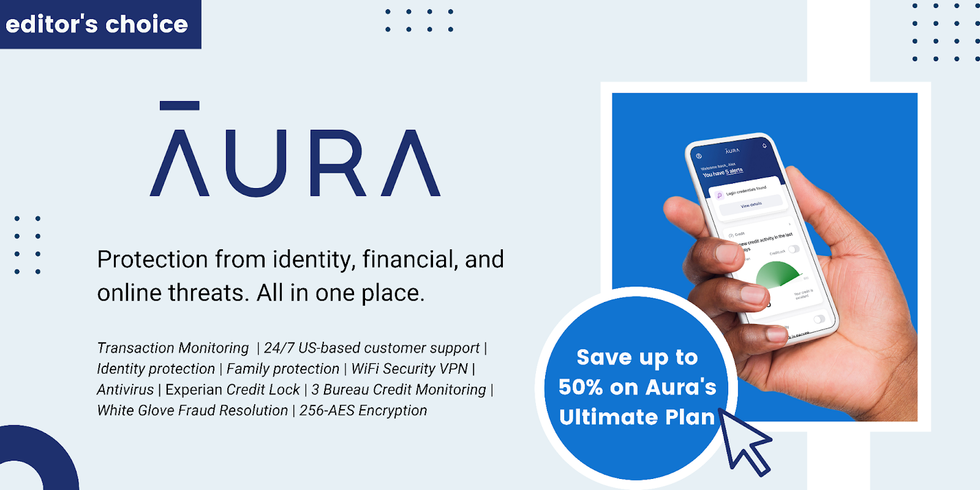 One Company, One Login For All The Protection You Need!
Stuffing personal information under the mattress just doesn't cut it anymore.
In this digital age, you'd be hard-pressed to find someone who doesn't have a range of online profiles. But, you'd be even more hard-pressed to find someone who can confidently say they have all their digital assets protected.
Safe, secure, online profiles have begun to sound like an oxymoron. With technology advancing (and cyber threats along with it), there's never been a more difficult time to keep a lock on all your digital assets.
We can't go back to paper trails and the thought of having zero digital protection sends shivers down our very real spines. That's why when we heard about one digital security company that provides serious depth and protection, we couldn't help but take a closer look.
Aura is an all-in-one digital security company that helps protect you from threats including identity theft, financial fraud, and online threats. While you'd traditionally have to employ three different companies for three different kinds of protection, Aura keeps it all under one umbrella, making it a one-stop security blanket.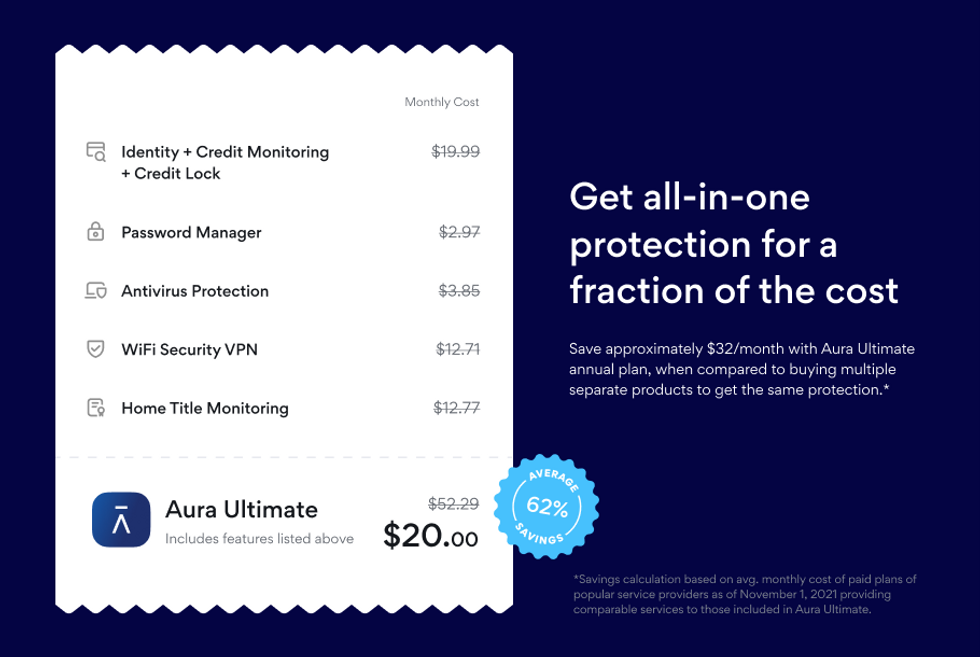 Here's everything Aura includes to make sure your assets are covered:
Transaction Monitoring
24/7 US-based customer support
Identity protection
Family identity monitoring
WiFi Security VPN
Antivirus
Experian Credit Lock
3 Bureau Credit Monitoring
And that's just the beginning… Their packages are next level and provide even more security. All of Aura's plans are backed by $1,000,000 Insurance Coverage* which covers any eligible losses due to identity theft and fraud.
They offer Basic, Total, and Ultimate protection plans, and if we're being honest, we think even their Basic option is more robust and inclusive than any other digital security company offering. Basic is priced at $7 a month, Total is $13, and Ultimate $20 a month, offering the most savings and the best all-around protection.
Here are some of the Ultimate Plan's offerings broken down:
Premium Identify Monitoring. Online accounts, SSN, Home Title and Address, Criminal and Court Records, Password manager, identity verification monitoring
Premium Financial Fraud Protection. Credit monitoring, monthly credit score, Experian credit lock, bank account monitoring, annual credit report, financial transaction monitoring, 401(k) and investment account monitoring
Device and Network Protection. Antivirus - 10 devices per adult, WiFi Security VPN
Customer Support. 24/7 Customer Support, White Glove Fraud Resolution
Regardless of any package or plan, we've agreed that Aura provides the best-in-class protection. The ability to house your digital assets in one place makes digital monitoring practically effortless. And for those who may be thinking that your assets in one place sounds nerve-wracking, Aura secures your information with 256-AES, which is the same encryption technology used by major banks and the military.
For the price, protection, and huge range of package perks, Aura is the only digital security company we trust.