When you think of smart speakers, Google Home and Amazon Echo likely come to mind, or even the small, sub-$50 Home Mini and Echo Dot variants.
While these speakers are certainly smart — they have the same intelligence as any other with Alexa and/or the Google Assistant baked in — they provide mediocre volume and sound quality.
Read More:
You can always plug one into a bigger, better speaker, or hook up on Amazon Echo Input. But now there is a growing range of premium smart speakers to choose from to bring improved sound to your home.
Most of these speakers contain a voice assistant and offer all of the features that technology brings, but also bring high-quality audio and room-filling acoustic power to the party. Some also boast attention-grabbing design, making them as visually interesting as they are acoustically captivating.
Here are some of the best premium smart speakers for sale in 2019:
Sonos One - $199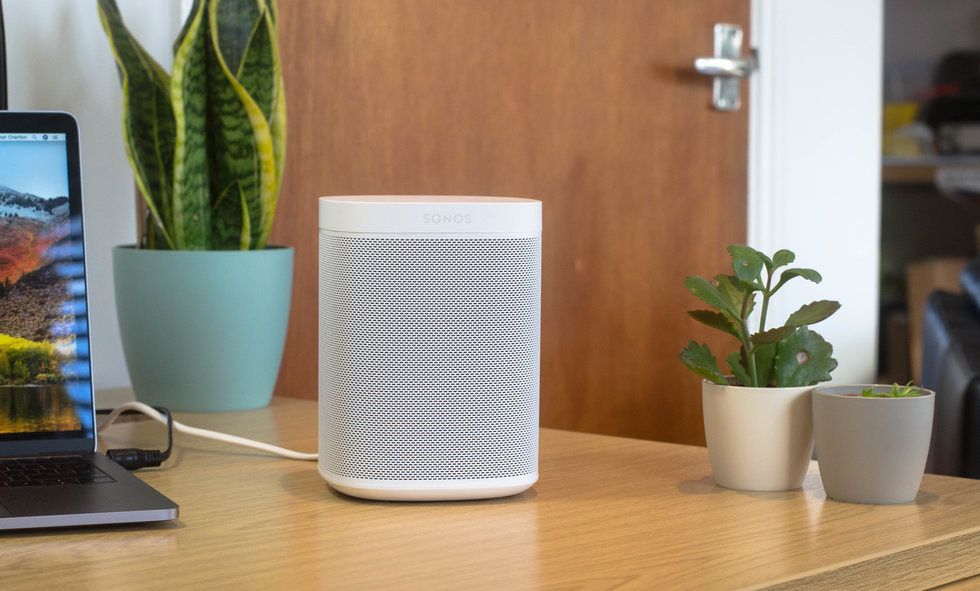 The Sonos One has Alexa and Google Assistant GearBrain
Arguably the first premium smart speaker, the Sonos One is one of very few speakers which can run both Alexa and Google Assistant. You can't have both systems listening at the same time, as you have to select one or the other in the Sonos smartphone app, but it's a useful setup nonetheless.

All Sonos speakers can be connected together to create a whole-home audio system, where you can play different music in each room, or the same through every speaker at once. Sonos speakers have access to dozens of music streaming services, plus radio stations and podcast platforms.
As for the One itself, it is a compact speaker but one that packs a good amount of power and produces crystal clear audio, even at high volume. You can wireless connect two together to create an audio pair — perfect for sitting either side of your record player or computer monitor.
Read the GearBrain review of the Sonos One here.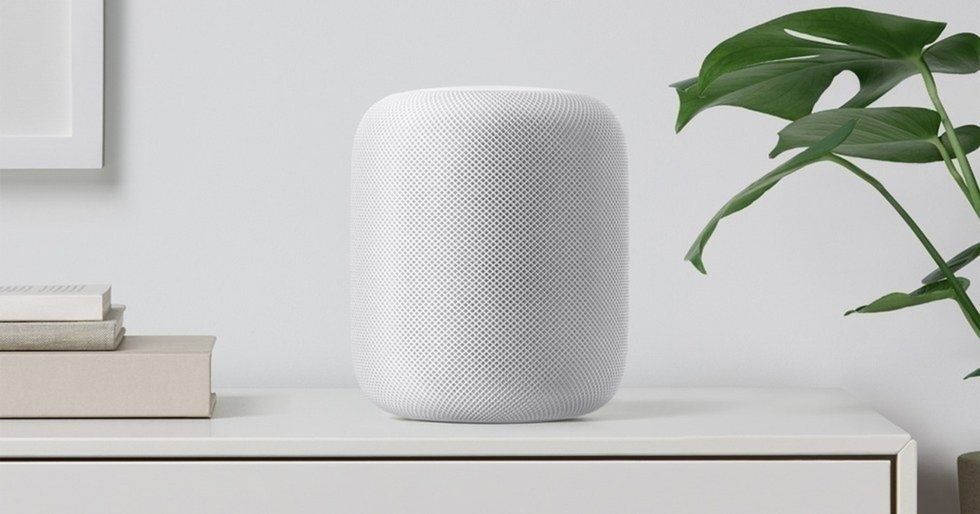 The HomePod has Siri and costs $299 Apple
Apple's one and only smart speaker is also a premium product, featuring a system which adjusts the music output based on the speaker's surroundings. You can place it up against a wall, or even in the corner of a room, and the software will work out what to do, producing the best sound possible for that specific environment.

Siri might not be the smartest voice assistant on the block, but Apple has gradually updated it to at least be in the same league as Alexa and Google Assistant. An update due later this year will let Siri understand who is speaking to it, then serve up personalized results to your questions and instructions.
Like some other smart speakers, two HomePods can be wirelessly connected to create a stereo pair. The HomePod recently had its price cut from $349 to $299. (Available at Best Buy for $299)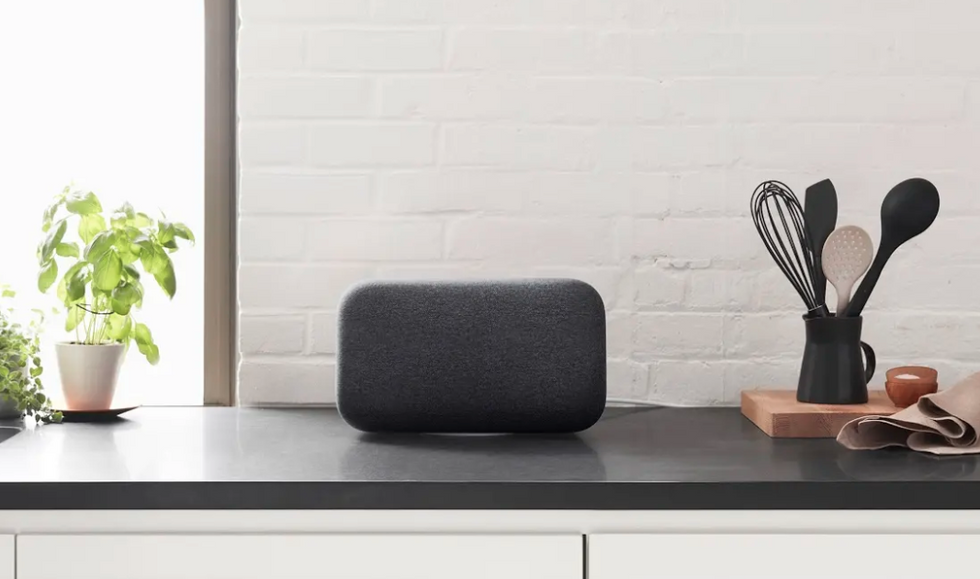 The Home Max is far more powerful speaker than the rest of the Home smart speaker rangeGoogle
We haven't included the regular Google Home in this article as we felt the pint-size speaker doesn't offer the premium sound we're looking for. However, the much larger (and admittedly more expensive) Google Home Max is a different story.

Priced at $399, the Google Assistant-equipped Home Max contains two 4.5-inch woofers along with a pair of tweeters, packed inside a quality fabric housing. A feature called Smart Sound uses machine learning to automatically adjust the sound settings to match the acoustic of the room, similar to how the Apple HomePod works.
The Home Max is designed to be placed horizontally or vertically, and when paired with a second device they turn into a stereo pair, creating individual left and right channels. The Google Home Max offers a good range of connection options, including Wi-Fi and Bluetooth for streaming, plus an auxiliary input for connecting to a sound system or even a record player.
Bose Home Speaker 500 - $400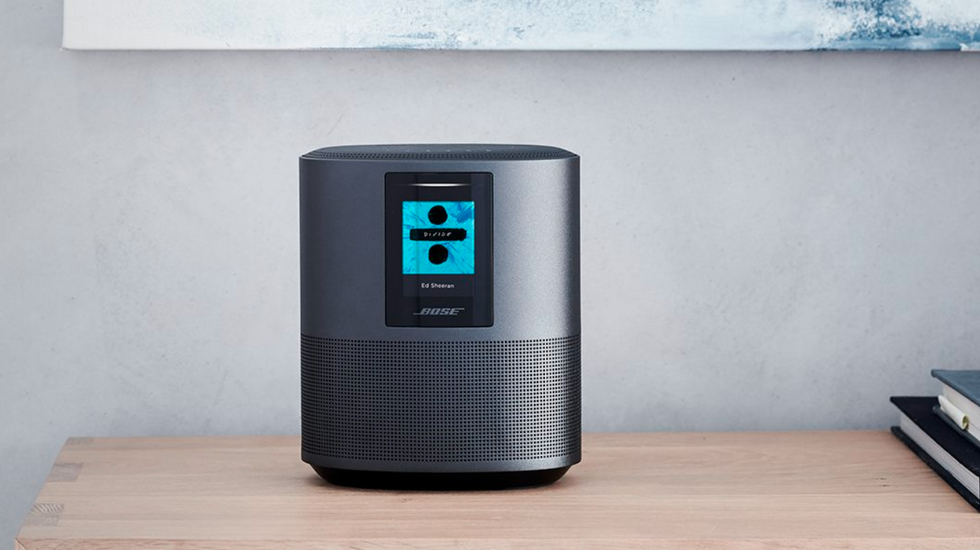 The Home Speaker 500 costs $400 and has Alexa and Google Assistant Bose
The $400 Home Speaker 500 and $260 Home Speaker 300 work with both Amazon Alexa and Google Assistant, with the Bose app letting you pick one or the other.

The Home Speaker 500 has what Bose claims to be "wall-to-wall stereo" sound which fills a room wherever the speaker is placed, by emitting sound in opposite directions and bouncing it off the surrounding walls. Bose claims this device produces a wider soundstage than any other smart speaker at this level of the market.
There is a color display on the front that shows the album art of your music, and this is also a touch screen, acting as a way to interact with the speaker and adjust some basic settings without speaking to an assistant. Apple AirPlay 2 is onboard, along with Amazon Alexa and the newly-added Google Assistant.
The Bose also gets Wi-Fi and Bluetooth for connecting to your devices, and the Bose app includes support for Spotify, Deezer, Amazon Music and TuneIn.
Sonos Beam - $400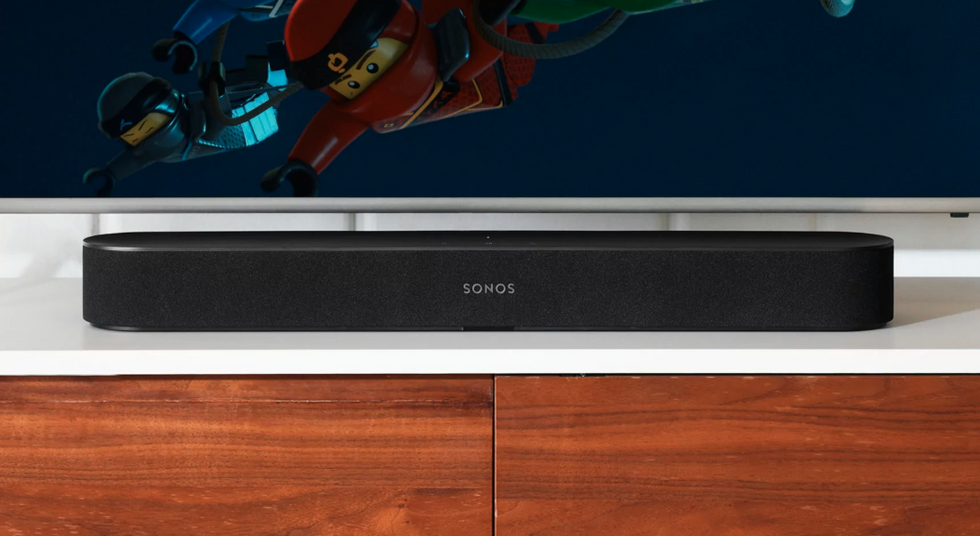 The Beam works with both Amazon Alexa and Google Assistant Sonos
A television sound bar by Sonos, the Beam also benefits from being able to use either Alexa or Google Assistant. As well as being a room's main audio system, the Beam is designed to sit neatly below your television and produce high-quality audio for TV, video games and movies.

You can connect the Beam to a whole-home audio system via the Sonos app, and pair it with two more Sonos speakers (the One, for example) to create a wireless surround sound system.
Harman Kardon Citation - $200 to $2,500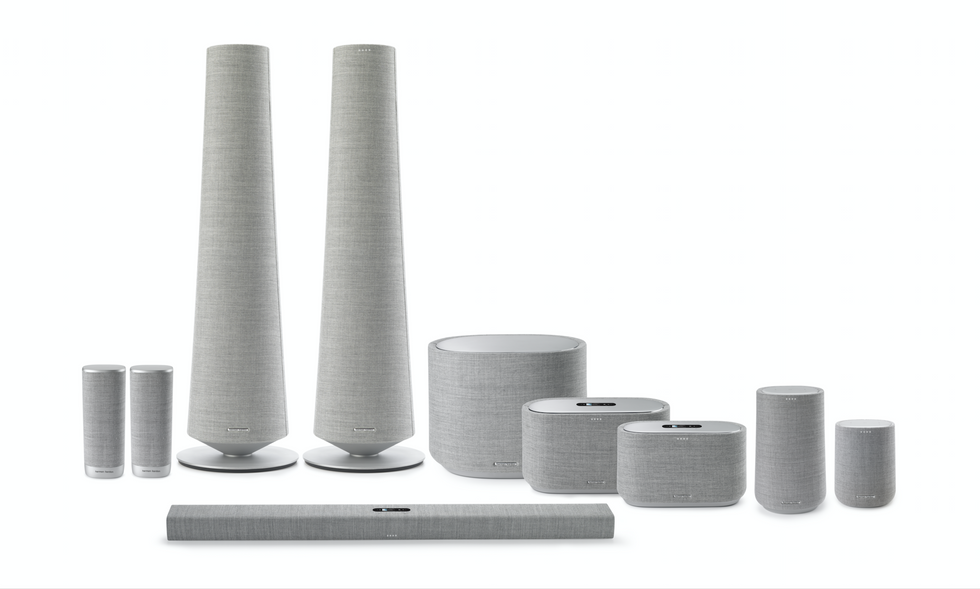 The Citation range with Google Assistant spans from $200 to $2,500 Harman Kardon
Rather than one speaker, the Citation range by Harman Kardon is made up of eight different types of speaker. All offer a premium fabric finish (in gray or black) and all include the Google Assistant.

The range starts with the $200 One, which is similar in size and performance to the Sonos One, then goes through the Citation 100, 300 and 500 (priced at $300, $400 and $600). There is also the $1,000 Citation Bar TV sound bar, a complimenting $800 subwoofer, a pair of tower speakers ($2,500) which act as a stereo pair, and a pair of smaller bookshelf speakers ($500).
You can sync together the sound bar, tower and bookshelf speakers, and the subwoofer, to create a wireless surround sound system. All but the entry-level Citation One feature a small touch screen display for controlling music playback (when you don't want to speak to the Google Assistant or use your phone) and viewing album art.
Every model in the Citation range has Chromecast built in for easy streaming of music from your smartphone, along with Bluetooth and Dolby Audio.
Naim Mu-so 2 - $1,600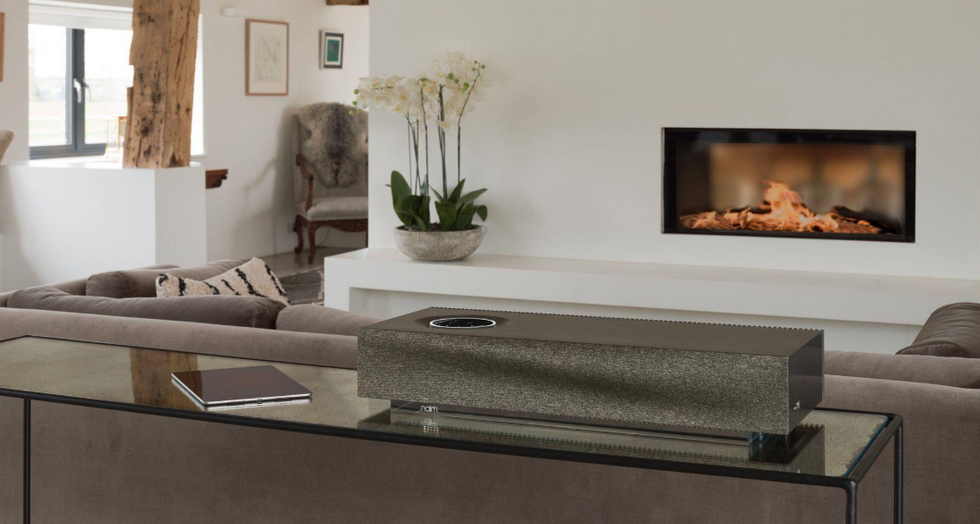 The $1,600 Mu-so 2 has no voice assistant, but offers Spotify, Tidal, AirPlay 2, Chromecast and BluetoothNaim
Naim is a British audio company best known for very high-end stereo systems with premium sound and made up from separate units and speakers. However, with its recent Mu-so speaker, the company has started making all-in-one streaming speakers, too.

The new Mu-so 2 doesn't yet offer a voice assistant (although the company says it is looking into it), but does offer Spotify, Tidal, Chromecast, and Bluetooth streaming, making it smarter and more connected than anything Naim has made before. Apple AirPlay 2 support means you can control the Mu-so 2 by speaking to Sir on your iPhone.
The Mu-so offers multi-room audio similar to Sonos, and can be plugged into a TV via an HDMI cable to act as a high-end sound bar, too. Naim says some of the music streaming components found in the Mu-so 2 are shared with its $25,000 ND 55 flagship system.
You can play music on the Mu-so 2 from your phone over Bluetooth, or stream from services like Spotify over Wi-Fi, plug into a TV system over HDMI, or hook up a record player via the universal 3.5mm stereo jack input. All can be controlled with a conventional remote, or the Naim app for iOS and Android.
Read More:
How Naim builds smart sound systems for luxury yachts
Bang & Olufsen Beoplay A9 - $3,000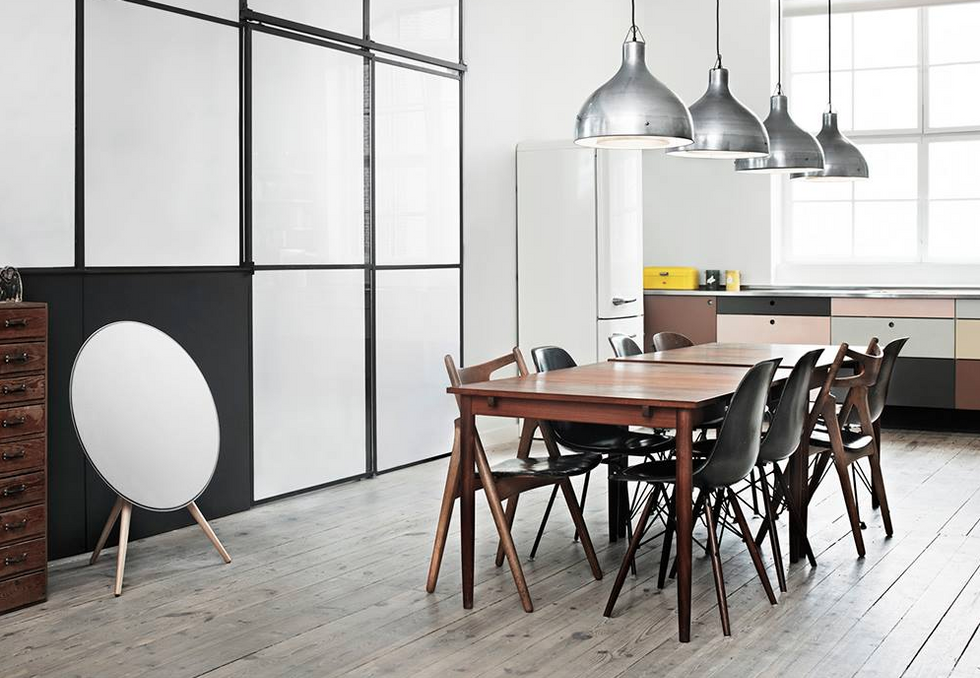 The circular Beoplay A9 makes a statement wherever you put itBang & Olufsen
A statement piece if ever there was one, the design of the Beosound A9 is a few years old now, but the internals were recently updated for its fourth generation, and now there's Google Assistant integration. The huge speaker, which actually houses seven individual drivers, is finished in Kvadrat fabric (the same as the Harman Citation range) and is offered in a range of colors.

As well as having Google Assistant baked in for voice control, the Beoplay A9 has Apple AirPlay 2 and Google Chromecast support for multi-room music streaming.
At just over 32 pounds, 27 inches across and 35 inches tall when stood on its three-legged stand, this is a huge speaker which is as much a statement ornament as it is a music system. The fabric, wood and aluminum A9 is available in black, white, "smoked oak" and with bronze detailing.
Bang & Olufsen Beosound 2 - $2,250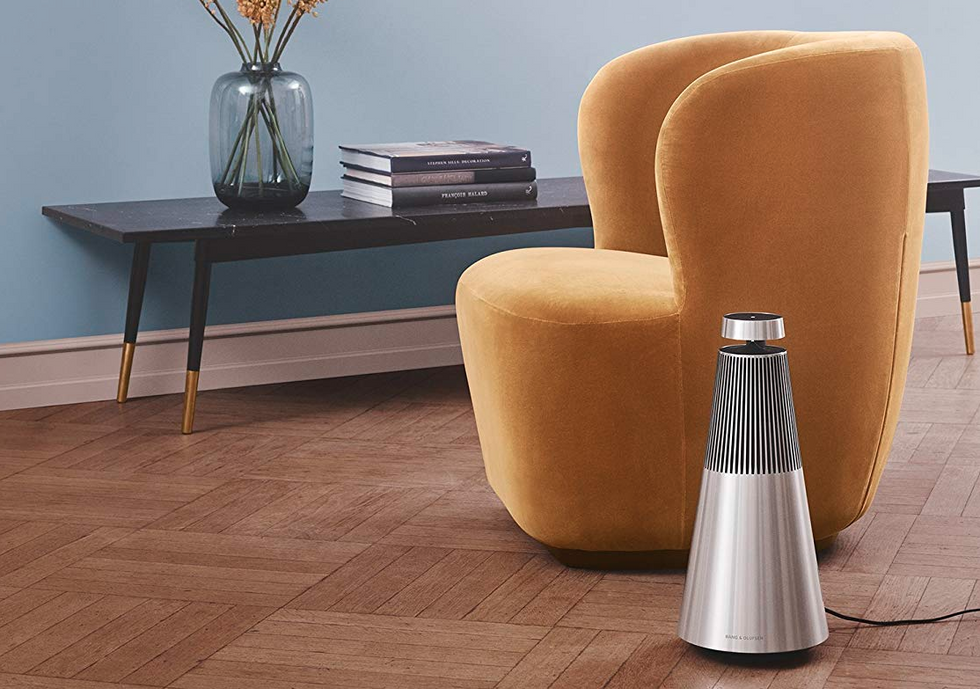 The Beosound 2 includes Google Assistant, plus Apple AirPlay 2 and Google ChromecastBang & Olufsen
This cone-shaped aluminum speaker has Google Assistant, along with Google Chromecast and B&O's own Beolink Multiroom system, plus Bluetooth.

You can control music by speaking to the assistant, tapping at the Google Home app on your smartphone, or with a simple control panel on top of the device. There are also four buttons which can be programmed as shortcuts for performing certain tasks, like having the Google Assistant read out the weather forecast, or play your favorite radio station.
The BeoSound 2 also has Apple's AirPlay 2 built in, so you can ask Siri on your Apple device to control it too. Inside, there is one large, 5-inch woofer, two mid-range speakers, and a single tweeter.
What You Need To Know About Smart Speaker Assistants www.youtube.com