Like GearBrain on Facebook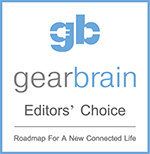 With the weather getting warmer and summer coming soon, it's time to take your music outside and enjoy some tunes by the pool, at the beach, or on your next camping adventure. Thankfully, these Bluetooth smart speakers are up to the job, as they all offer water resistance and will not be damaged if you drop them into up to a meter of water.
These speakers cover a wide price range, from $40 all the way up to $280, and most are also small enough to fit in your bag, or even be used in the shower or while you take a bath. All of these speakers offer a Bluetooth connection for streaming music from your smartphone or tablet, while some also include an auxiliary port for connecting with a cable, and some include Wi-Fi and the Amazon Alexa voice assistant, too.
Best Waterproof Bluetooth Speakers for the Shower, Beach and Poolwww.youtube.com
Read More:
Ultimate Ears Wonderboom 2 – $90 on Amazon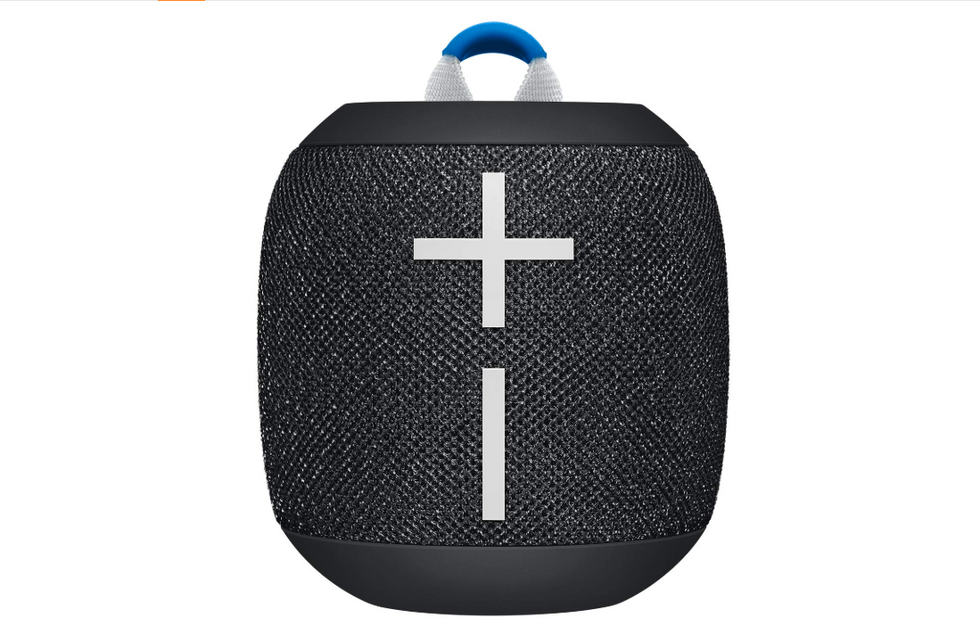 The Wonderboom 2 is just four inches tall, but packs a punchUltimate Ears
Available in blue, gray, black and red – and more affordable than ever, at $80 – the Wonderboom 2 speaker by Ultimate Ears is remarkably compact and portable, yet offers 13 hours of Bluetooth audio playback, is water resistant, and has a rugged, drop-proof construction. It also floats, so there's no need to worry is you drop it in the swimming pool.
Oversize volume up and down buttons take up much of the front of the speaker, making it really easy to adjust the audio levels, and there's a useful fabric hook on top to clip it to your backpack, or maybe hang it up in the middle of a tent.
Compared to the original Wonderboom, this second-generation model has more bass, 30 percent extra battery life, waterproofing, and the option to pair two together to create wireless stereo sound. The speaker is just four inches tall, 3.4 inches wide, and weighs 1.4 pounds.
Ampere Shower Power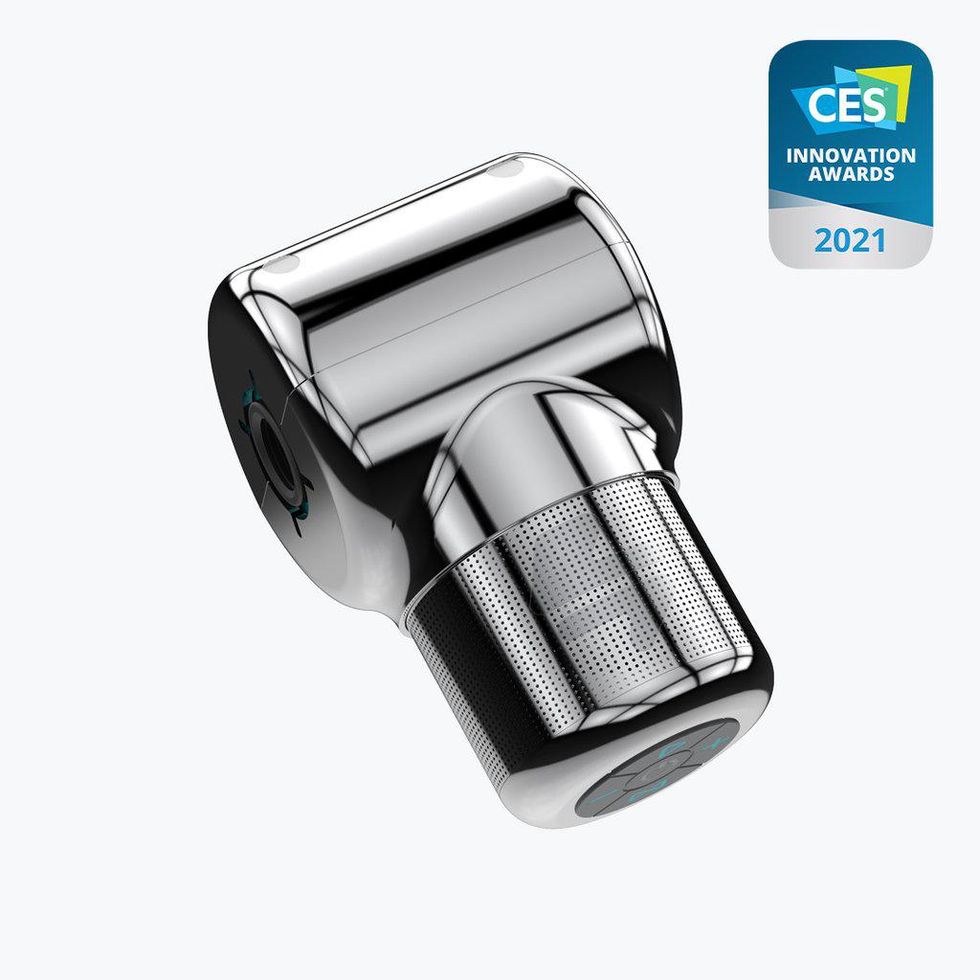 Ampere Shower Power Bluetooth Speaker.www.gearbrain.com
Do you like to sing in the shower or have music playing? If so, you have to check out Ampere Show Power Speaker. It is a hydropower Bluetooth shower speaker that is 100% waterproof and runs on the water from your shower. This speaker uses hydropower to bring the music and sounds you want with never having to recharge it.
Ampere Shower Power connects to any shower head (fixed, rain or handheld) and is easy to install. It works on a Bluetooth 5.0 connection and has 360-degree immersive sound. And when the shower is off, Shower Power can play music for up to 14 hours. it costs only $99 and available on the company website.
Ultimate Ears Boom 3 – $146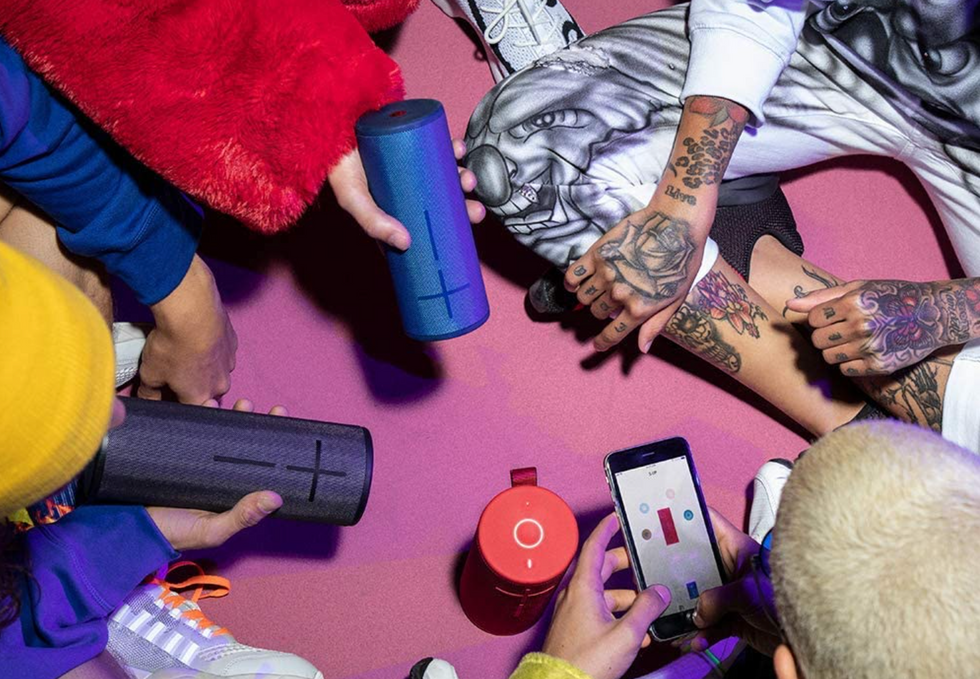 The waterproof Boom 3 is priced at $135Ultimate Ears
If you have a larger budget, then Ultimate Ears also sells the Boom 3. This speaker is just s portable and waterproof as the Wonderboom 2, but has a longer 15-hour battery life and produces 360-degree sound thank to twin 2-inch drivers and a pair of 2x4-inch passive radiators.

The Boom 3 is available in five different colors and can also be bought with a convenient charging dock. An IP67 rating means it won't be damaged by water, even when completely submerged, and it even floats to help you retrieve it when it falls into the pool. A customizable button can be used to control music playback, but is also configurable so that one press cues up a customer playlist.
Sonos Roam – $179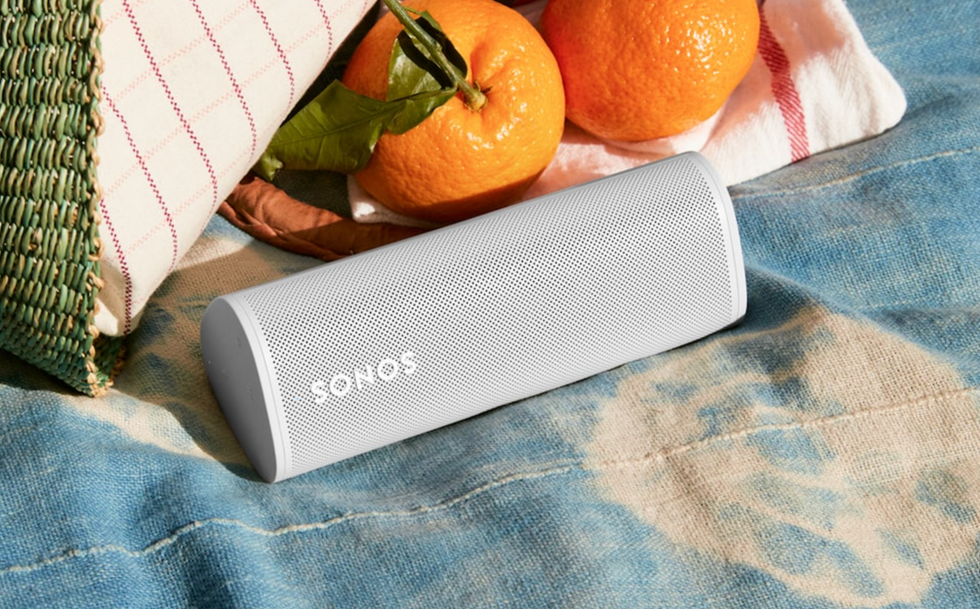 The Roam is currently the only waterproof speaker from Sonos Sonos
The Roam is the newest speaker from Sonos, and while it has a fairly high price for its size, it comes from a company synonymous with quality audio. It also has the all-important IP67 rating, meaning it can survive an accidental dip in the pool.

It is also highly portable, weighing just under a pound and featuring USB-C charging, NFC, Wi-Fi and Bluetooth 5. The Sonos Roam acts as a Bluetooth speaker outdoors, then transitions into a Wi-Fi speaker – and part of your Sonos network, if you already have one – indoors. When connected to Wi-Fi the Roam has the option of working with either Alexa or Google Assistant.
JBL Charge 5 – $180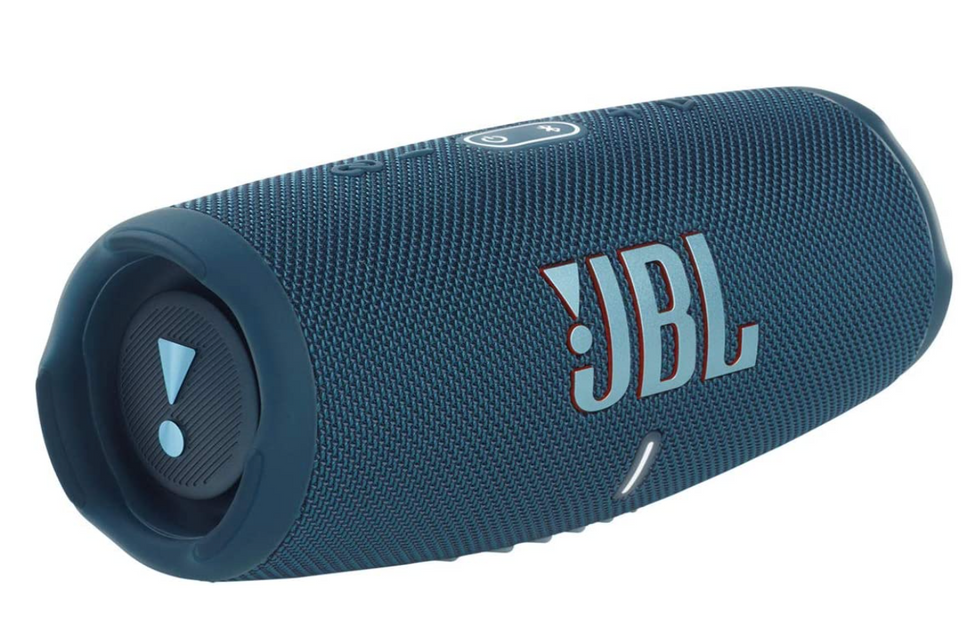 JBL Charge 5 waterproof Bluetooth speakerJBL
Available in six different colors, the Charge 5 by JBL is a solid all-rounder when it comes to a waterproof wireless speaker. The battery is claimed to last for up to 20 hours when streaming over Bluetooth, the same as its Charge 4 predecessor, and there's also a USB port for charging your smartphone, should its battery run low.

Being IP67 rated, the Charge 5 is sufficiently water resistant to survive being submerged in water for short periods of time.
A feature called PartyBoost enabled two compatible JBL speakers to be wirelessly linked together, creating a stereo pair, or you can hook up several speakers to create a larger sound system. This is a fairly compact speaker, weighing in at 2.1 pounds and measuring 8.7 x 3.67 x 3.76 inches.
Bose SoundLink Color II – $129 ($99 on Amazon)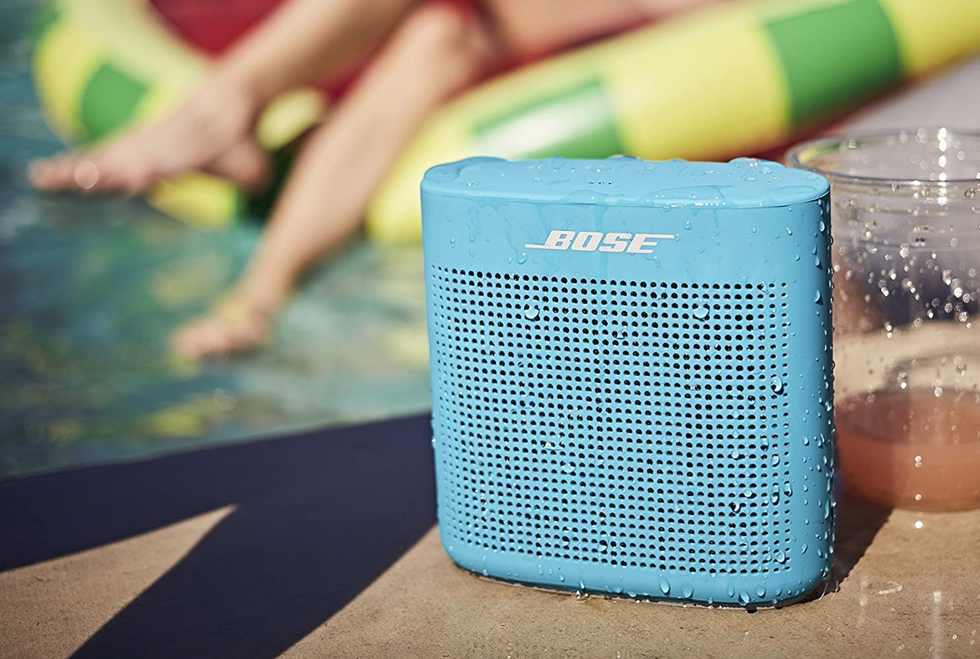 Bose SoundLink Color II Bluetooth speakerBose
The battery of this Bose speaker is limited to just eight hours of music playback, but we still think this is plenty for most users, and when you're buying into the Bose name you know sound quality is going to be a top feature.

Bose sells the second-generation SoundLink Color speaker in a range of vibrant colors, including aqua blue, citron and coral red, as well as the more traditional white and black. The Bose can be connected to your smartphone by Bluetooth or via the headphone jack. There's a microphone built in too, so you can access your phone's voice assistant, be it Siri on iPhones or the Google Assistant on Android handsets. There's also a quick-pairing feature that uses NFC to hook your phone up to the speaker with a tap.
A stereo pair can be created with two of these speakers, and the rugged, water resistant body means it can be used by the pool, in the shower, or on the beach without concern. Water resistance is rated at IPX4, which means it will survive a splash but shouldn't be used in the rain and might not survive a fall into the pool.
JBL Clip 4 – $60 on Amazon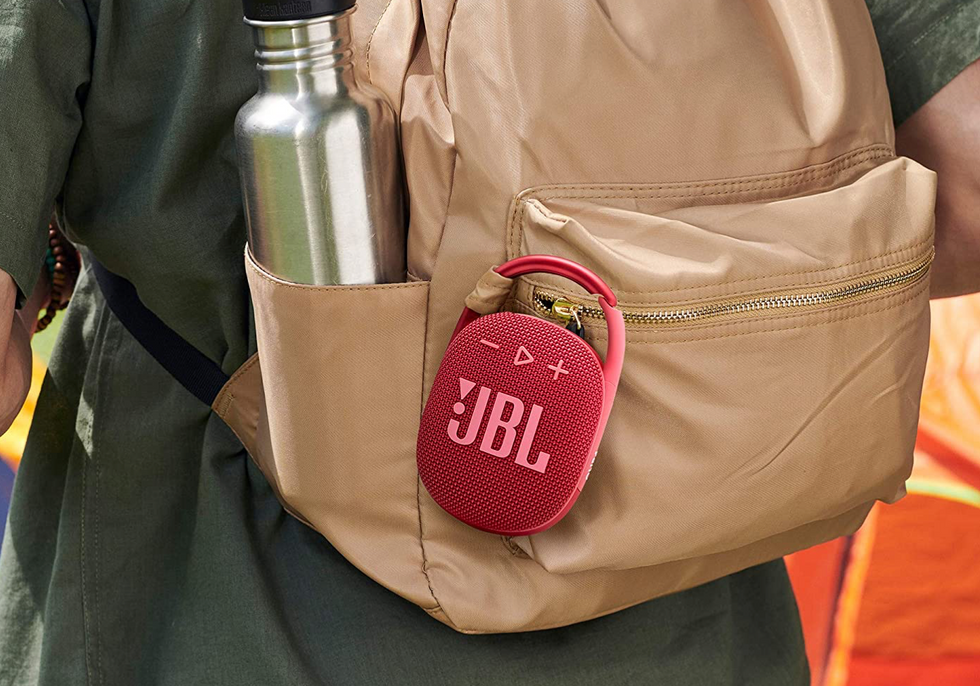 The JBL Clip 4 has an IP67 water resistance ratingJBL
Despite its compact size, the JBL Clip 4 offers up to 10 hours of battery life and will survive being submerged in a meter of water for up to 30 minutes. It is also resistant to dust and sand, and has an integrated carabiner for clipping it to your backpack, or maybe to the shower curtain too.

The Clip 3 weighs just 0.53 pounds and weighs 5.3 x 3.4 x 1.9 inches. JBL sells the Clip 4 in six different colors, including blue, black, pink and gray.
You can't connect multiple JBL Clips together to create a stereo pair, as you can the aforementioned JBL Charge, but we think the benefits of a low price and the integrated carabiner more than make up for this missing feature. With its water resistance, clip and big buttons, we think it is quite possibly the perfect shower speaker.
Anker Soundcore 2 – $40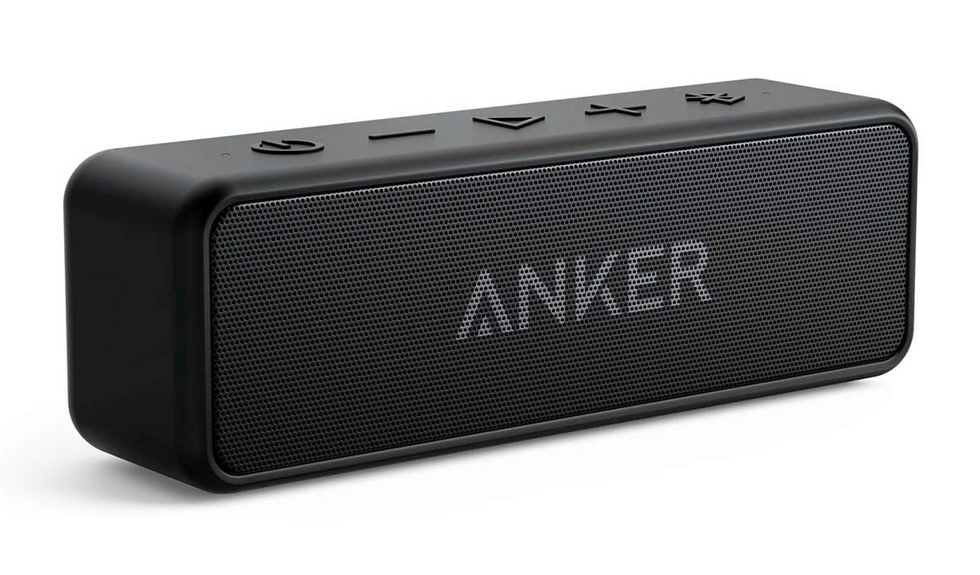 The Soundcore 2 promises 24 hours of battery lifeAnker
Anker is a reputable name when it comes to well-priced accessories like speakers, Bluetooth devices, cables and battery packs. This second-generation Soundcore wireless speaker is available in black, blue and red, has a huge 24 hours of claimed battery life, and a large 12W of audio power.
You can wirelessly sync two together to create a stereo pair (a common feature among these speakers, we are sure you have noticed), and an IPX7 rating means it will survive the usual benchmark of being dropping into a meter of water for up to 30 minutes. You'll have nothing to worry about when placing this speaker on the side of the bath, or taking it to your next pool party.
Ultimate Ears Megablast – $349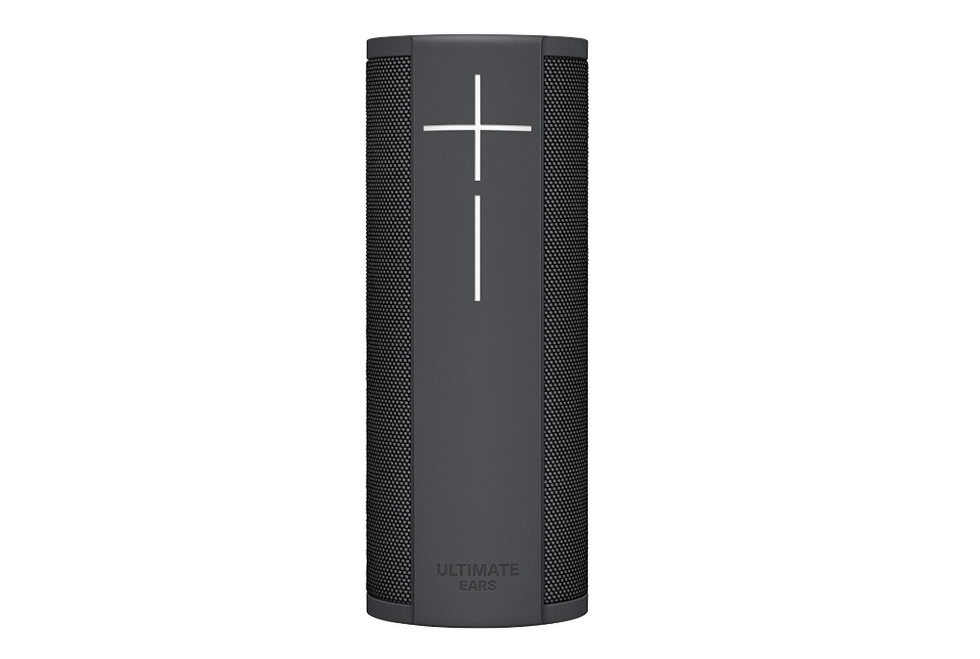 Six different colors are on offer for the MegablastUltimate Ears
Our third and final entry from Ultimate Ears is the Megablast, the company's flagship wireless waterproof speaker. This device has Alexa built in, so you can speak to the Amazon assistant just as you do with your Echo speaker at home, only this one is water resistant and can be taken wherever you like.
With Alexa (and an internet connection via the speaker's own Wi-Fi) you can stream music from Amazon Prime, Pandora, Deezer and Spotify, or tune into digital radio from TuneIn, iHeart Radio and Sirius. Or, via Bluetooth you can stream music from any music app on your smartphone.
The Megablast is available in six different colors and offers up to 12 hours of wireless music playback, plus 360-degree sound output. The familiar IP67 rating means it will be fine when dropped into a meter of water for up to 30 minutes.
Multiple Megablast speakers cannot be paired together, which is a shame, but the Wi-Fi connection at least means it will receive software updates and improvements over time, Ultimate Ears says.
Check out The GearBrain, our compatibility find engine to see the other waterproof Bluetooth speakers that work with your smartphone as well as Google Assistant and Amazon Alexa enabled devices.
How to Find Products in The GearBrain, Our Compatibility Find Engine for Smart Deviceswww.youtube.com
Like GearBrain on Facebook