Everyone is talking about the next big wave in technology, Internet of Things (IoT). but GearBrain is working in it each day. We are the experts when it comes to helping to simplify this new connected life. We also solve the connected device purchase process and operational issues found with the myriad of smart devices and systems.
The IoT is the biggest wave in the development of the internet. Its allowing us to connect to new places–such as manufacturing floors, energy grids, healthcare facilities, and transportation systems–all via the Internet. As long as an object can represent itself digitally, it can be controlled from anywhere in the world. As a result, this connectivity means more data, gathered from more places, with more ways to increase efficiency and improve safety and security. Experts are predicting it will be a $Trillion market and over 28 Billion "things" or devices connected in the next five years. However, with all these new devices connecting to different places, there are a lot of unknowns. Most importantly, a lot of confusion among buyers on how it all works and what it all means to them. Consumers need smart understandable buying advice and recommendations to help them understand this new connected world and to help make the best decisions for them. GearBrain is a pioneering recommendation platform where consumers can research, discover, buy, and learn how to connect and optimize smart devices.
The GearBrain, First Compatibility Find Engine for Smart Devices www.youtube.com
GearBrain Editorial Mission

Our mission is to provide definitive intelligence to consumers and small businesses seeking the delight, wonder, utility, and life-improvement that the purchase of connected devices and services promises. Our goal is to help them understand how all these new devices work, how they connect to each other and assist them in building and buying the best personalize system. Whether its connecting watches to smartphones, home security systems to tablets, wireless thermostats to laptops/desktops and fitness trackers to a home or car, we are there to help you understand all of this new technology in real time and provide real time solutions.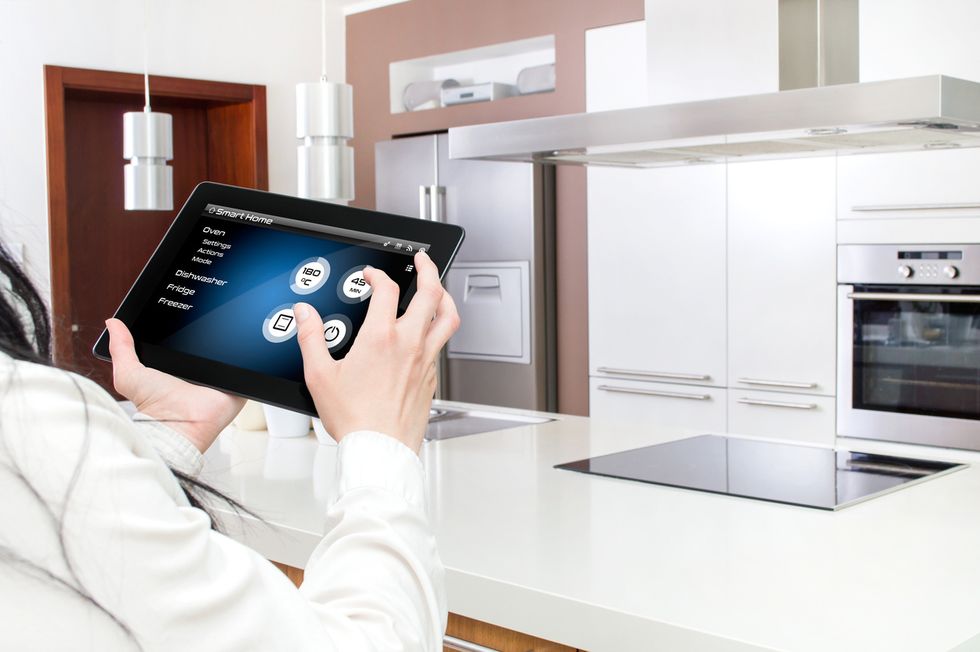 smart home technology can help you save money.iStock
Advertising Opportunities
GearBrain is unlike any other technology publisher. We understand consumers are frustrated today in trying to find the right solution to a problem or need when it comes to new technology. How many times do you do a search and end up on a site that only gives you half of the information you need? Or how many times do you go to a site looking for help on a project and it tells you how to do it but not where to buy all the materials or how long to build the project? All the time you are bombarded with non-relevant advertisements. Our goal is to change this for consumers and advertisers.
GearBrain offers advertisers several unique marketing solutions which can be customized to meet your marketing goals. Here are a few exclusive advertising opportunities available to our advertising partners:
Sponsorship of The GearBrain: The GearBrain is the first compatibility find engine for smart devices. It's designed to help buyers and sellers find devices that work with other smart connected products. Whether it's a smart lock to work with your home security system or a fitness tracker that is compatible with your smartphone's operating system, The GearBrain helps you find these products, buy them and learn how to connect them to other compatible devices. t also can help you store vital product information, like owners manuals and warranties for all your devices for free. Brands can get free access to their product pages to update information and ad videos. Ad opportunities include enhance product listings, affiliate marketing, custom research programs and licensing the platform. Here is how The GearBrain works and here is how you use it.
Sponsored Listings on The GearBrain: Brands can buy the first, second and third positions for any search. It works similar to Google search. We charge on a cost per search or CPV. Here is a link to a live sponsored listing on The GearBrain. This is great opportunity to reach in-market shoppers who are in the actual process of looking for devices to buy.
Enhanced Product Listings: All product pages on The GearBrain are optimized for organic search. To help enhance your product page, GearBrain can add your "how-to" or product videos on YouTube to your page for a small monthly fee ($89 per month per product). Note: this will provide organic search benefit to your videos. In addition, your product page will also get a clickable logo and an extra tab to list special offers and product features. Here is a link to an existing live product page with enhanced listing format.
Licensing The GearBrain Product Info – The GearBrain has vital product information on over 6,000 smart devices. This information includes specifications, links to customer support, owner manuals, setup guides and warranties. It knows which products are compatible with each other. Manufacturers can license The GearBrain to power their "What Works with ..." sections of their site and/or use the platform as a tool for their customer service agents to troubleshoot customer's product issues.
Affiliate Marketing: We also offer affiliate marketing programs. We are part of many affiliate marketing programs including Amazon Associate. We can drive sales for brands and earn commissions from qualifying purchases.
Content marketing on a performance basis. GearBrain offers customized content marketing programs on a performance basis. We work with a partner who leverages their proprietary analytics and bid management platform, proven methods of multi-layer testing and optimization, and strategic partnerships with the top content recommendation networks to acquire customers that fit a clients' lifetime value (LTV) models. These programs are customized and can become a top source of paid acquisition and brand awareness for clients. They are powered by GeistM, the fastest growing MarTech platform in the US.
GearBrain TV: sponsorship of GearBrain's TV show which airs on our YouTube channel and Facebook. We bring to life all the new devices coming to market to make our lives easier and can help us save money. Brands can sponsor an episode or a series of shows. As a sponsor, brands can license the videos to be used in their marketing communication efforts.
Programmatic Advertising: GearBrain's inventory is available on the open exchanges; however our highest quality inventory can be bought through private market places (PMP). PMP inventory can include specific audience and placements on GearBrain at efficient rates for clients and we can overlay audience data to assure you reach the right prospects.
Standard IAB Ad sizes: GearBrain offers standard IAB ad sizes (728x90 & 300x250) as well as large impact units like 970x90 and 300x600. We can also create and run rich media, pre-roll ads and custom integrated or native ad units.
Mark W. Westlake, CEO & Founder, GearBrain, A DotCom Magazine Exclusive Interview www.youtube.com
GearBrain Promise
Our promise is to deliver a game-changing environment that improves getting the right information into the consumer's hands in the right format (per device) at the right time. With all the data available today due to these new connected devices and ad technologies, GearBrain has the insights and resources to build and achieve this promise. We can also offer customized advertising programs to our partners which put them in an environment that is designed to assist a consumer in making the decision that is the best fit for their needs and goals in this fast past and very large new market (IoT).
To learn more about our customized advertising and marketing programs, please email us at advertising@gearbrain.com and one of our representatives will contact you.
Smart Tech And Your Home: Building Your Own JARVIS, with Mark Westlake of GearBrain www.youtube.com
Welcome to GearBrain TV , Home to Videos on IoT, Smart Home, Wearables and any Connected Device www.youtube.com