Like GearBrain on Facebook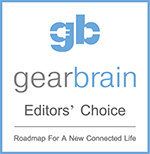 A smart thermostat can help lower your energy bills by automating the heating and cooling of your home. Some do this by learning how you use them for the first few days, then take control, making small changes which you might not notice but will lower your energy use. Others use sensors to work out which rooms are being used and which aren't, so energy isn't wasting on heating or cooling an empty and unused room. But whichever smart thermostat you choose, just make sure to check if it requires a C-Wire. Most smart thermostats do require a C-Wire but many manufacturers don't mention it until after you buy the device and are setting it up in your smart home. If you don't have a C-Wire, you can buy a C-Wire adapter.
Read More:
The 6 Best Smart Thermostats for Any Smart Home in 2022 www.youtube.com
With a Wi-Fi connection, smart thermostats can be controlled via a smartphone app, and many also tap into smart home automation platforms like IFTTT (If This, Then That) and Apple's Siri-controlled HomeKit. Many can be controlled by speaking to the Amazon Alexa and Google voice assistants, or be left to work automatically as you enter and exit your home (by knowing the location of your smartphone).
Nest is arguably the most popular name in the smart thermostat market. Before being bought by Google, Nest was founded by Tony Fadell, a former Apple engineer who is widely regarded as the father of the original iPod.
But there are many alternatives. Some come from seasoned home heating companies, others are the offsprings of startups fighting for a slice of the smart home cake.
With the summer ending and cooler weather on its way here are the top smart thermostats to lower your energy bills in 2022:
Nest Learning Thermostat - Best Learning Thermostat for Any Smart Home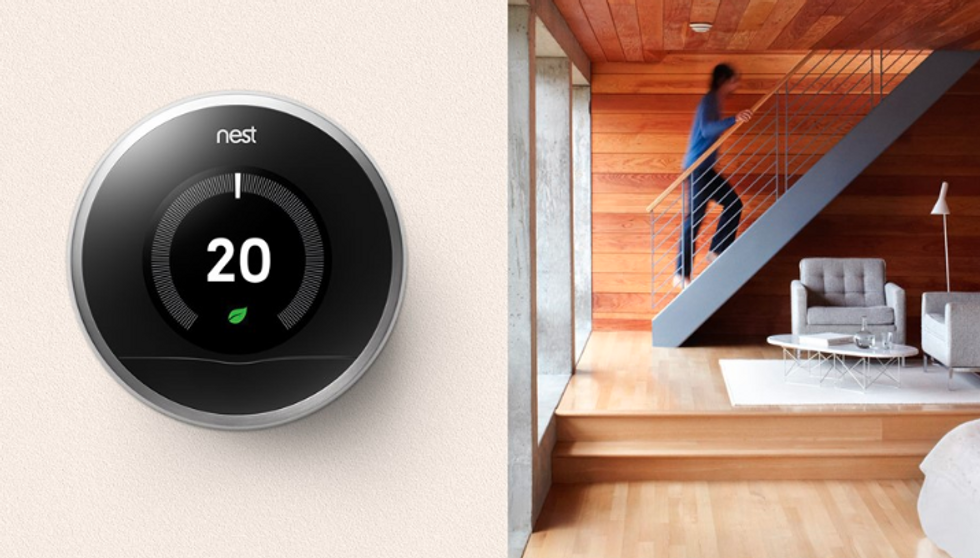 The Learning Thermostat from Nest is one of the most popular
Nest
The third-generation Nest Learning Thermostat is here with a bigger display, better features, and can detect temperature differences from farther away.
It's not just the hardware but also the technology behind this thermostat that makes this Nest Thermostat so compelling. Nest Learning thermostat 3rd Generation will learn your habits and adjust the temperature to match, and Nest's new connected home platform promises further integration with other smart home gadgets.
The third-generation Nest is about the same size as the previous version: a brushed stainless-steel ring 3.3 inches in diameter and 1.26 inches thick. The weighty feel is excellent, especially when turning the dial. It just feels correct.
Nest has introduced a slew of new functions that are gradually being rolled out to earlier generations of the product. Nest also integrates with other smart home platforms, such as Alexa and Google Assistant. For example, you can automatically use the Auto-schedule feature to have your Nest learn your preferred temperatures and then program itself. You can also set up an auto-away mode that lowers the temperature when it detects that you aren't at home. In addition, if your furnace's shutoff patterns appear unusual, the Furnace Heads-Up feature will let you know.
The optional $39 Nest Temperature Sensor helps you tell the thermostat how you like the heating in a particular room. With multiple sensors, you can put one in each room, use them to tell the Nest how you like the temperature (and when), and the thermostat will do the rest.
Nest Learning thermostat works with Google Assistant enabled devices which allows it to seamlessly integrate with other home gadgets. The smoother functioning and smarter display will make you love the product just as much as we do.

The Nest Learning Thermostat is available in seven colors: polished steel, mirror black, brass, stainless steel, white, black and copper. The thermostat costs only $249.99 and is available in Google Store, Best Buy, The Home Depot, Walmart and most home improvement stores.
Ecobee SmartThermostat with Voice Control - Best Thermostat with Alexa Built-in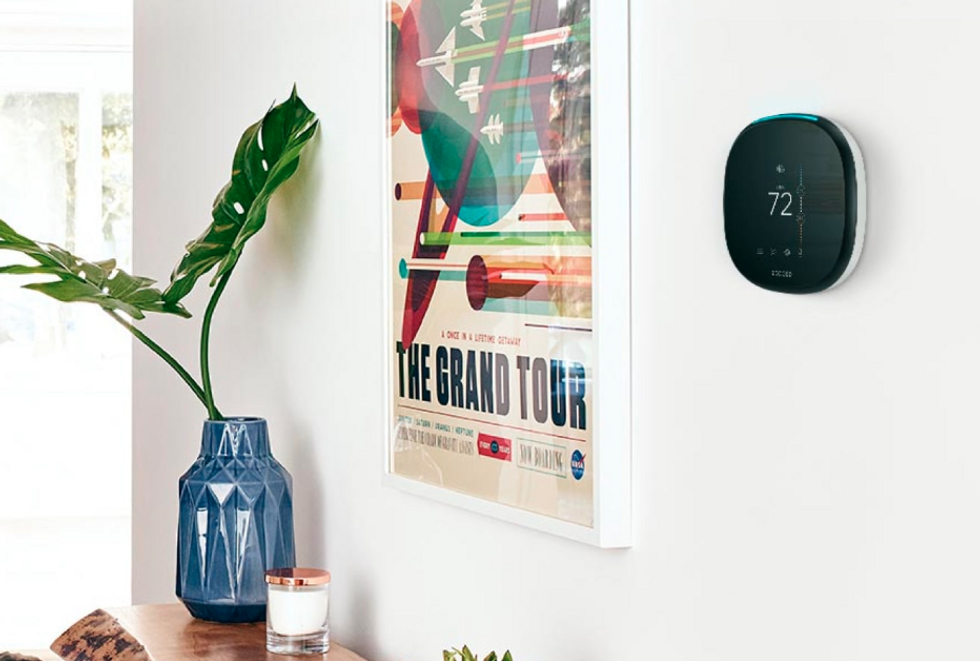 Extra sensors tell the thermostat the temperatures of various rooms throughout the home
Ecobee
The Ecobee Smart Thermostat With Voice Control ($249) is the company's fifth-generation product, and it adds more capabilities to the Ecobee4, as is typical with each new edition. This thermostat comes loaded with features like Enhanced Alexa and multimedia support, more powerful audio components, dual-band Wi-Fi, and a lot more. All of this can be accessed through a compatible and user-friendly app and extended third-party support.
At first look, the Smart thermostat With Voice Control appears to be identical to the Ecobee4. The glossy black screen/bezel over a white enclosure is identical to the previous models. The new thermostat's glass screen covers the 3.5-inch, 480-by-320-pixel color touch display, which you wouldn't realize from looking at it. The two digital microphones on either side of the screen are hidden by holes that cover a pair of digital microphones with echo cancellation and more complex audio processing than the analog mics in the Ecobee4.
The Ecobee includes a single remote room SmartSensor, which helps maintain consistent temperatures throughout your house, especially in rooms distant from the thermostat. It is powered by a 1.5GHz quad-core CPU, 4GB of flash memory, and 512MB of DDR4 RAM. In addition, there are temperature, humidity, proximity, occupancy sensors, and far-field voice technology inside.
So if you are hard-pressed on getting a thermostat that is loaded with features like these, Ecobee is the one for you.
Honeywell's Smart Color Thermostat with Wi-Fi - Smart Thermostat with Extra Savings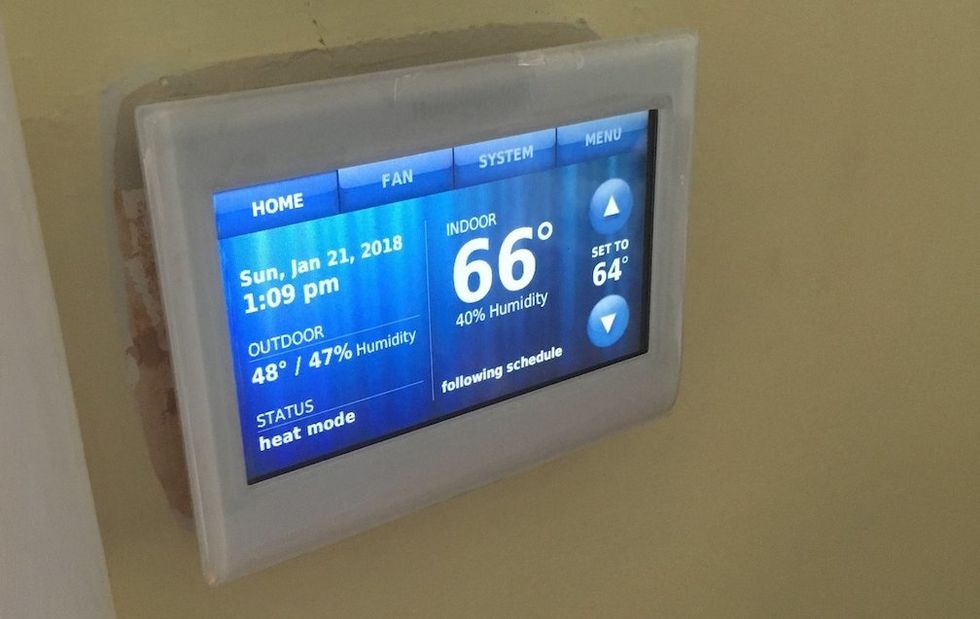 Tie the Honeywell Smart Thermostat with Wi-Fi to your local utility for extra savings.
GearBrain
The Honeywell's Smart Color Thermostat with Wi-Fi is a solid thermostat, one that can tie into your local utility company to help you save money. At about $200, you can often pick one up for less. Features include a vacation mode, plus a design element which lets you change the screen so it matches the wall color.
Honeywell also has a marketplace section, so you can search for deals with your electric company — in our review, we found savings of up to $85 plus credits on our bill. That's helpful, and can offset the cost of the actual device.
The smart thermostat also works with a wide range of systems and networks including Alexa, Google Nest Home, Apple HomeKit, IFTTT, Yonomi, Samsung SmartThings as well as Logitech's Harmony Hub. That makes this a smart thermostat that's versatile, allowing you to really work with the platform you prefer.
Ecobee3 Lite - Best Affordable Smart Thermostat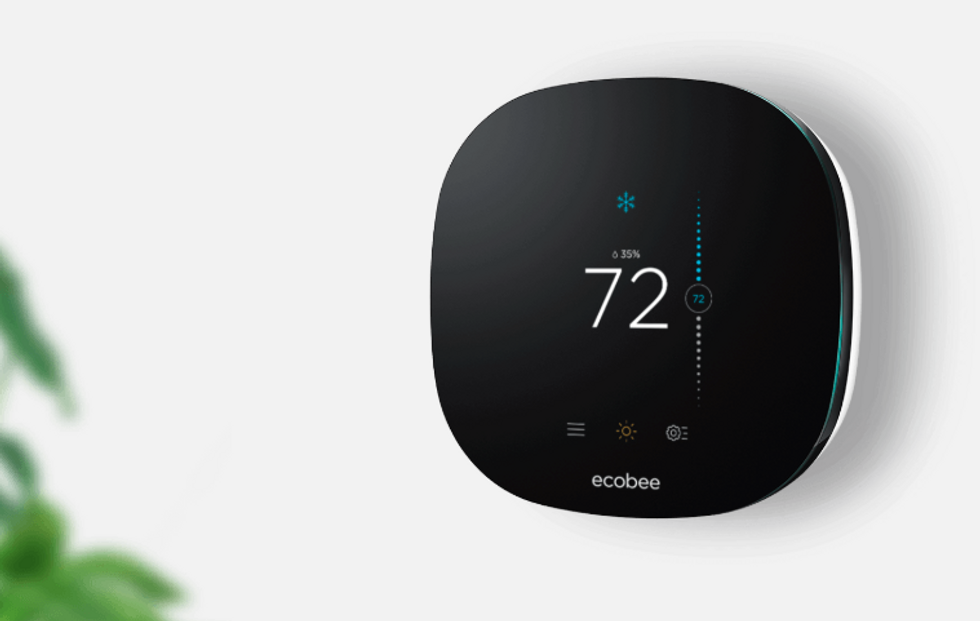 Additional sensors can help tell the Ecobee3 lite the temperature in other rooms​ Ecobee
Just as how Nest sells the cheaper, simpler Thermostat E, Ecobee offers the 3 Lite as a more affordable alternative to the Ecobee SmartThermostat.
Despite the lower price, the ecobee3 lite can be controlled by your iPhone or Android smartphone (or Apple Watch), works with the ecobee room sensors to only heat up the rooms you are using, and uses aims to reduce your heating and cooling bills by up to 23 percent annually.
The Ecobee3 lite uses local weather forecasts to use as little energy as possible to heat your home, as if sunshine is on its way, it will hold off on powering up the boiler. As with the Ecobee SmartThermostat, this model works with a wide range of smart home platforms, including Apple HomeKit, Amazon Echo, Google Home, Samsung SmartThings and IFTTT.
Nest Thermostat - Best Smart Thermostat for Homes with Google Assistant Devices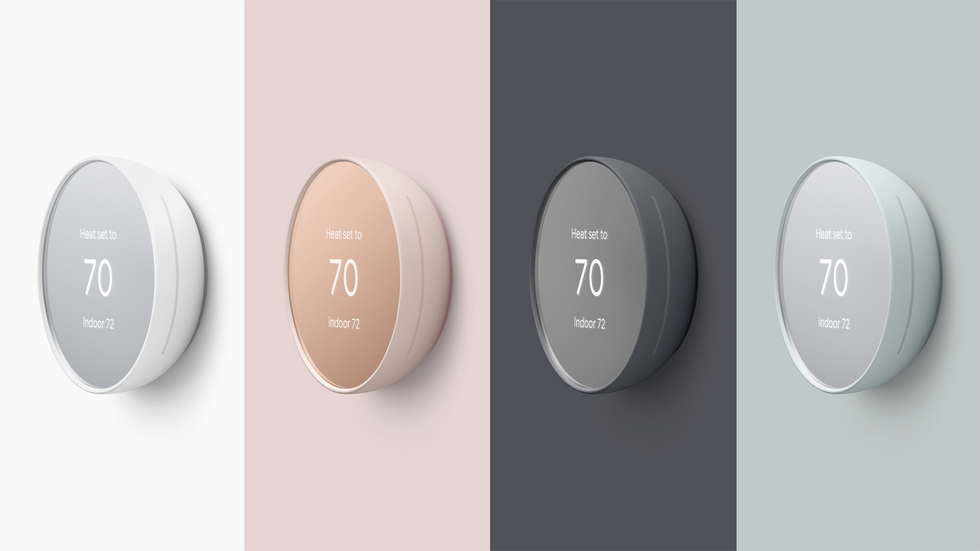 14 smart home devices to save you money in 2022
Google
The Nest Thermostat is an electronic, programmable and Wi-Fi-enabled smart thermostat which is easy to set-up if you have a C-Wire or replacing an existing smart thermostat. (Note: smart thermostats like Nest need a C-Wire to work with your HVAC system especially if it is a high voltage systems (120V or 240V HVAC).) All you need is a Google account, Google Home app and a Wi-Fi connection.
Nest comes with a faceplate which necessitates the installation of a thermostat. The 3.3 inch screen on the thermostat displays the current temperature and a countdown clock to the following temperature change. The interface is straightforward to use, and it seamlessly works with various functions and features.
It immediately shows the cooling and heating temperature when the thermostat is installed. There are several default settings that work on the thermostat until you adjust the temperature. The thermostat maintains any temperature you choose without requiring your intervention, similar to a regular thermostat on the first day. Installation of the thermostat will render the energy-saving function of the Nest thermostat inaccessible. The Nest thermostat will take at least one week for your property to adjust all features. When each feature is completed, a notification will appear on the screen.
The Nest Thermostat works with the Google Assistant ecosystem which includes a plethora of smart home devices that interact and collaborate. These include indoor and outdoor security cameras, a video doorbell, smoke detector, WiFi router, alarm system, and Nest smart speakers and displays powered by Google Assistant voice platform. For example, you can use voice commands with a Nest Hub Max smart display or Nest Audio smart speaker.
The Nest Thermostat is available in four colors: Snow, Sand, Fog and Charcoal. The thermostat costs only $129.99 and is available in Google Store, Best Buy, The Home Depot, Walmart, Amazon and most home improvement stores.
Amazon Smart Thermostat - Best Smart Thermostat for Alexa Households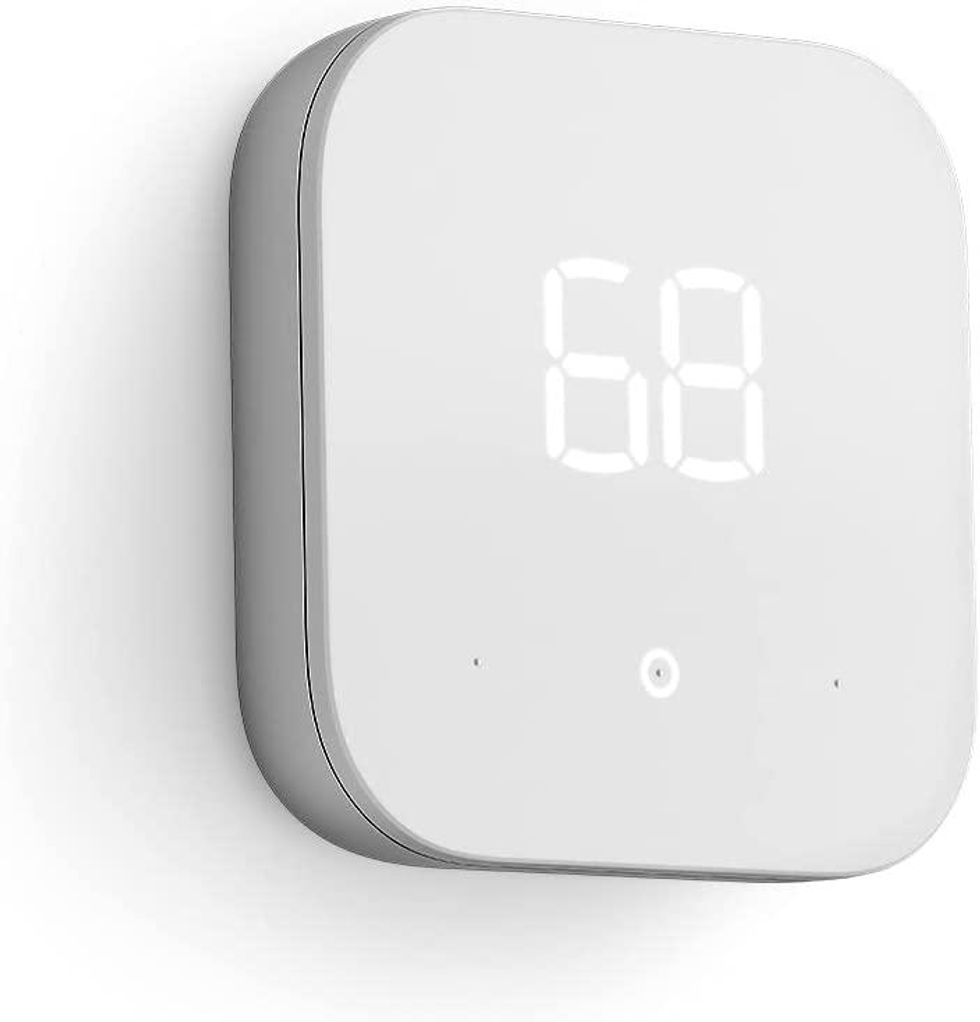 Amazon Smart Thermostat is Energy Star Certified and works on Wi-Fi connection and works with Alexa.
Amazon
If you're looking for a budget-friendly and smart thermostat to control your home's heating and cooling system, the Amazon Smart thermostat is an excellent pick at $59.99.
The Amazon Smart thermostat is a Wi-Fi smart thermostat developed by Honeywell that uses cloud-based machine learning to analyze how you use your HVAC system, then employs what Amazon calls hunches to heat and cool your house automatically. Hunch is based on the position of your smartphone and how often someone uses Amazon's Alexa virtual assistant. So, unless someone is at home interacting with Alexa while you're out, the thermostat will learn to decrease the cooling or heating load if you leave at approximately the same time every morning—unless you change your routine.
Shaped like a square with round edges, the thermostat measures 3.5 x 3.5 x 0.8 inches (HxWxD). The thermostat is simple to use, with touch-sensitive areas for changing the temperature and selecting modes such as cooling, heating, fan-only, and auto.
Unlike the Nest thermostats, Amazon's Wall-Mounted thermostat shows neither a green leaf to indicate when your HVAC system is saving energy and money nor does it have an EnergyStar seal. However, the Amazon Smart Thermostat is EnergyStar certified.
The Amazon Smart Thermostat costs $59.99 and is available on Amazon. This thermostat does require a C-Wire and Amazon offers the smart thermostat with a C-Wire adapter for $89.98 on the site.
So if an affordable thermostat is what you are looking at, Amazon Smart thermostat is your best choice.
Honeywell Home T9 Smart Thermostat - Best Smart Thermostat with Largest Coverage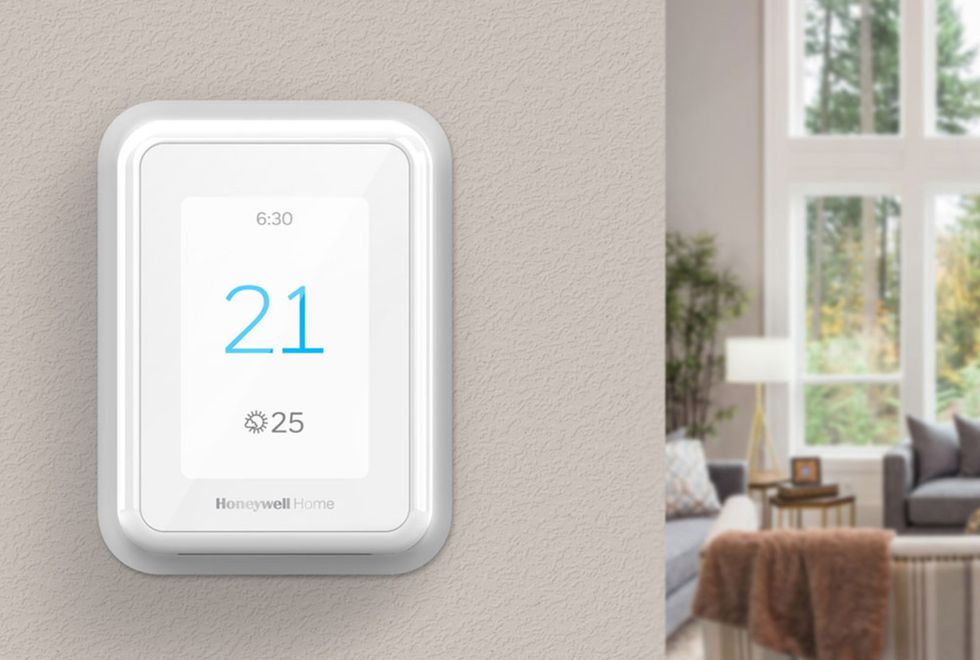 The T9 smart thermostat by Honeywell
Honeywell
A great option for those already invested in the Honeywell Home or Lyric smart home ecosystems, the T9 is a smart thermostat that comes with a room temperature sensor and can be connected to up to 20 in total. This helps to heat or cool your home, and the rooms you are actually using, more precisely in a bid to keep you comfortable and save money on your energy bills.
GearBrain reviewed the T9 in late-2019 and praised its robust smart home integrations (Alexa and Google Assistant recognize the thermostat and every sensor), and inclusion of the all-important C-wire adapter.
Honeywell Home T9 WiFi Smart Thermostat with 1 Smart Room Sensor, Touchscreen Display, Alexa and Google Assist

Check out The GearBrain, our smart home compatibility find engine to find other smart thermostats as well as ones that are compatible with your existing smart devices or work with Google Assistant and Amazon Alexa enabled devices.
How to Install Nest Smart Thermostat www.youtube.com
Like GearBrain on Facebook