Like GearBrain on Facebook
Proactive prevention is a priority in any home, especially a smart home. When something unexpected happens, having the tools and technology to keep our families safe is a no-brainer. With today's advancements in protection from fires/smoke and carbon monoxide, there's no excuse not to fit your home with the finest devices. Life and death situations are nothing to take lightly, so choosing carefully is key. First Alert makes a number of devices, designed to protect your space, including one of its newest, a smart detector for fire, smoke and carbon monoxide, called the Onelink Smart Smoke + Carbon Monoxide Alarm – AC Power (2nd Generation).

First Alert's Onelink Smart Smoke + Carbon Monoxide Alarm – AC Power (2nd Generation) offers 2-in-1 protection with peace of mind at the core. Delivering instant notifications via a smartphone (make sure you have the right operating software — iOS 10 or later or Android 5 or later) through Wi-Fi and Bluetooth connection, this hardwired detector is fast and futuristic, supplying today's smart home with vital voice alerts when danger is detected. And if the power goes out in your home, First Alert's Onelink has a battery backup to continue to provide protection.
Smart homes are set up efficiently, and Onelink Smart Alarm is designed with today's technology in mind. The device comes with adapters, so you can swiftly connect to your home security system if you want or use as a standalone alarm. If you have a smartphone or tablet running iOS or an Apple TV, you can will be able to control your Onelink and integrate into your smart home ecosystem, and the system works with Apple HomeKit too

The Onelink Smart Smoke and Carbon Monoxide Alarm alerts you when it detects danger, and what's wrong — such a fire on the second floor or carbon monoxide (CO) detected in bedroom. Precision like this saves precious seconds, and every moment counts in these scary situations. First Alert Onelink's interconnection capabilities are also useful, as if one compatible alarm goes off, they all sound simultaneously. And its voice location technology knows where you are adding even more aid. As an added feature, the alarm is fitted with a light which illuminates at night — just another step towards a safer home.
Last year, we reviewed the company's more powerful 2 +1 smoke and carbon monoxide alarm called Onelink Safe & Sound Smart Smoke + Carbon Monoxide Alarm Apple HomeKit Enabled and Speaker with Amazon Alexa. This alarm is very powerful and an upgrade from the Onelink Smart Smoke Alarm, with a Bluetooth Speaker and Amazon Alexa voice platform built into the alarm. These two alarms are very similar — both are compatible with Apple HomeKit, offer 2-in-1 protection, voice alerts, easy setup and can connect to compatible alarm systems. The difference is the Onelink Smart Smoke Alarm has a Bluetooth speaker and Amazon Alexa — the one we tested today does not. You should decide which features appear to you — we think both detectors are good options.
Setting Up
Inside the box: First Alert Onelink Smart Smoke + Carbon Monoxide Alarm, mounting bracket, mounting hardware, adapter plugs, and owner's manual.
Installation is easy, particularly if you are replacing an existing alarm. If you have a BRK/Kidde / Fyrnetics / Lifesaver /Firex Alarms, they are compatible with First Alert Onelink and can be interconnected using the company's adapter plug. To use, download the Onelink mobile app to your smartphone, and follow setup instructions or read through the owner's manual.
Start by getting a needle-nose pliers or a utility knife, a standard Phillips screwdriver, and wire strippers. When you're ready to install, turn off the power to your existing alarm. Remove your old alarm and attach the mounting bracket to the junction box. Then attach the correct wires to your Onelink alarm.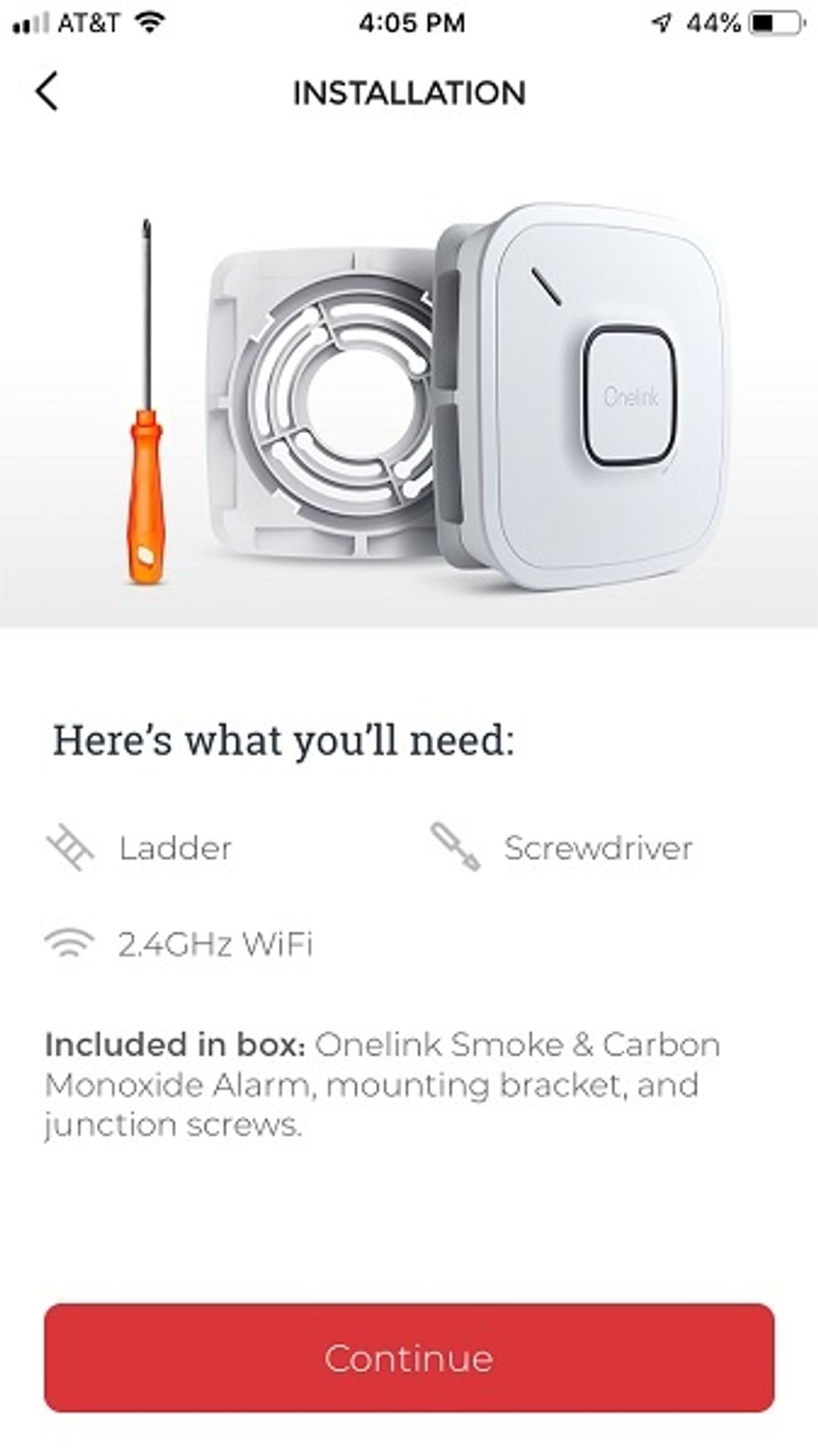 Tools you need to install OnelinkGearBrain
If you are able to, use one of the supplied adapters to connect to your Onelink alarm which makes this step easier. If you are not able to, First Alert supplies wires and wire nuts for this purpose. For our in-home test, we were able to use one of the Onelink adapters because we had a compatible Kidde smoke detector.

Once the wires are connected, place the alarm over the mounting bracket and twist in place. Once securely tightened, turn the power on and a blue light will display and a voice command will alert you that it's beginning to pair your device. Follow the instructions in the app to get your alarm paired to your home Wi-Fi and Apple HomeKit.
For Apple HomeKit, you will need to take a picture of the HomeKit code on the side of the alarm to pair. If for some reason you can't get a clean picture, you can insert the code manually. Once properly paired, the alarm will alert you via voice and in the app. Setup complete.
Setup Snafu
We couldn't get the alarm to pair up to the home Wi-Fi network. We held down the center button of the alarm for five seconds, as instructed, to begin the pairing process again but nothing happened — even after trying five times. In the FAQ's, we found that if you have a home wireless phone system, which we did, you must unplug the power and phone lines before beginning the pairing process. That worked like a charm. We then plugged the phone system back in and everything worked as expected. Crisis averted.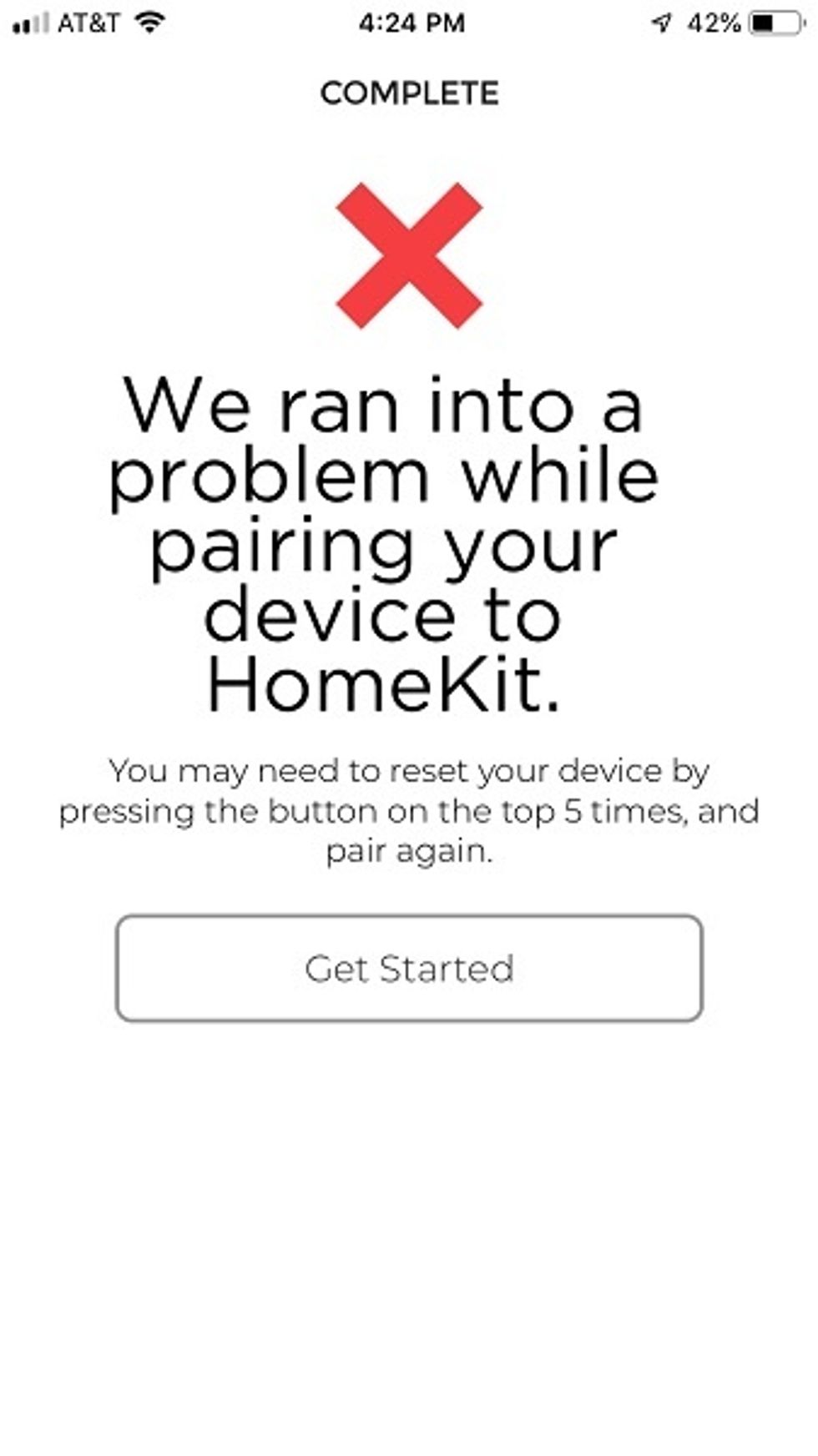 We had a pairing problem due to our wireless phone system. Once we unplugged it, we were able to pair the Onelink with our home Wi-Fi network.GearBrain
The Verdict
This alarm is very easy to install (aside from our above-mentioned blip) and provides exceptional coverage. Its compatibility with other smoke detectors commonly used in home security systems is a plus. Also, First Alert does a nice job showing you where to position the alarm, as well as safety tips. The more secure, the better. The alarm is also loud enough to hear all over the house and the included wiring is an added perk. First Alert Onelink meets UL217 and UL2034 standards for smoke and CO alarms, so you know you're using a solid device.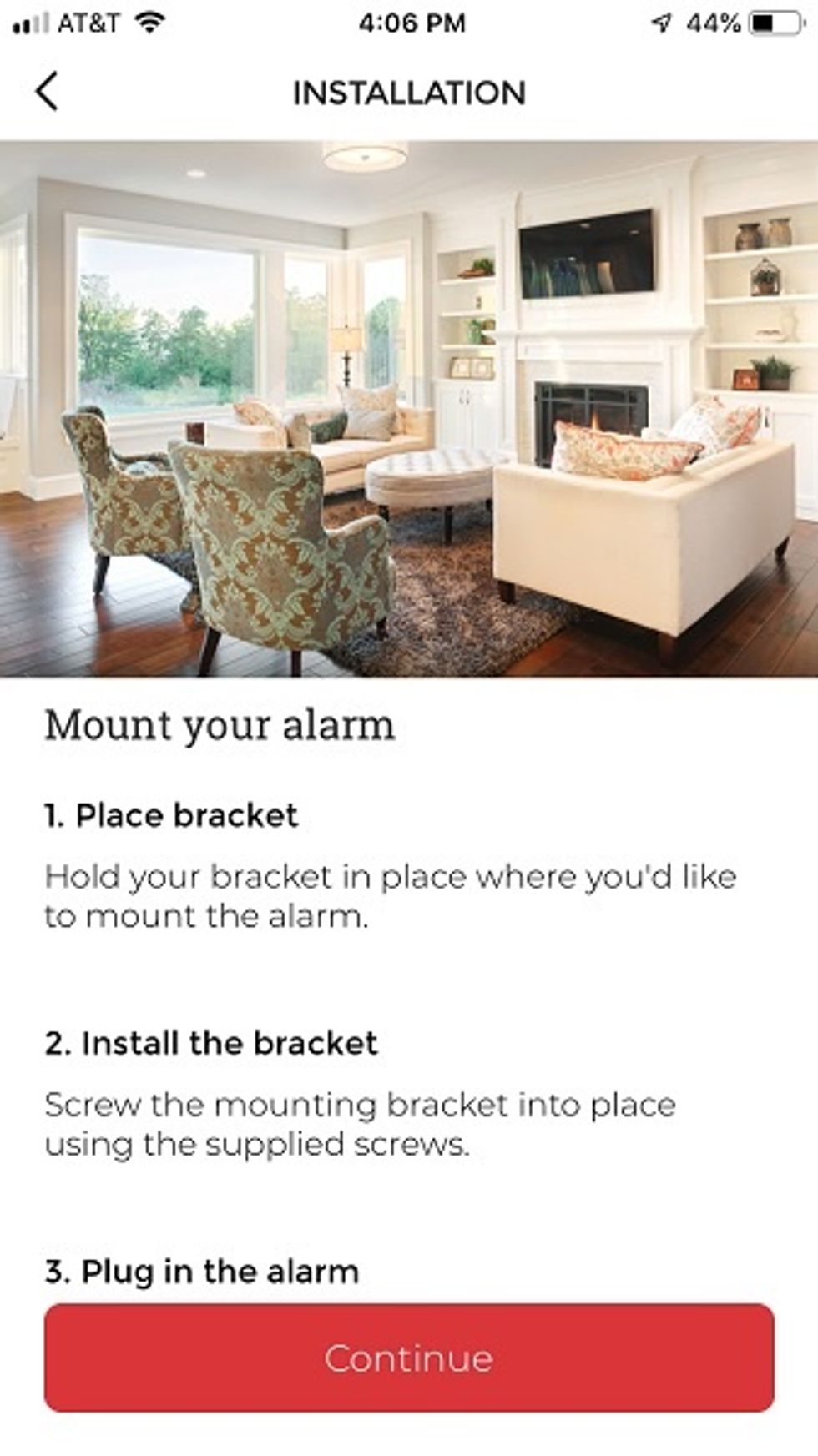 Onelink app gives you the option to help you or not when it comes to installing your Onelink Smoke alarm. We recommend using the app for installation to play it safe.GearBrain
Cost
Onelink Smart Smoke and Carbon Monoxide Alarm is $119, and that may be an issue for some homeowners — although the price is in line with what you would pay for a similar product, like Nest Protect ($119). Still, non-smart or standard smoke and CO alarms normally cost between $25 and $35 and can be wired into your home security system. So why would you pay four times the cost for a smart detector or alarm? Here is why.
A non-smart smoke and CO alarm will alert you when you are in your home when fire, smoke or CO is detected. But if you are not home and something happens, a non-smart detector can only let you know something is wrong if it's connected to your home security system — this option often comes with a monthly cost. Onelink's line of smart smoke and CO alarms will be able to notify you where every you are — without an additional costs. You just must pay upfront a little more for the alarm, but in the long run it's likely a smart move.
Specs:

Model: 1042135
Power: AC Power (hardwired required) with Battery Back-up (2 C3P2)
Wi-Fi: Required 2.4 GHz – 802.11b/b/g/n router
Sensor Type: 2-in-1 Protection Smoke/Fire & Carbon Monoxide Alarm with Photoelectric Sensors
Voice: Voice Alerts – Tells you the type and location of danger
Remote Notifications: Notifies you if something is not right in your home (on your smartphone)
Type of danger: (smoke or CO and its location)
Item Length: 5.88 in.
Item Width: 5.88 in.
Item Height: 1.57 in.
Item Weight: 0.75 lbs.
Warranty: 5-Year Limited
Cost: $119.99 – Available at Lowe's, Amazon, and Do It Best
Image via: www.firstalert.com

Pro:
Compatible with existing alarms
Cons
Pairing to home Wi-Fi Network
Limited smart home integrations.
Like GearBrain on Facebook