Like GearBrain on Facebook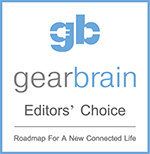 Smart lighting is a good starting point for anyone interested in building a smart home. Although the prices are often not cheap — especially compared to non-smart LED bulbs — these systems are very easy to install and use, and can transform any part of your home.
The manufacturers listed below offer smart bulbs with a variety of fittings, so you should be able to find the right bulbs for your smart home. However, it is important to check what fittings your home already has, then make sure the system you want to buy can cater for this and/or is compatible.
Read More:
You should also decide whether you want color bulbs or not. Cheaper smart bulbs can display only white and yellow, with the temperature adjustable from a cool blue to a deep, warm orange. For many situations, these bulbs will likely be adequate, but if you want to light a room with any color, you'll need to spend more money on color bulbs.
What Type of Smart Bulbs and Accessories Can You Buy
Most companies give their bulbs one of three names. Dimmable means the brightness can be changed but the temperature of the light cannot; tuneable means brightness and temperature can be changed; multicolor means any color, temperature and brightness can be created.
Then there are accessories to consider, like dimmer switches, and whether you want these to replace the existing switches on your walls, sit alongside them, or be used as a portable and wireless controller. Other accessories include motion sensors, smart light strips and security cameras with spot lights.
Finally, some smart lighting can be installed outside, and others are available as LED light strips, or as illuminating panels designed to be stuck on the wall as a piece of interior design.
There are several manufacturers to pick from. Some allow their bulbs to work with other systems, but for the most part it is worth picking one brand and sticking with it.
When smart lights are installed, your old wall switches will still work — they will still switches the bulbs on and off. But it is generally recommended that you leave the switches in the on position and instead control the lights via their app, a compatible device's app, wireless switches, or a voice assistant. (For help with learning how to use switches and smart lights, check out GearBrain's Smart Switches vs Smart Lights: Which is best solution?)
Check out The GearBrain, our smart home compatibility checker to see the other compatible products that work with Amazon Alexa. Google Home, Samsung SmartThings and other connected hubs and devices.

How to Find Products in The GearBrain, Our Compatibility Find Engine for Smart Deviceswww.youtube.com
Like GearBrain on Facebook