Smart lighting is a good starting point for anyone interested in building a smart home. Although the prices are often not cheap — especially compared to non-smart bulbs — these systems are very easy to install and use, and can transform any part of your home.
The manufacturers listed below offer smart bulbs with a variety of fittings, so you should be able to find the right bulbs for your home. However, it is important to check what fittings your home already has, then make sure the system you want to buy can cater for this.
Read More:
You should also decide whether you want color bulbs or not. Cheaper smart bulbs can display only white and yellow, with the temperature adjustable from a cool blue to a deep, warm orange. For many situations, these bulbs will likely be adequate, but if you want to light a room with any color, you'll need to spend more money on color bulbs.
Most companies give their bulbs one of three names. Dimmable means the brightness can be changed but the temperature of the light cannot; tuneable means brightness and temperature can be changed; multicolor means any color, temperature and brightness can be created.
Then there are accessories to consider, like dimmer switches, and whether you want these to replace the existing switches on your walls, sit alongside them, or be used as a portable and wireless controller. Other accessories include motion sensors.
Finally, some smart lighting can be installed outside, and others are available as LED light strips, or as illuminating panels designed to be stuck on the wall as a piece of interior design.
There are several manufacturers to pick from. Some allow their bulbs to work with other systems, but for the most part it is worth picking one brand and sticking with it.
When smart lights are installed, your old wall switches will still work — they will still switches the bulbs on and off. But it is generally recommended that you leave the switches in the on position and instead control the lights via their app, wireless switches, or a voice assistant.
Philips Hue by Signify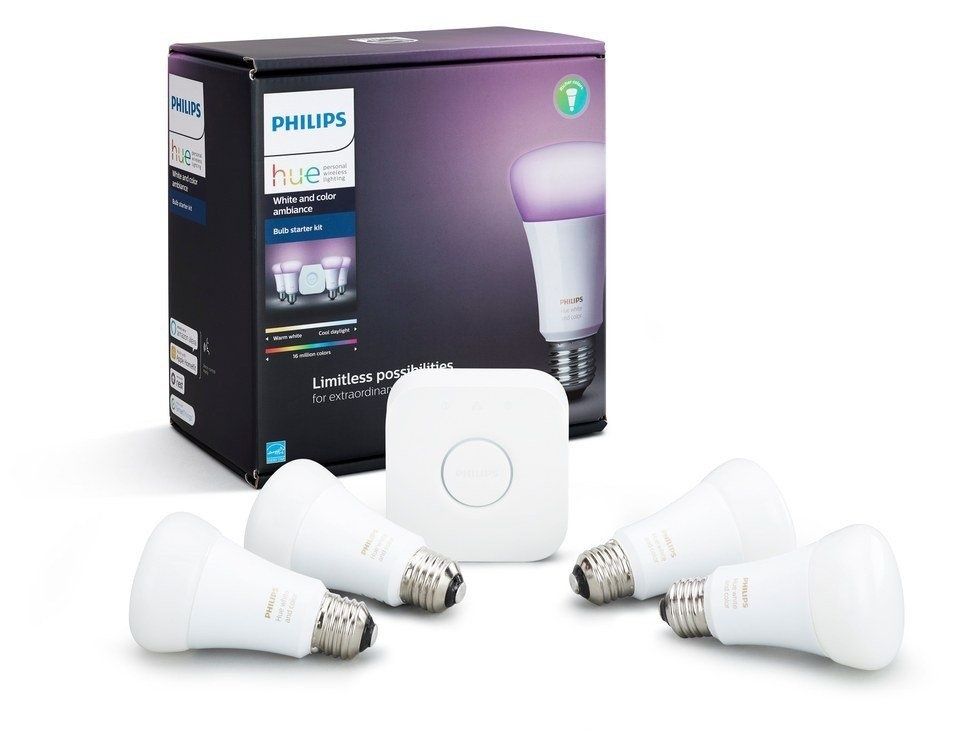 Hue bulbs require a bridge, which connects to your router, to communicateSignify
Widely regarded as the market leader, Philips Hue from Signify offers a broad range of bulbs with different fittings to make sure they will work with your current setup. The company also sells LED light strips, ceiling fixtures and lamps, some of which are even portable and battery-powered.

As well as lights, the Hue range consists of dimmer switches and motion sensors for automatically triggering lights when you walk past – useful for in the bathroom at night, for example – and weatherproof lights designed for the garden are also available.
An important thing to remember about Hue lights is that they require the Bridge to function. This connects to your router with an Ethernet cable, and while you only need one per household, the lights cannot be set up and used without it. As such, you are best buying a Hue starter packs, which comes with bulbs, the bridge and, in some cases, a wireless dimmer switch too.
Hue bulbs come with a wide range of fittings, including A19, B22, BR30, E12, E14, E27 and GU10. There are also light strips (with variable lighting on the latest version), and the new Play light bars designed to work specifically with the Hue Play HDMI Sync Box, which matches the lighting with whatever's shown on the television.
If you find that your current light fittings do not support any of the above options, then you can swap out the connections without too much effort or expense – although, naturally, this will depend on the size of your house and your DIY skills.

As well as offering a wide range of bulbs, Signify has taken the interesting move of allowing third-party app developers to take control of its products. So while the official Hue app will offer enough control for most users, other apps bring more features. There are apps for making your lights simulate candle flicker and fireworks, for example, or the crackling of a log fire. Gimmick, perhaps, but the degree to which your system can be customized exactly to your taste is extraordinary.
Other than the smartphone apps, Hue lights can also be controlled by issuing voice commands to Alexa, Google Assistant and Siri. Extra controls can also be created by setting up your own IFTTT (If This, Then That) applets.
Read the GearBrain review here
Lifx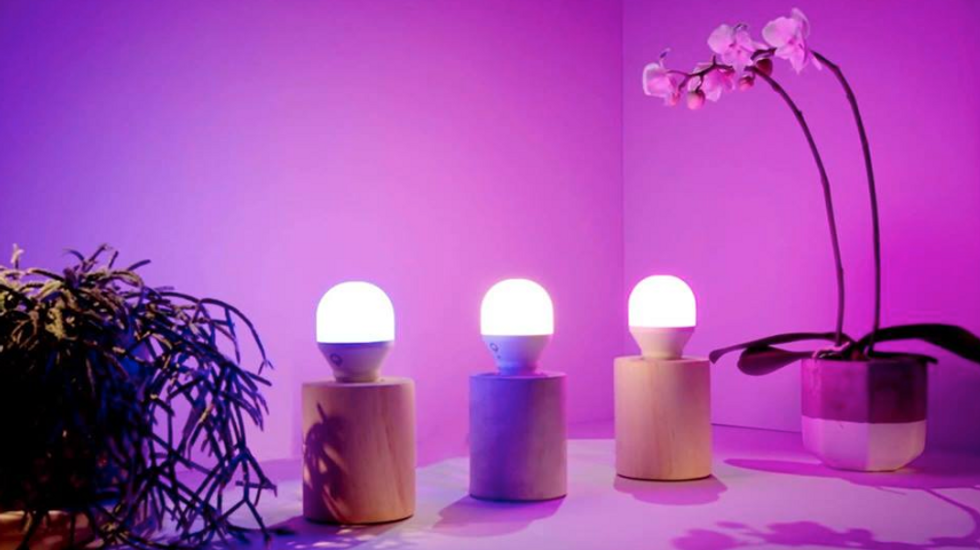 Unlike Philips Hue, Lifx bulbs do not use a bridge or hub to functionLifx
Lifx is seen as one of Philips' biggest rivals. Lifx bulbs generally cost more than the equivalent Hue – up to $80 per bulb in some cases – but they are brighter and the Lifx+ range emits invisible infrared light at night, helping to boost the view from your night vision security cameras.

Another bonus for the Lifx system is that the bulbs do not use a hub. Instead, they connect directly to your Wi-Fi router.
Like Philips, Lifx offers its bulbs with a wide range of fittings, including A19, BR30, E26, E27, B22 and GU10. Lifx also sells LED light strips for creating mood lighting, along with the Beam, which is designed to sit on your walls like illuminated pieces of abstract artwork.
The latest bulb from Lifx is called the Clean. This works as a normal smart light bulb and can be turned any color, but also has a setting where it emits High Energy Visible (HEV) light, which kills harmful bacteria, but is safe to use around humans and household pets. Lifx says that, at close range, the Clean bulbs can eliminate bacteria from items like smartphones and keys. Lifx also suggests using the bulbs as part of a multi-bulb system in a bathroom or kitchen to help reduce bacteria.
Lifx lights can be configured to respond to voice instructions issued to your Google Home or Amazon Echo smart speaker, and to Siri on your iPhone via Apple's HomeKit platform.
As with Hue, Lifx lights can be set to switch on gradually in the morning to simulate a sunrise and dim gradually at night when you go to bed. Bulbs can be grouped together into rooms on the app — as Hue can also do — so you can switch entire rooms or even floors on and off at once, either with a tap or a voice command.
Sengled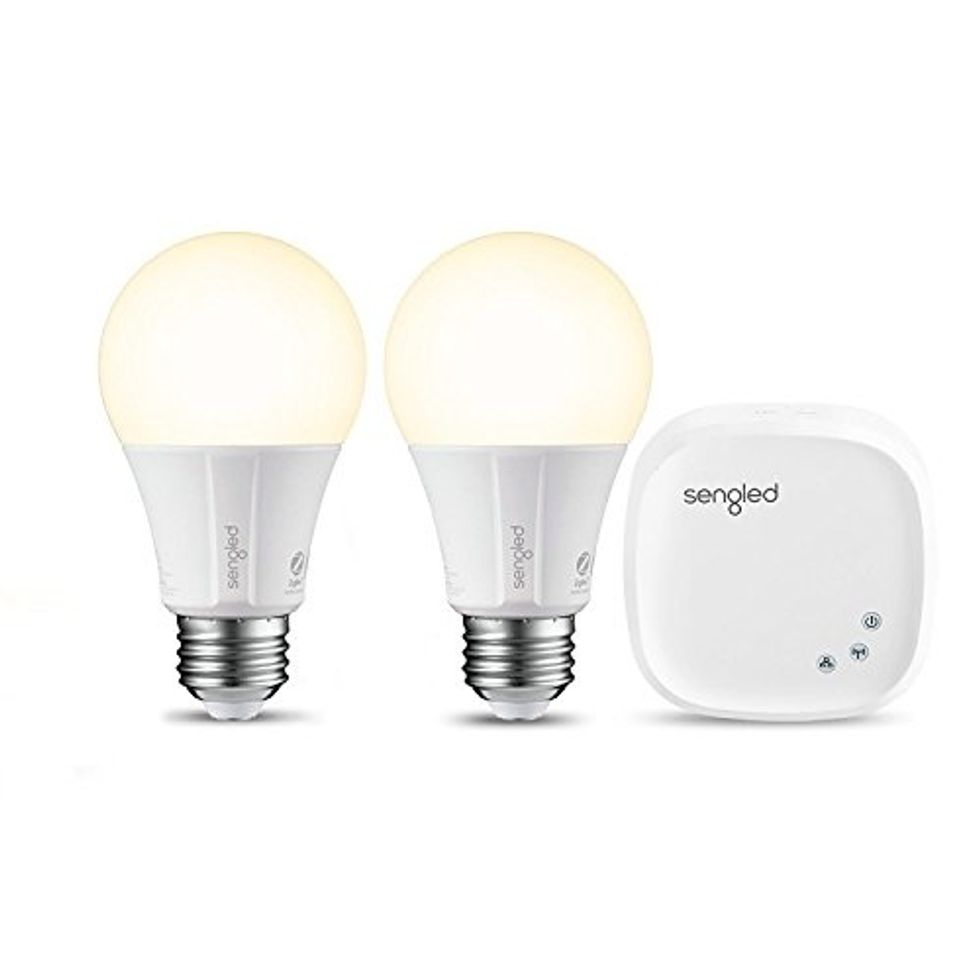 You'll need a hub to run the Sengled bulbs, but that — and the light bulbs — are both inexpensive.Sengled
Sengled is a line of smart lights that work with the Zigbee smart home standard. Individual bulbs start from just $10 for a soft white bulb, rising to $45 for a multicolored candle-shaped bulb. Sengled also sells outdoors, weatherproof smart bulbs with integrated motion sensors, and further smart home devices like smart plugs, wall switches, door and window sensors that alert you when they are opened, and a required Zigbee hub for connecting everything together.
We tested the company's Smart LED bulb with motion sensor and found it easy to install. We also like how the smartphone app used to control the bulbs includes a performance section, where you can see the bulbs' energy consumption – great for those trying to reduce their home utility bills. The outdoor motion-sensing bulb is $29.99 — but the required hub is an additional $29.99. You only need one hub though, so that initial cost is diluted with each extra bulb you buy.
One thing Sengled is great about is working with a number of platforms and networks, including Zigbee, Samsung SmartThings, IFTTT and Comcast's Infinity X — plus Amazon Alexa and Google Assistant.
C by GE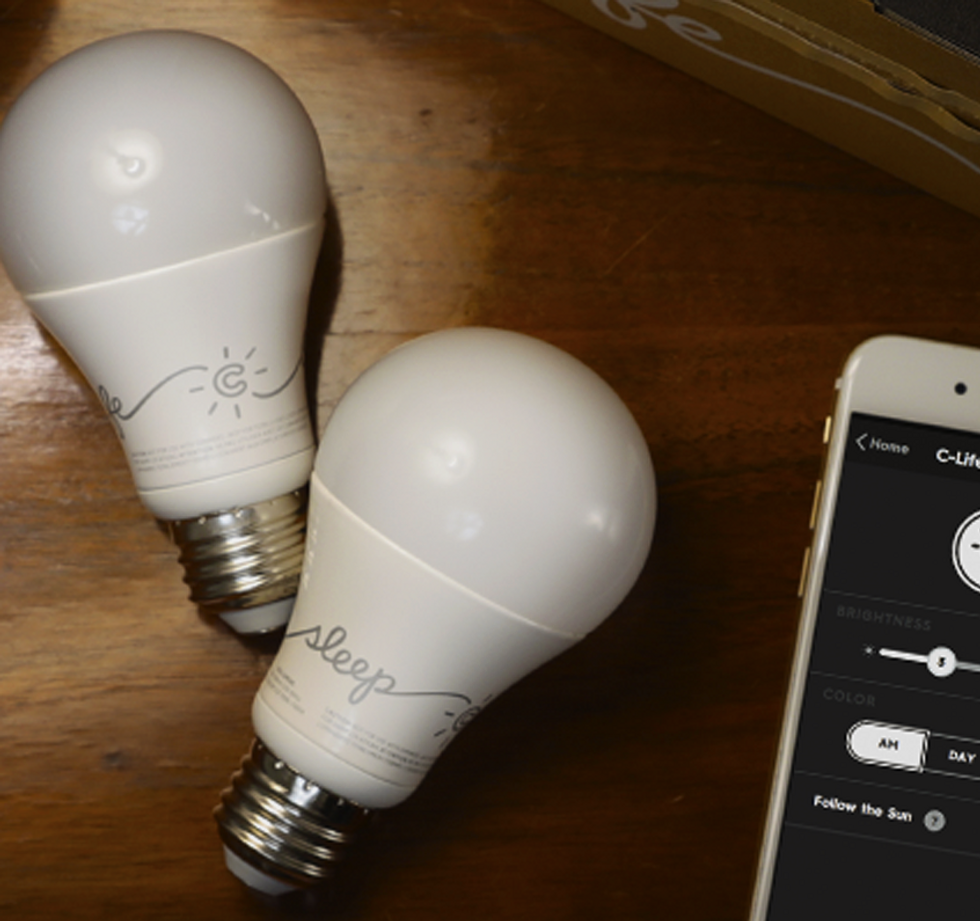 GearBrain
The C by GE range has grown over the last couple of years, and now includes a number of smart switches to dim your lights, power them on or off, and switch between preset lighting scenes.

The company also has a partnership with Google, where the bulbs can be directly controlled by a Google Home smart speaker or Google Nest Hub smart display. This also makes them incredibly easy to connect to your Google Home/Nest system.
The range includes $20 white bulbs that can be adjusted by brightness and temperature (from a cool blue to warm orange), and $30 bulbs that can be set to any color, as well as brightness and temperature.
C by GE bulbs have a feature where they can be set to constantly adjust through the day to match your sleep/wake cycle and circadian rhythm, where they brighten during the morning then dim and soften in the evening.
Although they are easiest to set up with Google Home and the Google Assistant, C by GE bulbs also work with Amazon Alexa and Apple HomeKit.
Ikea Tradfri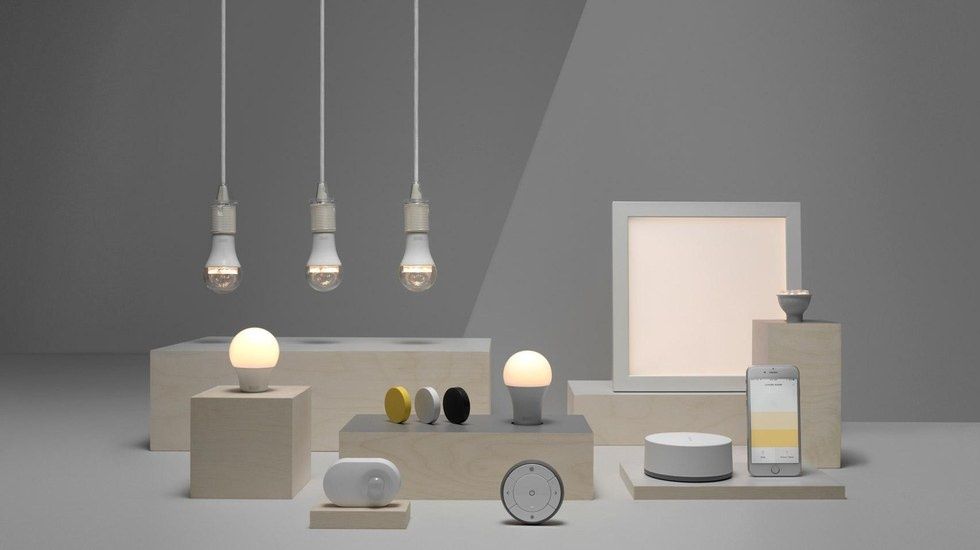 Ikea's Trafri smart lighting represents good value for moneyIkea
The Tradfri range of smart lights by Ikea starts at around $20 for a white bulb, while a starter kit with two bulbs, a wireless dimmer switch and the gateway needed to connect the bulbs to your router is under $100. The range also includes motion sensors LED worktop lighting, smart plugs and a wide range of bulb fitment types, plus a decorative Edison-style bulb with an artificial filament.

Ikea also sells color bulbs for this smart light platform, and the bulbs can be added to an existing Philips Hue system if you want to expand yours on a budget. Tradfri bulbs can be controlled by the Ikea app for iPhone and Android, or via Alexa, Google Assistant, and Apple HomeKit.
Like other smart lighting systems you can group bulbs together into rooms within the app, letting you turn a whole room on or off at once. This also means you can say to your voice assistant things like "Hey Google, turn on the kitchen lights" or "Alexa, turn off the bedroom lights".
Ikea has expanded the Tradfri range over the last couple of years, with fittings including the popular E14, E27, and GU10 spotlights. The range also includes aesthetic light panels for adding modernist style to your home, as well as functional lighting.
TP-Link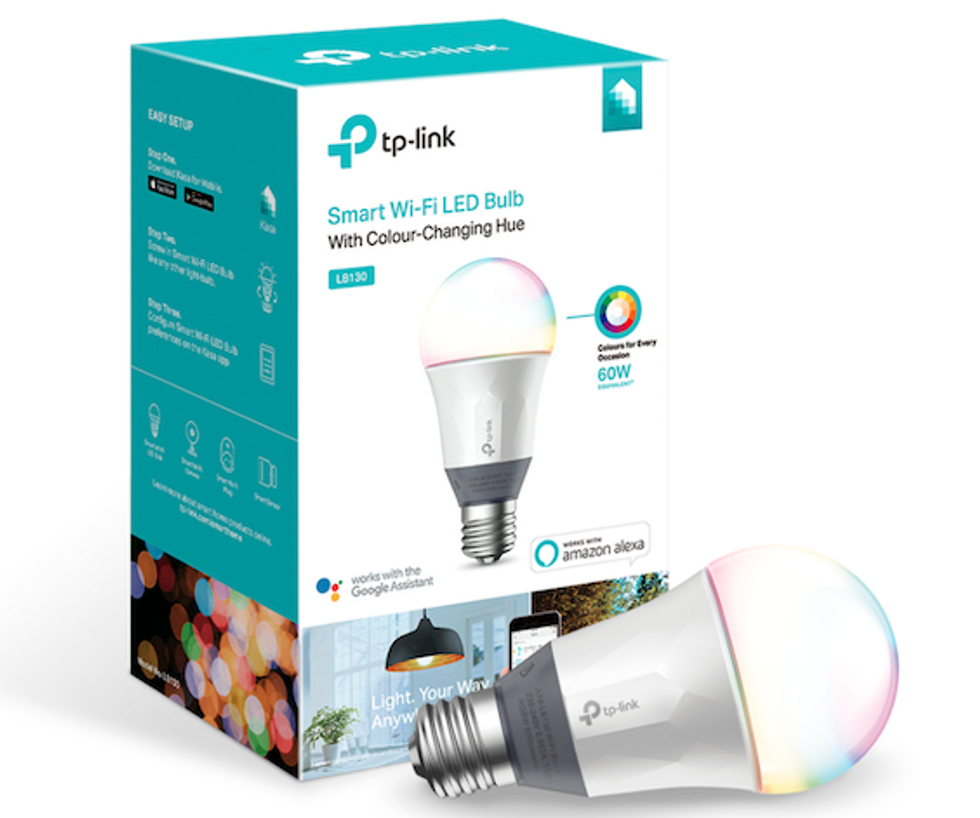 TP-Link sells dimmable, tuneable and multicolored smart light bulbsTP-Link
TP-Link expanded its Kasa smart home device catalogue in 2019, making it a viable option for those who want to build a smart home system, but don't want to be overwhelmed by too many options. The company's lighting range includes dimmable and tuneable bulbs, as well as multicolor options.

These bulbs do not require a hub or bridge, as they connect directly to your Wi-Fi router, and they are set up and controlled with the free Kasa smartphone app for iOS and Android. The bulbs can be paired with Amazon Alexa and Google Assistant for voice control, and a circadian mode has the bulbs adjust their brightness and temperature to mimic natural light patterns.
TP-Link bulbs also work with IFTTT and Nest. Prices range from $20 to $40 per bulb.
Wiz

Smart lighting can be dramatic...if you happen to have an all-glass houseWiz
Smart bulbs by Wiz connect directly to your Wi-Fi and do not use a separate hub or bridge like the Hue and Sengled systems do. If you already have a smart hub installed, then you can connect Wiz bulbs to it using IFTTT or Conrad Connect.
Wiz smart bulbs come with a wide range of shapes, sizes and fitting, with over 30 different styles to choose from, including several Edison-style filament bulbs, LED light strips, spotlights and more.
GearBrain reviewed the Wz starter set and was impressed by how many IFTTT applets are available. Our favorites included one which turns all lights on when an intruder is detected at night, and one which will turn your lights (or one light) a certain color when your favorite TV show is about to start.
Another cool feature if Wiz lights is vacation mode, which is selected from the system's smartphone app. This switches the lights on and off in patterns that simulate the home being lived in, which should help deter burglars.
Check out The GearBrain, our smart home compatibility checker to see the other compatible products that work with Amazon Alexa. Google Home, Samsung SmartThings and other connected hubs and devices.
WiZ IZ0026023 60 Watt EQ A19 Smart WiFi Connected LED Light Bulbs/Compatible with Alexa and Google Home, no Hub Required, Dimmable Soft White, 3 Count
10 second Unboxing - LIFX Smart LED Bulb www.youtube.com