Like GearBrain on Facebook
Smart thermometers are changing the way chefs monitor and cook in their homes. Their ability to connect to the internet allows people to put a cut of meat or fish into an oven, into a pan or on a grill, and honestly walk away for a bit, knowing they'll be notified when the pork chop, chicken breast or tuna steak is ready.
They differ from other meat thermometers too in that they're wireless — meaning you don't have a cable snaking from the oven or from the grill, to a monitoring device.
We've tested two of these devices, both the Meater+ and Yummly, and found some differences. Here's how to choose which one may be best for you if you're in the market for a smart thermometer.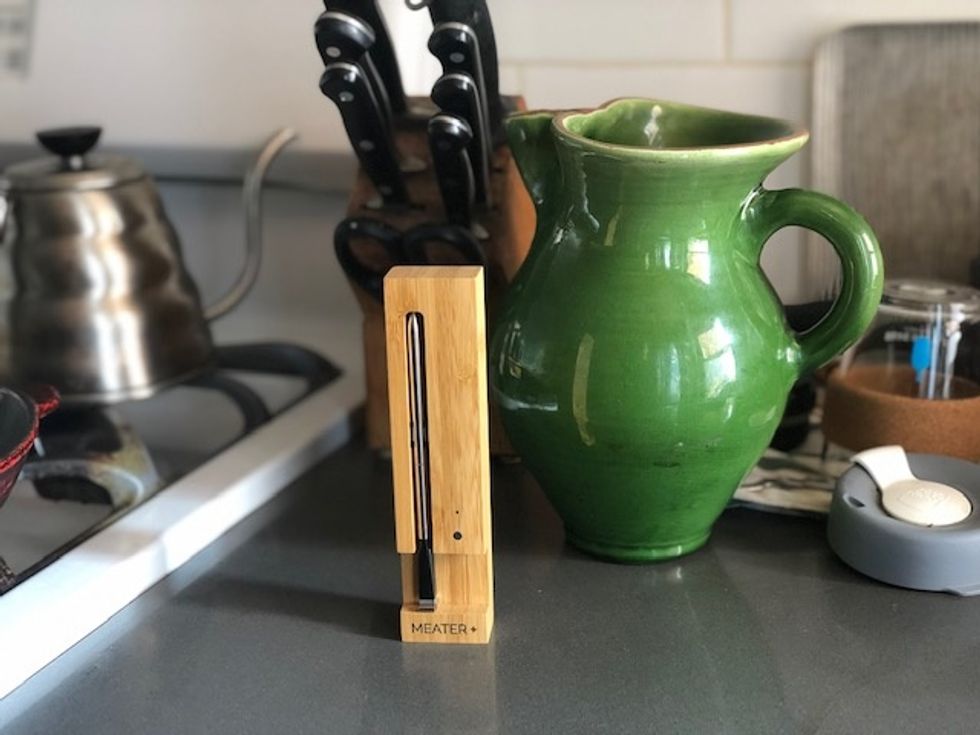 Meater+ comes in a wooden base GearBrain/Lauren Barack
How they're designed to work

Both Meater+ and Yummly are designed similarly, connecting to Wi-Fi to then read the inner temperature of a cut of meat or seafood, and then push that detail to their own app.
Both work by having the charging base close to the grill, oven or such where the smart thermometer is in use. That base sends the information to the Cloud and then to the app.
Meater+ also has a Bluetooth repeater in its charging base, which means it can actually push that signal out 165 feet. What that allows for is someone to be fairly far, with their smartphone, from the grill, oven and still get notifications about when their meal is ready.
Yummly is also designed with nearly the same distance, here it's 150 feet, to ensure someone gets notified about when the food they're cooking is ready.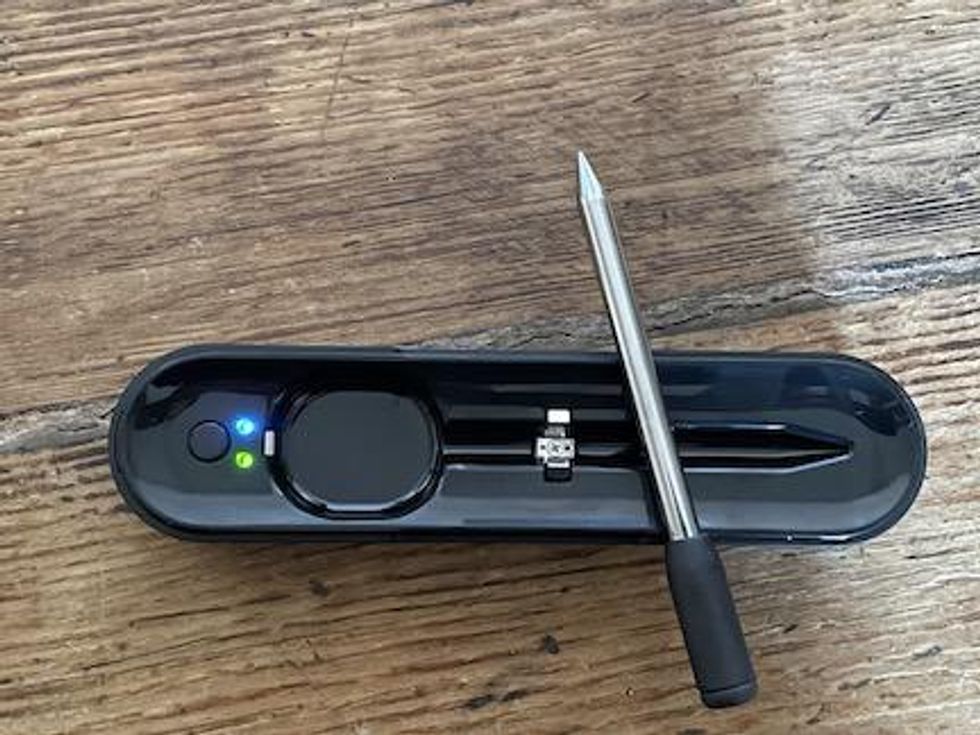 Yummly is wireless, and connects back to the charging base and the app in real time GearBrain/Lauren Barack
Look

Meater and Yummly do differ in some ways in their look. The meat thermometers for the two are very similar, a metal probe that is put into the cut of meat or fish, and then an end that remains outside.
But Meater+ has a more design-friendly look, with a wooden charging base that definitely leans towards the cutting board realm. Yummly, instead, sits in a base made of plastic — and is of similar size to the Meater+.
Both have magnets on the back which allows them to be attached to metal cabinets or even some refrigerators.
App

Yummly and Meater do differ in the way their app is designed. Yummly is connected to the Yummly app, which not only manages the smart thermometer but is a recipe app that is subscription based. When setting up Yummly, we found that we were pushed into creating a profile for Yummly in terms of its recipe offering, and even presented with a subscription sign up page. You definitely do not need to subscribe to the recipe app to use the smart thermometer — and if you want to you definitely can — but it was a bit tricky to figure out how to get the thermometer linked and running, and circumnavigate the Yummly recipe program.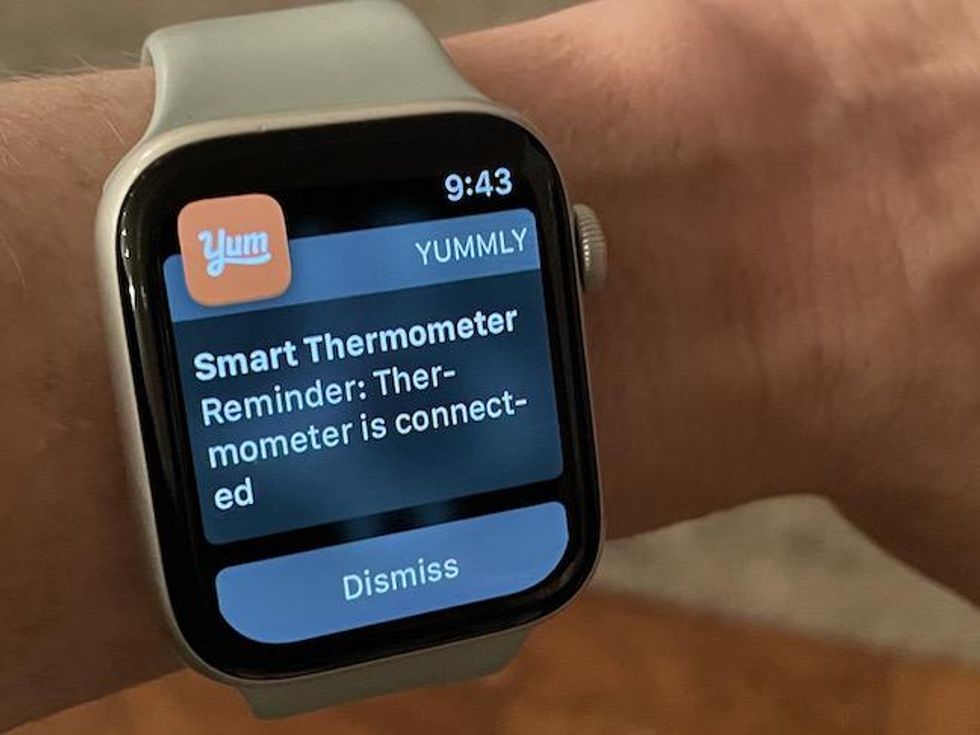 The Yummly and the Meater+ send notifications to the Apple Watch GearBrain/Lauren Barack
Meater+ works on the Meater app, which is not connected to a subscription service, although there are some recipes in the app and instructions on best ways to prepare them with the thermometer. Meater's app is streamlined and very simple. You selected just one of five things you're cooking — beef, pork, lamb, poultry or fish — and then select the kind of way you're cooking it, and from there you get alerts when your food is ready, including estimation times. Have multiple Meater thermometers? You can also monitor all of them concurrently.Yummly lets you select what you're cooking as well, meat, chicken or dish, and the app walks you through how well or rare you want that cut, and then starts monitoring until it's ready. I did have some issue with Yummly in that although notifications did come through, in one case they weren't audible while I was making a phone call with my smartphone. Other times I used the device, and kept the app open and my smartphone not on another task, the app delivered both audible and visible notifications.

Both Meater+ and Yummly also work with Android and iOS devices — and both will also send a notification to an Apple Watch, which is a great backup as well.
How they fared in our tests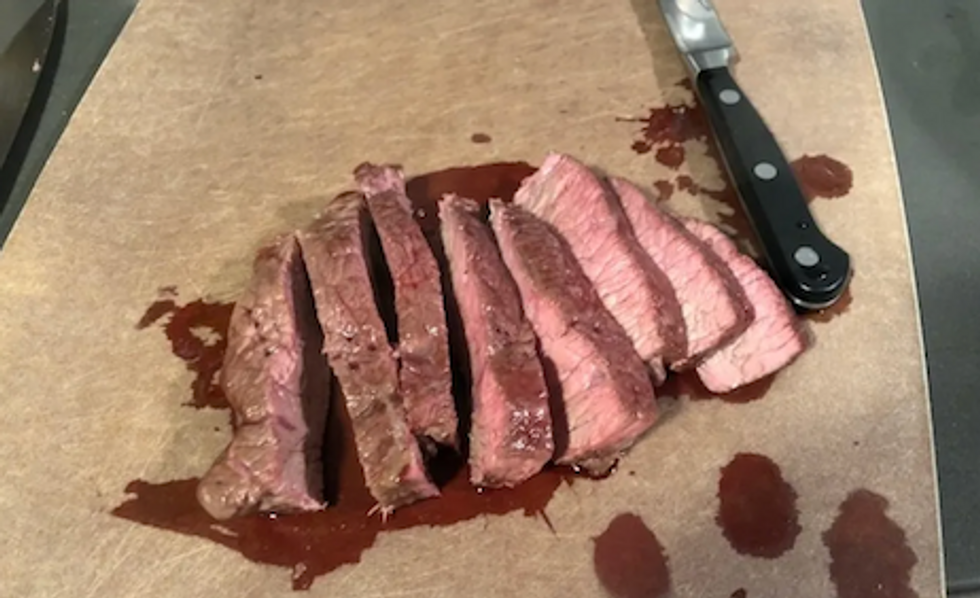 We found the Meater+ helped us prepare one of the best sirloin steak we've ever cookedGearBrain
We found both meat thermometers did very well. Yummly perhaps delivered the most perfect chicken breast I've ever cooked in my life, while Meater+ did the same for a sirloin steak. I did have some trouble cooking chicken breasts with Meater+, finding twice they were undercooked, or perhaps not the way I prefer them.

With both, I would suggest making sure you're placing the thermometer squarely in the middle of the cut of meat, and not hitting a pan's surface, to ensure it's cooking evenly and thoroughly. I find cooking chicken breasts a dicey endeavor often, usually because of the variation of thickness.
Price
Meater+ is priced at $99 and can be picked up in two different color bases, one a light wood and one darker. Buy on Amazon
Yummly is priced at $129.99, but the site currently has it marked at $99.99. Buy on Amazon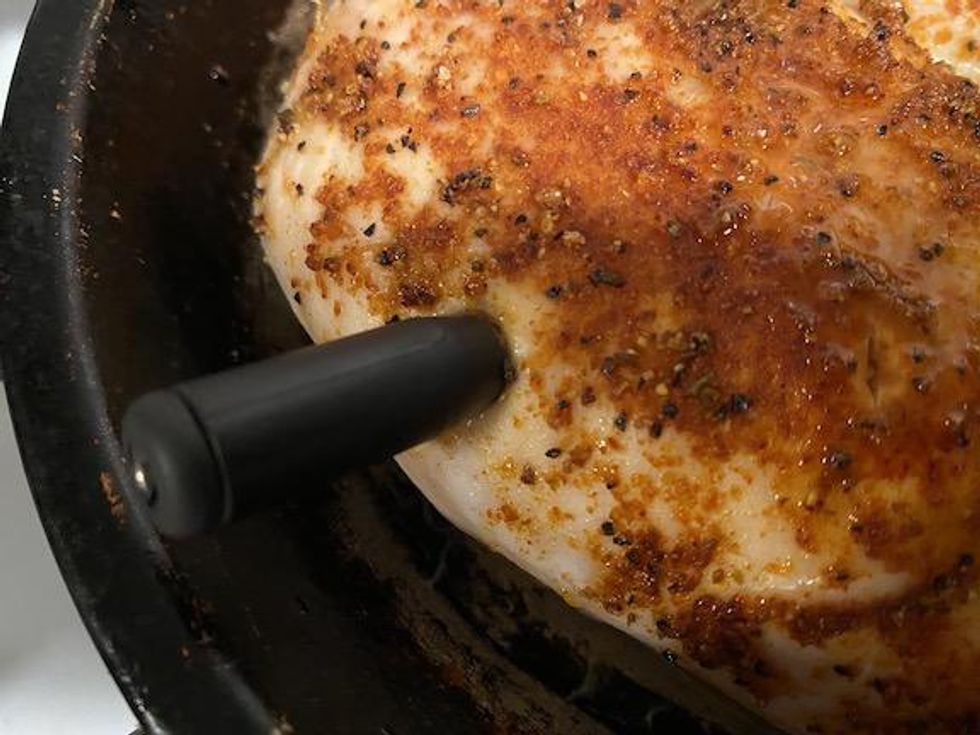 We had excellent results cooking chicken while using the Yummly meat thermometer GearBrain
Which one is best for you?

Both Yummly and Meater+ are really designed to do the same thing, wirelessly monitor your cut of meat or seafood while it's cooking. They're similar in size, and with Yummly's current price cut they're similar in price.
We had a bit of difficulty getting audible notifications with Yummly when using our smartphone on one test, and we had a couple of slightly undercooked chicken breasts via Meater.
Both have recipes to offer, although Yummly's is far more extensive as it's connected to its subscription service, for which you do need to pay an extra fee.
Which one is best for you? We think both work fairly well, and in the end it may come down to the look of the device, with Meater+ delivered in a wooden charging base, and Yummly's in a study plastic one. Or whether you want the option to subscribe to Yummly's recipe offerings too.
Like GearBrain on Facebook