It seems like only yesterday when buyers looking for an electric car were faced with a severely limited selection. Options like the Nissan Leaf were available, but offered limited range and questions over the longevity of the battery — not to mention an inadequate charging infrastructure — leaving buyers with more questions and concerns than answers.
But this is now no longer the case, as an ever-growing number of car makers begin their shift from internal combustion to electric — and of course there is Tesla, which has been mass-producing EVs (electric vehicles) since the Model S arrived back in 2012.
Read More:
This article outlines 10 of the best electric cars on sale today. These are all fully-electric, meaning they are not hybrids, and they do not feature an internal combustion engine acting as a generator, as the BMW i3 once did.
We should also note that this is not definitive ranking, but is instead a selection of what we believe to be the most interesting EVs on sale in 2020, presented in no particular order.
Tesla Model S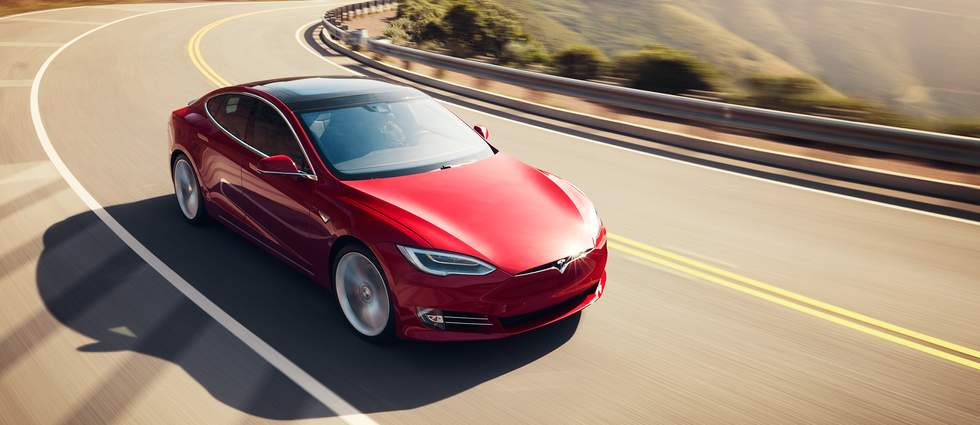 The Model S starts from $75,000 before extras Tesla
The Model S is Tesla's first mass-production electric car, yet perhaps remains the best all-around option of any EV currently on sale. It certainly isn't cheap, with a starting price of $75,000 before federal tax credits and other extras of two child seats in the rear trunk.

As with all other Teslas, the Model S gets to use Tesla's Supercharger network, which is constantly growing across the U.S., Europe and elsewhere, enabling fast, and cheap battery charging.
For those with a need for speed, the Model S Performance with Ludicrous Mode ($116,000 all in) hits 60 mph in a supercar-beating 2.4 seconds and has a top speed of 164 mph, while returning 345 miles of range, when driven more sedately.
All Teslas also offer Autopilot (now a standard fit on newly built cars), the driver assistance system which can operate the steering, accelerator and brakes — and even make lane changes on its own, under the correct circumstances. All Teslas also benefit from regular over-the-air software updates to improve their systems and add new features.
Kia Niro EV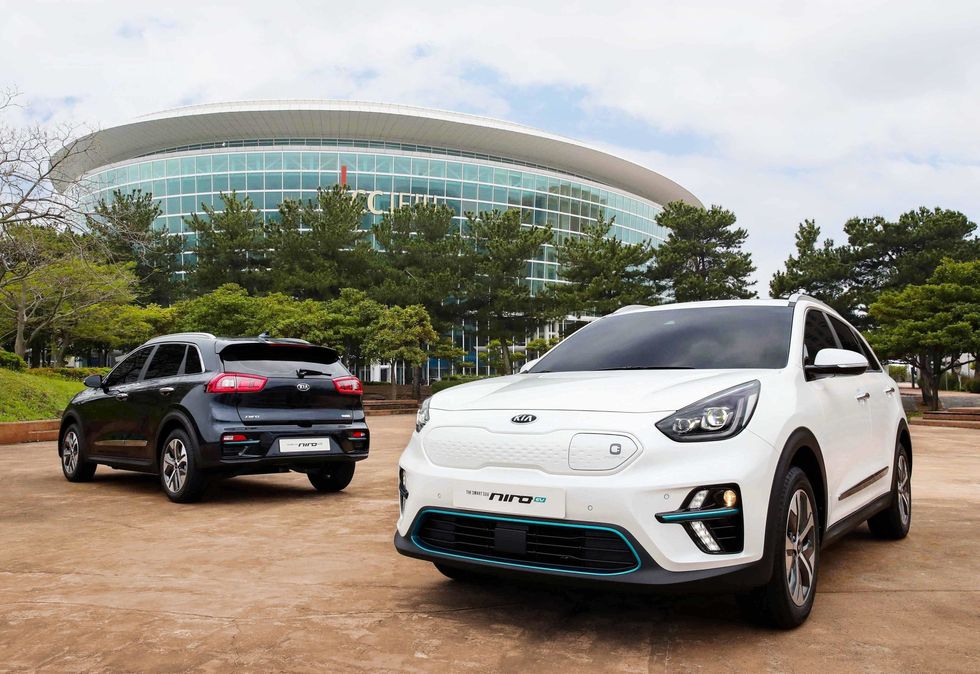 The Niro EV has a range of 239 milesKia
Read More:
No doubt a thorn in the side of Tesla (and its Model 3 in particular), the Kia Niro EV has an EPA range of 239 miles. The car starts at $39,495 before extras, lining it up nearly against the Tesla Model 3, which starts at $39,900 before extras and has a range of 240 miles.
The Niro EV is a high-riding crossover, with decent storage and space for rear-seat passengers. It also offers more conventional looks compared to some other electric cars — partly because it shares its platform with a hybrid version of the Niro and the electric Hyundai Kona.
We applaud Kia for resisting the urge to try and reinvent the wheel here. We also like the Kia's high stance giving it the ability to try a little off-roading. We're not talking rock crawls here, but if you need to tackle a gravel track to a campsite, or navigate a field to the festival parking lot, you'll be fine.
The Kia will also appeal to drivers who don't like the touch screens used by Tesla, as the Niro mostly offers up conventional buttons and knobs, which in our experience are easier to use and less distracting.
Tesla Model 3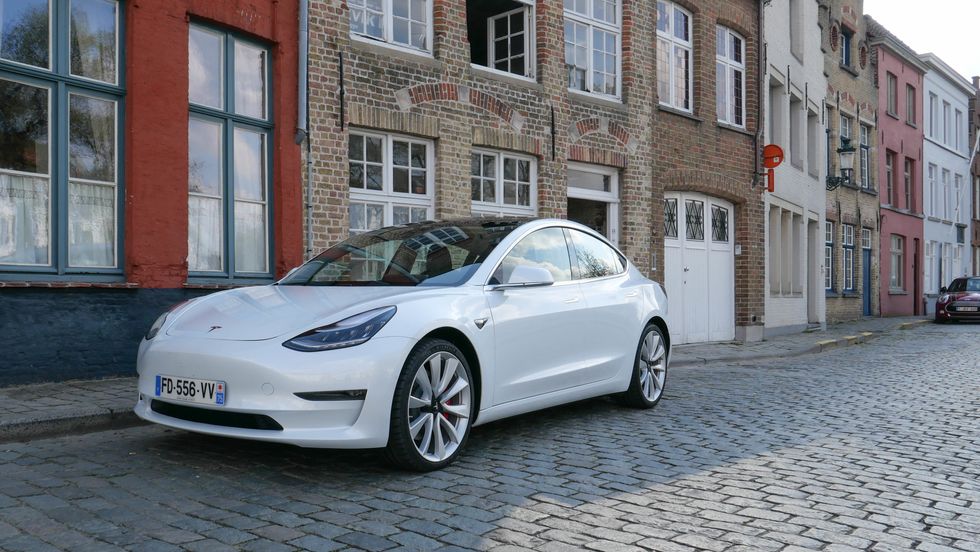 The Model 3 starts from $35,000 GearBrain
Read More:
Perhaps the hottest EV of the moment, the Model 3 endured a difficult birth but is slowly start to live up to expectations. It can't claim to be the only 'EV of the people' anymore, as it seemed at launch way back in 2016, but it still presents a strong alternative to legacy brands like Kia, Hyundai and Chevrolet.

As we explained above, the Model 3 starts at $35,000, but really you want to look at the $39,900 Standard Range Plus, with its 240-mile range, 140 mph top speed and 0-60 mph time of 5.3 seconds. There is seating for four (five is a bit of a squeeze, like in all other sedans), and Autopilot is now standard, along with power adjustable front seats, a tinted glass roof, and four USB charging ports.
The large central touchscreen takes a little getting used to, and we wish Tesla would put the wiper controls on a stalk like everyone else, instead of on the touch screen, but there's no denying it is an attractive and feature-filled system.
Tesla Model Y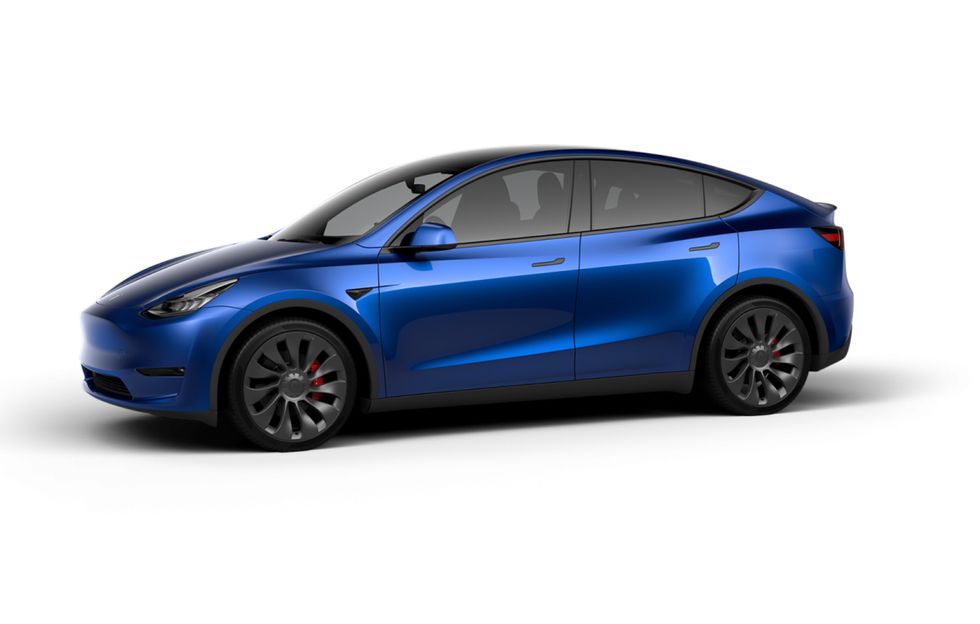 Tesla Model Y has a range of up to 316 miles Tesla
Just as the Model X is a taller version of the Model S (but uses the same chassis), the Model Y is a taller version of the Model 3. Elon Musk predicted when it was revealed in March 2019 how the Y would be Tesla's most popular car, thanks to huge consumer demand for crossover vehicles of this size.

Prices for the Model Y start at $49,990 before any savings and incentives; that gets you the Long Range version, which has a range of 316 miles (EPA rated), a 0-60mph time of 4.8 seconds and a top speed of 135mph. As ever with Tesla, there is a range-topping Performance version, which costs an extra $10,000 and has a range of 291 miles, but a 0-60mph time of 3.5 seconds and a top speed of 155mph.
Volkswagen ID.3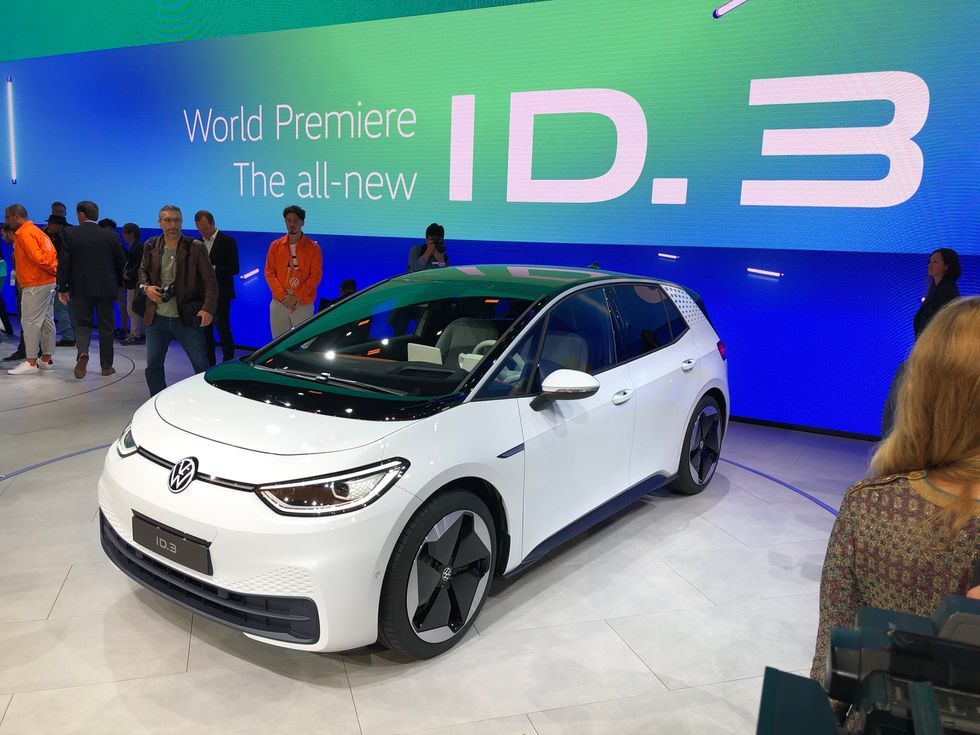 The Volkswagen ID.3 is intended to be an electric GolfGearBrain
Read More:
Revealed in production-ready form in September 2019, the ID.3 is such an important car for Volkswagen that the 3 in its name is to show it comes after the Beetle and Golf.

Following in the tire tracks of two of the world's most famous cars puts a huge weight of expectation on the ID.3's shoulders, but we think it will be a success.
Available only in Europe initially (but with the related ID.4 coming to the US soon), the ID.3 will be priced from under €30,000, and there are three battery sizes available, offering a range of 205, 261 or 340 miles respectively.
The ID.3 is one of 70 electrified vehicles the Volkswagen Group intends to launch between now and 2028.
Hyundai Kona Electric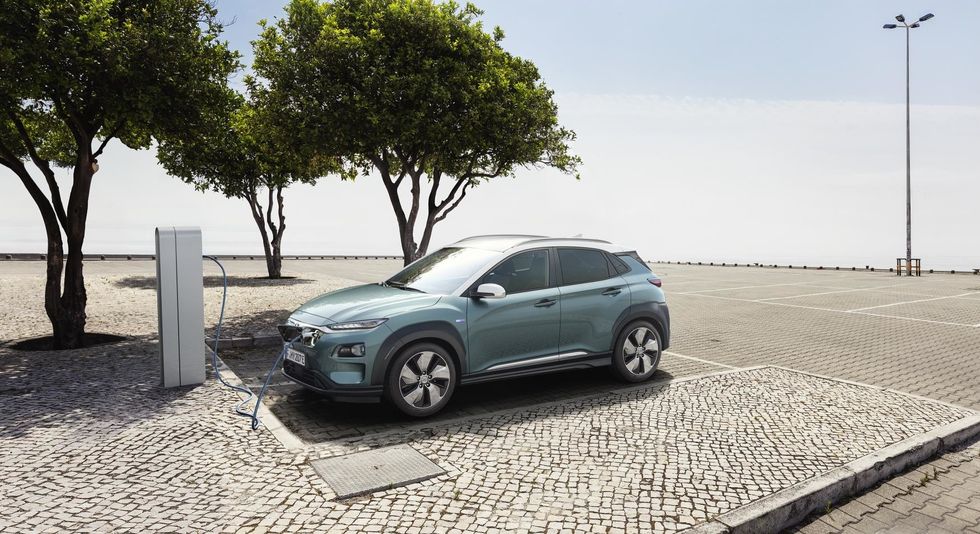 The Hyundai Kona shares the same platform as the Kia Niro EVHyundai
A close relative to the Kia Niro EV, the Hyundai Kona Electric is a mid-size family crossover with an impressive EPA range of 258 miles. Priced from $36,450 for the larger 64 kWh battery option (there's also a 39 kWh model), the Kona Electric is good value for money and keenly-priced against the Tesla Model 3.

The Hyundai's acceleration cannot match that of any Tesla (as little as 2.4 seconds in the Model S with the Ludicrous Mode upgrade) but posts a 0-62 mph (100 km/h) time of 7.6 seconds, which is perfectly adequate for a sensible family car.
Hyundai also lacks access to Tesla's Supercharger network (which is for the exclusive use of Tesla drivers) but can still fully recharge in 75 minute using a rapid public charger.
Porsche Taycan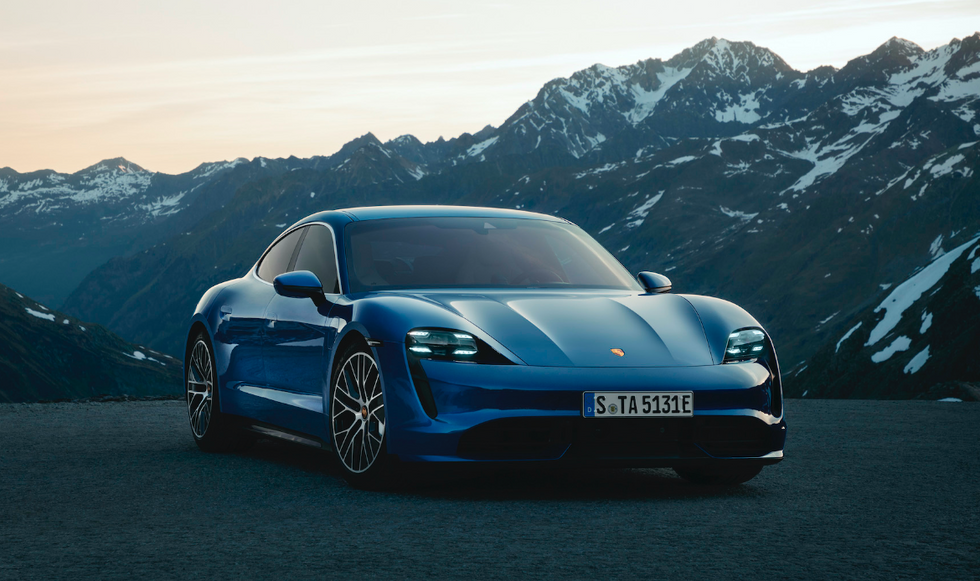 The Taycan is priced from $150,900 for the Turbo modelPorsche
Read More:
Finally revealed in its production-ready form in September 2019, the Taycan is the first electric car from Porsche. In flagship Turbo S configuration, the Taycan has 750 horsepower and accelerates from zero to 62mph in 2.6 seconds. Prices start at $150,900 for the Turbo model, while a fully-loaded Turbo S model with all the optional extras will set you back $241,500, putting it far above the Tesla Model S.
What differentiates this from a Tesla, apart from everything associated with the Porsche name, is the Taycan's unique 800-volt electrical system. Compared to the 400-volt systems used by Teslas and most other electric cars, the Taycan offers repeatable high performance without over-heating - something Teslas struggle with. The system also means the Taycan can charge more quickly, with Porsche saying an 80% refill takes as little as 22.5 minutes now, with more speed to come later.
The entry-level Taycan 4S has a smaller 79.2 kWh battery and is priced from $103,800.
Chevrolet Bolt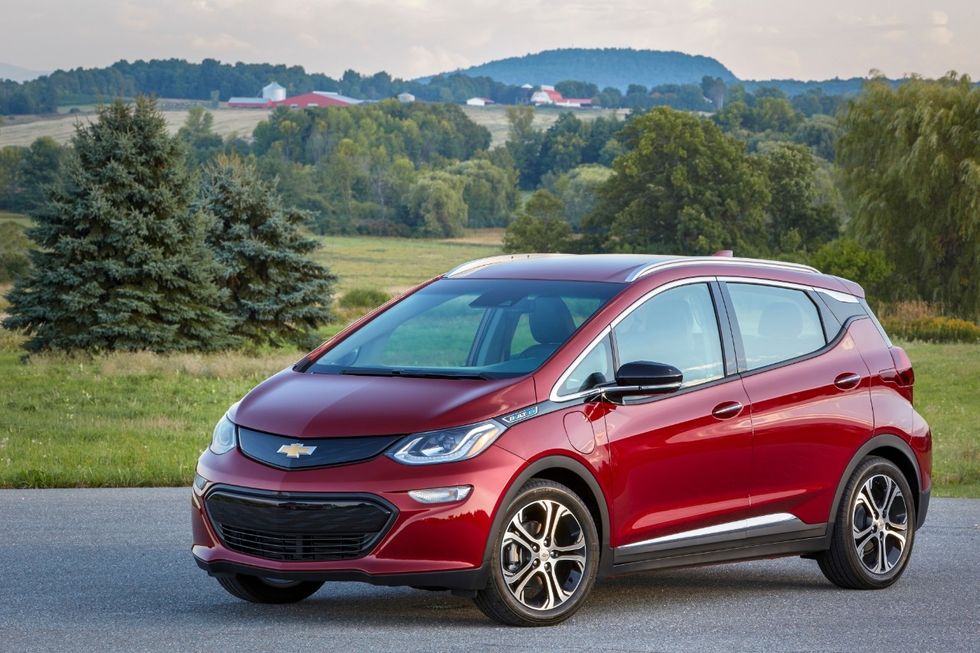 The Bolt has a range of 238 miles and starts at just under $37,000 Chevrolet
Face-lifted for 2019, the Bolt offers an EPA range of up to 238 miles per charge and is priced from $36,620 before extras. A family crossover similar in design to the Hyundai and Kia, the Chevrolet features Apple CarPlay and Android Auto on its 10.2-inch touch screen dashboard display, plus in-car 4G and a Wi-Fi network is an optional extra, and you can check the charge level of the battery via the myChevrolet smartphone app.

Safety features include automatic low-speed emergency braking with pedestrian detection, a rear vision camera, and lane-keep assistance, which provides alerts and gentle steering inputs to keep you from drifting out of your lane. This isn't quite the same as Tesla's Autopilot system, but provides a similar level of safety assistance.
Jaguar I-Pace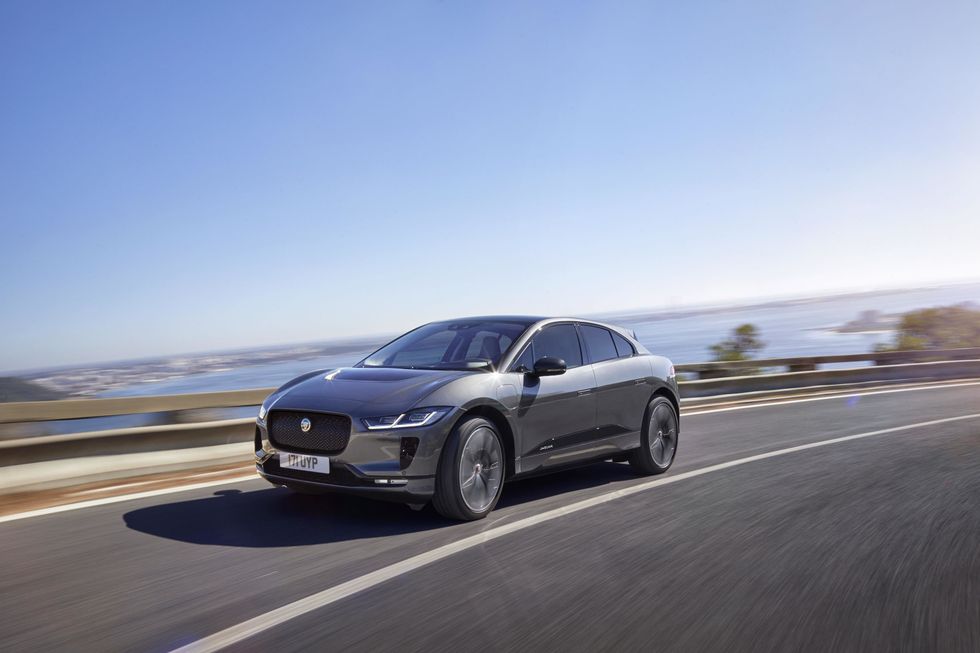 The I-Pace can be charged to 80 percent in as little as 45 minutesJaguar
The first luxury electric car to come from a legacy auto company, the Jaguar I-Pace arrived in 2018 and has an EPA-rated range of 234 miles. Recently updated for 2020, the I-Pace isn't as big as the Tesla Model X, but at $69,850 before extras, it is priced $10,000 less than the entry-level Model X, while offering similar performance and a superior cabin.

The Jaguar misses out on access to Tesla's exclusive Supercharger network, but is capable of refilling its battery from almost empty to 80 percent in 45 minutes when plugged into a 100 kW DC charger.
Jaguar stole a march on its rivals with the I-Pace, getting its first electric car to market well ahead of the Audi e-tron SUV, Mercedes EQC and BMW iX3; in fact, it was the first luxury electric car to go on sale after Tesla. Unlike all Teslas, the Jaguar is fitted with Apple CarPlay and Android Auto as standard.
Jaguar is expected to reveal its second electric car soon, in the form of an all-new version of its XJ luxury sedan.
Polestar 2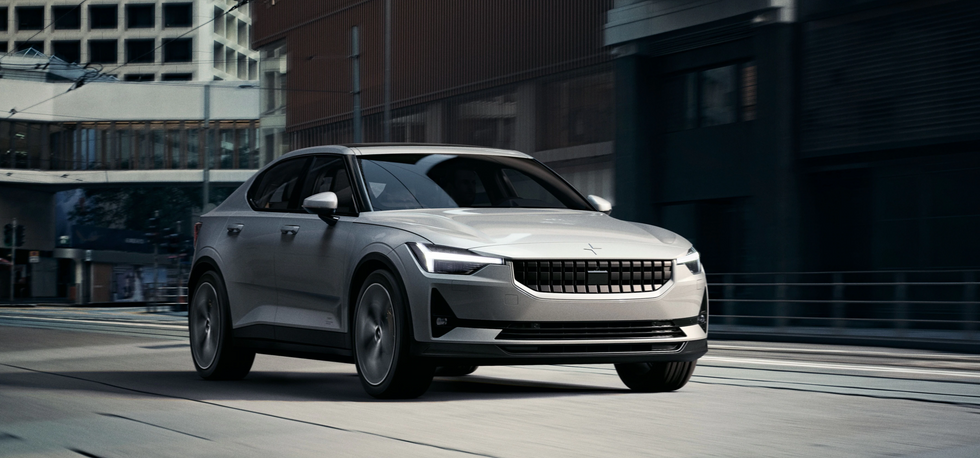 The Polestar 2 has a range of 275 miles Polestar
Read More:
Polestar 2 technology review
One of the most exciting cars of 2020, the Polestar 2 is the closest rival yet to the Tesla Model 3 and Model Y. Polestar is a relative of Volvo and both companies are owned by Chinese car giant Geely. Polestar's second car but it's first all-electric vehicle, the 2 is priced from $59,990 before incentives and tax rebates (which can be as high as $9,500).

It has a range of 275 miles and most interesting is its infotainment system, which is the world' first to run on Google's new Android Automotive platform. The Polestar 2 uses the Google Assistant and has apps like Google Maps, Spotify and the Play Store baked in
Tesla Model X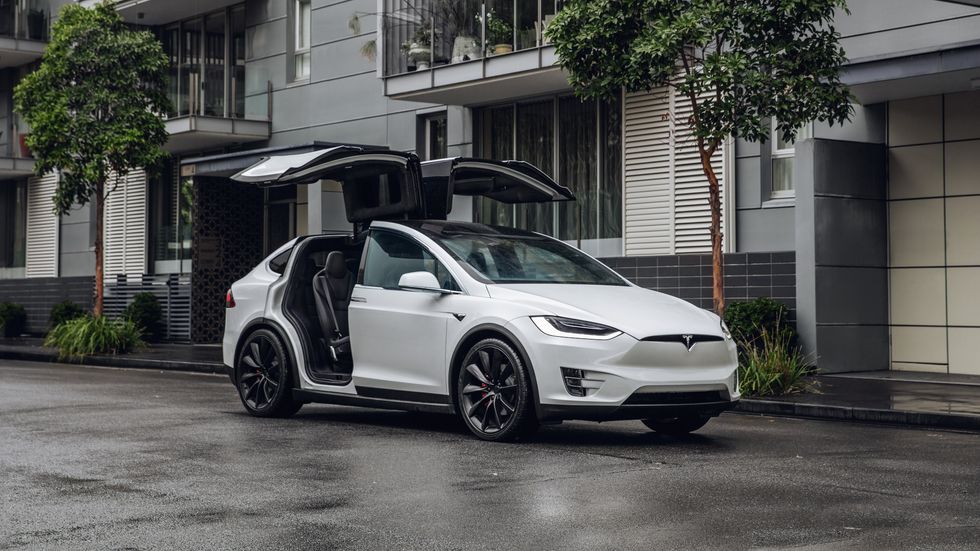 The Model X stands out with its falcon-wing doorsTesla
Built on the same chassis as the Model S, and using the same battery pack and motors, the Model X is taller, with a roomier cabin, upwards-opening 'falcon wing' rear doors, and seating for seven adults.

Although not an SUV in the same way a Land Rover is, the Model X is Tesla's largest vehicle, and has a range of between 250 and 325 miles, depending on your budget. The higher of those figures gives the Model X the second-longest range of any electric car currently on sale, with the Model S going further with the same drivetrain due to being smaller and lighter.
Audi e-tron SUV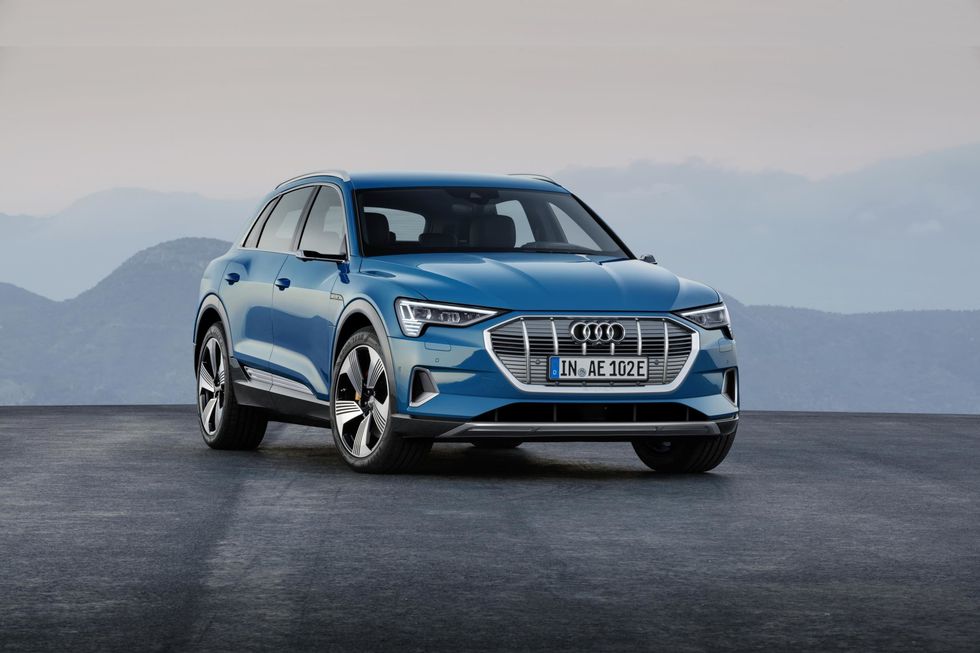 Audi-'s first electric car was, predictably, a luxury SUV Audi
This SUV is the first from Audi's new e-tron range of all-electric vehicles. The luxury car can be seen as a battery-powered equivalent of the company's Q5 and Q7 off-roaders, and is priced from $74,800 before extras.

For this, buyers get a car which feels more luxurious and feature-packed than anything offered by Tesla, and we expect to see the Audi fight closely against the Jaguar I-Pace and upcoming Mercedes EQC, as well as the BMW iX3 due in 2020.
All that said, the Audi is let down a little by its EPA-rated range of 204 miles, some 20 percent behind the entry-level Tesla Model X and 30 miles short of the Jaguar. The car, however, is a strong start for Audi and its parent, the Volkswagen Group, which will offer 70 fully electric vehicles by 2028 from its Volkswagen brand, not including Audi, Porsche and others.

A unique feature of the e-tron is how Audi offers a pair of cameras and displays instead of wing mirrors. This helps to reduce aerodynamic drag, thus increasing range. But despite being available in Europe, is still pending regulatory approval in the U.S.
Even without this option, the e-tron's interior includes three digital displays — one behind the steering wheel and two touch screens for interacting with the car's climate and infotainment systems.
BMW i3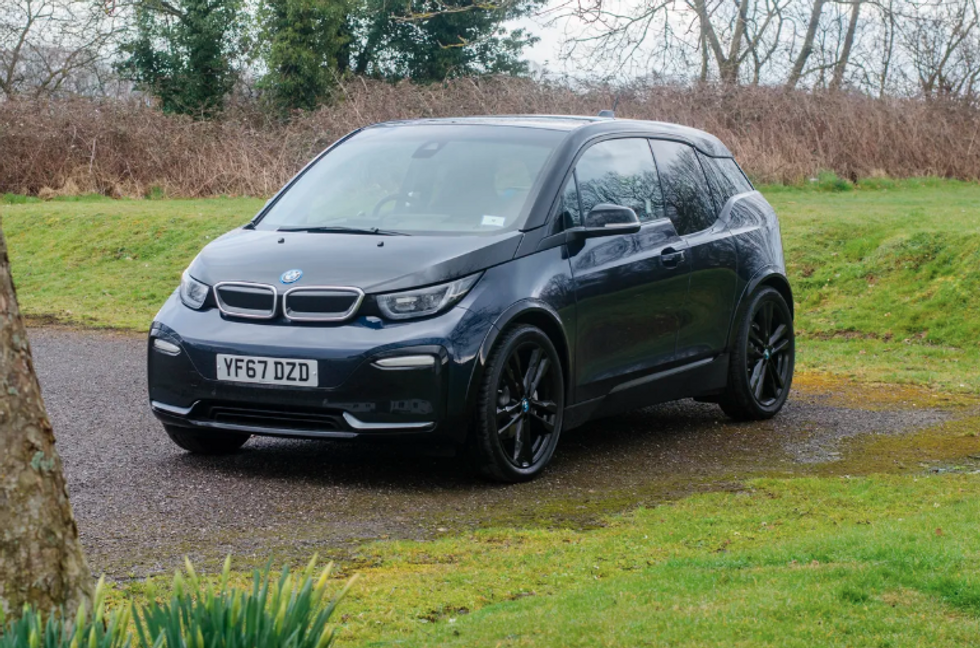 The BMW i3 has been with us since 2013, and has a range of 153 miles GearBrain
Read More:
The i3 has been with us for a while now, but received a minor facelift and power boost in 2018 in the form of the new i3s. The i3 starts at $44,450 before extras and offers an EPA range of 153 miles; this is a fair bit behind most other cars featured in this article, but is a huge improvement on the 81 mile range the i3 launched with back in 2013.

Intended more as a city car than a long-distance cruiser, the i3 embraces its electric underpinnings by sporting a futuristic aesthetic. It may not be to everyone's taste, but its carbon-reinforced chassis and backwards-opened rear doors certainly make the BMW stand out among 'regular' looking EVs like the Kia Niro and Hyundai Kona.
Mini Electric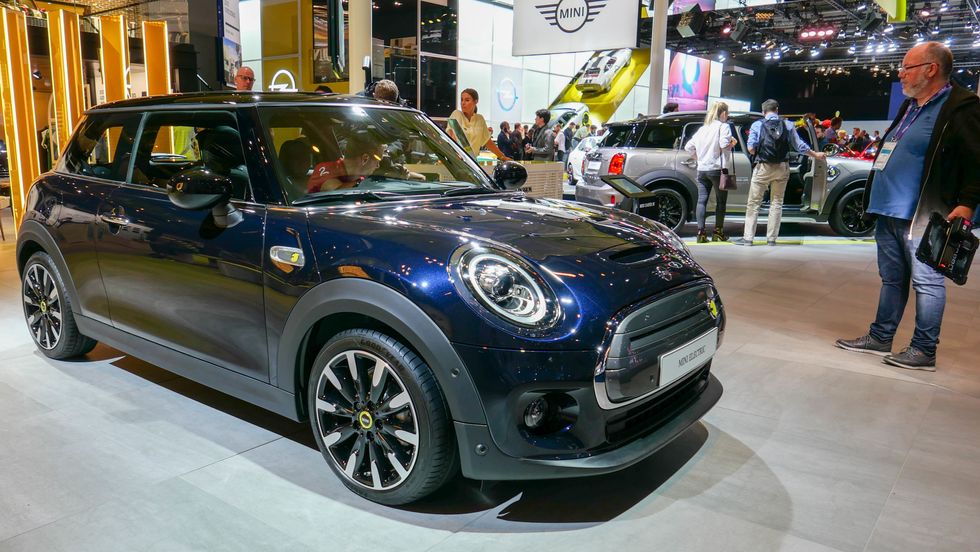 The Mini Electric is designed to fit in with the rest of the range GearBrain
Based on the same powertrain as the BMW i3, the new Mini Electric is priced from $29,900 and is designed to look very similar to the rest of the current Mini hatchback range, instead of standing apart as something entirely different.

Intended to be a city car instead of a long-distance cruiser, the Mini has a range of 110 miles and a 0-60mph time of 6.9 seconds. Using a 50kW charger, the battery can be filled to 80 percent in 36 minutes.
This is a smart move by Mini and owners BMW, as it gives buyers the option of petrol or electricity in the same way they can pick from the Cooper and Cooper S model, or from a hatchback with three doors or five. Although the range is fairly limited compared to the likes of the Kia Niro EV and Tesla Model 3, we think the Mini Electric will be a popular choice for city dwellers who want a stylish but compact EV to cover relatively short distances.
Standard features include LED lights front and rear, heated front seats, remote heating and cooling, and Apple CarPlay.
Honda E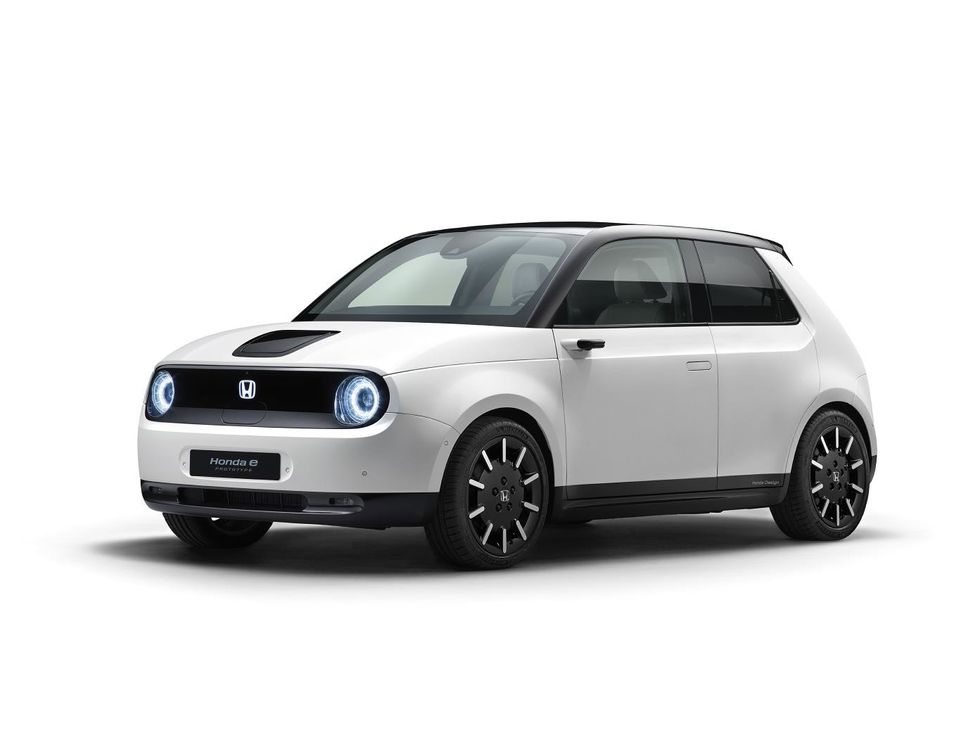 The Honda E has a range of 137 miles Honda
Another compact electric car aimed at European cities is the Honda E. This car began life as the Urban EV concept in 2017, and is now ready to buy. The Honda E is priced from £26,160 in the UK, and the company is yet to announce plans for selling the car in the US. We suspect it could head Stateside if it is a sales success in the UK and Europe.

The car has a compact 35.5kWh battery and a range of 137 miles. This isn't much compared to some rivals, but there isn't much choice for EVs of this size, and we think the Honda's striking design will help convince buyers that range isn't the be-all and end-all of EV ownership.
We are particularly keen on the interior, which features screens for wing mirrors, and two large touch screens which span almost the entire width of the wood-trimmed dashboard.
Ford Mustang Mach-E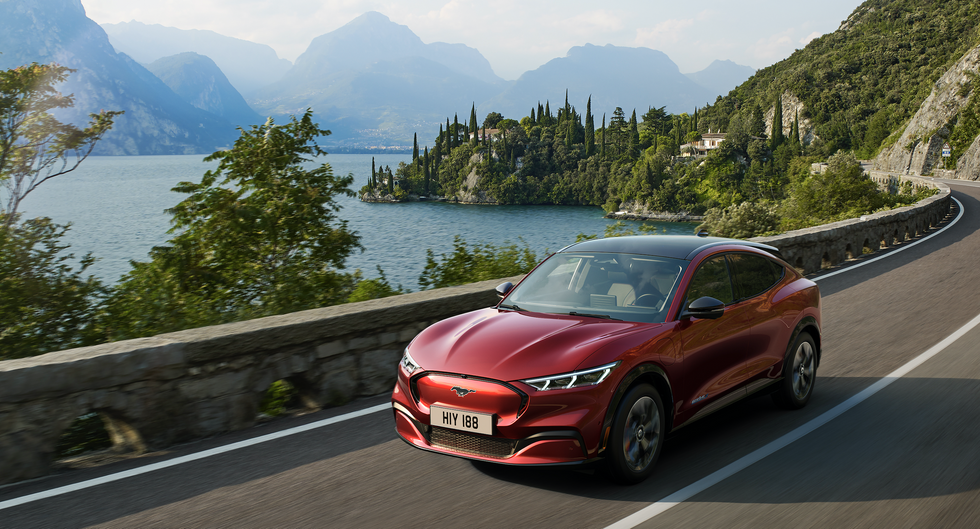 The Mach-E has a 300-mile range and is due later in 2020 Ford
Ford revealed its first mass-produced, all-electric car towards the end of 2019. Called the Mustang Mach-E, this is a crossover with obvious Mustang DNA in its styling, but with family-focused practicality too. The Mach-E has a claimed 300 miles of range and features an all-new infotainment system running on a 15.5-inch portrait-orientated touchscreen.

Prices started at $45,000 before federal incentives and rise to $60,500 for the flagship GT model. Two battery sizes are available, measuring 75 kWh and 99 kWh, and power output ranges from 190 to 248 kW (258 to 337 metric horsepower), while the GT model gets an uprated front motor to bring that figure up to 342 kW (465 horsepower). Production of the Mach-E is due to begin in late-2020.
Nissan Leaf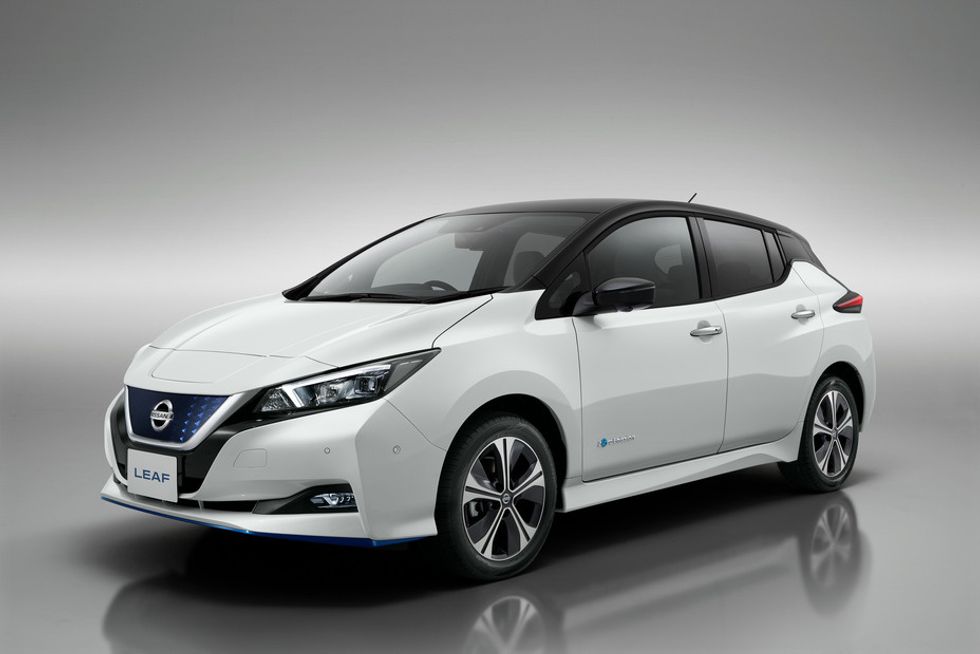 The range-topping e+ model of Leaf has a 226 mile range Nissan
The Nissan Leaf first launched back in 2010, which in electric car terms is an entire generation ago. Thankfully, with the latest model - and the rang-topping e+ version in particular — Nissan has done enough to stay in the game. This car has a range of up to 226 miles, a respectful 0-62 mph time of 7.1 seconds, and is priced at $36,550.

Like most electric cars, the Nissan Leaf can be driven while rarely touching the brake pedal. Nissan highlights this as a feature and calls it 'one-pedal driving,' but in truth this is just how the regenerative braking systems of EVs works. When you lift off the accelerator, the motor turns into a generator, feeding energy back into the battery; this processor slows the car, in the same way engine braking does in internal combustion vehicles, but to greater effect.
When plugged into the fastest public charger, Nissan safe the Leaf e+ can refill its battery from 20 percent to 80 percent in around 60 minutes, somewhat slower than a Tesla using a Supercharger, or a car using the under-construction Electrify America network.
Byton M-byte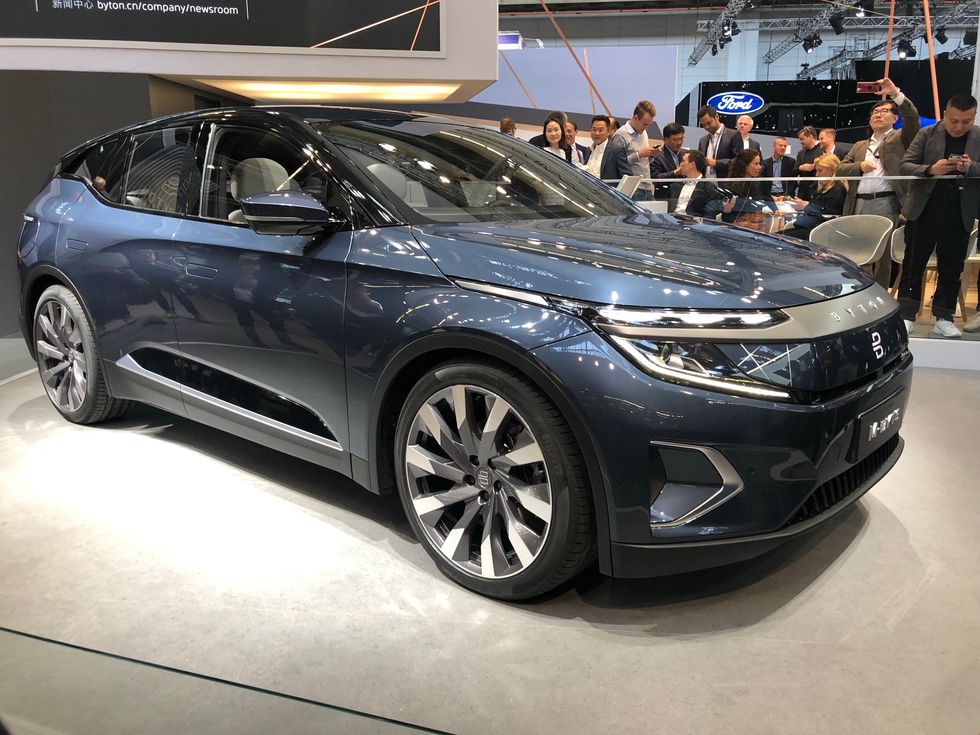 The Byton M-byte has a range from 224 milesGearBrain
Presented in its production-ready form at the Frankfurt motor show in September 2019, the M-byte is Byton's first car, and one which hopes to ruffle a few feathers at Tesla. The family SUV is best known for its huge 48-inch dashboard touchscreen which spans the entire width of the cabin, and there is also a touchscreen on the steering wheel.

Prices are to start at $45,000 for a version of the M-byte with a 72kWh battery and a range of 224 miles. Above this there is a 95kWh model with a range of 270 miles. Inside, Byton has fitted the car with a 5G connection and voice control is provided via Amazon Alexa - a sensible choice instead of the company trying to create its own assistant.
Byton has already taken 50,000 reservations for the M-byte, and deliveries were supposed to begin in China in 2020.
However, Byton announced in July 2020 that it would suspend business activity for six months due to the coronavirus pandemic.
Lotis Evija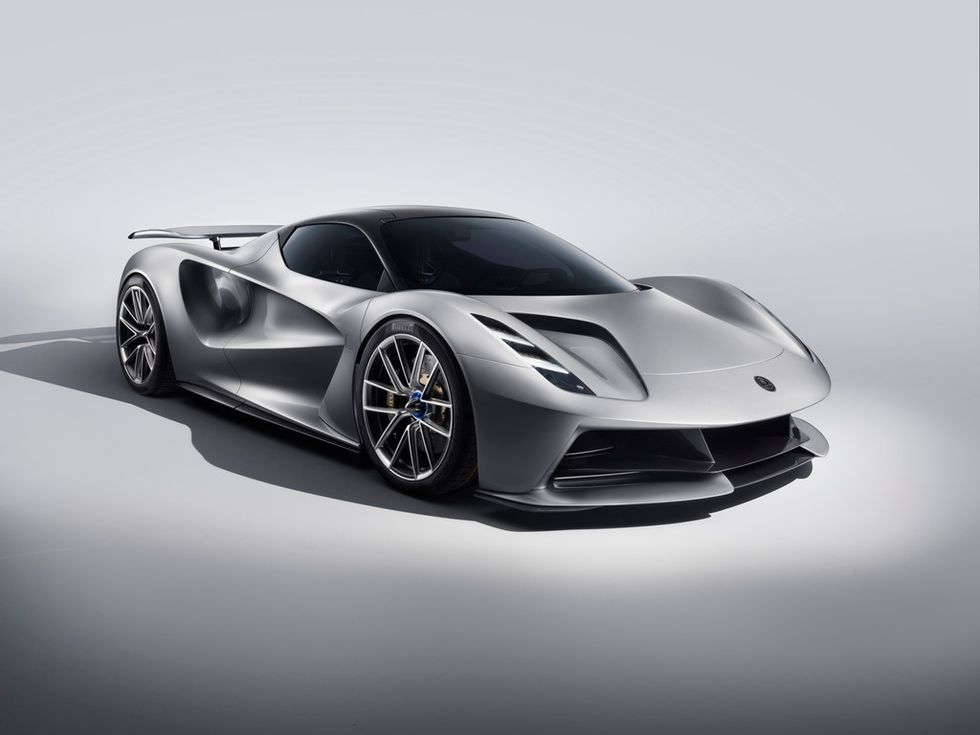 The Lotus Evija produces a claimed 2,000 horsepowerLotus
To be the most powerful street legal car ever made, the Lotus Evija is an electric hypercar with four motors producing a combined 2,000 horsepower. This gives the car a zero to 60mph time of under three seconds (comfortably under, we suspect) and a staggering zero to 186mpg (300km/h) time of under nine seconds. Driven more sedately, the range is a claimed 250 miles.

Just 130 examples will be made and each is priced at over $2 million.
Automobili Pininfarina Battista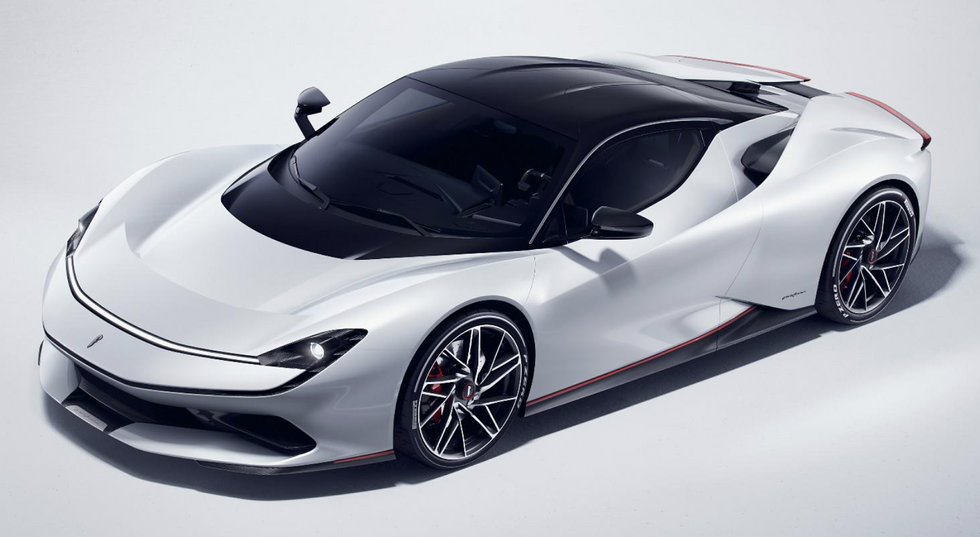 Two electric motors give the Battista 1,900 horsepower Automobili Pininfarina
Read More:
Finally, billed as a guilt-free hypercar, the electric Battista is the first car to come from legendary Italian design house Pininfarina. It boasts 1,900 horsepower from two electric motors, all-wheel-drive, a 0-60 mph time of under two seconds, and a range of almost 280 miles, if driven sensibly, of course.

Production is due to begin in 2020 but just 150 examples will be made, with 50 destined for the U.S., 50 for Europe, and 50 for the rest of the world. If the car's styling looks familiar, then that'll be the influence from Pininfarina's past experience as a designer house — the company is responsible for drawing much of Ferrari's back catalogue.
Apart from being an EV moonshot, the Battista goes to show just how varied the electric car market already is; you can spend around $35,000 on a sensible family car, or $2 million on one of the quickest cars ever made, yet the underlying technology of both is closely related.
The Battista is related to another electric hypercar, in the form of the Rimac C_Two from Croatia. Due to be revealed in production form at the Geneva motor show in early 2020, the car was delayed due to the coronavirus pandemic (and the show was cancelled), but production is still expected to take place in 2021.
GearBrain Road Trip Gadget Guide www.youtube.com