With the launch of Google's Stadia video game streaming service now just a month away, there's some bad news for anyone hoping the controller would be truly wireless.
That's because, according to the small print in one of Google's own YouTube videos explaining how Stadia works, the controller is only wireless when used with the company's own Chromecast Ultra device.
Read More:
Google states: "At launch, wireless play with the Stadia Controller is only available on TV using a Chromecast Ultra."
This means that anyone using Google Stadia on a smartphone, tablet or computer will have to plug the controller in with a cable like it's 2005. This is somewhat disappointing, given Google's claims that Stadia is the future of gaming, and how consoles have offered wireless controllers for well over a decade.
There's a chance this situation could change with a software update after launch, or with future, more capable versions of the wireless Bluetooth standard. But for now you'll have to plug the controller in unless playing using a Chromecast attached to your television.
Instead of using a console playing a game from a disc or file stored on its hard drive, like an Xbox or PlayStation, Google Stadia connects its controller directly to Google's servers, which run the games.

That way, the player's inputs to the controller are sent to the server, then the video and audio of the game they're playing is streamed back to the Chromecast, or to other compatible devices like smartphones, tablets and computers via the Google Chrome web browser.
It's perhaps understandable that the controller needs a faster wired connection to most devices, as latency - the time between a button being pressed and the game responding - needs to be incredibly low to ensure Stadia is a success.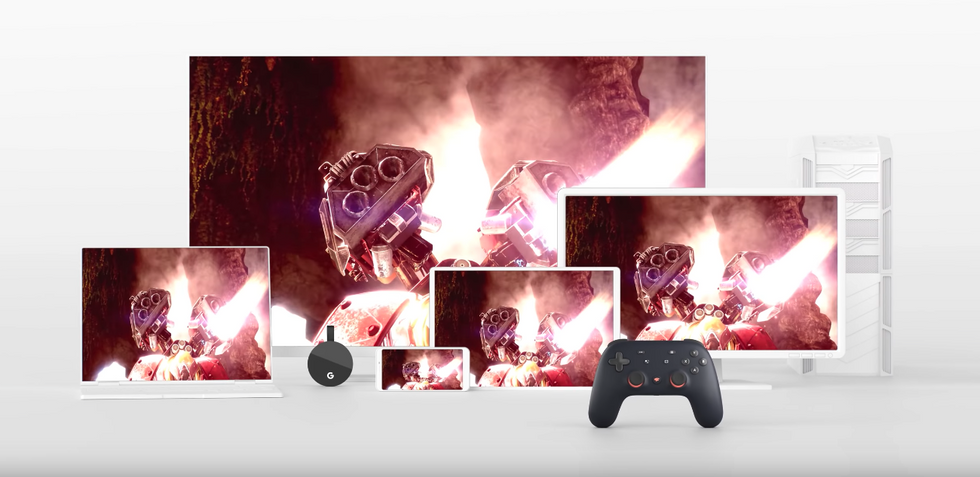 The controller needs plugging in to all other devicesGoogle
We also learned this week, via a Google community manager posting on Reddit, that Google's controller will be the only way to play Stadia, meaning the use of a third-party gamepad, mouse or keyboard is not possible - unless playing on a computer, of course. But on that Google adds: "Only certain HID compliant controllers via USB cable on Chrome are supported on Stadia."

Google Stadia launches on November 19 in the US, UK, Ireland, Canada, France, Germany, Italy, Spain, the Netherlands, Belgium, Denmark, Sweden, Norway and Finland. Stadia costs $9.99 a month in the US, plus the cost of buying each game, and a starter pack including a Chromecast Ultra, controller and three months' subscription costs $130.