Like GearBrain on Facebook
With much of the world stuck indoors due to the coronavirus, there's no better time to explore what games and quizzes the Google Assistant has to offer.
Just like Alexa, the voice assistant can access a broad catalogue of games to keep you entertained during this period of social isolation.
Read More:
All of these work with every device capable of summoning the Google Assistant. This includes all Google- and Nest-branded smart speakers and displays, from the $50 Nest Mini, up to the flagship Nest Hub Max display. Naturally, displays can show more information and are therefore better equipped for visually-led games.
There are games for adults and children, games to play alone or with friends, and games which could help boost your memory skills with daily use. There's even an adventure game to play with Dustin from Stranger Things.
Just like the games you can play with Alexa, these are predominantly voice-based, so you've got to listen carefully, speak clearly and often say exactly the right answer to earn your points. Some of the games also show a basic user interface and other graphics on smart displays like the Nest Hub.
To launch each of these games and quizzes, just ask your Google Home to "open" or "launch" the title, and they should work. Asking Google to "talk to" the title of the game also works.
More recently, Google added a catalogue of 10 free new games to play with the Assistant on smart displays. Just say: "Hey Google, let's play a game" to get started.
Note: These voice applications are free to use, but some include the equivalent of in-app purchases to unlock extra content and help you progress more quickly.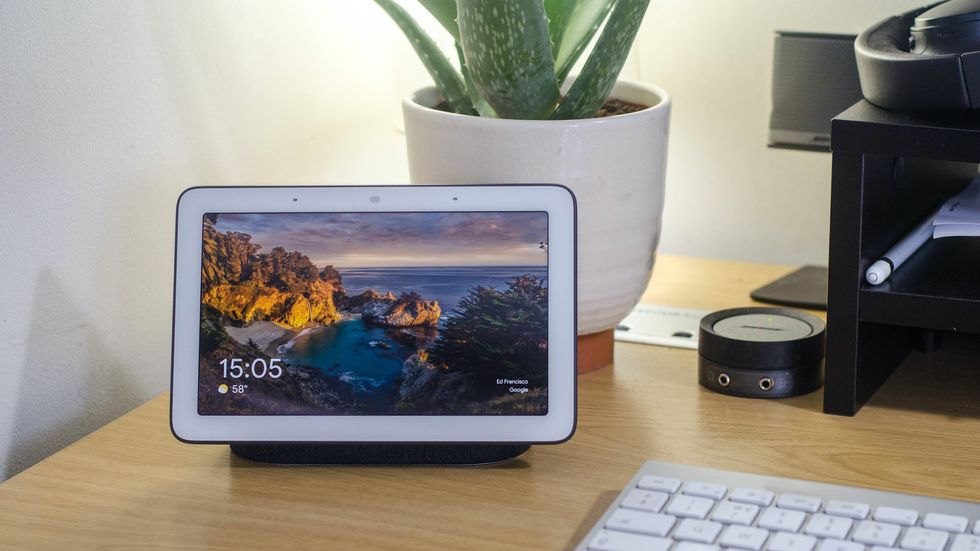 Google Home Hub GearBrain
Are You Feeling Lucky?

Ask Google to play Are You Feeling Luck? (formerly known as Lucky Trivia) and the assistant almost bursts with excitement. Ours said: "Oh yeah! This is so much better than telling you about the weather!"
Google then plays a little jingle and welcomes you as if you've just stepped onto the set of a TV quiz show, complete with applauding and laughing audience. The Assistant then asks how many contestants there are, assigns you with a random name (like 'Fluffy' or 'Sleepy Head'), then kicks off a five-round game of true or false on general knowledge.
Dustin from Stranger Things
One for fans of the Netflix series Stranger Things, this activity sees you have a walkie-talkie conversation with Dustin from the show. First, you need to answer a question to prove he can trust you (what is Eleven's favorite food?), then Dustin takes you for a ride through a mini game based on the plot of the show. You're asked multiple-choice questions and Dustin's responses fit well to the answers you give (whether they are right or wrong), making the conversation feel surprisingly natural.
Horizontal Crossword
Horizontal Crosswords is a fast-paced crossword game that is loaded with new puzzles to solve every day. Working against the clock, you are given a series of clues to help, and you just have to say the word to input; no typing or spelling required.
Game of Words
In this game you are given six letters and tasked with making as many words as you can; like Scrabble, the longer the word the more points you are awarded. As well as playing against yourself, your score will be compared to other players around the world.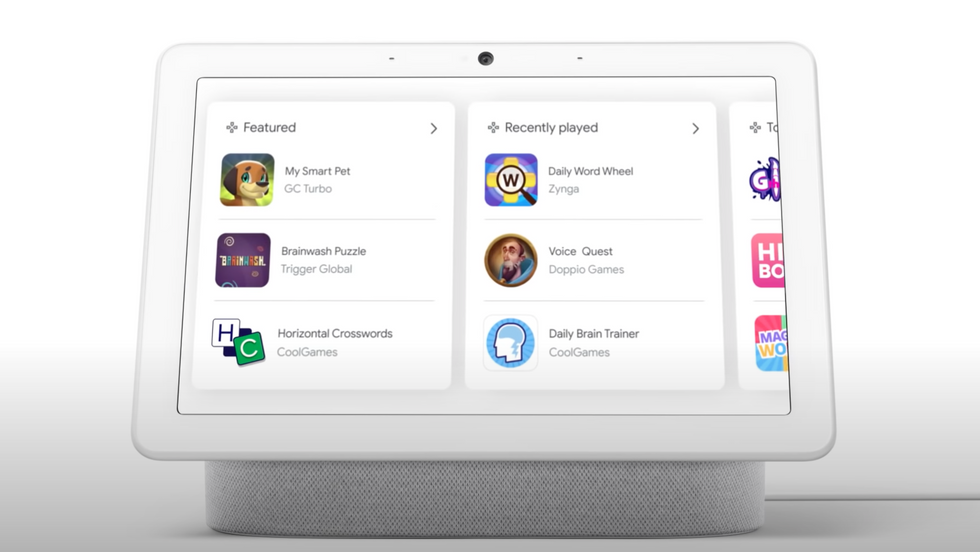 10 free new games come to Google and Nest smart displays Google
Daily Brain Trainer

This game features quick daily puzzles to test memory, reaction times and pattern matching skills. Your score can be compared with other players, and the more you get right the more puzzles unlock.
SongPop

SongPop asks you to pick a music genre, then plays snippets of songs for you to identify. Points are awarded for guessing either the track title or artist correctly, and for each question you can ask for a hint, which gives you three options for the answer.
The Vortex
This voice-based adventure game begins with you waking up on a derelict spaceship. You've to then use voice instructions to get help from a team of robots, reclaim your vessel and escape.
The Vortex comes from video game studio Doppio and features an original script written by Greg Buchanan, who previously worked on his video game No Man's Sky. To get started, say: "Okay Google, talk to The Vortex by Doppio".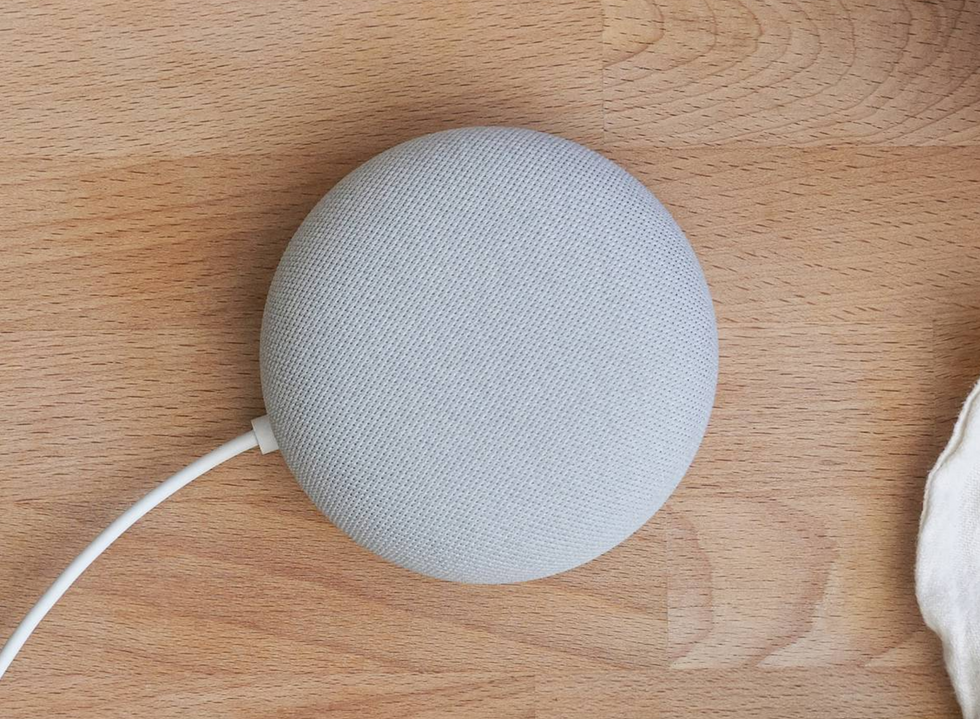 Nest Mini smart speaker Google
Star Wars Trivia Challenge

Some of the most engaging Google Assistant games are quizzes. This one, as the name suggests, will test you Star Wars knowledge, with official backing from the Disney-owned franchise and realistic sound effects.
There are a couple of different game modes, called Story and Survival, and to get started you say: "hey Google, play Star Wars Trivia".
Lenovo Star Wars: Jedi Challenges, Smartphone Powered Augmented Reality Experience
Jeopardy!

The hit TV show is available to play on your Google Assistant device. Six new clues are added every weekday, and there are a wide variety of topics to pick from, including sports, pop culture, travel and world history.
Sound effects and visuals borrowed from the TV help produce an authentic experience, and there are Teen Jeopardy and Sports Jeopardy clues added every Sunday. To get started, say "Hey Google, play Jeopardy".
Movie Quiz
This game is loaded with hundreds of movie sound clips from the past 60 years. All you have to do is listen to a clip, then correctly guess which movie it comes from. A multiplayer mode lets you compete against other people.
To get started say: "Okay Google, talk to Movie Quiz".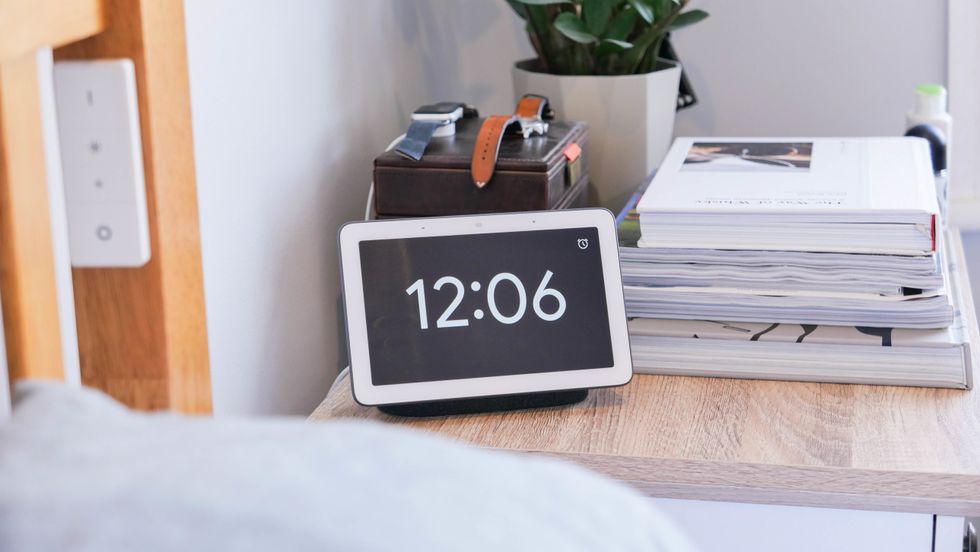 These games work on all Google and Nest speakers and displays GearBrain
Wait Wait Quiz

A Google Assistant version of NPR's Wait Wait Don't Tell Me quiz, this game is updated regularly with new questions, and offers short, five-minute games to keep you entertained each week.
To launch the app, say "Okay Google, talk to Wait Wait Quiz".
Crystal Ball
Ask Google to look into its crystal ball and the game will begin. "I just need to hang these velvet curtains," the Assistant says, before asking you to come closer, close your eyes and clear your thoughts. You can then ask a series of yes or no questions and Google will provide the kind of unsurprisingly vague answers you'd expect from a fortune teller.
Number Master
Less of a game and more of a memory test, this simply reads out numbers in sets of threes. After Google reads out the first three numbers, you need to say them back in the right order. Easy at first, but when you're trying to remember a sequence of nine, 12 or 15 numbers it gets tough. But who's to say with daily practice your short-term memory skills won't improve?
Don't forget to check out The GearBrain, our compatibility checker, to see all the connected devices that work with Google Home and Google Home Mini.
Like GearBrain on Facebook