Like GearBrain on Facebook
The Doodle for Google student winner took the top prize by celebrating "her awesome" mother,18-year-old Arantza Peña Popo said in her winning submission.
The student from Lithonia, GA., titled her winning sketch "Once you get it, give it back," which features her and her mother standing in front of a portrait of the two of them when Popo was an infant.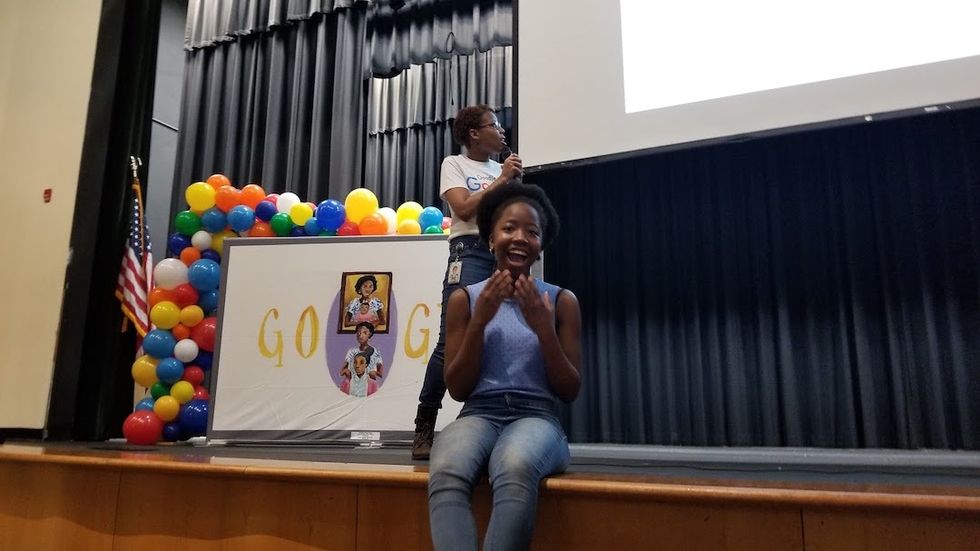 18-year-old Arantza Peña Popo seated on stage next to her winning doodleGoogle
"I came up with the idea at the last minute, actually the day of the deadline," wrote Popo. "I looked at the photograph of my mother (the real version that inspired the drawing) and thought, "Hey, why don't I reverse it?" I wanted to focus more on a message of helping out my awesome mother, more than anything else."

Read More:
College scholarship
The 11th annual Doodle for Google contest opened in January 2019, and K-12 students sent nearly a quarter of million entries — drawings from 222,000 students in the U.S. — who made doodles using the Google logo to reflect the theme, "When I grow up, I hope…."
From these entries, students were narrowed in late June to five national finalists representing five different age groups: kindergarten through 3rd grade, 4th- through 5th-grade, 6th- through 7th-grade, 8th- through 9th-grade and 10th- through 12th-grade.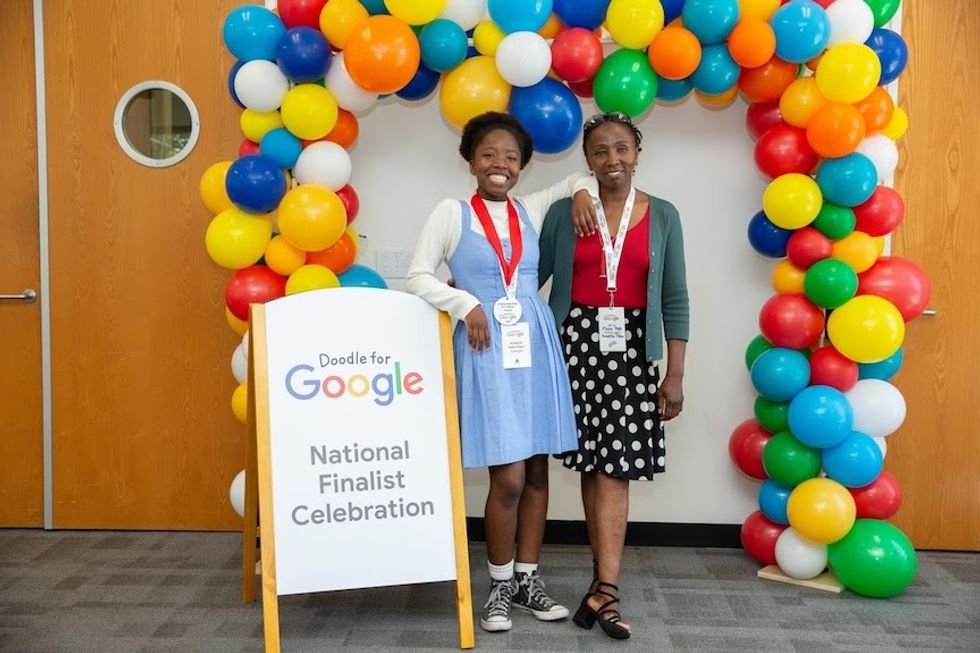 11th annual Doodle for Google winner next to her mother, her inspiration for her sketchGoogle
Students from New Jersey, Puerto Rico, Texas and Connecticut, in addition to the Georgia-based Popo made the top five with colorful images that celebrated farming, the environment, children and even the world of comic books.

In addition to getting her winning doodle featured on the Google home page, Popo is also getting a $30,000 college scholarship. Her high school, Arabia Mountain High School in Stonecrest, GA, will also walk away with a significant prize — $50,000 in technology towards a new lab, or to help upgrade one that's existing.
As for Popo, she mentioned in her entry that enjoys studying "literature that focuses on more diverse perspectives of our society." As for when she believes she'll feel like a grown up, she thinks by the time she's 30-years-old she may be more ready to step into adulthood, but, for now, she's still feels "like a kid."
Like GearBrain on Facebook