Google sent shockwaves across the entertainment and video game landscape this year when it announced Stadia, a streaming gaming platform meant to work on computers, phones and tablets, without the need for a game console.
The company gave away very little when Stadia was first announced in March, but revealed more details at the E3 gaming convention over the summer. The service can be pre-ordered now and is due to be switched on in November 2019.
Read More:
With that date fast approaching, here is everything you need to know about Google Stadia — including how much it costs, what games are available, and how the platform works. This article will be updated as more information on Stadia is known.
How does Google Stadia work?
Instead of using a game console like the PlayStation 4, Xbox One or a computer to run the processing, Google Stadia does the heavy lifting on the company's own servers. A game's video and audio is then streamed to the display of a device, with the gameplay then sent back up to the server.
This way, the game is no more taxing for a device to play than a video, as the processing is all done remotely. Players also won't need to buy a new console every few years to access better quality and more graphically demanding games, as all that is needed is the display. The processing is done by Google.
This means any device with a screen and an internet connection can play any game. Something graphically demanding will work just as well on a smartphone as it does on a PC, Mac, or a television with a Google Chromecast Ultra attached.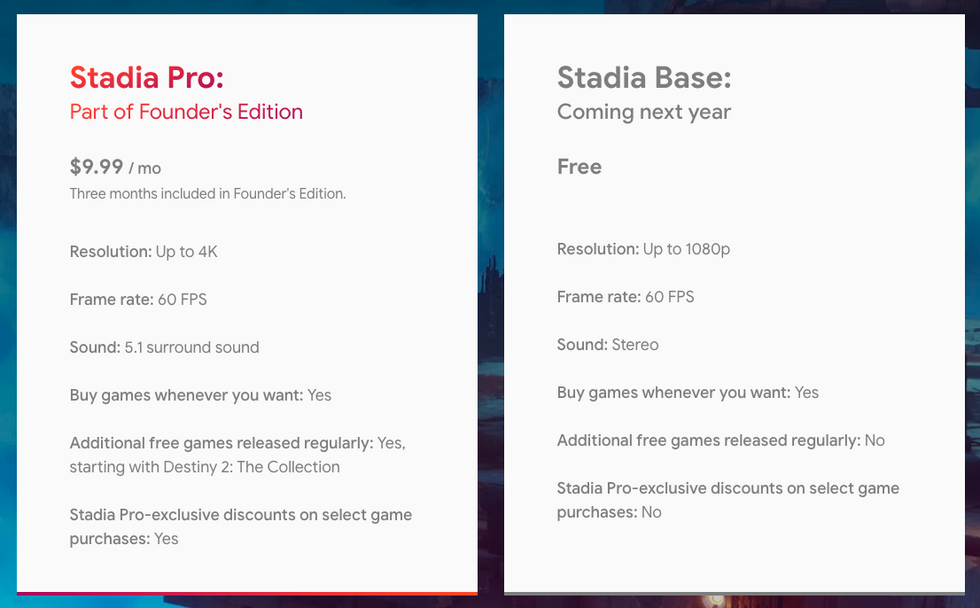 The free version of Stadia will launch later, in 2020Google
What devices does Google Stadia work on?

Likely the most popular way to play Stadia games will be on a television. For this you need to attach a Google Chromecast Ultra media streaming dongle to a spare HDMI port, then connect this to your Wi-Fi network. Google is also selling a Stadia-branded controller, but the system will work with game controllers from other companies, too.
Away from the big screen, Google Stadia is also designed to work on any computer running the Chrome web browser — this means all Macs and Windows PCs will work just fine. This is a big deal for Mac owners, who have historically missed out on the breadth of video games on offer to Windows users. Stadia should level that particular playing field.
Google says Stadia will also work on smartphones, but for now says official compatibility is only with Pixel 3 handsets at launch. This includes the following:
Pixel 3
Pixel 3 XL
Pixel 3a
Pixel 3a XL
Stadia should also work on tablets running the Chrome desktop web browser, like the Microsoft Surface Pro. But details on other mobile devices are sketchy for now. Support for the iPhone (and presumably the iPad) is planned by Google, but there is currently no release date for these devices. As it stands, iOS users may have to wait until 2020 for Stadia.
What games are available on Google Stadia?

Below is a list of games that are confirmed as coming to Google Stadia. More will undoubtedly follow, but for now the service does not offer any exclusives to draw gamers away from other platforms.
Baldur's Gate 3
Borderlands 3
Darksiders Genesis
Destiny 2
Doom 2016
Doom Eternal
Dragon Ball Xenoverse 2
Farming Simulator 19
Final Fantasy XV
Football Manager
Get Packed
GRID
Gylt
Just Dance
Metro Exodus
Mortal Kombat 11
NBA 2K
Power Rangers: Battle for the Grid
Rage 2
Samurai Shodown
The Elder Scrolls Online
Thumper
Tomb Raider Definitive Edition
Shadow of the Tomb Raider
Rise of the Tomb Raider
Tom Clancy's Ghost Recon Breakpoint
Tom Clancy's The Division 2
Trials Rising
The Crew 2
Wolfenstein: Youngblood
How much does Google Stadia cost?
Google currently has pre-orders open for the $129 Google Stadia Founder's Edition. This includes the Stadia gaming controller, plus a Chromecast Ultra for playing Stadia on your TV (in 4K if your internet connection is fast enough), three months of access to Stadia Pro, and a three-month pass for one friend to also try Stadia Pro for free.
After the three-month trial, Stadia Pro costs $9.99 per month. Stadia Base is free to use, but won't arrive until 2020. If you already have a Chromecast Ultra, Google has the Stadia controller on pre-order for $70, then you'll need to subscribe to Stadia Pro to start playing in November.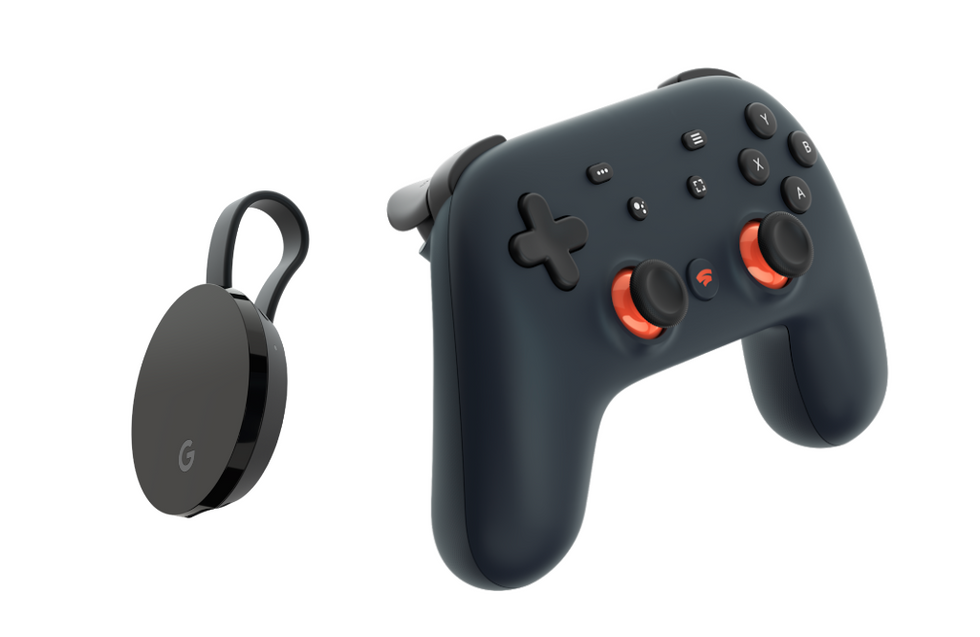 Stadia Founders Edition includes a controller and Chromecast UltraGoogle
What is the difference between Stadia Pro and Stadia Base?

Stadia Base, which launches in 2020, is free and includes the following limitations:
Resolution: Up to 1080p
Frame rate: 60 frames per second
Sound: Stereo
Buy games whenever you want: Yes
Additional free games released regularly: No
Exclusive discounts on select games: No
Stadia Pro, which launches this November and costs $9.99 a month, includes:
Resolution: Up to 4K
Frame rate: 60 frames per second
Sound: 5.1 surround sound
Buy games whenever you want: Yes
Additional free games released regularly: Yes, starting with Destiny 2: The Collection
Exclusive discounts on select game purchases: Yes
Are Google Stadia games free?
No, apart from the select games offered as part of a Stadia Pro subscription, of which Destiny 2: The Collection is the first. Other games have to be bought just as they are through online stores like Steam, or the Xbox Marketplace.
As for the prices, games are expected to cost the same on Google Stadia as they do on consoles like the Xbox and PlayStation, so you can expect to pay in the region of $60 for a new AAA title. But of course, the upfront cost with Stadia is lower as you only need a Chromecast Ultra (or the computer you already use) to play games, not a $400 console from Microsoft or Sony, or an even more expensive gaming PC. Another benefit of Stadia is how you can play the same game on any device, picking up on your Pixel 3 phone where you left off on the TV, for example.

Stadia works on connections from 10MbpsGoogle
What is the internet speed requirement of Google Stadia?

The speed of your internet connection will be a hugely important part of the Google Stadia experience. If it isn't fast enough, then Stadia simply isn't for you.
Google says the minimum requirement is 10Mbps, at which point Stadia will run at 720p HD, 60 frames per second, and with two-channel stereo sound.
A connection of between around 18Mbps and 25Mbps will up the resolution to 1080p HD, and allow Stadia Pro users to get 5.1 surround sound if they have the correct audio hardware. Internet speeds of around 30Mbps and above will see the resolution increase to 4K Ultra HD (if you pay for Stadia Pro), along with 60 frames per second and 5.1 surround sound.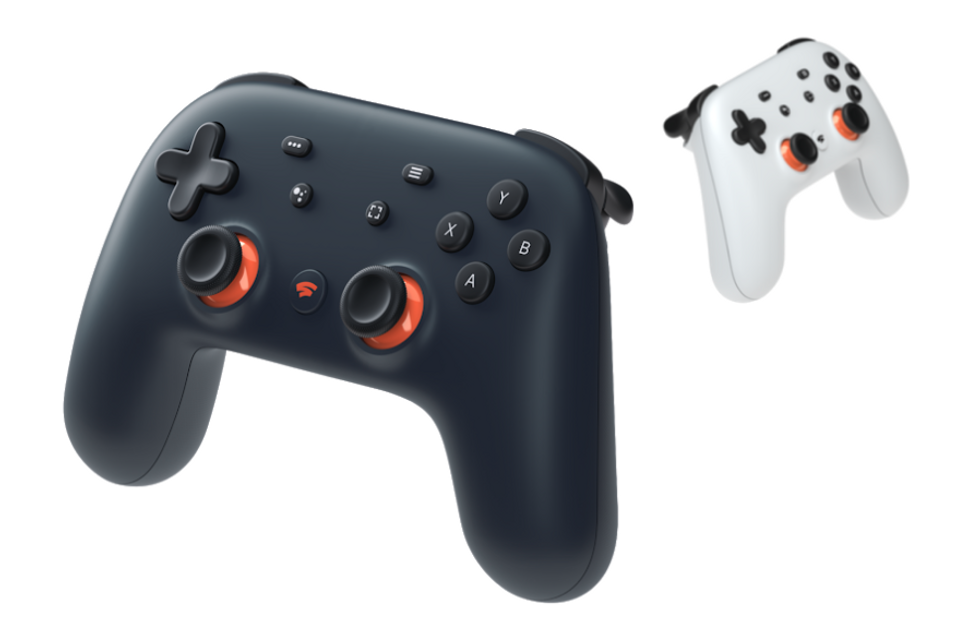 The Stadia controller is available in black and whiteGoogle
How much data will Google Stadia use?

Not everyone has an unlimited data package from their internet service provider. Also, while mobile users can play Stadia games, it is important they know how much data the gaming platform will eat up, to avoid running out of your monthly allowance or incurring a huge bill.
According to some rough estimates by ExtremeTech, Google Stadia running at 4K will gulp down 15.75GB of data per hour. As for gaming on a phone, we will have to wait and see how early Pixel 3 owners get on with Stadia once it launches in November.
In short, we urge those without a very high monthly data allowance to exercise caution when first using Stadia over a 4G (or 5G) connection.