Updated November 4, 2018: How many times have you been working around the house, or at a friend's place, and need to find a place on the wall to hammer a nail to hang a picture. And just when you think you find the stud to hammer the nail—you end up poking a hole into the wall and making a mess. You might want to consider Walabot, one of the first smart stud finders to hit the market. (See our updated review on Walabot DIY by visiting: Walabot DIY Review: A smart device that will appeal to contractor's and DIY repair people alike.)
Walabot is manufactured by Vayyar Imaging, a 3D imaging sensor company that provides customers with a way to see through objects, liquids and materials. The company decided to leverage its technology to create Walabot and provide DIYers an opportunity to get a better look behind walls than the current stud finders you find on the market.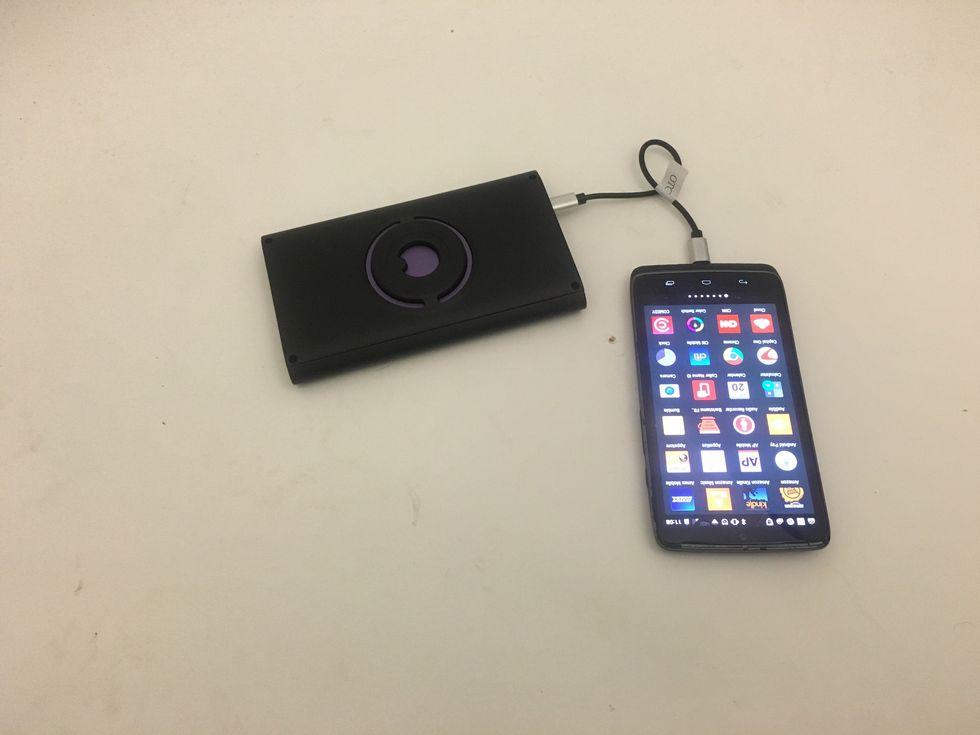 Walabot DIY connected to Android smartpone.GearBrain
The device is the same size as a smartphone and easily attaches to it via a magnet supplied in the box, and placed on the back of your Android phone. Note that Walabot only works with Android phones. If you have an iOS phone, you are going to have to wait. The company told us the iOS version is on their roadmap. If you don't want to wait, there is an option for you: borrow a friend's Android phone to use the device. Otherwise, go to Walabot's site, and enter your email address to get notified when the iOS app launches.
Walabot is one of the first companies to use RF radar to create 3D images on the screen. The device has the capability to see 4 inches (10cm) deep behind a drywall or concrete. it can detect normal things which you would expect behind a wall like studs, wiring and pipes. The device can help you see leaks, broken pipes, structural damage to your foundation and even detect little unwanted guests like rodents.
"Walabot instantly turns a smartphone into a powerful 3D-imaging system at your fingertips," says Raviv Melamed, CEO and cofounder,Vayyar Imaging. "Our advanced technology lets people see all kinds of things hidden in the world around them, adding yet another dimension to the way people use smart devices today."

The company supplied us with a Walabot to test and we had a lot of fun with it. After unboxing the device, we downloaded the app from Google Play and powered up Walabot. Once we created an account and attached the device to an Android phone, we were ready to venture out to see what was behind our walls. First thing we had to do is calibrate the device on the wall. This was a very easy procedure and it's something similar to what you have to do with a normal analog stud finder. (See video below.)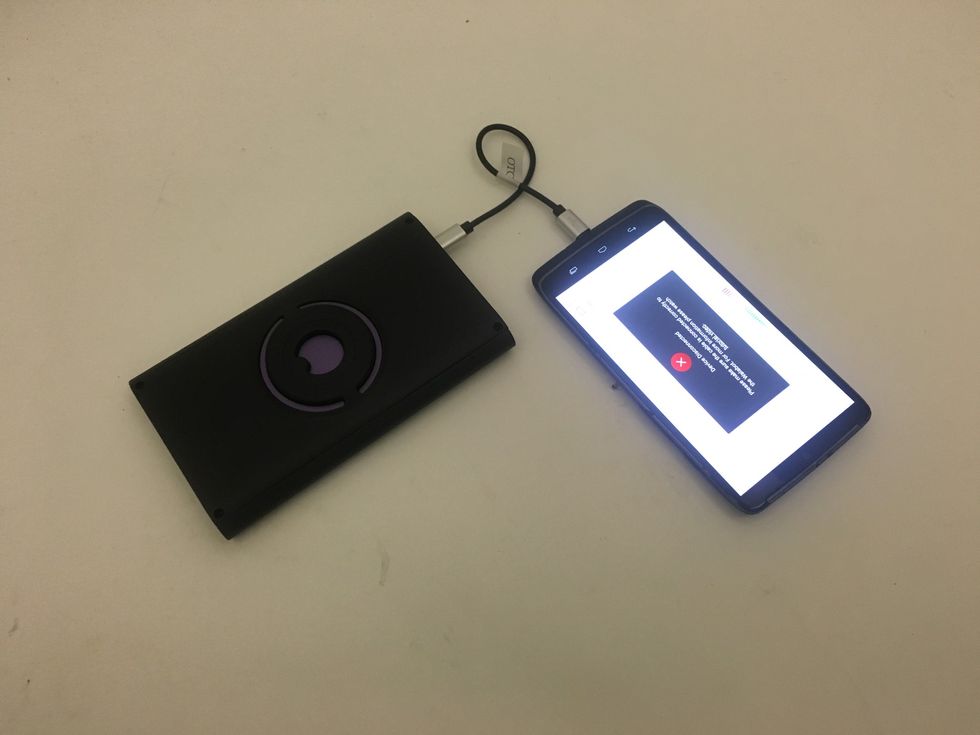 Walabot syncing with Android smartphoneGearBrain
Once the device had been calibrated we tested our first wall to see what was inside. When you come across something, the screen will show the object as a big mass. Our first wall gave us a little surprise as we saw a huge mass on the screen but wasn't sure what it could be since the wall was very thin. When we looked on the other side of the wall, we saw a bunch of pipes, and realized Walabot was looking through the walls and seeing pipes in the next room. This was pretty cool.

We tested a number of other areas and the device worked very smoothly, clearly identifying when there were objects behind the wall.
Walabot DIY is available in the US at a special introductory/holiday price of $49.99. (The regular price is $99.) You can order the device on their website, but for now it's only available in the US and EU. If you live outside of these countries, check Walabot's site to see when it will be available in your area.
More than just a stud finder

At first, we tested Walabot as if we were doing construction or home improvements, using the device in the way you would have used a typical stud finder. However, Walabot is more than just a stud finder.
According to Melamed" "Walabot makes highly sophisticated imaging technology approachable, affordable and usable for everyone. It can help the blind avoid obstacles, sense – and alert you – if your mother or father has fallen in the shower, help your robot become autonomous, and much more. We can't wait to see what other kinds of applications makers and curious inventors around the world will create for Walabot."
Walabot Diy GBrain Walabot Review www.youtube.com
For example, Walabot's 3D imaging sensor can be put to work using the company's API and developer kit. We found you can not only see through objects—but you can track movements, detect surroundings and speed and create many more of your own applications. The company also offers users the opportunity to play with its apps and create your own applications for using Walabot.

One application, in particular, caught our eye: using Walabot as a virtual reality (VR) movement tracker. If you are a VR lover and want to be more immersed in a game, you can use Walabot to help you see things like punches, kicks and jumps in a VR game without using a controller. That's pretty cool.
For those sad that the World Series is over, Walabot also offers baseball lovers an application to turn the device into a pitching speedometer. And if want to be a safe driver, there is an application that uses Walabot in the car to help you know at all times what's around you.
In order to use these applications, or create your own, you do have to download Walabot's SDK. There is a version for Windows, Android, Linux and Raspberry Pi. The company offers an API and in-depth features and tools to help you on its site, in its "For Makers" section.
Who should buy this device? If you are someone who is interested in home renovation, DIY projects, construction or architecture, you would like WalabotDIY. It will give you valuable and reliable information on what is behind your wall, and let you to map out large areas of your walls— enabling it to be of use to consumers, as well as architects, professional construction workers and home renovators/remodelers.
But if you are an engineer, developer or a Maker Faire type of person, you might want to consider WalabotPRO, the programmable version of the company's 3D sensor technology. It could not only help you see through walls just like WalabotDIY, but also allow you to create additional applications for a multitude of use cases. You will also be able to program the unit to do a whole host of things—including tracking objects. It can also help you create a Smart Home, detect breathing, measure the speed of a baseball or golf swing, help your drone or robot avoid collisions, and much more.
As we mentioned earlier, Walabot retails for $74.95 which is a little steep if you were comparing it to a normal connected stud finder (which normally retail between $20-$50). But as you can see and we found out, Walabot is more than just a stud finder. It's a unique connected device with a 3D imaging sensor that allows you to see more than what's behind the wall and can help you build a very unique and connected lifestyle at an affordable cost. When you add up all these types of devices, the new price of $56.21 is a great value, especially if you like to build things.
Pros: 3D imaging, see through walls and concrete; lightweight, easy to set up, detects leaks, location of wires and pipes, can find rodents, durable, more than just a stud finder

Cons: Only available in Android, heavy, bulky,