Like GearBrain on Facebook
While Amazon Alexa and Google Assistant hog the smart home spotlight, we thought we'd take a break to look at Bixby, the AI assistant by Samsung.
Unlike Alexa, Bixby is designed primarily to work on your smartphone, where it aims to help you get things done more quickly. Instead of digging through menus to find the feature or setting you want, Samsung has designed Bixby to complete the task when you issue a voice command.
Bixby can also be used to identify objects you point your smartphone's camera at, and give information about landmarks it recognizes. There's also a Bixby news feed similar to Flipboard, and like Alexa, Google Assistant and Siri, Bixby is designed to control gadgets and appliances around your smart home.
Bixby Voice
First, let us explain Bixby Voice. This is where Bixby aims to simplify the increasingly complex (and sometimes convoluted) Samsung menu system. This is also where Bixby flexes its 'context-aware' muscles, so if you are looking at an image on your phone, press the Bixby button and say "use this as my wallpaper," the assistant will do exactly that, knowing 'this' is the image.
Bixby can also mirror content from your phone to a Samsung TV on the same Wi-Fi network when you say "show this on my TV." In a way, this feels like Samsung admitting it has filled its smartphones with too many features — so many that it has developed an entire artificial intelligence to help you use it. But on the other hand, Samsung should be applauded for trying to make its devices and their features more accessible.
Bixby Vision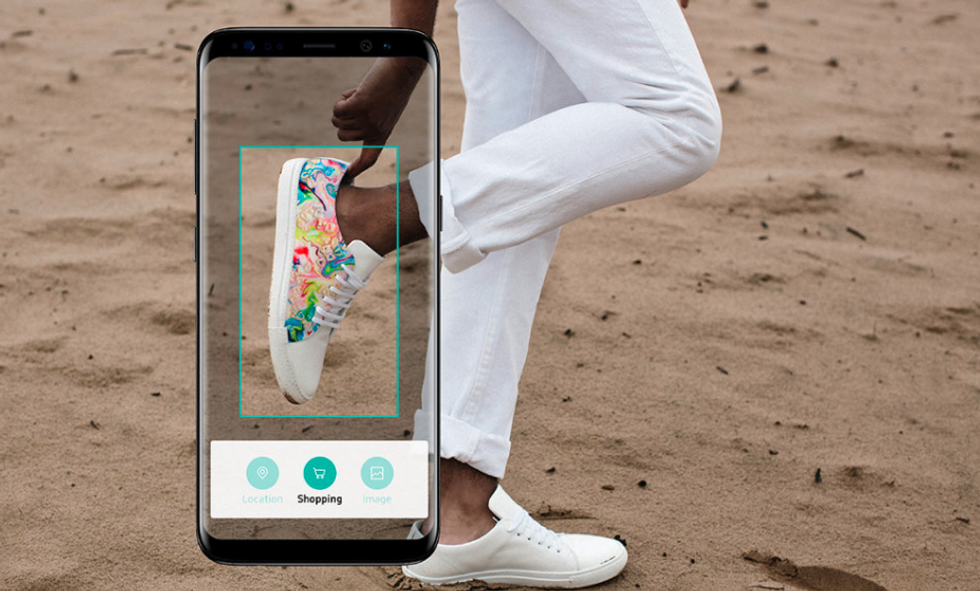 Bixby can recognize objects and help you buy them onlineSamsung
Similar to services offered by Google for quite some time, Bixby Vision attempts to add context to objects and scenes shown to your smartphone camera. During demonstrations given to us by Samsung at Bixby's launch in 2017, we saw how it can identify food items and bottles of wine, then offer up places to buy them online.
During our demonstration, the system also recognized famous landmarks like The Shard skyscraper in London, and provided information on the building. Bixby can also spot text, letting you copy and paste a menu in a restaurant, for example, or the dates for a new show from its billboard.
Bixby Home
Despite the name, this isn't the part of Bixby used for controlling your smart home. Instead, it is a news feed similar to those offered by the Flipboard app and BlinkFeed on HTC handsets. Bixby Home permanently sits to the left of your home screen, and is also accessible with a quick press of the Bixby button on the side of flagship Galaxy handsets. Bixby aims to tailor the news feed based on your interests, but there is nothing here which cannot be done by other apps.
Which devices does Bixby work with?
Bixby launched on the Samsung Galaxy S8 and S8+ smartphones, and is also included on the newer Galaxy Note 8. We fully expect Bixby to be a major part of the Galaxy S9, which will be announced by Samsung in Barcelona on February 25.
Samsung has put a lot of time, effort and cash into the development of Bixby, so we can expect it to remain a part of its handsets and future devices for years to come.
Which apps does Bixby work with?
Where Siri mostly works as a standalone service on the iPhone, Samsung wants Bixby to add value to every application on your phone. This means embedding the assistant deeply into every app, which is clearly a challenge. As a result, Bixby only works at its best in Samsung's own applications. These include:
Phone
Messages
Camera
Gallery
Internet
Contacts
Weather
Reminder
Settings
Bixby also works in a limited capacity in popular third-party apps, such as:
Facebook
Messenger
Twitter
WhatsApp
Instagram
YouTube
Google Maps
Gmail
Uber
PayPal
What languages can Bixby speak?
When Bixby arrived on the Galaxy S8 in April 2017, it could only speak Korean. The English version was not made available to Samsung customers in the US and UK until July, and the other languages Samsung says it is working on still haven't arrived. By comparison, Siri can speak 21 languages.

Bixby can recognize food and drink, objects and QR codesSamsung
Bixby 2.0 and controlling the smart home
After a slow launch, Samsung stepped up a gear by announcing Bixby 2.0 in October 2017. Although not yet available, Bixby 2.0 is meant to work across multiple devices and become a smart home assistant to rival Alexa, Google Assistant and Siri.
Samsung says Bixby will be found in TVs, refrigerators, home speakers and smartphones, plus a range of other gadgets, devices and household appliances. With regard to seeing Bixby on non-Samsung devices and in third-party apps, Samsung said: "The doors will be wide open for developers to choose and model how users interact with Bixby in their services across all application domains."
This includes apps in the sports, food, entertainment and travel sectors, Samsung added.
Being a manufacturer of products like TVs, entertainment systems, fridges, washing machines, dryers, robotic vacuum cleaners and more, it makes perfect sense for Samsung to offer control of these with Bixby.
But with Alexa and Google Assistant already in this space, Samsung has some catching up to do if Bixby is to control our future smart homes. Samsung said in a statement on January 31: "Samsung will also improve the connectivity and usability of home appliances by expanding the application of Bixby."
We will likely learn much more about the future of Bixby at the launch of the Galaxy S9 on February 25.
Check out The GearBrain to see which connected devices work with or are compatible with Samsung SmartThings platform.
Like GearBrain on Facebook