Like GearBrain on Facebook
"Stand up straight!" This phrase is one my grandmother would direct at me constantly. Slouching was my thing as a teenager, along with long hair covering my face and a oversized black blazer that kept me invisible to the world. Then I graduated from college, and suddenly my grandmother's words made sense: I wanted to be seen. Hunch over like a comma and no one listens to you.

So when Upright sent me their Upright Go, I was more than willing to give it a try. At 5 feet, 4 inches tall, I know the value of good posture — you look taller, you look more confident and you feel better. Upright Go sounded great.
As a writer, I spend much of my time seated. Most of us do, and even seated we can start to fold over ourselves. I wanted to see how the device worked while I was at my desk, on the couch and even while I walked.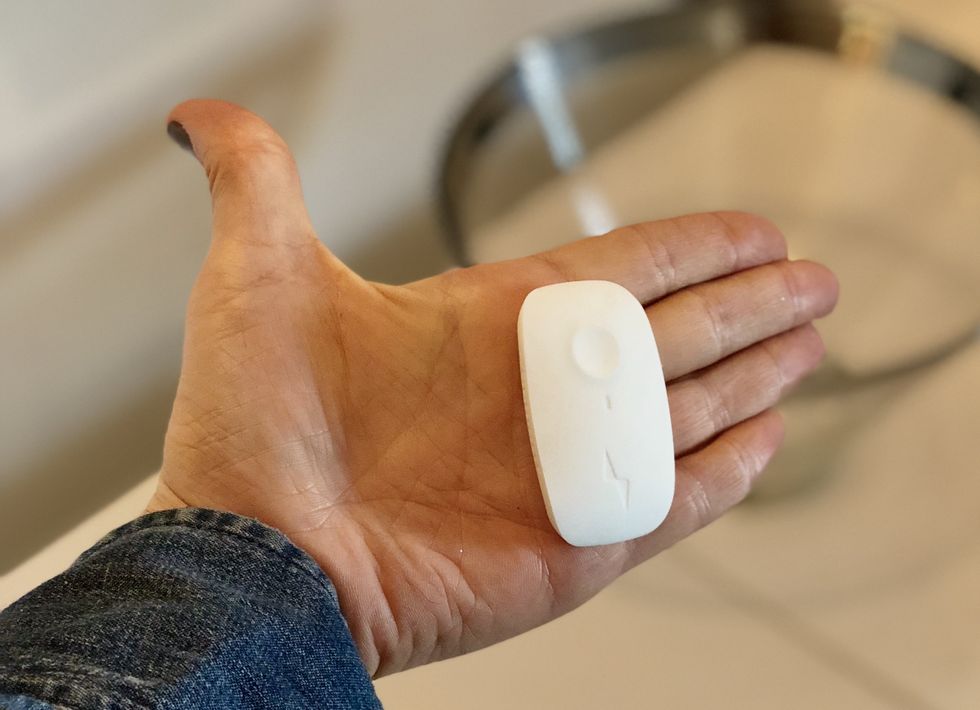 Upright Go has a clean design, and is small enough that it's unlikely to be noticed under your clothes.GearBrain
Getting a charge
Opening the box, I found along with the device, a charger, adhesive strips and a set of alcohol wipes, which immediately made me think: medical device. Medical devices are fine – I just started realizing that this may not be a gadget I could snap on my wrist before I run, late, out the door for work.
The device is not the first posture corrector on the market — but unlike Lumo Lift, Upright Go adheres directly to the skin. Upright Go sits on the upper part of the back, right in the center. If it's summer, and you're looking to improve the way you hold your neck and shoulders, you might need to rethink how or where you want to place the device unless you're cool with the whole Matrix-chic look.
The device is small — not so small that you'll lose it on the rug. But small — and flat enough — that it's not going to be noticeable under your clothing, or have wires that snake around to your smartphone. No one has to see it, and even so, it has fairly clean design.
Here's where the alcohol wipe is key — you clean off the area where you're going to wear Upright, and then apply it right on your skin. The device is sticky on the back, and it will adhere. Once, after using the same sticker for a few days in a row, I felt the gadget fall off. But even walking through New York City, riding the subway, (racing for the subway) the device stayed in place. Several reviewers online commented they had trouble with the adhesive. I didn't. But Upright says the sticker should hold for weeks. I don't think that's going to be true. And I changed mine every few days.
You barely feel it — honesty I would forget it was there. Like one late morning when I took a shower after having applied it earlier. (And yes, it survived.)
You need to keep Upright charged. But it takes no more than an hour to get the device up to speed. Plug it in as you would your smartphone – at night before you go to sleep — and you're good for the rest of the day.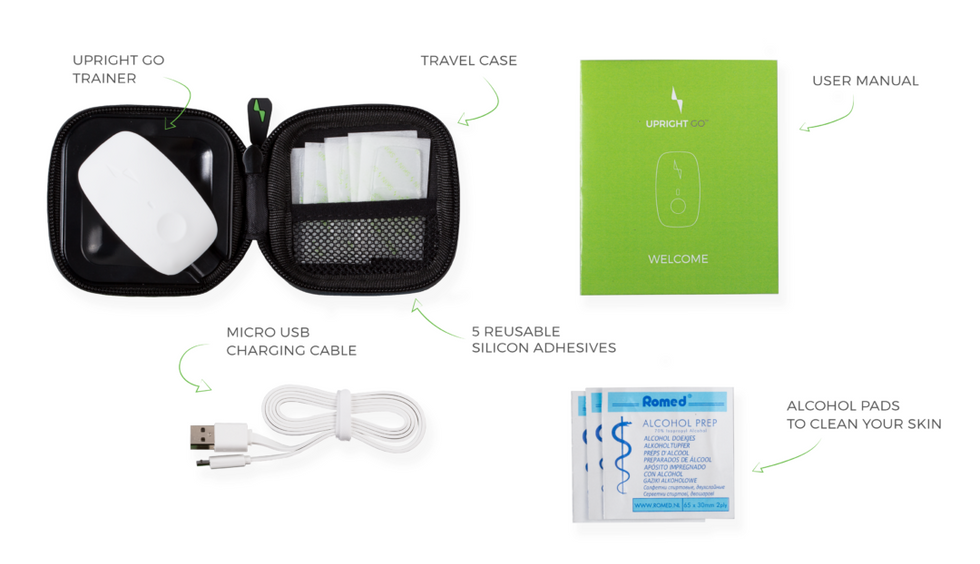 The device comes with five adhesive stickers — but for any long use, you're going to need to buy more.Upright
Slouching trials
Upright puts you through an 8-minute training mode after you set up the iOS or Android app on your smartphone. After the first two minutes go by without a buzz I wonder if I'm just sitting up better. I slouch on purpose and that does it. The buzzer goes off, one long alert that I feel immediately — it's not uncomfortable, but it's noticeable. I sit up straighter. Good.
You're supposed to use Upright Go for 15 to 60 minutes at a time. The sessions then help you hold your posture even when the device isn't worn. When I'm planted at my desk, everything is fine. That's good because when I'm writing, incessant interruptions are not helpful to the creative process. Plus, I start to think I have better posture than I think actually do. But then, as I move around, the buzzing starts. A lot. Like when I stand up, and then bend down to write a note to myself. Or when I'm looking at my iPhone X as I walk to the corner. Buzz Buzz. Not fun.
Walking with your back straight? That's not at easy as it sounds. I'm not sure models even do it. I had to concentrate — again not a bad thing. But you're not going to forget Upright Go is attached to your skin.
Fashion problems
This becomes even more clear the day I put on my favorite high-heeled boots — and Upright Go — and wondered if the device had finally short-circuited. Every step brought on an alert. Step. Buzz. Step. Buzz. This was insanely irritating. At first I couldn't figure out what was going on. Had I applied the gadget too high on my back? Too low? On the street, I went in yoga moves, trying to reach up and under my shirt and reapply the gadget on my back.
It took a few minutes when I realized that my heels were, of course, pitching my body forward in a slight bend. That's what heels do. But Upright Go did not like it. And after trying to tolerate the notifications for several minutes, I finally grabbed the sucker off my back and tossed it my bag.
Overall, I found Upright Go pretty useful — and a device I kept returning to during the weeks I wore it. (Just not when I wore my favorite boots.) Standing up straight is something most of us try to do — and then promptly forget about within 60 seconds. You could ask your grandmother to stand next to you yelling to pull your shoulders back. We think Upright Go might be a better choice. Keep in mind that you'll want to time your sessions with the device when you plan to be fairly sedentary so you don't set off false alarms. And keep it off if heels play any role in your wardrobe.
Pros: Small, fast-charging, and pairs with both iOS and Android smartphones.
Cons: Price, and is calibrated to go off even when you're bending down.
Like GearBrain on Facebook