Like GearBrain on Facebook
As we begin to travel more, owners of Bluetooth headphones are continuing to experience the frustration of not being able to use them with an airplane's in-flight entertainment system. But thankfully there is still a simple and affordable solution.
Instead of resorting to the poor quality wired headphones handed out by cabin crew, wireless headphones owners can use a simple Bluetooth adapter. This device plugs into the socket of the seat-back entertainment (or sockets if the plane has one for each left and right channel), then broadcasts the sound over Bluetooth.
Five Best airplane Bluetooth Headphone Adapters www.youtube.com
Read More:
Simply pair your headphones to the adapter over Bluetooth, and you can listen to the in-flight movies and entertainment wire-free. This means you can use Apple AirPods, Bose noise-cancelling headphones, and any other Bluetooth options, with airplane movies and TV shows.
Here are five options of airplane Bluetooth adapters to consider:
1Mii Miilink Bluetooth 5.2 Transmitter Receiver - $29.99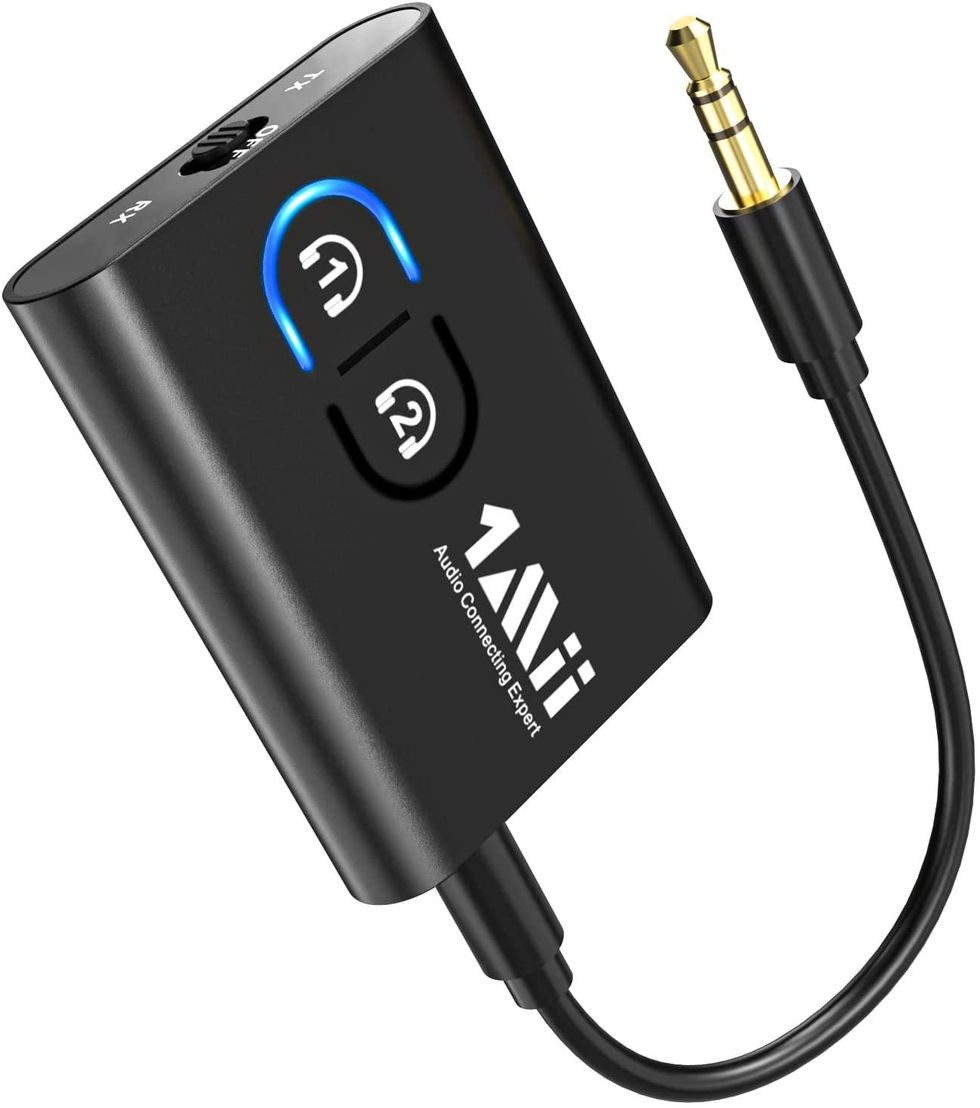 iMii Miilink Bluetooth 5.2 Adapter and TransmitterAmazon
When using Bluetooth transmitters with your Bluetooth headsets, you need to make sure they are compatible. Nothing worse then finding out the devices can't connect because they work on different Bluetooth type of connections. You will not have an issue with 1Mii Miilink Bluetooth 5.2 Transmitter Receiver. It works on the latest Bluetooth 5.2 technology but enables your aux Bluetooth adapter to be backwards compatible with other Bluetooth version like 5.0/4.2/4.0/3.0/2.0. It also features advanced aptX Low Latency technology which helps deliver high quality sound without any sync issues on your headphones.

The 1Mii Miilink Bluetooth 5.2 Transmitter Receiver is compact and is a "plug and play" device. it supports both 3.5mm AUX and USB A output that is compatible with Windows 7/8/10, mac OS, Linux, Ubuntu, PS4 and Nintendo switch. But the best feature is its battery life. You can get 10-15 hours of battery life on a single charge depending on usage.
RHA Wireless Flight Adapter - $49.95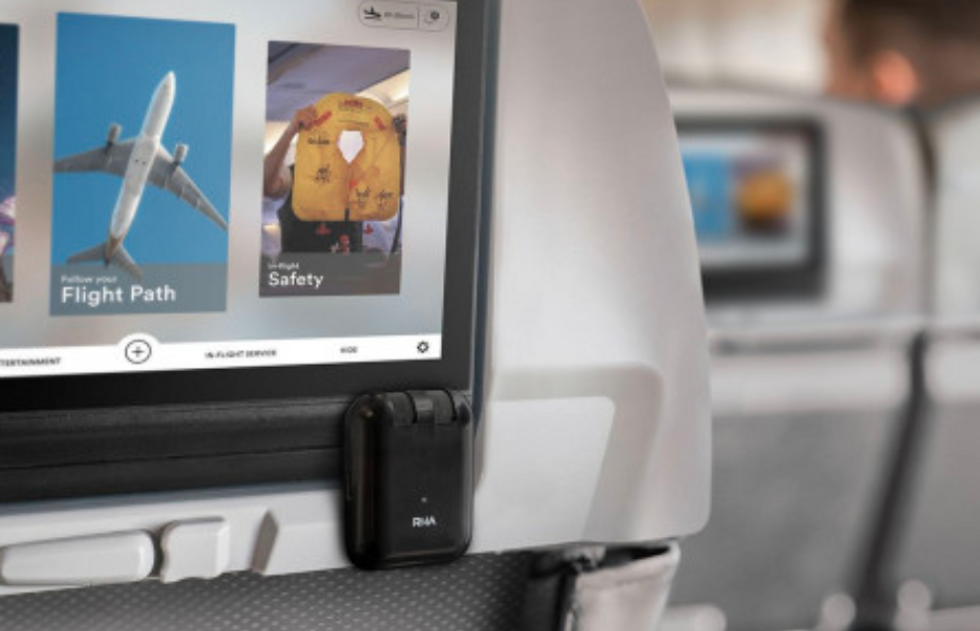 The Wireless Flight Adapter by RHA offers 16 hours of battery lifeRHA
The newest entrant to this market is the Wireless Flight Adapter by Scottish audio company RHA. The device has two fold-out audio plugs (depending on whether the plane has one or two sockets), uses Bluetooth 5 to connect to your earphones, and has a battery which is claimed to last 16 hours — enough for nearly the longest flights in the world.

The device is roughly the size and shape of an AirPods charging case, and fits neatly against the bezel of the seat-back entertainment display.
There's USB-C charging, so you can fill the battery with the same charger you use for your iPad Pro, MacBook, Nintendo Switch or Samsung Galaxy phone, and the Bluetooth range is said to be 33 feet (10 meters), so you could pop to the plane bathroom or take a walk to the galley without losing signal. Multiple headphones can be paired to the same device, which is handy if you travel with earphones like the AirPods or Samsung Galaxy Buds, and noise-cancelling headphones like the Bose QC35.

Away from the plane, you can also use this device (and others featured in this article) to give the gift of Bluetooth to old iPods, home stereos and record players, gym equipment with headphone sockets, or the Nintendo Switch.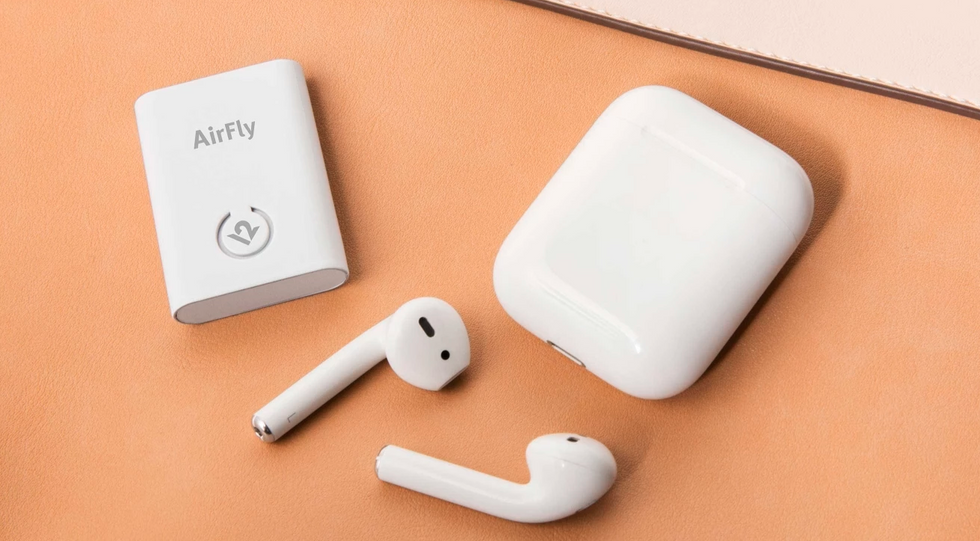 The AirFly is smaller than the AirPods charging caseTwelveSouth
The AirFly by TwelveSouth works in a very similar way to the RHA adapter. The difference here is that it has a short cable instead of fold-out prongs for connecting to an audio source. This may be necessary on a plane, but means the AirFly should work on devices where the headphone socket isn't as easy to reach, as on a treadmill at the gym.

The battery lasts eight hours, according to the company, and recharges via USB. The device also works on Bluetooth 4.1 to connect with any Bluetooth earphones you might have as well.
The AirFly is a little more compact than the RHA, but has just a single audio plug, which means you may have to use an extra adapter on planes which still have two sockets, one for the left channel and one for the right.
TaoTronics Bluetooth Transmitter - $15.80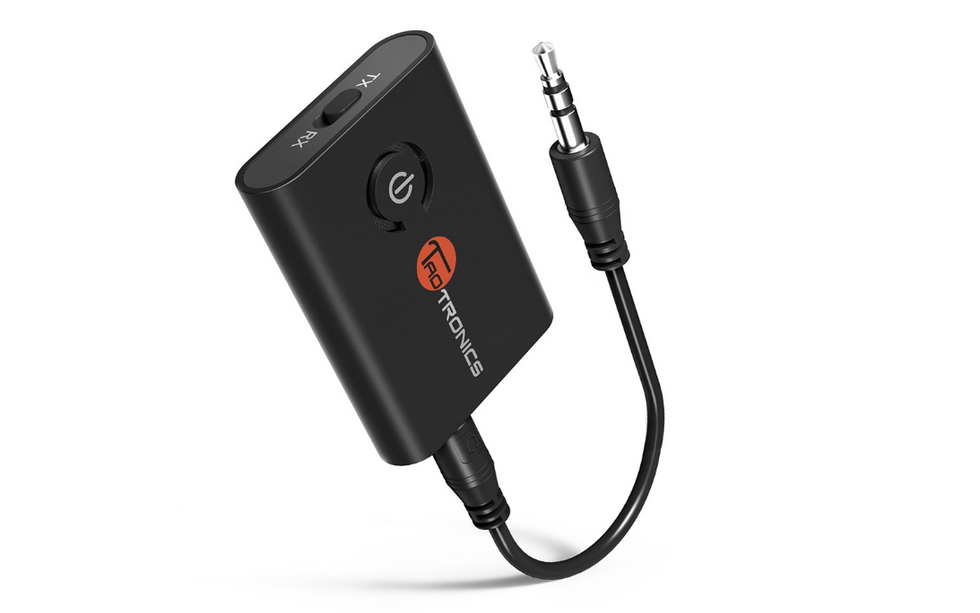 This acts as both a Bluetooth transmitter and receiverTaoTronics
This option by TaoTronics offers great value for money, as it comes with Bluetooth 5 and can pair to two headphones at once (so you can share an audiobook or podcast with your partner, for example). It also comes with an adapter cable for connecting to a TV, letting you listen with Bluetooth headphones at night without disturbing anyone who might be sleeping.

The battery works for 10 hours, the company claims, and can be set to either transmit and receive over Bluetooth. This means it works on a plane to broadcast the in-flight entertainment audio to your headphones, but can also be used to receive audio over Bluetooth (from a phone, for example), then send that to a speaker.
Aisidra V5.0 Bluetooth Adapter - $38.99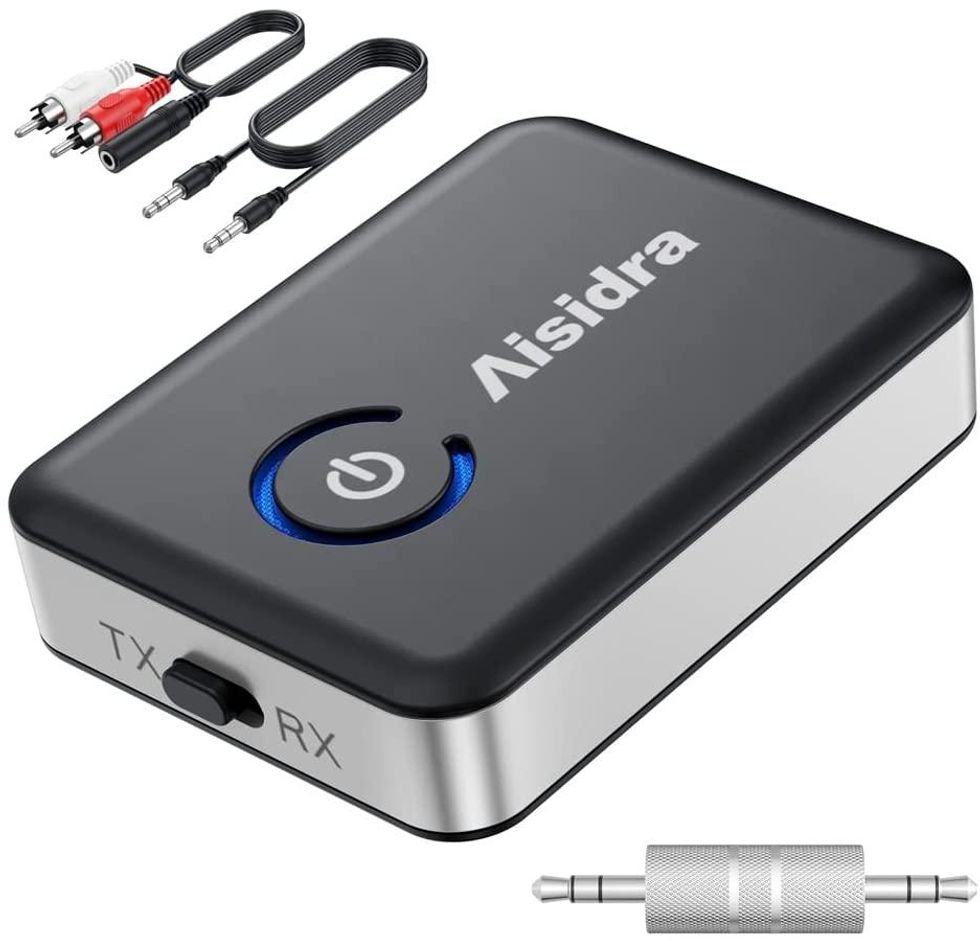 Aisidra V5.0 Bluetooth AdapaterAmazon
Finally, the Aisidra V5.0 Bluetooth Adapter has a similar form factor to the RHA model. This means there are two fold-out plugs for connecting to a single or dual socket in-flight system, and battery life should last eight hours, according to the company.

As with the other options in this article, the Aisidra works with all Bluetooth earphones including Apple AirPods, and those from Beats, Bose, JBL, Sony and any other company you care to mention. Just make sure the Bluetooth headphones/speakers you plan to use support low latency technology.
And don't forget to check out The GearBrain, our compatibility find engine for smart devices. It can help you find other smart devices, like Bluetooth speakers, headphones or smart speakers with Amazon Alexa and Google Assistant built-in.
How to Find Products in The GearBrain, Our Compatibility Find Engine for Smart Devices www.youtube.com
Like GearBrain on Facebook