Like GearBrain on Facebook
Apple design chief Sir Jony Ive is no longer listed on the company's website alongside his fellow executives, suggesting he is no longer employed by the iPhone maker.
This move doesn't come as a surprise. It was announced back in June that the Brit would be leaving Apple before the end of 2019.
Ive joined Apple in 1992, having previously worked at a UK design house called Tangerine. He had led Apple's design department since 1996 and oversaw the development of a wide range of industry-leading products, including the original iMac, iPod, iPhone, iPad and Apple Watch. Ive also played a major role in the design of Apple's new Cupertino, California campus, called Apple Park.
His new company, set up with long-time friend and fellow designer Marc Newson, is called LoveFrom, and one of the firm's first major clients will be...Apple.
This means Ive's fingerprints are likely to remain on Apple's future products for some time to come, even if the direction the company takes shifts slightly without his direct control.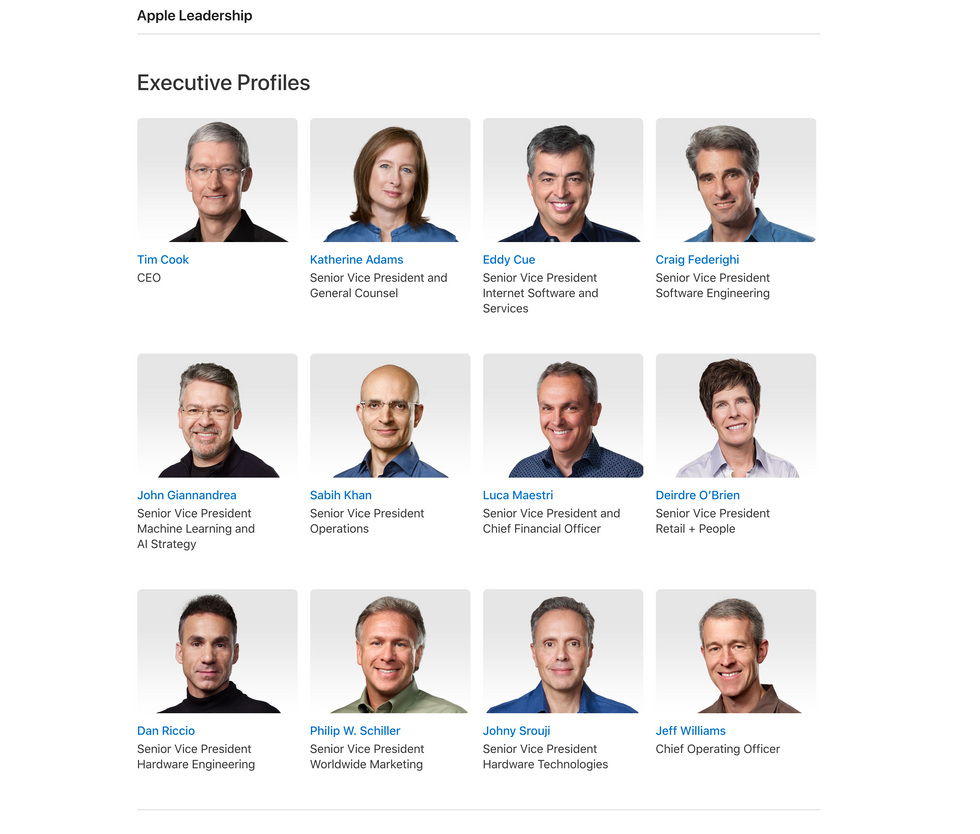 Ive is no longer listed on Apple's websiteApple
Apple boss Tim Cook said of Ive's departure earlier this year: "Apple will continue to benefit from Jony's talents by working directly with him on exclusive projects, and through the ongoing work of the brilliant and passionate design team he has built. After so many years working closely together, I'm happy that our relationship continues to evolve and I look forward to working with Jony long into the future."

No one is yet to directly replace Ive. Instead, design team leaders Evans Hankey, vice president of Industrial Design, and Alan Dye, vice president of Human Interface Design, will report to Jeff Williams, Apple's chief operating officer.
Although praised for penning some of the world's most iconic consumer products, the 52-year-old isn't without controversy. Some of Apple's products have been accused of putting aesthetics instead of ergonomics, like the original Apple Pencil stylus which was charged by plugging it lengthways into an iPad's Lightning port, and the original Mighty Mouse, which couldn't be charged and used at the same time.
Apple has also suffered recent headaches with the fragile nature of its butterfly keyboard mechanism, which was subject to a lengthy product recall and was recently replaced by an older style of key with the new MacBook Pro 16".

Despite these mistakes, Ive will undoubtedly go down as one of the all-time great industrial designers, and someone who penned class-leading products used everyday by millions of people the world over.
Related Articles Around the Web
Like GearBrain on Facebook