Like GearBrain on Facebook
Lenovo has revealed a pair of new devices to capture and view virtual reality content, under the company's Mirage sub-brand.
For capturing 180-degree VR content, the Mirage Camera is a compact $299.99 device which has two fisheye lenses in front of a dual 13-megapixel camera setup.
Content shot by the Mirage camera is wirelessly uploaded to Google Photos and YouTube, where it can be viewed either as a VR video through a headset, or as a 180-degree video which can be panned around with a mouse on the desktop, or by tilting a smartphone or tablet.
Lenovo is making a big deal about the Mirage VR camera's point-and-shoot simplicity. There are no settings to dive into or user interface to navigate. Instead the user simply switches it on, points it at their target and presses the record button to shoot their VR video.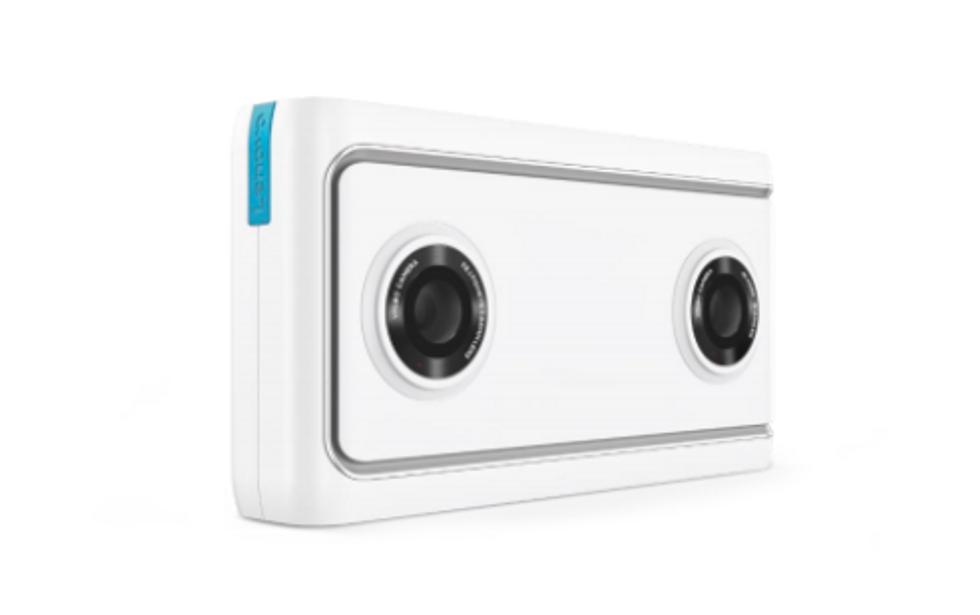 The VR camera is priced at $300 and goes on sale in Q2LG
The camera has 16GB of internal storage and a microSD card slot to increase this by up to 128GB. Video can be uploaded from the device itself, so there is no need to rely on a connected smartphone to send your videos to YouTube. Battery life is a claimed two hours of continuous recording and the device is charged via a USB-C port.

A Wi-Fi version of the camera will be on sale in the second quarter of 2018, while a model with LTE for uploading video on the go will be available at a later date — and priced under $300, says Lenovo.
Once you have shot your VR video, you will want a headset to watch it on. That's where Lenovo's second new device, the Mirage Solo with Daydream, comes into play.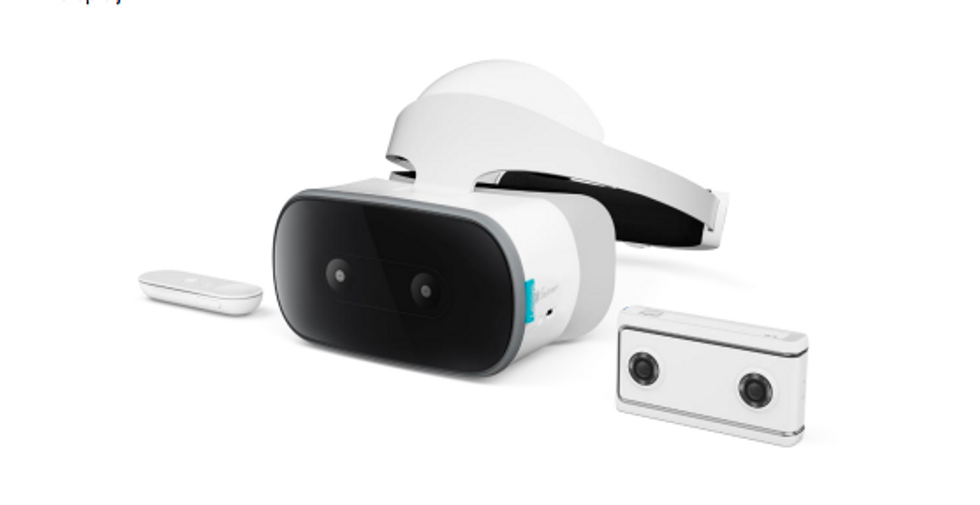 Shoot, share and view VR with the Mirage product lineLenovo
Also revealed at CES in Las Vegas today (January 9), the Mirage Solo complies with Google's Daydream VR standards and offers a 110-degree view wherever you look. Of course you can turn around to fully take in 180-degree video shot on the Mirage camera, or 360-degree content produced elsewhere.
The Mirage Solo is a self-contained VR headset - meaning it has its own display instead of relying on an inserted smartphone, like the Samsung Gear VR - and offers up to seven hours of use per charge. Lenovo says the headset has been "tailored for comfort" and is designed to fit almost anyone thanks to an adjustable strap. It comes with a wireless hand controller for navigating the Daydream user interface.
The Mirage Solo will be priced at under $400 and is expected to go on sale in the second quarter of 2018.
Like GearBrain on Facebook