Like GearBrain on Facebook
Starting Monday, May 18 all Uber drivers, passengers and Uber Eats delivery drivers must wear a mask - or a "face cover" - to help prevent the spread of the coronavirus.
Uber will update its driver and passenger smartphone apps to tell everyone using the service they are required to wear a mask and wash their hands before starting a journey.
The move, which will take effect from Monday in the US, Canada, Mexico, Europe and most Latin America, African and Asian countries, comes as some regions begin to relax lockdown measures that have been in place for several weeks.
Uber says: "We are not requiring surgical masks or N95 respirators, which are in short supply and should be conserved for healthcare workers. When wearing a face cover or mask, make sure it covers your face from the bridge of your nose down to your chin. Face covers can be made of cloth, should cover the mouth and nose, and be secured to your face."
Also starting Monday, Uber will limit the number of passengers allowed to book a regular car from four to three, and ask riders to only sit in the back.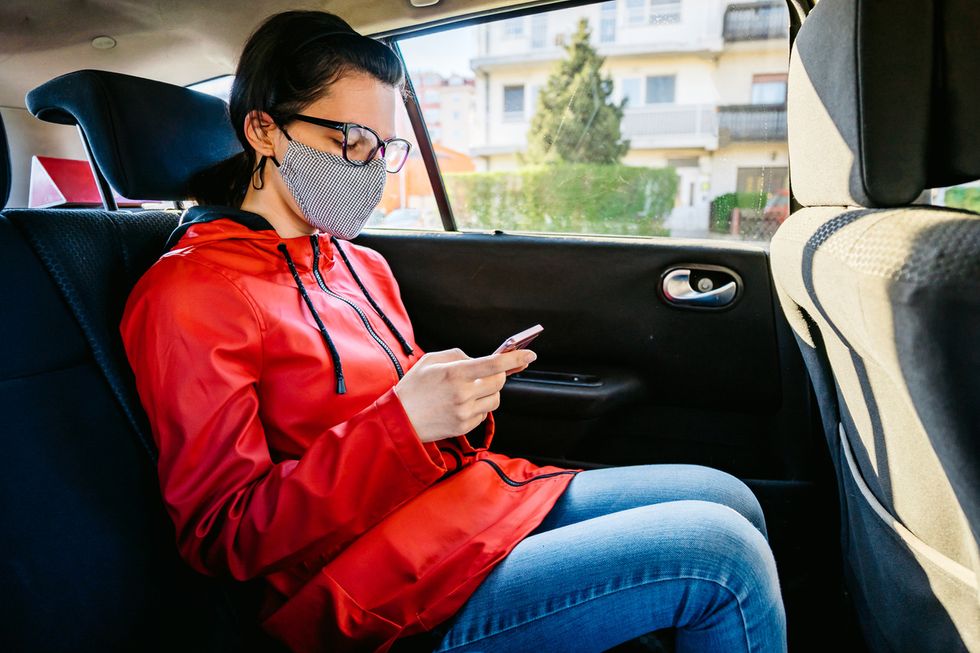 All Uber passengers must wear a mask or face cover from 18 May Getty Images
If drivers, passengers and delivery drivers repeatedly fail to wear a mask their Uber account may be deactivated, the company said. To help drivers, Uber has spent $50m acquiring 20 million face masks and hand sanitizer.

Uber will also require drivers to take a selfie in a mask before the start of each working day, and verify that they are not showing any coronavirus symptoms, which include a new and persistent cough, and/or a fever. Drivers will also be asked to confirm, through the Uber app, that their vehicles have been sanitized, and that they will lower the windows while transporting passengers.
The company said it is also looking at adding a selfie verification system to ensure passengers are wearing masks, too. They must confirm through the app that they are wearing a mask or face cover, and have washed or sanitized their hands, before starting a trip. Riders will receive a notification to confirm their driver has said they are wearing a mask before they arrive at the pickup point.
It also urges riders to cancel their trip through the app if their driver is not wearing a mask or face cover. A new 'no face cover or mask' option will appear in the app as a cancellation reason.
Inspire Masks Reusable Face Mask with PM 2.5 Filters -Designer Washable Double-Layer Poly/Cotton Mask with 4 Replaceable Carbon Filters Included and Adjustable Elastic Ear Strap (Carole Did It)
Like GearBrain on Facebook