Like GearBrain on Facebook
Press Release:
ROCHESTER, NY — July 24, 2016 — AERIX Drones (formerly Axis Drones) launched the new VIDIUS VR, the World's Smallest Virtual Reality Drone, which measures a scant 4.3cm x 4.3cm x 2.5cm. It's capable of flying up to 100 feet away, performing 360 degree flips and rolls, and streaming and recording live video. The VIDIUS VR includes the new AERIX VR Goggles so pilots can fully immerse themselves in live, first-person-view flight and heart-pumping action.
Using the AERIX Drones App and a smartphone, simply place the app into Goggle mode, insert the smartphone into the VR Goggles and get a real-time view from the cockpit of the tiny VIDIUS VR Drone.
The VIDIUS VR features the new Altitude Assistance Module (AAM), which helps pilots keep a steady altitude. A technology usually found in much larger drones, AAM utilizes a barometer style device that helps the drone maintain altitude, allowing pilots to focus more on directional flight and less on going up too high or dropping too low. Altitude adjustments can be made in smaller increments as well.
The VIDIUS VR features a new and improved blade guard design that securely fastens the blade guards between the top and bottom body components, ensuring that they stay on during impact. These blade guards provide greater protection for the drone, yet are still removable for pilots who like a good thrill.
AERIX engineers have developed two new features for its drones, which have been incorporated into the design of the VIDIUS VR:
Pilots can now begin flight in "Headless Mode" and maintain a constant directional flight that keeps the exact perspective of forward, back, left and right.
Emergency Blade Stop: In the event of a runaway drone, imminent crash or hair entanglement, pilots can quickly stop the blades from spinning.
The VIDIUS VR can be controlled from the included 2.4 gHz controller or your Android or Apple device with the free downloadable app. The live video feed is transmitted to your device through a unique wifi connection made between your phone and the drone (no internet connection is required) and can be viewed in real-time with the new VR Goggles, recorded and shared right from the App to social media, blogs, messaging, email and more.
The VIDIUS VR has 3-speed settings and 5 to 7 minutes of flight time from each 20-minute charge via USB cable. Bright LED colored lights allow for night flight and drone orientation.
The VIDIUS VR is capable of amazing mid-air maneuvers with extremely responsive handling thanks to the stabilizer technology upgrades pre-installed. Its 6-axis gyro-stabilization keeps the drone stable and centered. You can bank hard and fast in any direction and your VIDIUS VR will automatically return to center. And 360-degree rotational yaw allows users to seamlessly adjust orientation. One of the best features that will make you look like an ace pilot is the pre-programmed Trick Mode that provides amazing flips and rolls.
Removing blades is inevitable and often times frustrating, so AERIX Drones included a handy-dandy blade removal tool with the VIDIUS VR to get the blades swapped out and the drone back in the air quickly and easily.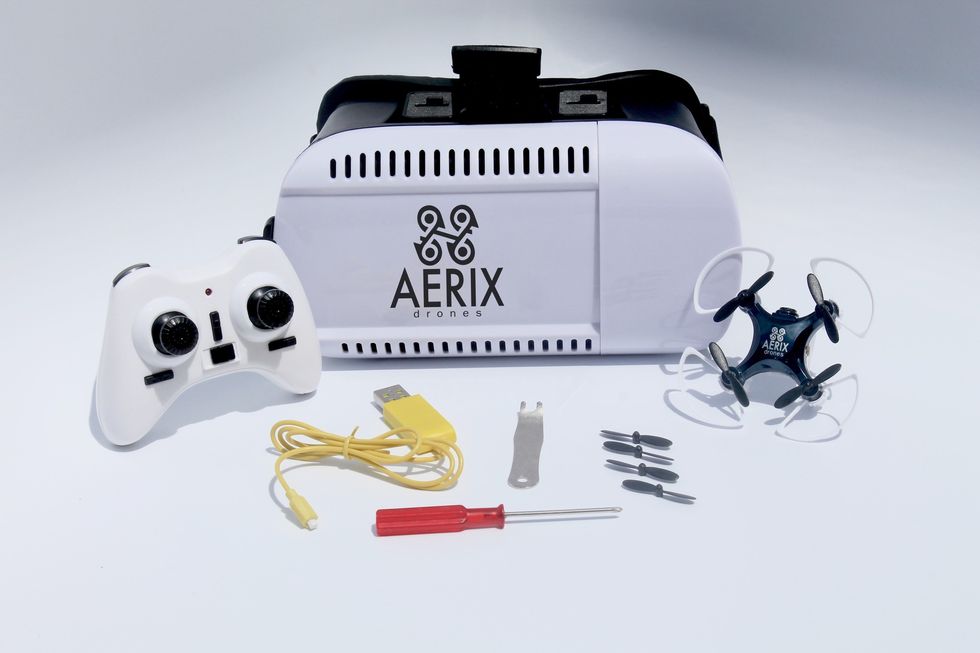 Aerix VIDIUS VR Drone
What's in the Box:

One Aerix VIDIUS VR Drone with Blade Guards
One Aerix VR Goggles Headset
One 2.4 gHz Controller/Transmitter
One 3.7V Li-poly Battery 150 mAh installed in the drone
One USB Charger Cable
One Set of Replacement Blades
One Mini Screwdriver
One Mini Blade Removal Tool
Note: because of its small size and weight, the Black Talon does not need to be registered with the FAA.
The VIDIUS VR is available in black with white controller and retails for $95 at www.aerixdrones.com.
Like GearBrain on Facebook