Like GearBrain on Facebook
Most smart home devices can be described as 'set-it-and-forget-it', where you install something once, connect it to your Wi-Fi network, and leave it to work happily until you one day decide to replace or upgrade it.
But sometimes things go wrong and your devices fail to connect to your Wi-Fi router. Perhaps you have moved the device out of range and it can't get a signal, or maybe you have installed a new router, created a new network, moved house, or taken a device to a holiday home.
Read More:
Here, we will explain how to reconnect an Amazon Echo smart speaker to your Wi-Fi network (or a new network) without having to perform a factory reset.
First, if your Echo smart speaker can't connect to the Wi-Fi network, its light should turn orange. If you see this, open the Alexa smartphone app, and follow these instructions:
Tap on the menu icon in the top-left corner
Tap on Settings
Tap on Device Settings
Now scroll down until you find the Echo device you want to reconnect. Even if the device is offline, the Alexa app will still show its Wi-Fi settings and the name of the network it is trying to connect to in your space. Tap on the word Change to the right of Wi-Fi Network.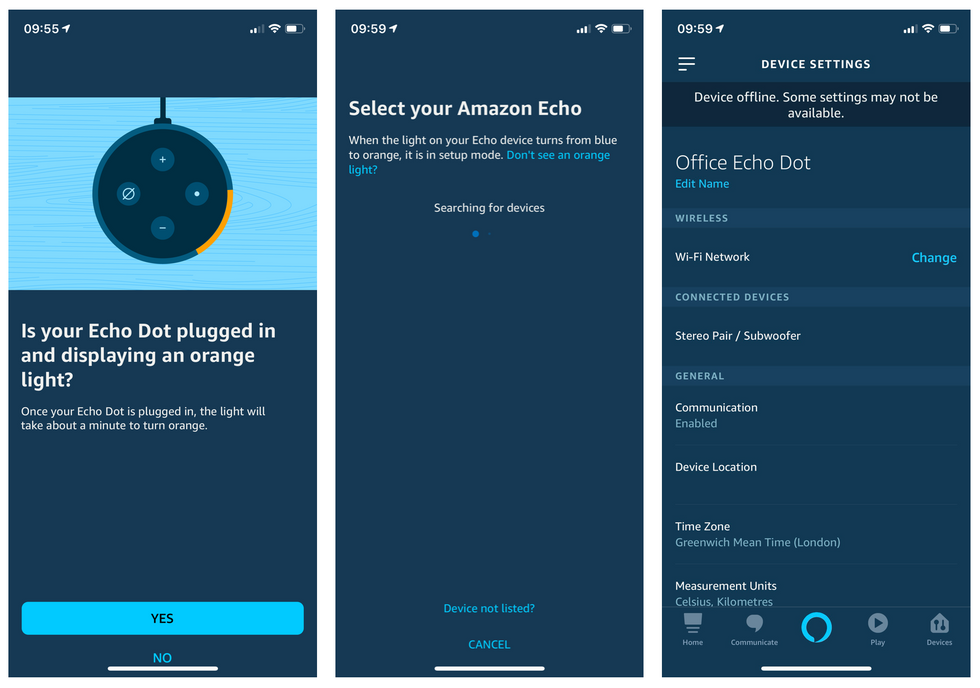 Reconnecting an Amazon Echo to a Wi-Fi networkGearBrain
The Alexa app will now check that your Echo is plugged into a wall outlet and displaying an orange light. Tap yes, and the app will start searching for that Echo. If your Echo has a blue light instead, but still isn't connected, press and hold the Action button (the one with the dot on it) for six seconds until the light turns orange.

Echo Dot (3rd Gen) - Smart speaker with Alexa - Charcoal
Next, the Alexa app should create a direct connection between your phone and Echo speaker. If this doesn't happen, go to your phone's settings app and join the new Wi-Fi network the Echo has just created, which will be called something like "Amazon-AB12."

Once connected to that network, Alexa will speak from the Echo to say you're connected, and you can now return to the Alexa app to complete setup. Now tap on the Wi-Fi network you want to connect the Echo to, enter its password and tap Connect.
Alexa will speak again to confirm the Echo has successfully connected to the network, and that's it. Your Amazon Echo is now reconnected.
How to reconnect Echo Show and Spot to Wi-Fi network
Things are much easier with Echo devices that have touchscreens, like the Echo Show, Show 5 and Spot. All you have to do is swipe down from the top of the screen, then tap on the cog-shaped settings icon and tap Wi-Fi.
Now just scroll through the list of available networks, tap the one you want to connect to and enter the password.
If all of this fails, you can perform a factory reset on the Echo and connect it to your Wi-Fi network. GearBrain has a guide here for factory resetting all Echo devices. Once reset, you can follow the above instructions for connecting to your network.
Check out The GearBrain, our
smart home compatibility checker
to see the other compatible products that work with
Amazon Alexa enabled devices.
Introducing Echo Flex - Plug-in mini smart speaker with Alexa
From Your Site Articles
Related Articles Around the Web
Like GearBrain on Facebook