Amazon is working on a live online shopping service where viewers watch products being demonstrated and can buy them with a click of their mouse or tap of the screen.
According to a patent filed by the retail giant on January 16 this year, Amazon is developing a "live video stream with interactive shopping interface."
Sketches of the potential service show a live video feed with presenters demonstrating the products — just like shopping TV channel QVC. But what potentially makes the Amazon service different is how viewers can click on the items to buy them right away.
Read More:

A sketch of the user interface shows how the service displays how many examples of heavily-discounted items are left in stock, along with a countdown for when the deal ends and a chat box where viewers can ask producers and fellow viewers about the items being sold. The patent was published on May 31, 2018 but is yet to be granted by the US Patent & Trademark Office.
It is likely that the patent is related to Amazon Live, a service the retailer began hiring for in September 2017. A startup within its parent company, Amazon Live was described in job postings as a division which "leverages interactive streaming video to create new shopping experiences for customers," reported CNBC at the time.
The patent describes a program similar to Amazon's Style Code Live, which was a live TV shopping-style service that ran for 15 months until it was abruptly cancelled in May 2017.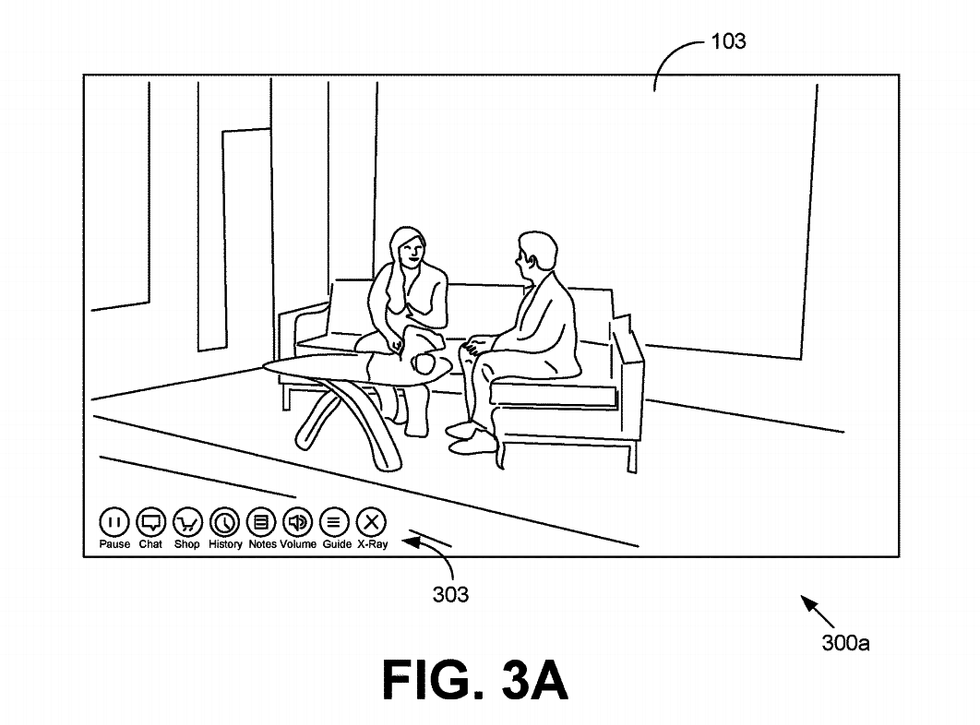 Patent sketches show how the shopping service could lookAmazon
Further sketches show how a studio for the show could look. One image shows a pair of presenters sat on sofas. The user interface of this sketch includes several buttons for the viewer to click on; options include opening a chat, shopping, and X-Ray, which could be related to Amazon's service for learning more about programs on Prime Video, also called X-Ray.
Amazon explains in the patent filing how shopping habits have shifted from brick-and-mortar stores, to catalogue and TV shopping, then to today's internet shopping. But, Amazon says, the latter lacks the personal touch of TV shopping, so its service is an attempt to mix online retail with the kind of show-and-tell content millennials watch in their millions on YouTube.
Amazon states: "As compared with home shopping television channels, online retailers may lack the human component that motivates people to purchase. Sites such as YouTube that offer user-created videos have become hugely popular with the millennial generation. In fact, how-to videos have become an important driver of purchasing decisions among millennials."
The web giant continues: "For example, a person may create a video showing others how to use a particular product. During the video, the person may express opinions regarding the products. Viewers may then be motivated to purchase the product after viewing the video."
As ever, we must remind readers that companies regularly apply to patent ideas which never see the light of day. So, for now at least, it is unknown if Amazon will go ahead with these plans to launch an online TV shopping service for YouTube-loving millennials, or not. Either way, it is certainly interesting that the company is at least exploring alternatives to its current sales model.
Check out The GearBrain to see what other connected devices work with Amazon Alexa enabled device.