Press Release:

GearBrain has seen a number of unique connected devices come to market but this is the first time we have seen the combination of a Bluetooth speaker and a stylish water bottle. Today, Aquio debuts its line of premium double-steel stainless-steel water bottles that not only come in a variety of designer colors but with an integrated waterproof Bluetooth speaker powered by iHome. These new hydration bottles are BPA-free and can keep your drink ice cold this summer for up to 24 hours and your hot drinks in the winter hot for up to 14 hours.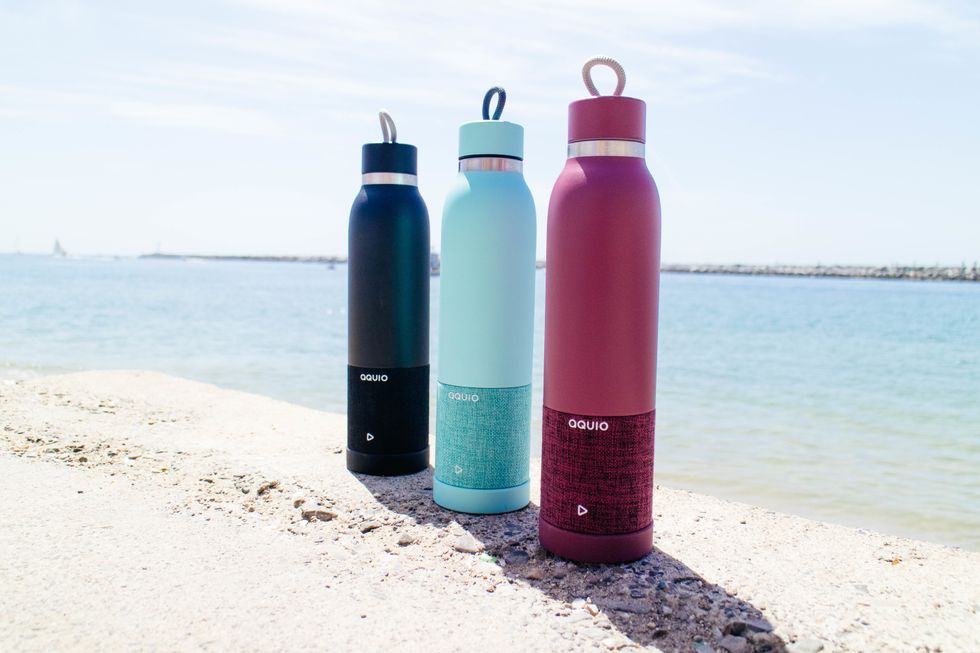 Aquio smart water bottles powered by iHomeAquio
Aquio is the newest brand from SDI Technologies Inc., parent company of iHome, Timex and eKids. Created in 2018, Aquio offers innovative, premium-quality hydration solutions for the active, fashionable consumer. These new smart speaker water bottles are designed in the USA and manufactured with high-quality stainless steel that is BPA-free. Launching in four fashionable colors - midnight, seafoam, merlot and blush - it is the ideal hydration bottle for those that lead an active lifestyle and love taking their music with them on the go. Aquio's removable speaker is powerful, IP67-rated waterproof, sandproof, and features designer weather-resistant acoustic fabric.

We designed Aquio to make a fashion statement, represent best-in-class hydration technology and have the added cool factor of a detachable iHome Bluetooth speaker," said Nisan Davydov, Aquio and iHome Marketing. "From the materials used, to how it feels in your hand, even its stylish look and impressive sound quality, everything about our Aquio hydration bottles exudes premium quality. Customers will love the modular design of the product, as it gives them the option to use the bottle and speaker separately or together in addition to changing the colors up."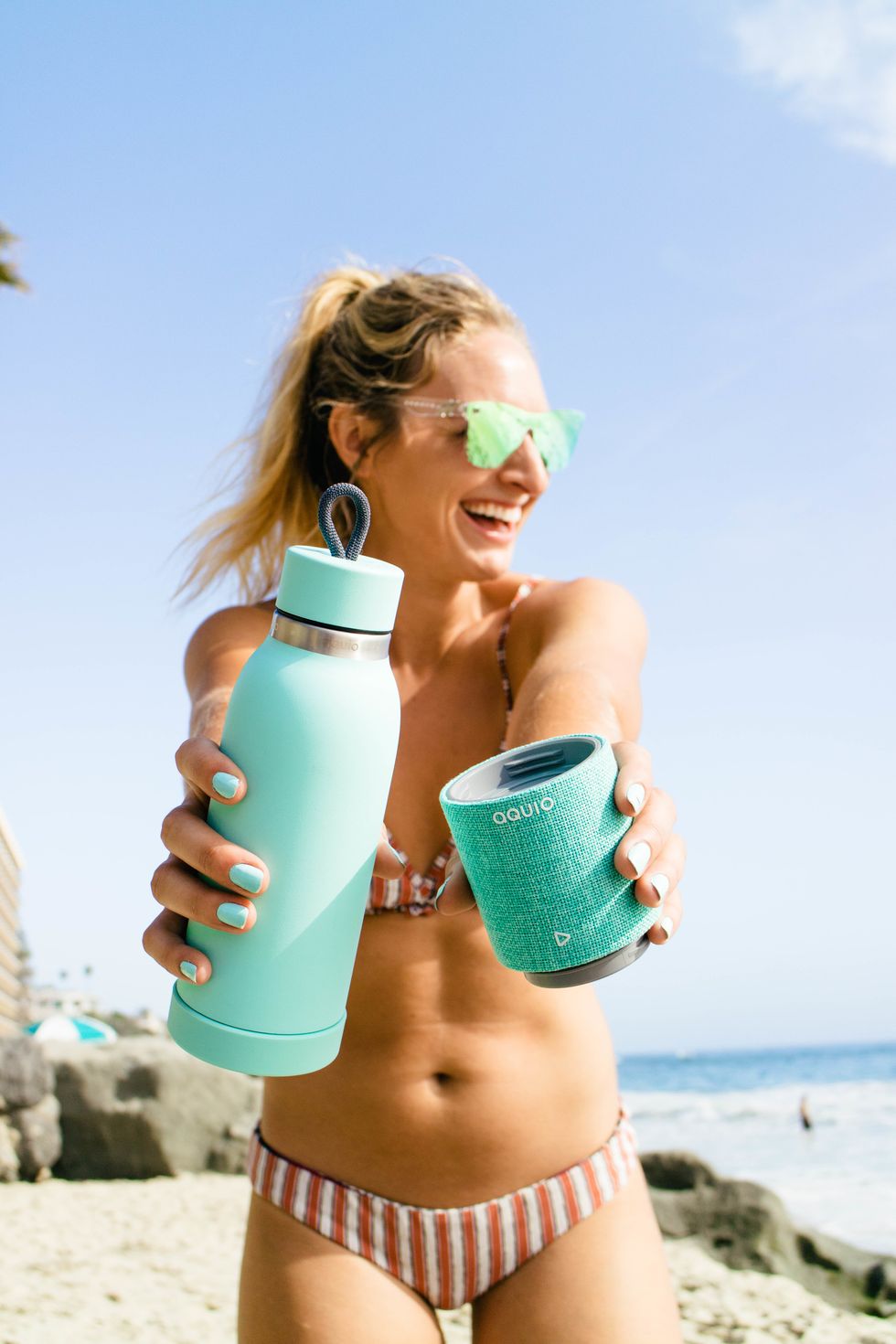 Aquio smart water bottles are powered by iHome Bluetooth speakers.Aquio
Aquio features include:

● Double-wall insulated stainless steel – BPA-free materials
● Wide mouth twist-off lid for comfortable drinking, adding ice cubes and easy cleanability
● Modular 5-watt (RMS) Bluetooth speaker powered by iHome, featuring digital echo cancellation and talk/end button for speakerphone, audio caller ID and designer acoustic fabric
● IP67-rated waterproof and sandproof speaker design
● Durable paracord carrying loop
● 16 liquid ounce capacity
Aquio's bottles will be available for purchase at leading retailers across the USA and at aquiobottles.com starting early July for $69.99. For more information about Aquio and its products, please visit aquiobottles.com or check them out on Instagram @aquiobottles.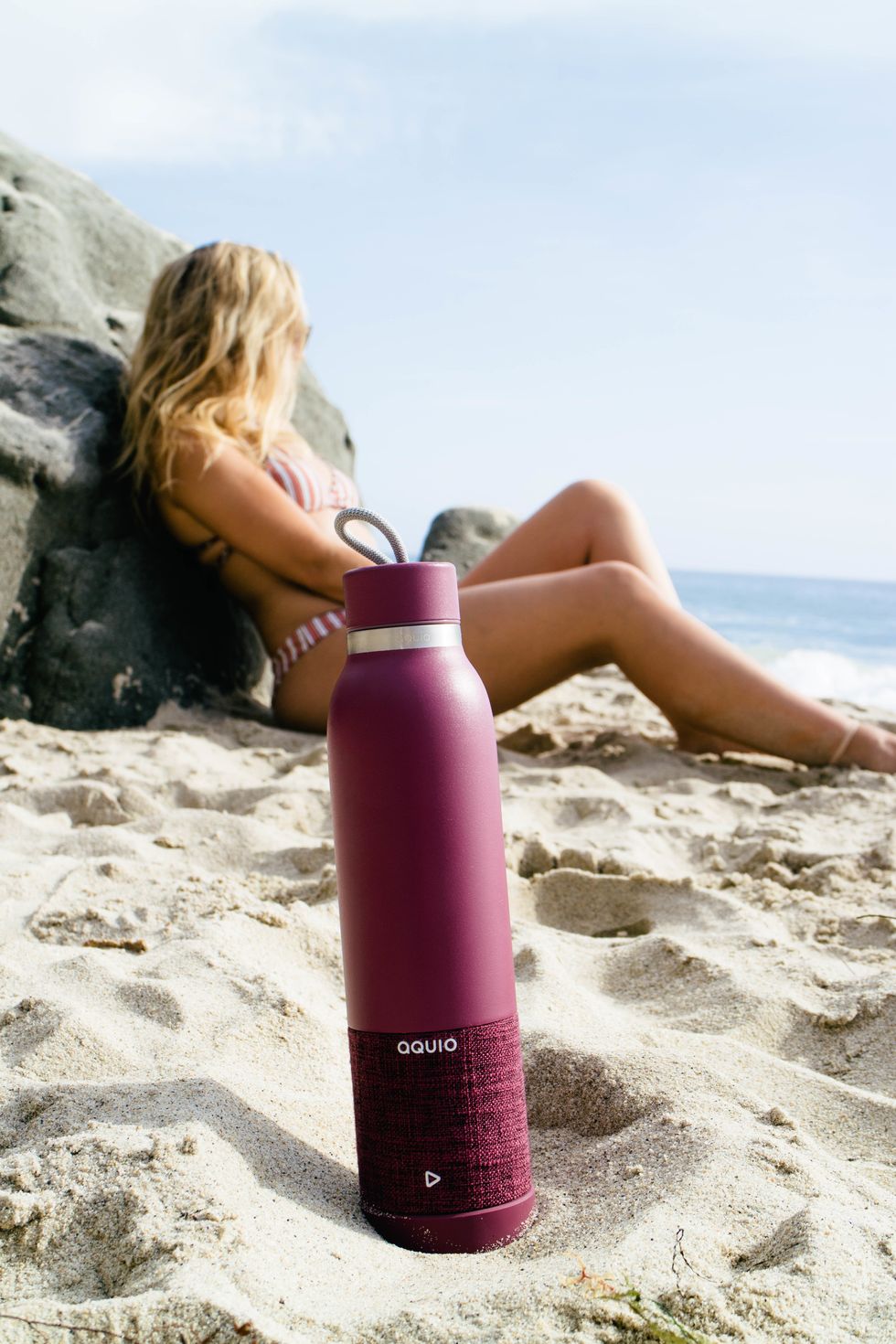 Next time you go to the beach this summer, might want a Aquio smart water bottle powered by iHome.Aquio
If you are one of those beach goers who likes to have music and stay hydrated while bathing in the sun, you are in luck there is a new connected device for you to consider this coming summer. GearBrain looks forward to testing the Aquio bottles once available to the public and will keep you posted. So far, this combination sounds like a good combination to have either on the beach this summer or skiing this coming winter, especially if you want others