Like GearBrain on Facebook
Press release:

One of the most important devices in a smart home is your router. It's the gateway to the Internet which helps you control all your devices. It's also the device that provides great Wi-fi signal which is needed to run your smart devices at their optimal level. Today, Comcast introduces xFi Advanced Gateway, the fastest, smartest and most powerful Wi-Fi device on the market. This device is available across the country in every market where Comcast offers Xfinity Gigabit Internet.
The xFi Advanced Gateway is designed to support Gigabit speeds over Wi-Fi. While there are currently no mass-market Wi-Fi connected devices capable of receiving Gig speeds over Wi-Fi, those devices are coming. In the meantime, the power of the xFi Advanced Gateway delivers ultimate performance to your connected home.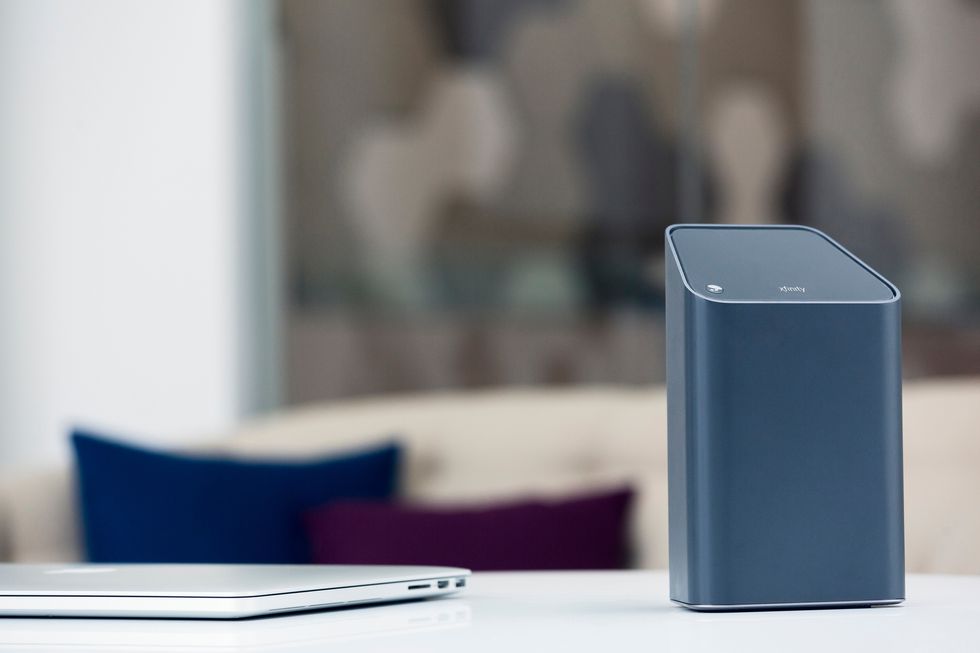 Comcast xFi Advanced GatewayComcast
Comcast has tested Wi-Fi speeds faster than 1.5 Gbps, and the xFi Advanced Gateway can go even faster, as Internet speeds increase, and Wi-Fi devices become more powerful.

To deliver that performance, the xFi Advanced Gateway is packed with the most advanced Wi-Fi technology ever put into a device by the company, including a 160 MHz-capable 8x8 antenna array, Mu-MiMo (Multi-user, Multi-input, Multi-output) technology, and a combination of specialized Internet of Things radios
Speed Meets Control
xFi Advanced Gateway comes packaged with xFi – Comcast's personalized Wi-Fi experience that provides a simple digital dashboard for customers to set up their home Wi-Fi network, find their password, see what devices are connected, troubleshoot issues, set parental controls and even pause Wi-Fi access on their home network during dinner or bedtime.
With xFi, setting up an xFi Advanced Gateway is as simple as plugging it in, scanning a QR code with our xFi app, and clicking through a few simple prompts. Once online, in addition to ultra-fast Wi-Fi speeds, customers will have access to unprecedented control over their home Wi-Fi network, with the ability to set profiles for every member of the household, assign devices and decide what devices connect and when.
Since launching xFi in May, Comcast has made it available to more than 10 million homes. The service is available at no additional cost to all Xfinity Internet customers with an xFi Advanced Gateway or compatible xFi Wireless Gateway.
Built to be Seen
Gateways deliver the best Wi-Fi performance when they're in a central location in the home, elevated off the floor, and out in the open, but gateways haven't always looked like the kind of thing you want sitting on a table in your living room.
Design was a key focus for Comcast in making the xFi Advanced Gateway. They wanted to make a device that consumers would be proud to display in their own living rooms.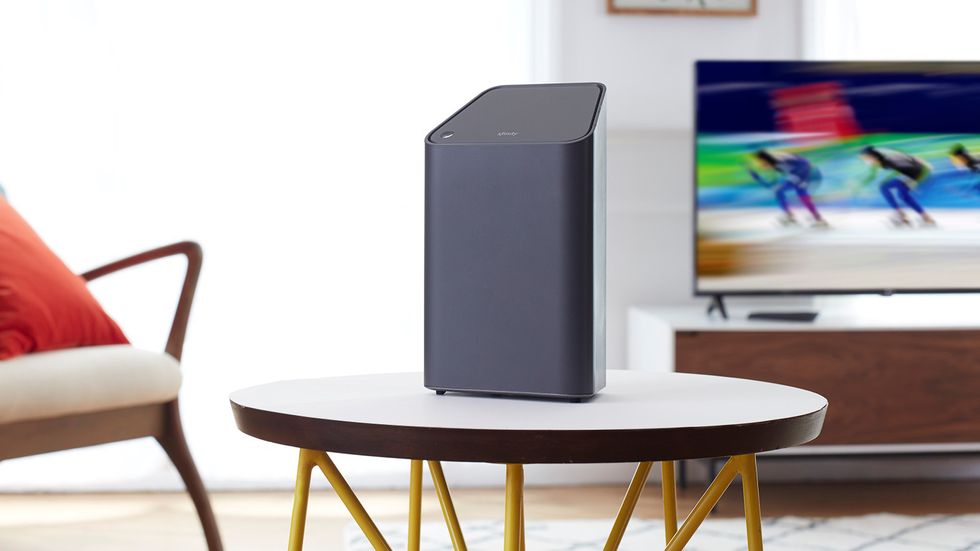 Comcast xFi Advanced GatewayComcast
here are a lot of things that make the xFi Advanced Gateway a better device to see and feel, but one that might not be obvious is the gateway's single soft blue light. If we're going to ask you to put the xFi Advanced Gateway in a central location, we couldn't have it flashing all day and night, so we replaced the traditional array of bright flashing lights with a single, soft and steady light that you'll quickly forget is even there.

The design elements that define the look and feel of the xFi Advanced Gateway are drawn from Comcast's Xfinity Design Language, that is used to create a consistent look and feel across their latest generation of devices and products. The soft touch materials and neutral colors are designed to easily blend in to most homes.
Powering Today's Connected Homes, and the Connected Homes of Tomorrow
As of today, the xFi Advanced Gateway is available for Comcast's fastest speed tiers, from 300 Mbps and up depending on market. This includes 1 Gig, which is now available in 26 of Comcast markets, with more coming all the time.
And while the xFi Advanced Gateway is powerful enough to blanket the clear majority of homes in ultra-fast Wi-Fi, the company isn't stopping there. Later this month, they'll begin offering a Wi-Fi mesh option with forthcoming pods, for homes where a gateway alone is not enough.
Going forward, the xFi Advanced Gateway is a device built for the future. As people connect more and more devices in their homes, and those devices increasingly use the cutting-edge technologies already built into the xFi Advanced Gateway, it will ensure that Comcast customers are ready for whatever comes next.
The Technology of the xFi Advanced Gateway
What technologies make the xFi Advanced Gateway the most advanced device ever built by Comcast? Here are a few:
8x8 Antenna Array – Packed into the xFi Advanced Gateway's sleek design are eight antennas to transmit Wi-Fi signals and another eight to receive them. This is the biggest array available on any home router or gateway.
160 MHz Channels – The xFi Advanced Gateway antennas capable of using the widest bandwidth channels currently available – 160 MHz – compared to between 20 MHz and 80 MHz for most Wi-Fi routers and gateways currently on the market. That means the xFi Advanced Gateway will take advantage of the most spectrum, which translates to faster speeds, and support for more connected devices.
Mu-MiMo – We use "Mu-MiMo" (Multi-user, Multi-input, Multi-output) technology to make sure that the xFi Advanced Gateway doesn't just deliver great speed to one device, but because of the spatial diversity built into the design it can simultaneously power dozens of devices without sacrificing performance on any of them.
Dedicated IoT Radios – the xFi Advanced Gateway includes Bluetooth LE, ZigBee and Thread radios so it will be capable of connecting to virtually any IoT device. Devices with Thread radios include NEST devices and Philips Hue Home Automation kits. Devices with ZigBee radios include a wide range of home automation devices. And Bluetooth LE leverages the popular Bluetooth protocol for the connected home. However, your IoT devices work in the future, you can be sure they'll work with the xFi Advanced Gateway.
Summary
The most important component in a smart home is your wireless signal. You need a high-speed connection to run a wide range of connected devices at the optimal level to assure you get the benefits these new devices offer, and you expect. Comcast's new xFi Advanced Gateway is one of these devices that is a must have for a smart homeowner. It offers you the fastest and most powerful connection to run not only the connected devices of today, but for the future as well.
Also, don't forget to check out WHAT WORKS WITH XFINITY on The GearBrain, our new compatibility checker for smart home devices and systems.
Like GearBrain on Facebook