Like GearBrain on Facebook
Troubled electric car company Faraday Future has confirmed a long-rumored financing deal which brings $2 billion to its depleted coffers.
Intended to finally bring its FF91 electric vehicle to market—-18 months after it was first revealed at the CES technology show at the start of 2017 — the badly-needed cash injection comes from Hong Kong-based Evergrande Health Industry Group. This gives it a controlling 45 percent stake in the Los Angeles-based car company.
Read More:
The news went down well with Evergrande investors, as its share price leapt 80 percent on disclosure of the news, ending the day (June 25) up 66 percent.

Faraday Future said the investment, which has been in the works since November 2017, "marks a major milestone for FF to achieve its vision of delivering a clean, intelligent, connected and shared global mobility ecosystem." Company founder Jia Yueting will become global chief executive, but loses his controlling stake. He retains 33 percent.
The company added: "FF will continue to use the committed funds to accomplish our top priority - finalizing the development and delivering the first production vehicle, FF91, to both US and China markets."
It also said the money will be used to "expand its product pipeline, develop cutting-edge technologies and grow the business rapidly in the global marketplace".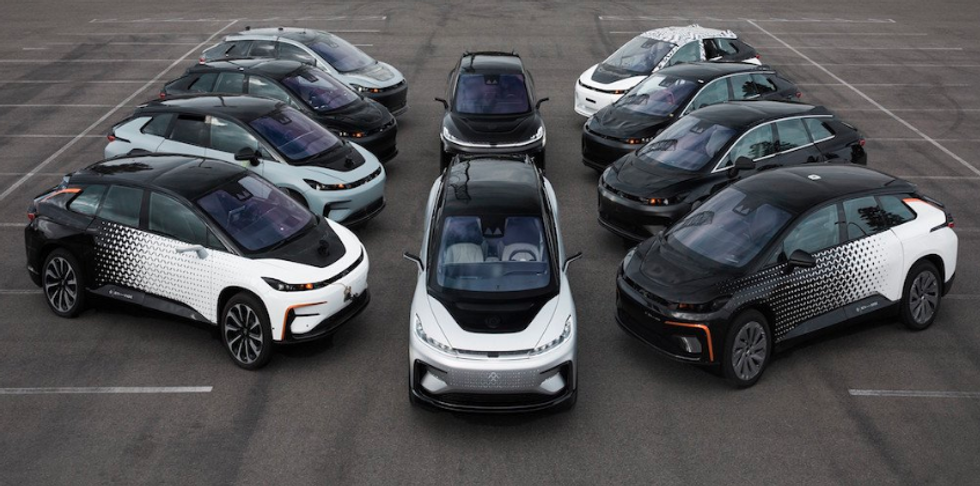 The FF91 is a luxury electric SUV to take on the Tesla Model XFaraday Future
It is unknown how far the FF91 is from mass production, as Faraday Future scrapped plans for a $1 billion Las Vegas factory last August, instead opting to take over a 55-year-old former Pirelli tire factory in Los Angeles. FF said on June 7 this year that it had only just received a permit to begin construction of its new production facility.
As for the FF91 itself, Faraday Future says the car is all-electric, has over 1,000 horsepower, and is quick as a top-of-the-range Tesla Model S to 60mph. FF said it will cost "less than" $290,000, significantly more than any of its rivals, electric or not.
Despite the significant setbacks, lawsuits over missed payments to contractors, and an employee exodus, $2 billion is a huge chunk of cash and should see the FF91 make it to the end of a production line.

But Faraday Future has history for biting off more than it can chew. Founded in 2014, the company said it would reinvent the car as we know it, operate a subscription service instead of directly selling vehicles to consumers — and, most bombastic of all, promised to launch 13 different models over the coming years, selling one million units.
Whether this latest investment will be enough to make the FF91 and Faraday's lofty ambitions a reality remains to be seen.
Like GearBrain on Facebook