Like GearBrain on Facebook
After grabbing headlines with a Batmobile-like concept two years ago, and pledging to take on Tesla with its first production car 12 months later, Faraday Future is not on the list of exhibitors for CES 2018.
The electric car startup hired big names and set lofty ambitions for itself — promising 13 different vehicles from a brand-new $1B factory. It would out-perform Tesla, Faraday boasted, while introducing the world to a car subscription model built with billions of dollars of Chinese investment. But lawsuits, frozen assets, an employee exodus and accusations of sexual harassment now shake the company to its core — and the once-bright startup is edging closer to ruin.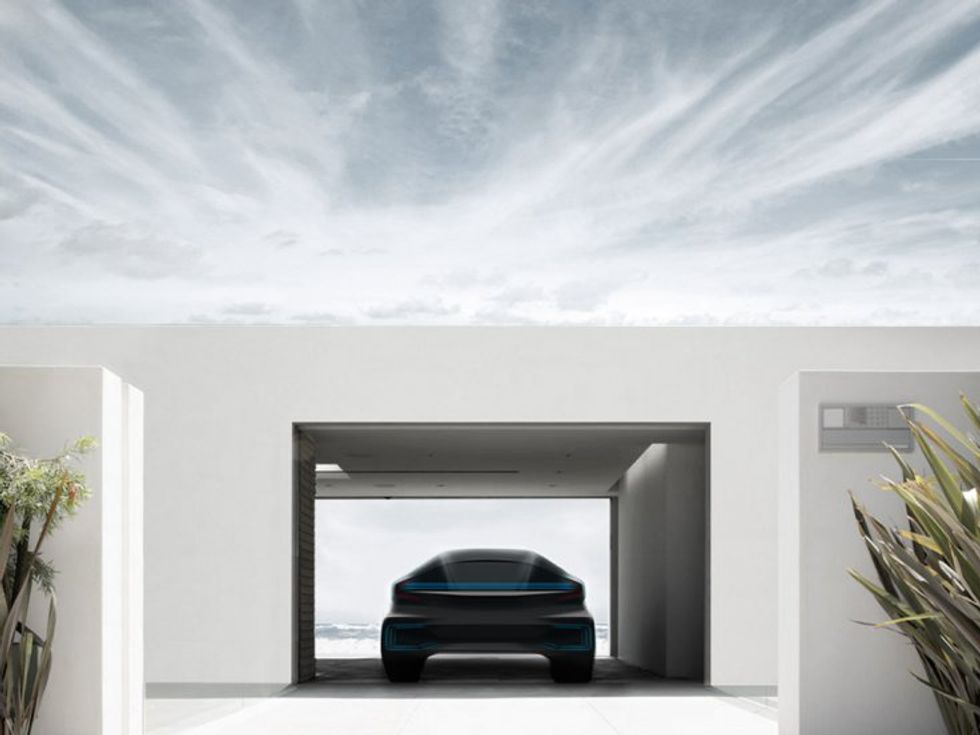 Render used by Faraday Future was later revealed to be completely unrelated to its actual carFaraday Future
"We're not f***ing around," the marketing team of electric car company Faraday boldly told the press in the summer of 2015. Having just come out of stealth mode, Faraday was at the time a mysterious Los Angeles-based startup which some claimed to be related to Apple's equally secretive car initiative, known as Project Titan.
A search on LinkedIn revealed over 200 employees on Faraday's payroll, and many had joined with impressive CVs. There was Richard Kim, designer of the BMW i3 and i8; Pontus Fontaeus, who had designed interiors for Ferrari, Lamborghini and Land Rover, and a slew of talent lured away from Tesla, including chassis engineer Nick Sampson, who would become the public face of Faraday.
A shining line in the post-VW world
There was much for Sampson — and the rest of the auto and tech industries — to get excited about. Google was already years into development of a fleet of fully autonomous vehicles, Tesla released Autopilot as a public beta, and Apple was believed to have over 1,000 staff working on Project Titan. The traditional automakers were busy playing catchup.
With heaps of cash invested by owner and Chinese billionaire Jia Yueting, plans to revolutionize the motor industry with a range of intelligent, electric vehicles, and the blueprints for a $1B factory, Faraday quickly became the poster child of a second-generation motor industry looking for a clean break from the Volkswagen emissions scandal.
Faraday's grand reveal would come at the CES technology show in Las Vegas in January 2016. Computer renderings of a futuristic vehicle (above) were teased, claims of reinventing the car were made, and all other vehicles were compared to computers before the internet. The company would also operate a subscription service, where customers could switch their car depending on what they needed it for — a city car for the commute, an SUV for weekends away. It promised to launch 13 different models over the coming years and sell millions of units.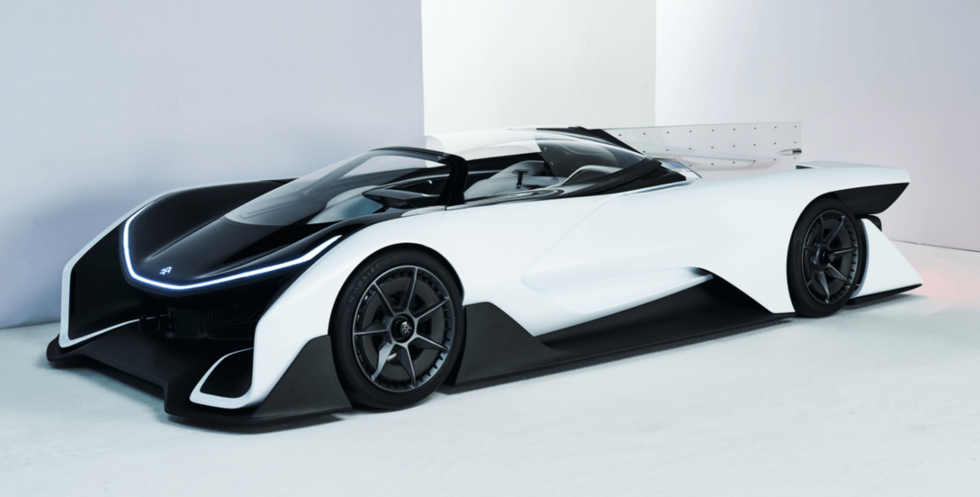 The undriveable FFZero1 was produced in a hurry due to development delaysFaraday Future
But when the curtains raised at CES 2016, Faraday revealed the FFZero1, a Batmobile-like concept car which did not drive, would not be put into production, and was quickly dismissed as a waste of the assembled journalists' time. It was later revealed by an insider that Faraday splashed $1M on the undriveable concept after it realized the production car originally planned would not be ready in time. An insider reportedly conceded how the company's original renders were completely made up and shared no resemblance with the vehicles it was developing.
Despite a muted reception, Faraday plowed onwards, buying and moving into a former Nissan factory in Gardena, south of Los Angeles. Here, it developed components, simulated crashes, tuned aerodynamics and tested self-driving technologies. In short, Faraday spent 2016 acting like a real car company. Even as news of its worsening financial situation spread, the hoped-for car maker invited journalists in for tours and interviews.
'If you're an investor, you're f***ed'
With 2016 drawing to a close, stores unfolded that Faraday actually was two different two companies: one registered on the Cayman Islands and in actual ownership of the intellectual property. A former Faraday executive told The Verge: "If you're an investor, you're f***ed. The company doesn't own the IP."
CES 2017 played host to Faraday unveiling its first production car, called the FF91. The vehicle, clearly unfinished and lacking an interior, was demonstrated on an enormous stage where it completed several Tesla-beating acceleration times. The FF91 still looked like a car from the future, and one which might actually go on sale in 2017 as the company had originally promised — not one pitched for a Batman movie.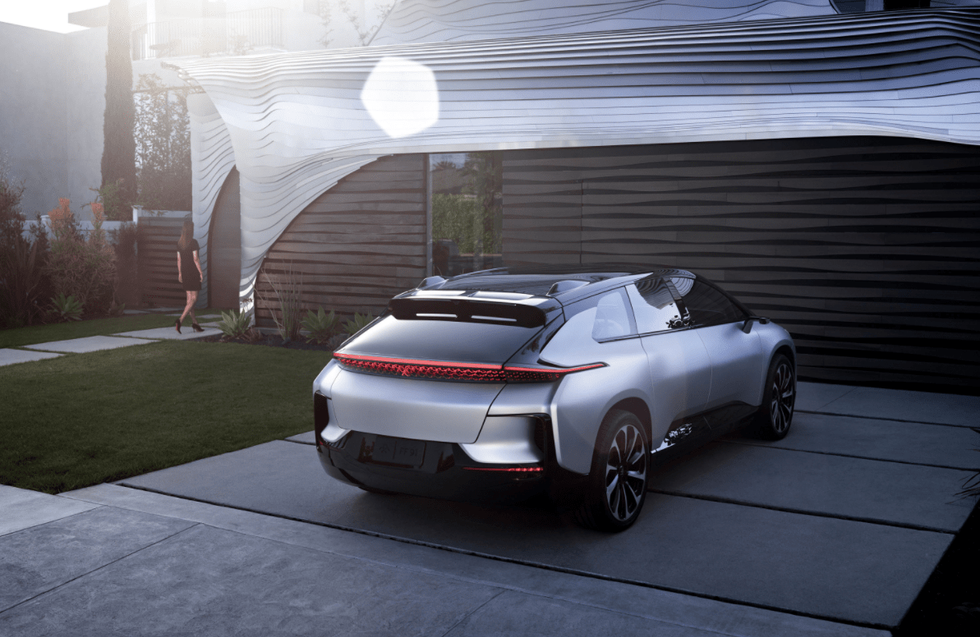 FF91 was intended for mass production in 2017, but is still in developmentFaraday Future
After the launch, Faraday claimed it had received over 64,000 pre-orders for the FF91. Reservations themselves required a $5,000 refundable deposit. But joining the pre-order queue? That was free, and easily done several times by the same person, making it difficult to determine how many of those pre-orders included actual deposits.
Faraday's financial position grew increasingly precarious — particularly after owner Yueting, who made his fortune running LeEco, a wide-reaching Chinese technology company, had $182M of assets frozen by the Shanghai High People's Court in July, 2017. Freezing them put Faraday's future in jeopardy.

LeEco, which also runs the Chinese equivalent of Netflix, had hoped to expand into the US, but laid off 70 percent of its US workforce in May 2017— and sold 49 acres of Silicon Valley land it had acquired from Yahoo less than a year earlier. These missteps saw Yueting's regular investments in Faraday dry up. And the company still had nowhere to build its car. Yueting also launched a potential competitor to Faraday — causing Faraday's own staff to question where its owner's priorities lay. Then things got worse.
Sexual harassment lawsuit
In June, a former Faraday security guard filed a lawsuit claiming she was sexually harassed and cyber-stalked by a company IT administrator. The plaintiff, Genesis Reyes, claims multiple written reports filed by her about the defendant, Josue Alejandro Sanchez, were dismissed by Faraday, and that she was fired for raising the complaints. The lawsuit was not reported on until December this year.
Reyes also claims the company asked her not to complete an accident report after she saw an employee lose control of a test vehicle and crash into another car.
In August Faraday scrapped plans for its $1B factory, instead taking over a 55-year-old former Pirelli factory, 200 miles north of its Los Angeles headquarters. Recognizing the pressures his company faced, Nick Sampson, executive VP of engineering of Faraday, said on social media that month: "We will push on despite all the doubters and critics. The heart and soul of FF remains strong and focused."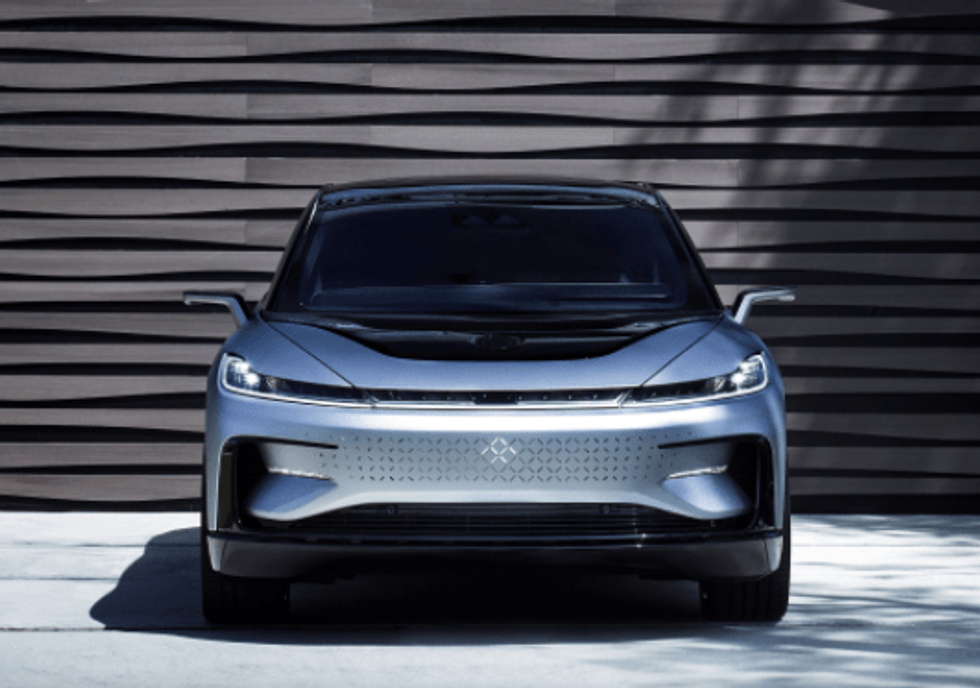 The FF91 has a claimed zero to 60mph time of 2.39 secondsFaraday Future
But for each forward step Faraday takes, a backwards falter is never far away.
Days after signing for the new factory it emerged that Faraday would not compete under its own name in the electric Formula E race series. Less than a year earlier, the car maker had paid to be the title sponsor at one round of the championship, before partnering with an existing team and racing under the Faraday name in 2016.
The team Faraday Future partnered with, Dragon Racing, won races in the first two seasons of Formula E. But the car emblazoned with the company name failed to score a single podium in the 2016/17 season — finishing eighth in the constructor's championship. Faraday is now no longer a part of Dragon Racing
Today Faraday is in something of a holding pattern. Work cannot move forward on the FF91 until more money is secured. But to maintain a tight grip on his controlling stake, Yueting refuses to seek outside investment. The goal now is to begin mass production of the FF91 in late 2018 and ship just 10,000 units per year, with no word on other models. The car was originally estimated to cost between $150,000 and $200,000, but shortly after CES 2017 Faraday said it would cost "less than" $290,000.
Employee exodus
Alan Cherry, part of the company's original leadership team and head of HR, left in August 2017. Stefan Krause, an auto executive who was brought in from BMW to save Faraday in March 2017 departed in October — he had acted as both chief financial officer and operating officer at the stricken startup. Ulrich Kranz, chief technical officer and also a former BMW executive joined Faraday in July, is said to be leaving before the end of the year. Bill Strickland, formerly a program leader at Ford, has also departed after a brief tenure.
Founding executive Tom Wessner left in October, followed most recently by the loss of fellow founder and vice president of design, Richard Kim. Before joining Faraday, Kim was best known for designing the BMW i3 electric city car and i8 hybrid supercar.
According to sources of FormTrends, 30 designers followed Kim's lead and have also left Faraday Future. "We're willing to wager that there's nobody left in the [design] studio," the publication reported.
Finally, with Faraday missing from the list of exhibitors at CES 2018 in January the prospect for what could have been one of the most exciting auto companies in a generation is hardly the future they had dreamed.
Like GearBrain on Facebook