Like GearBrain on Facebook
Apple has announced a new 9.7-inch iPad specifically designed for the educational sector.
Priced at $299 for schools and $329 for regular consumers, the new iOS tablet was revealed at a media event in a Chicago high school on March 27. The new iPad looks identical to the current 9.7-inch model, but with the key inclusion of Apple Pencil support.
Pencil is Apple's $99 stylus, which until today worked exclusively with the pricey iPad Pro range. Now, children will be able to use the stylus to draw, sketch and annotate on the new education-focused iPad.
The iPad has a Retina display, Touch ID, GPS and a compass, and is powered by Apple's A10 Fusion processor. LTE connectivity is available on a more expensive model. There's an 8-megapixel camera on the back and an HD FaceTime camera on the front, and Apple claims the iPad is good for 10 hours of battery life.
With support for ARKit, Apple says the new iPad will run augmented reality games, including ,any new ones which have recently been developed for use in the classroom.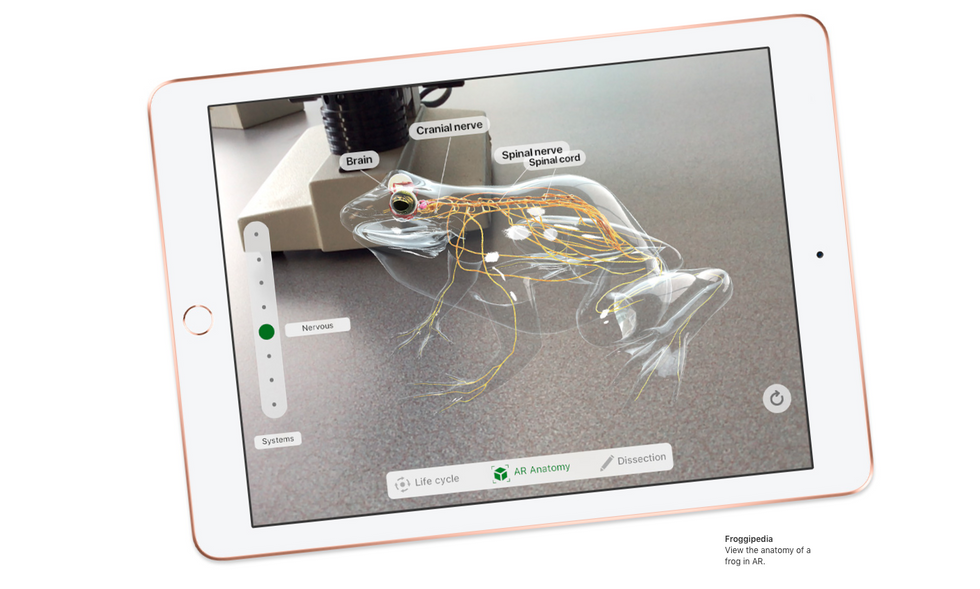 AR science apps run on the new education-focused iPad Apple
Missing from the new iPad is the iPad Pro's keyboard connection, which seems like a strange thing to miss out, given the amount of typing students are likely to do on a school-issued iPad.
What it comes out loud and clear from today is that Apple is catering to a more tailored, personal education where technology helps teachers engage more in a way that gets the best response from kids #AppleEvent
— Carolina Milanesi (@caro_milanesi) March 27, 2018
Another nod towards the school sector is how the new iPad comes with new (and free) versions of Apple's iWork application suite, comprising Pages, Keynote and Number. These apps are Apple's equivalent of Microsoft Word, PowerPoint and Excel respectively.
There is a focus with these new apps on using the Pencil more than ever. For example, students can annotate their text documents, or teachers can mark work submitted to them on their own iPad, also with the Apple stylus.
As for software aimed at teachers, Apple's Classroom app is coming to the Mac. It will be available as a beta from June and gives teachers greater control over their students' iPads. Already available on iOS, Classroom lets teachers see the screens of student iPads in real time, control the kids' devices, and display their screens on a television via an Apple TV.
An all-new app called Schoolwork is designed to let teachers assign work to students and track their progress. These handouts can include PDFs, links and other documents, and are shared with students via email. The Schoolwork app will be available from June.
The new model has multiuser support, allowing multiple people to log into the device with their own username and password. Apple says this system will be managed by schools who opt to issue the iPads to their students. This feature is not new, but will be unfamiliar to many iPad owners as it is only available on devices issued by schools.

Students using the new iPad get 200GB of iCloud storage, up from the free 5GB available to everyone else.
The new iPad is available in silver, space gray and gold, and is on sale now from $299 for the 32GB, Wi-Fi model. Adding LTE bumps the price up to $459, while a 128GB model costs $429 with Wi-Fi and $559 with LTE.For context, the 10.5-inch iPad Pro starts at $649.
Related Articles Around the Web
Like GearBrain on Facebook