Like GearBrain on Facebook
Portable speakers let you play music while on the go — making the sound from your smartphone that much better. But a new device aims to fuse the bag you carry with the music you love to play. The Speaker Backpack from Stealth Labs is a bag with built in HD Bluetooth speakers, plus wireless chargers for your smartphones or tablets. We took the bag out for a spin, to test how easy it was to use – and if the music coming from the backpack really outplayed portable speakers we've tried in the past.
What is It?

Stealth Lab's new backpack comes with dual Bluetooth speakers, which support up to six hours of playback on one charge. Inside are also built-in iPhone and Android cords which you can use to charge your smartphone or tablet, and the battery is powerful enough to provide up to two full smartphone charges.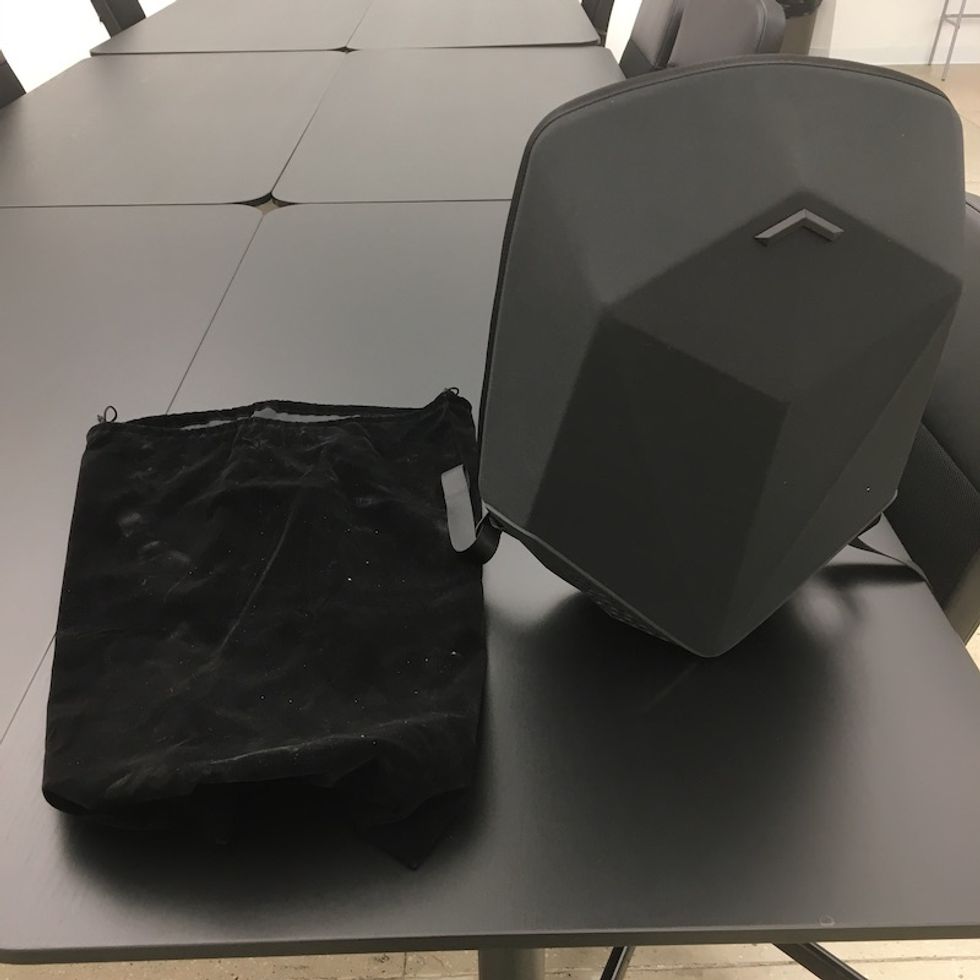 Stealth Labs Speaker BackpackGearBrain
The backpack measures 14 inches wide and 19 inches tall. and is lightweight. You can store a lot of items in there — up to 12 liters of cargo. Plus it's water resistant thanks to its nylon exterior. The backpack is also expandable, perfect if you carry a lot of books, or a big computer — it's designed to hold a 15-inch laptop — along with other big personal items, like workout clothes. The backpack also has an interior compartment to safeguard valuables, helpful is you're taking it to public places like the park or the beach — or even wearing it on campus.

One feature that stands out is the ability to charge your smartphone while also playing music through the backpack's speaker. The backpack has a 50000mHA Lithium-Ion battery which weighs just 5 pounds.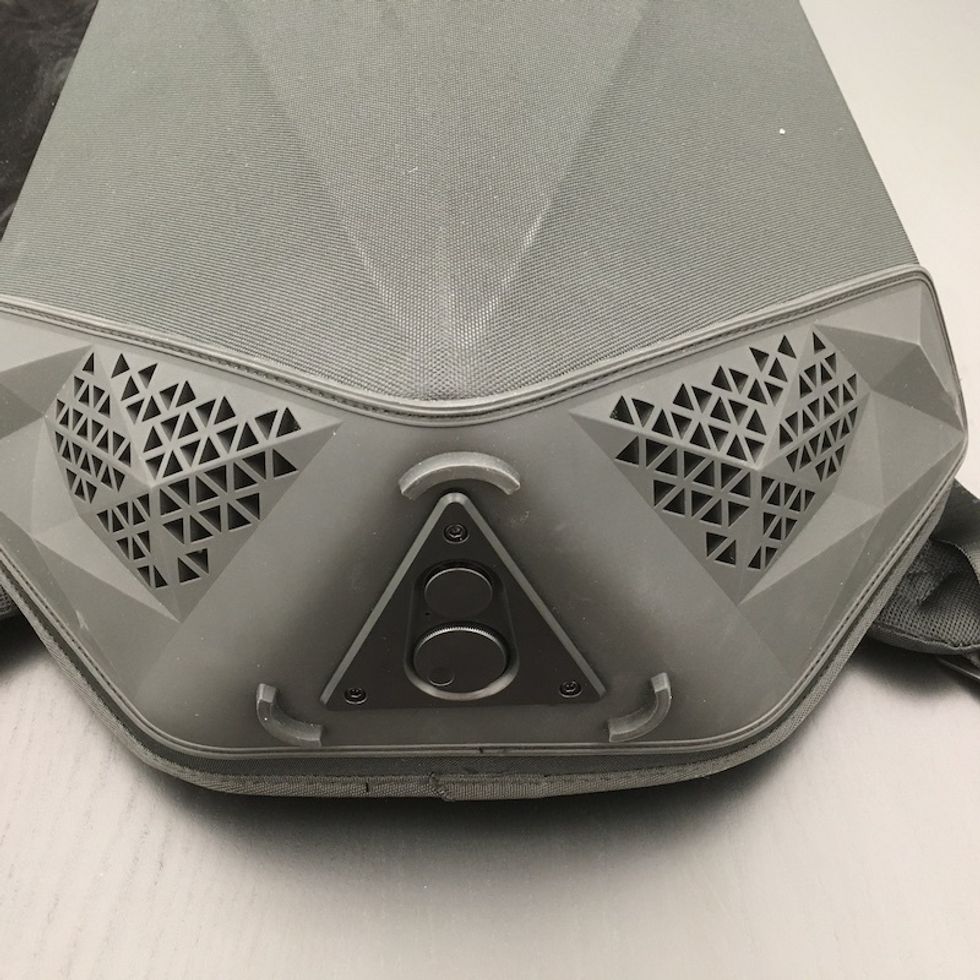 Stealth Labs built-in Bluetooth SpeakerGearBrain
How do you install it?

Setup is rather easy. All you do is connect your smartphone to the backpack via a Bluetooth connection and you are good to go. You don't need an app, and a connection setup isn't required. Your smartphone is the controller, and it works with both Android and iOS devices.
How well does it work?

The backpack was initially introduced on Indiegogo, a crowd funding site for startups, and is currently in production. The sound is good, and we found compatible to other Bluetooth speakers we've tested in the past.
Lots of Storage to hold Personal items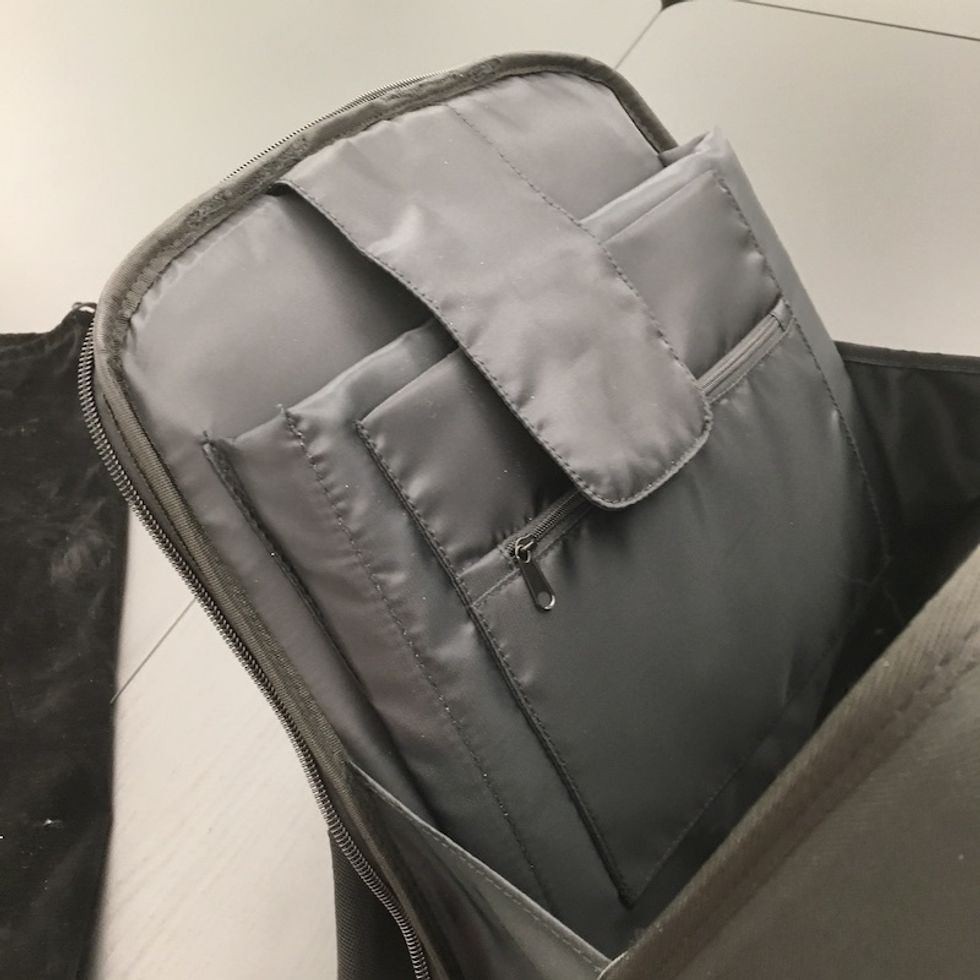 This backpack comes with lots of storage space
GearBrain
Can hold 15" laptop and more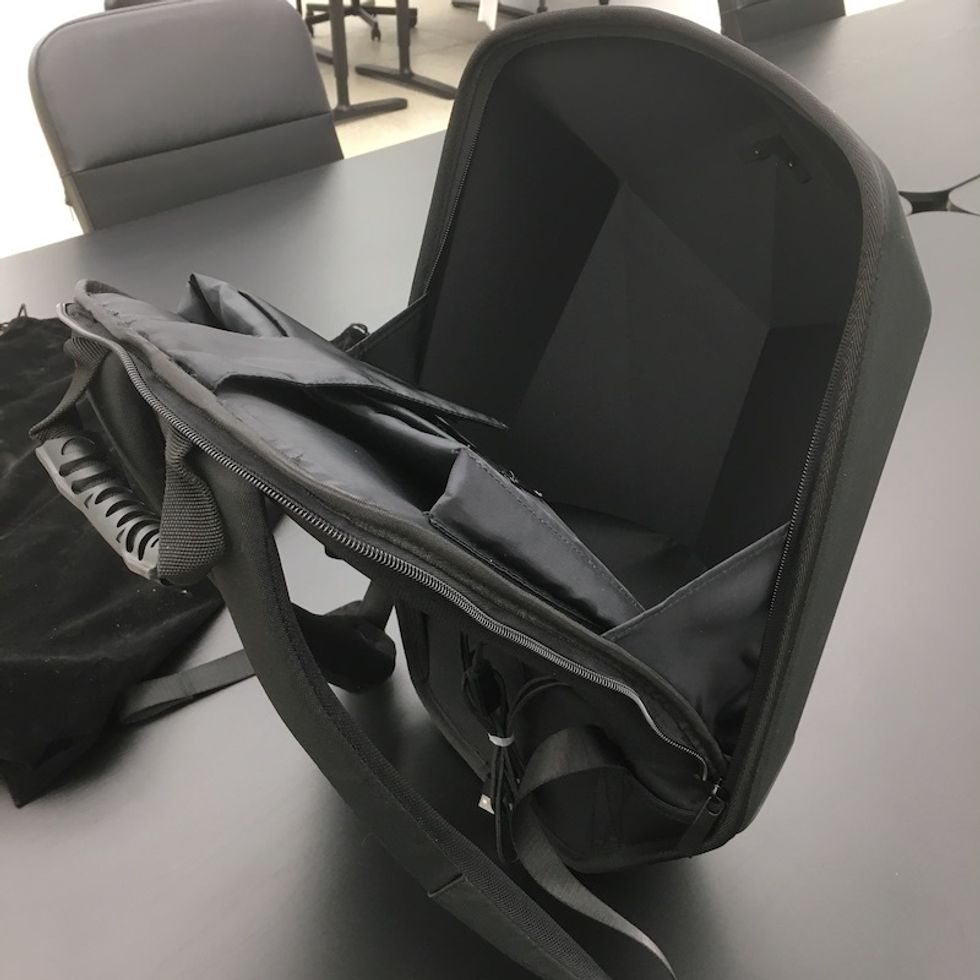 Oversize storage space
GearBrain
Built-in Charging Station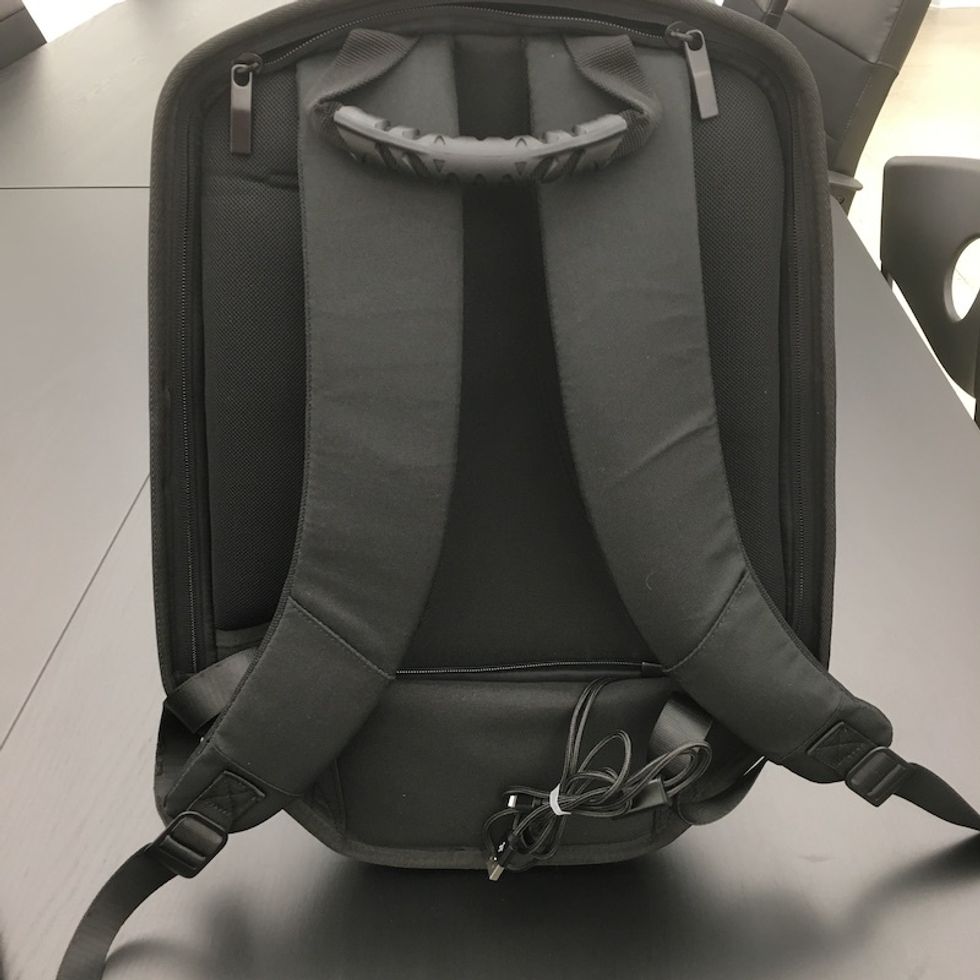 Comes with built-in charger with cords for iOS and Android smartphones or tablets
GearBrain
How much does it cost?
The Speaker Backpack is in pre-orders for $199, with shipments set to start in July 2019. You can select two colors: Space grey and Stealth black.
Summary
The backpack is ideal for anyone who wants to be able to play music when they're walking around, or at a park or gathering with friends. We like that the backpack can hold quite a lot of items, and that the speakers sound well. This isn't going to be a sound system you want to use at home, so if you are high fidelity person who wants only the best sounding speakers, then this backpack is not for you. But on the beach, it's certainly going to amplify the sound you get directly through your smartphone on its own. pretty good to the average music lover. And if you are a college student, and want a backpack to also double as a speaker, this backpack might be something for you to consider. The fact it's water resistant, plus the built-in power chargers, also make it a more interesting option than a standard Bluetooth speaker and regular backpack, particularly for those who may be out for long periods of time, or even traveling and sight-seeing for the day. And there's no question, for music lovers, that it's far easier to carry around than a boombox.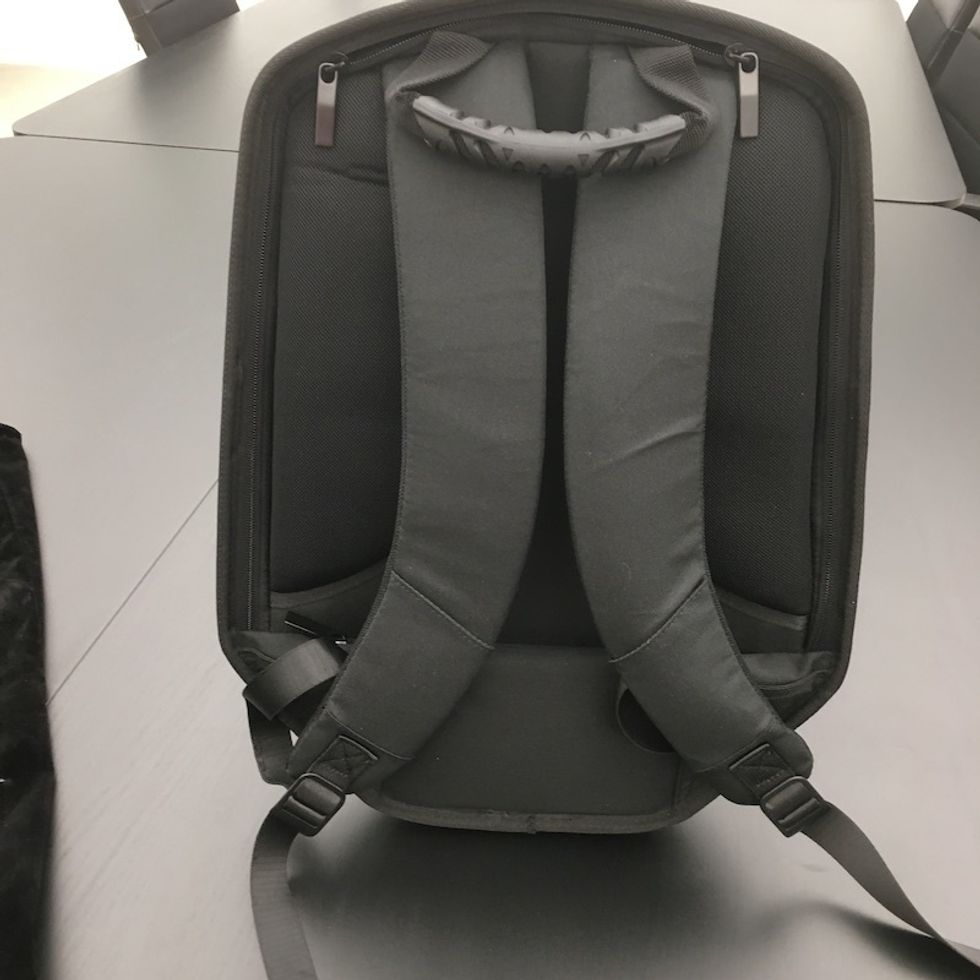 Stealth Labs Speaker Backpack has comfortable straps.GearBrain
Pros:

Lots of storage
Water resistant
Built in power chargers for Android and iOS smartphones
Cons:
Price
Size
Speakers are decent, but not symphony quality
Like GearBrain on Facebook