Like GearBrain on Facebook
If you've just received your first Amazon Echo speaker or smart display, perhaps as a gift this holiday season, it can be tricky to get your head around exactly what the voice assistant is capable of.
The lack of a conventional user interface can make this tough, as it's difficult to know what to ask Alexa, and what you can tell your new voice assistant to do. That's why we have compiled this comprehensive guide, which aims to cover all of Alexa's main features.
Most of these functions are available from the moment you switch on your Alexa device and log into the companion smartphone app for the first time, although some require a range of smart home devices (like light bulbs and plugs) for Alexa to communicate with.
Does Alexa record everything I say?

First up, let us get this out of the way. The microphones of your Echo speaker are constantly on and listening for the 'Alexa' hot word, which brings the device to life and starts recording. Once you have finished speaking, this recording is quickly sent to Amazon's servers and analyzed, before an answer is sent to your Echo, ready for Alexa to say a couple of seconds later.
This recording is saved on Amazon's server, and you can listen to it through the Alexa app. You can also delete these recordings (from the app and the server), although Amazon claims that doing so will prevent Alexa from learning your voice and becoming more accurate over time.
But Alexa can make mistakes. Echo speakers will often start listening by mistake, thinking they have heard 'Alexa' when they have not. This can be annoying, especially when Alexa says: "Sorry, I didn't catch that" out of nowhere.
It can also be a little creepy, especially when Alexa records a conversation and sends a recording of it to someone you know. Thankfully, there is a mute button for when you want to switch the microphones off.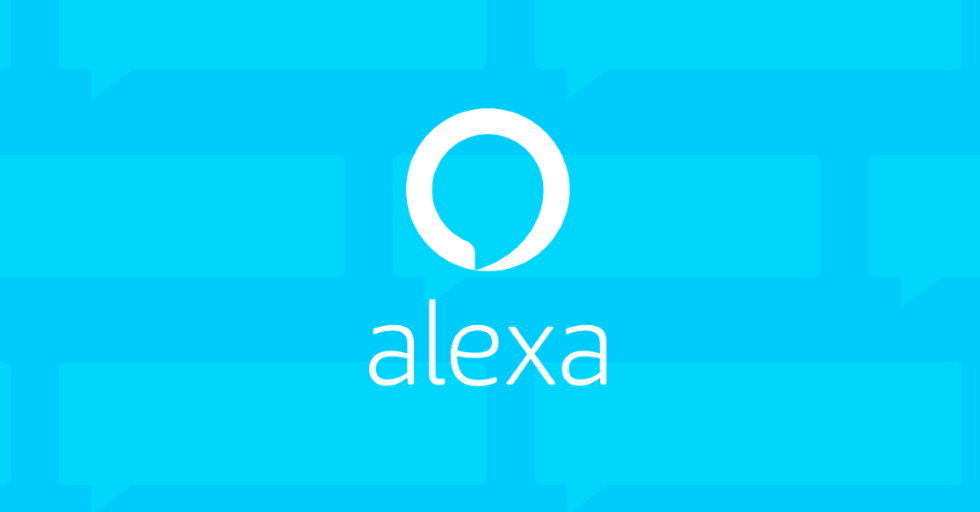 Yes, Alexa does record everything you say to her Amazon
How to delete Alexa recordings

As we mentioned above, these recordings can be deleted by heading into the Alexa smartphone app for iPhone or Android. Just follow these instructions:
Open the app
Tap the three-lined icon in the top-left corner
Tap on Settings
Tap on Alexa Account
Tap History
From here you can view and listen to all of the times Alexa has recorded you speaking with it. Tap on a recording then tap Delete Voice Recording to remove it from the app and Amazon's server.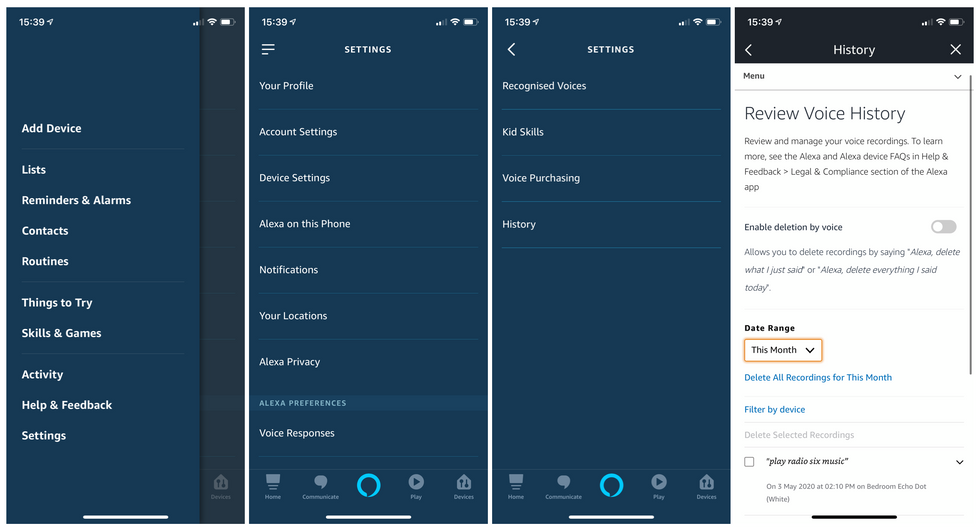 How to delete your Alexa voice recordingsGearBrain
How to change Alexa's name

You might want to change the word Alexa responds to, perhaps because you have a family member of the same name. To do this, open the Alexa app then follow these instructions:
Tap on the three-lined icon in the top-left corner
Tap Settings -> Device Settings
Scroll to the Alexa device you want to change the name of
Now tap on Wake Word then pick from the options, which are:
Alexa (default)
Echo
Computer
Amazon
How to teach Alexa your voice
Once given permission, Alexa can learn your voice. This leads to the assistant addressing you by name, and being able to quickly order things from your Amazon account whenever you ask.
Alexa will also know who to call or message when you ask, as it will access the right person's contacts book, and content like music and the flash news briefing can be tailored so that each user gets what they want.
To get started, open the Alexa app, tap the icon in the top-left, then Settings -> Alexa Account -> Recognized Voices -> Your Voice.
Read More: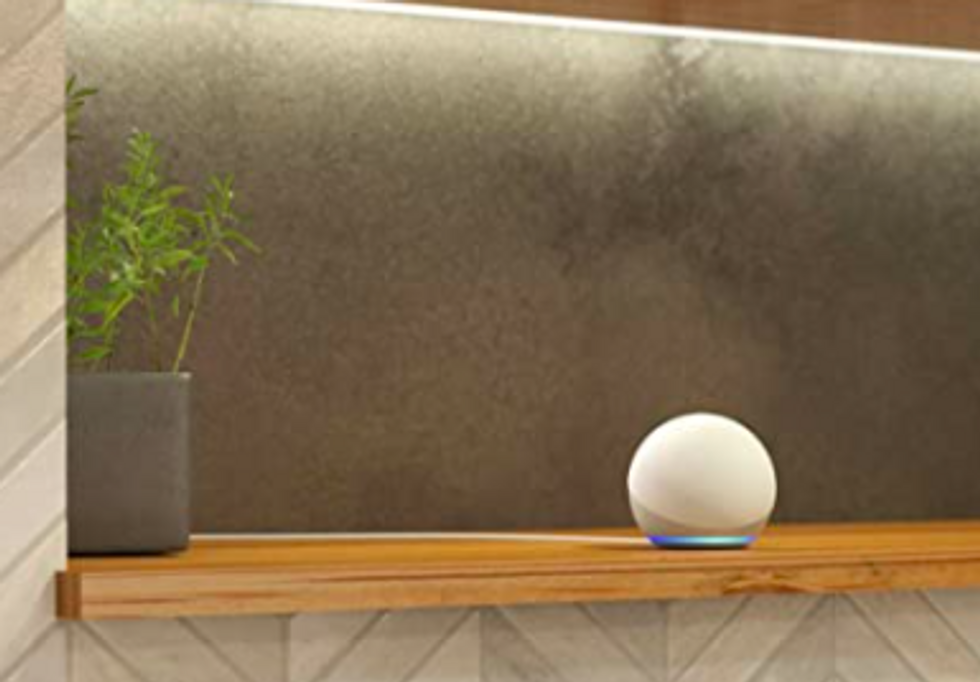 The Echo got a new spherical design for its fourth generation in 2020 Amazon
How to change Alexa's accent

Although every option is female (unlike with Google Assistant and Apple's Siri), you can change both the language and accent of Alexa's voice. To do this, follow these instructions:
Open the Alexa app
Tap on the menu icon in the top-left corner
Tap on Settings, then Device Settings
Find the device whose voice you want to change, and tap on it
Tap on Language, then make your selection
Read More:
How to make Alexa bilingual and understand two languages at once

Alexa has been bilingual since 2019, but at first the assistant could only speak in English and Spanish at the same time, and only for US users. Now though, Amazon has improved things somewhat. As of December 2020, Alexa can speak in English alongside any one of the following:
German
French
Canadian-French
Japanese
Spanish
US-Spanish
Hindi
To set this up, just say: "Alexa, speak English and French", or whichever second language you want to use from the list above. Alexa's new language abilities join the existing pairs of English and Spanish in the US, Indian English and Hindi in India, and Canadian English and French in Canada.
If you no longer want Alexa to speak a second language, just say: "Alexa, stop speaking French," or whichever second language you chose earlier.
Read More:
What are Alexa skills?
You can think of skills like small apps for Alexa. There are currently, as of summer 2019, over 80,000 of them, and most are free. Some are must-have if you own relevant devices; for example, you'll need to enable the Sonos app to make Alexa play nice with your connected speakers.
Other useful skills include those produced by news companies like Reuters and the BBC, and guided meditation skills from the likes of Headspace and Calm.
To enable a certain skill, you can either ask Alexa directly (if you know what the skill is called), or you can browse the skills store on the Alexa app or through the Amazon website.
Read More:
Playing music, radio, podcasts and audiobooks with Alexa
This is a real cornerstone of the Alexa experience and it's easy to set up - as long as you have an account with Amazon Music (included with Prime), Spotify, Apple Music or Deezer. You can also get free radio stations from TuneIn, simply by saying: "Alexa, play [name of radio station]".
To add a music service (beyond TuneIn) to your Alexa account, open the Alexa app, tap the icon in the top-left, then Settings -> Music -> Link New Service.
Read More:
News and weather with Alexa
Above simple but useful Alexa feature is how it can read out the day's news headlines and weather forecast. Just say a phrase like "Alexa, what's the weather today?" or "Alexa, what's in the news?"
You can adjust what appears in the news briefing by opening the Alexa app, tapping the menu icon in the top-left, then heading to Settings -> Flash Briefing and add a news source, then toggle on or off which you want Alexa to read out.
To find out the weather for a different day or place, just ask. If Alexa is giving you the wrong local weather when you don't specify a location, check the assistant knows where it is. To do this, go to Settings -> Device Settings, pick your Echo device from the list, then tap Device Location and fill it out, then tap Save.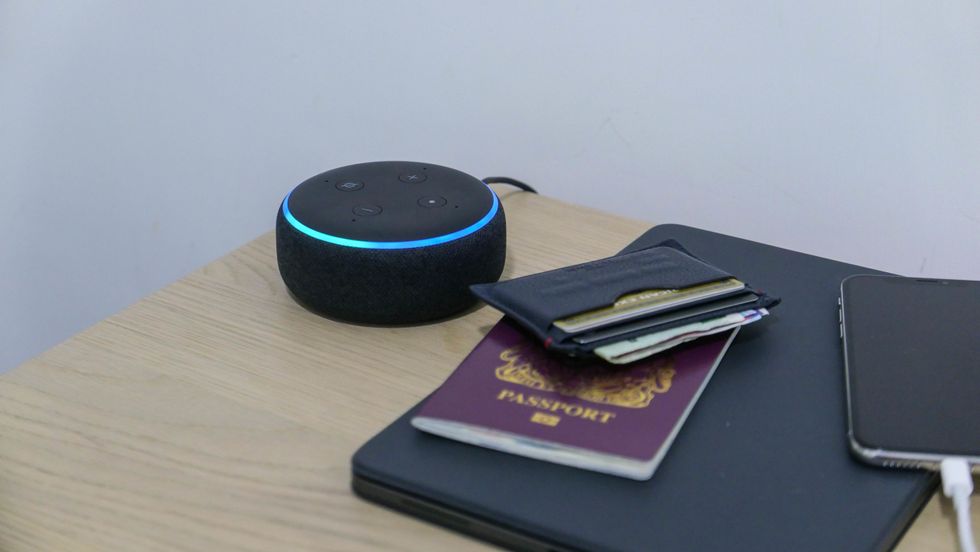 Alexa can make for a convenient holiday companion GearBrain
How to sync your calendar with Alexa

Open the Alexa app and go to Settings -> Calendars to log into the calendar service you use and synchronize it with Alexa. Gmail, G Suite, Outlook, Office 365 and Apple iCloud are all supported.
Once you have logged in, you can ask Alexa about your day, add appointments to your calendar, or make changes to ones which already exist. Do bear in mind that anyone in the room could ask Alexa about these appointments, so if your Echo is in a communal room you might not want to switch this feature on.
Managing reminders, alarms and timers with Alexa
You can either add a reminder in the Alexa app, or say: "Alexa, remind me to take the garbage out at 7pm every Wednesday" and the smartphone app will alert you at the right time.
Setting an alarm works in the same way; just say: "Alexa, set an alarm for 7am every weekday", or set it manually in the app. You can also set Alexa to wake you up with a radio station, although musical alarms are only possible on Echo devices; speakers with Alexa, like the Sonos One, cannot do this.
Timers can be set by saying: "Alexa, set a timer for x minutes", or you can give the timer a name and set several different ones at once - this can be particularly useful when cooking. Any timer can be checked on or canceled at any time; just ask how long is left, or tell Alexa to cancel it.
How to translate and use Alexa as an interpreter
Asking Alexa to translate is as simple as saying: "Alexa, what is [phrase] in [language]" and she will tell you.
Alternatively, you can enable the Translated skill, which translates English into 36 languages and has the added benefit of speaking more slowly or repeating itself when you ask.
How to communicate with Alexa by typing instead of speaking
Added in 2020, there is a way to communicate with Alexa by typing into the smartphone app instead of speaking aloud. All you have to do is tap on the text input bar at the top of the screen, where it says 'Types with Alexa', and type your command. You can ask for the weather, have Alexa tell you a joke, or control your smart home devices without speaking.
Read More:
What are Alexa Routines?
Routines are how you can make Alexa perform partially autonomously. Once set up, a routine could, for example, have Alexa switch on your bedroom smart lights, activate a smart plug attached to a heater, then read out the news and weather forecast, followed by your calendar entries for the day - all from you saying: "Alexa, good morning".
Another routine could have Alexa switch the lights off and lower the heating when you say goodnight.
Routines are set up in the Alexa app. Just tap on the menu icon in the top-left, then tap Routines and the plus icon in the top-right to get started.
Read More: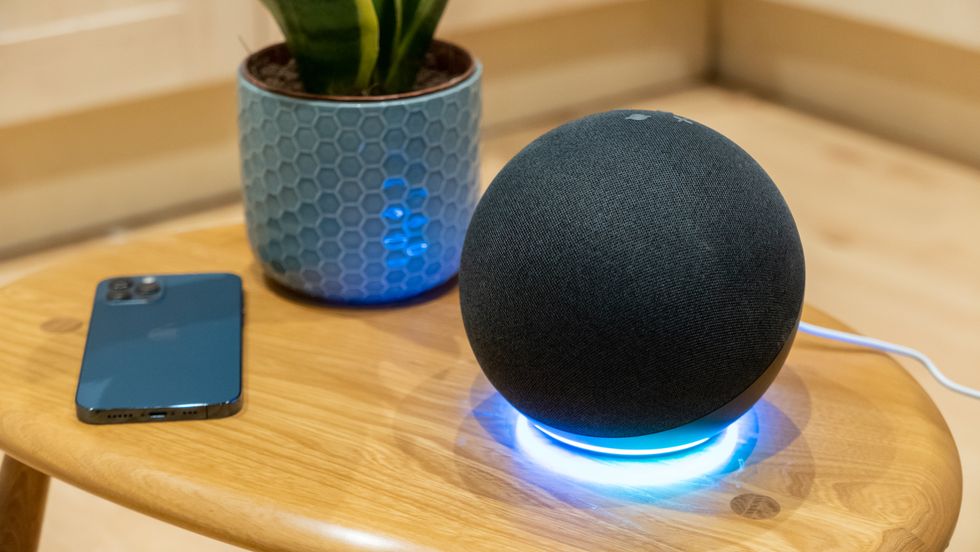 Alexa plays Spotify podcasts in 12 countries GearBrain
Alexa Smart Home Groups

If you own a range of smart home devices, like lights and plugs, you can control entire groups of them at once. This is really helpful for when you want to switch on the lights of an entire room, for example, or switch off all of the devices on the ground floor when you go to bed. This is called Alexa Smart Home Groups, a feature of the Alexa app that lets you organize your devices into groups.
Once set up, you can ask Alexa to control a whole group at once. For example, by saying: "Alexa, switch on the kitchen," or: "Alexa, turn off the first floor."
Read More:
What are Alexa Hunches?

Only available in the US for now, hunches is a way to keep track of how you use your smart home devices. Alexa checks how you use your devices - smart lights, for example - on a daily basis, then when you say goodnight (assuming you have a 'goodnight routine setup), Alexa will check that your lights are all off as usual.
If Alexa thinks you have forgotten to switch a light off, it will let you know, then ask if you'd like it turning off.
To get started, say: "Alexa, do you have any hunches?" or open the Alexa app and head to Settings -> Hunches. The system works for connected lights, plugs, door locks and switches.
As of January 2021 it is now possible to have Alexa act automatically on its hunches. Enabled via the Alexa app, this means the voice assistant will, for example, automatically switch your smart lights off when you go to bed at night, and turn on the robotic vacuum and lower the thermostat when you go out. If you usually ask Alexa to do those things manually at a certain time of day, the assistant will learn from this and start to perform the actions automatically.
Read More:
How to monitor your household energy use with Alexa Energy Dashboard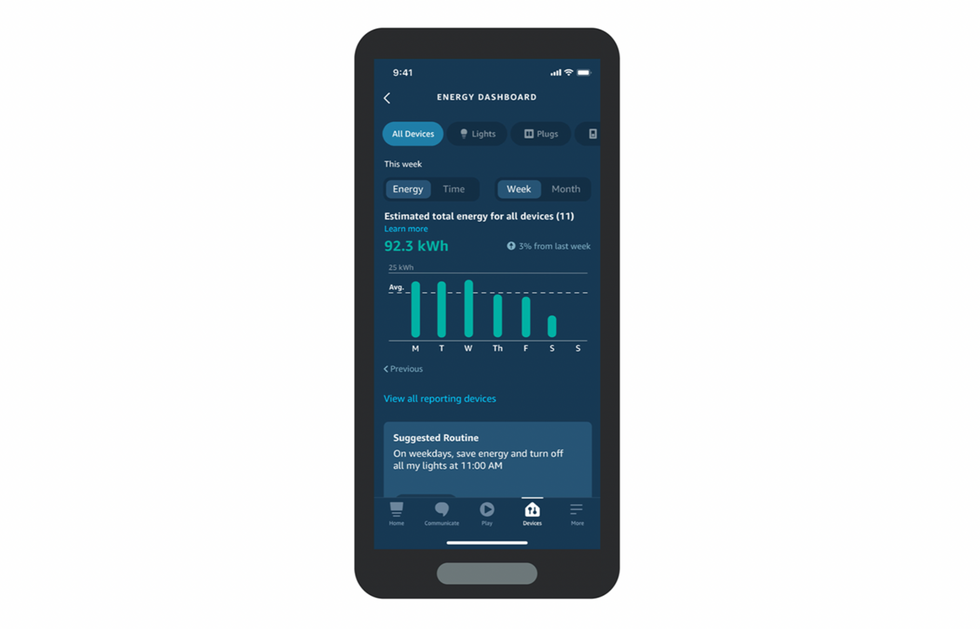 Energy dashboard inside the Alexa appAmazon
A feature added to Alexa in early 2021, the energy dashboard shows the energy usage of your Alexa-connected devices. Compatible devices include Amazon's own Echo products, plus select smart plugs and switches, plus bulbs, thermostats and televisions. A full list is available on Amazon's website here.

Viewable in the Alexa smartphone app, the dashboard shows your home's energy usage over time, along with suggestions for creating routines that turn off devices when they aren't needed. You can also see how much each of your compatible devices is consuming over time.
Read More:
How to use Alexa as a home intercom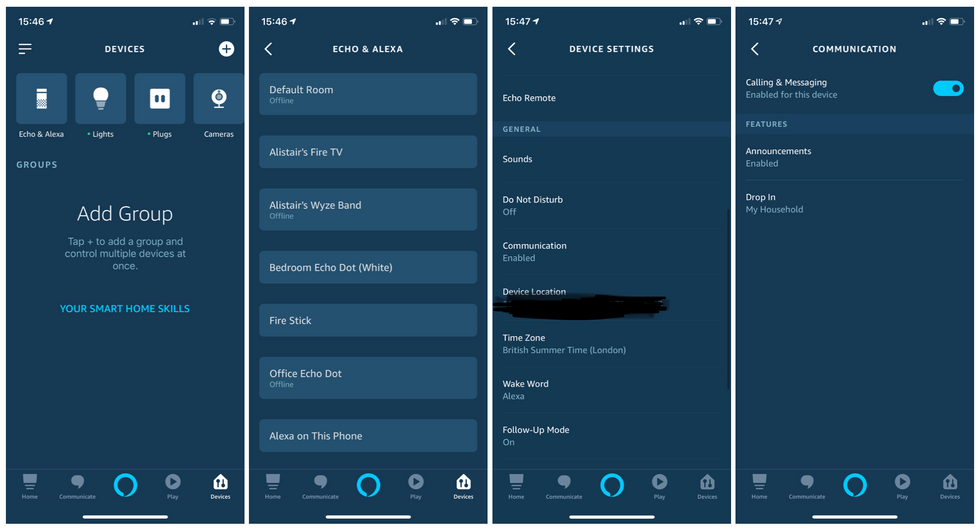 Alexa Drop-In setup GearBrain
If you have two or more Amazon Echo smart speakers, you can use the Drop-In feature to act like an intercom, or broadcast recorded messages to every Alexa speaker in the home.

Dropping in lets you listen through the microphone of another Alexa device - handy if you want to check on your baby's bedroom. Just say "Alexa, drop in on [room name]" and, assuming you have named your Echo speakers after the rooms they are in, it'll work just fine.
Similarly, Alexa can also be used to make household announcements. Instead of dropping into one specific Alexa device, this plays a recorded message through every compatible device. This includes all Echo speakers and displays, but also speakers by Sonos and even Alexa-equipped smart thermostats by Ecobee.
To broadcast a message to every Alexa speaker on a network at once, say: "Alexa broadcast [your message]". This is useful for telling the household you are heading out, or that dinner is ready.
Read More:
Protect your home with Alexa Guard
Alexa offers a very simple home alarm system, called Alexa Guard. When enabled, the system will alert you via the Alexa smartphone app when broken glass or a smoke or carbon monoxide alarm is heard nearby.
Once alerted, you can use the Drop-In feature to listen in, and interact with anyone you suspect may have broken into your home.
Amazon also offers Alexa Guard Plus, a more advanced smart home security system that costs $4.99 a month (or $49 a year). Guard Plus lets you make hands-free emergency called from your Echo, and alerts you to activity sounds (potentially of a burglar) as well as smoke alarms and the sound of broken glass. It also has an option for playing the sound of dogs barking when motion is detected outside (via a Ring security camera), and a siren when activity is detected inside inside the home.
Read More:
Playing games with Alexa

Say: "Alexa, let's play a game" and she'll give you some options of gaming skills to enable. There's Trivial Pursuit, Blackjack, unofficial versions of Who Wants to Be a Millionaire? and Deal or No Deal, an official Jeopardy! skill and many others to pick from.
There are also several choose-your-own-adventure games, like The Magic Door, and problem-solving games like Escape The Room. Just ask Alexa to open one of these games to get started.
Read More:
How to print with Alexa
Newly added in September 2002, Alexa Print lets you print certain lists and documents by asking the assistant. You can ask Alexa to print your to-do list or shopping list, a recipe, or a crossword, maze puzzle, sudoku, or even worksheets on a range of subjects for your child to complete.
Read more:
Using Alexa in the car
There are several ways to take Alexa on the road with you. The most obvious is Amazon's own Echo Auto, which is a smaller Alexa device designed to attach to your dashboard. It features the same mute and wake buttons as other Echo speakers, plus a light on the front to indicate when Alexa is listening, thinking and speaking.
Alexa in the
Echo Auto
works just as it does at home, and can be used for playing music and even controlling your smart home devices while away from home – so you can tell Alexa to open turn the driveway lights on as you arrive, for example.
You can also use Alexa on a smartphone connected to your car.
New for September 2020 is the ability to pay for gas by speaking to Alexa in your car. Amazon has partnered with over 10,000 Exxon and Mobil gas stations across the US, which now let you pay by speaking to Alexa. Simply pull up at the pump, say: "Alexa, pay for gas", then confirm the gas station and pump number you are at. Now just fill up and drive away, and your gas will be automatically paid for using Amazon Pay and the default credit card you use with Amazon.
Read More:
how to speed up or slow down the way alexa speaks www.youtube.com
Like GearBrain on Facebook