Like GearBrain on Facebook
Manual transcription is often not an easy thing to do. It requires lots of focus, experience, and the ability to understand heavy accents. Unfortunately, not everyone has the set of skills needed to be a great transcriptionist! However, thanks to speech-to-text software, transcribing a ton of files doesn't have to be a burden for you! Transcription programs can help you save time and nerves while also boosting your productivity!

No matter what kind of content you want to convert into text, the right transcription tool will make it pop on Google's first page. This translates into a bunch of people having access to your ideas! Your engaging videos, informative articles, and exciting school projects will be available to your target audience in no time! But how do you choose a great program for sharing your material with others?
The thing to keep in mind is that you're trying to make your content accessible. Therefore, you need to first think about how to make it available to your target audience. Once you determine that, you need to figure out how much time and money you want to spend on making that happen. To help you pick a fantastic transcription software, we've reviewed the 13 best transcription tools in 2022.
1.Top-Rated Human Transcription Service Provider: GoTranscript

GoTranscript
GearBrain
If you are fully invested in a complex project you need to have a text version of, you should check out GoTranscript. This transcription company offers a plethora of human-powered services! From transcription and translation to subtitling and captioning, the company provides everything you need to place your product on the global market! Its customers praise it for its affordable prices and outstanding 99% (or higher) document accuracy.
With an international team of 20,000+ professionals, it's safe to say that the platform is a super successful player in the language service industry. It even has giants like Netflix, Forbes, and TechRadar as members of its family of clients! Thanks to its site's user-friendly outline, making orders is easy. Valuing its client's needs, the company is also open to custom-tailored orders.
A significant advantage of entrusting your files to this agency is that multiple experts work on your files once you make an order. This means that you can get your transcripts really fast! After each professional is done working on their assigned file section, all the sections get merged. Then, a proofreader double-checks the text for inaccuracies, and your document is good to go!
Advantages
Accuracy is guaranteed because the company offers human services
Has its own mobile digital recorder app
Fast turnaround times
An international team of employees who work on projects in 60 different languages
Offers free trials and discounts
Supports most audio and video formats and YouTube and Dropbox links
Prices
Transcription: starting at $0.77 per minute
Translation: starting at $0.06 per word
Captions: starting at $1.11 per minute
Subtitles: starting at $8.50 per minute
2.Most User-Friendly: Rev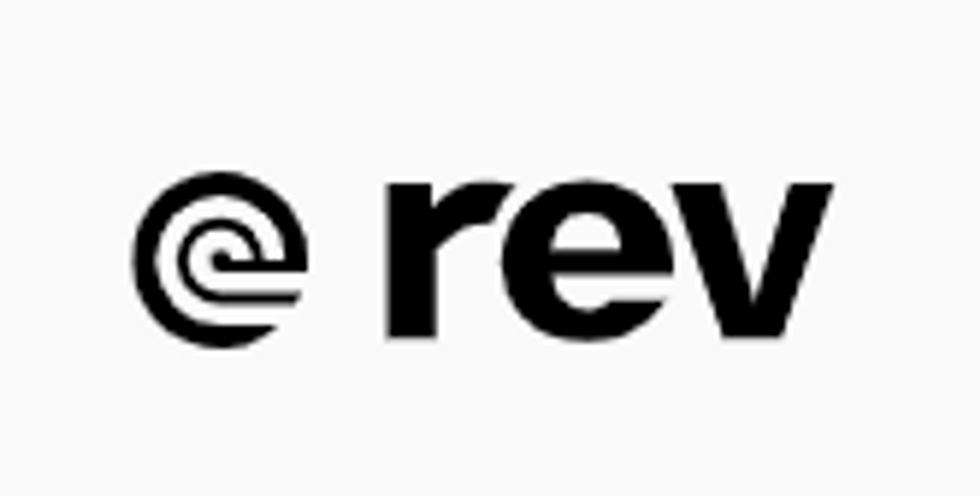 Rev is a audio-to-text converter and human transcriptions.
Rev
Rev is a fantastic choice for people who could benefit from a great audio-to-text converter and human transcriptionists. The platform is famous for providing customers with accurate, well-formatted documents. This company also offers subtitling and captioning services, including live captions! This company is a great option if you want your next Zoom meeting, webinar, or online conference to be automatically captioned in real time!
Apart from offering automatic transcription, this agency attracts a vast number of clients with its manual transcription services. The transcription experts working for this company are superb at their job and available 24/7! These skilled professionals are more than capable of providing you with transcripts that are 99% accurate! No matter how many files you have on your transcription to-do list, they got your back!
Videos that aren't captioned or subtitled are absolutely unpopular. After all, we live in a global village, which means that your target audience is probably dispersed worldwide and super diverse! That said, your success depends on how accessible your content is! By captioning your video materials, you're allowing everyone who can access them - including the hard-of-hearing - to absorb them in-depth!
Advantages
Automatic and manual solutions
Subtitles in 88+ foreign languages
Subtitles and captions in English
Live captions for the Zoom platform
Professionals that are available 24/7
FCC and ADA-compliant captions
Prices
Automated Transcription services: $0.25 per minute
Manual Transcription services: $1.25 per minute
Subtitles and Captions in English: $1.25 per minute
Subtitles in foreign languages: $3-7 per minute
Automatic Live Captions for the Zoom platform: $20 per host
3.Great for Meeting Hosts and Attendees: Otter.ai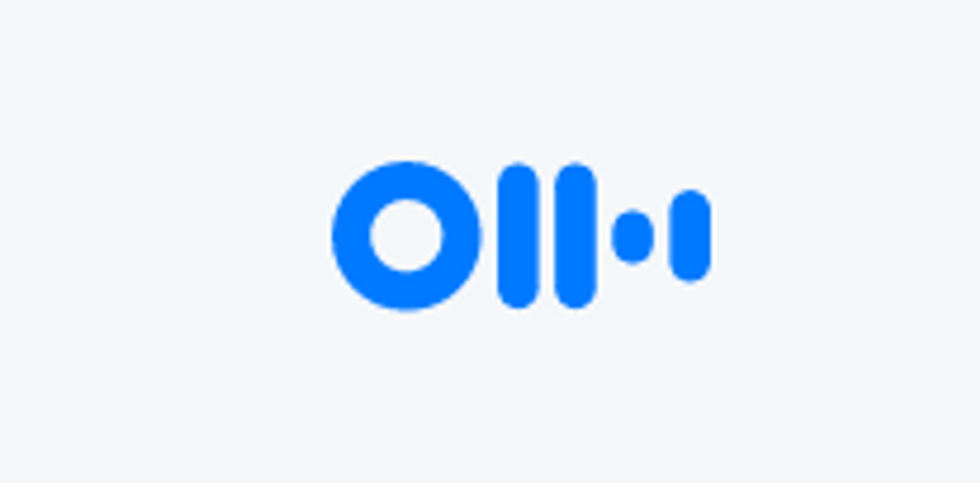 Otter.ai is an automatic transcription service.
Otter
If you're looking for an automatic transcription service that offers real-time audio transcription, Otter is a great choice. Available as a desktop, iOS, and Android app, the program is renowned for the convenience it brings to its users. After all, who could resist a program that generates transcripts on the go? Furthermore, you can integrate your audios with platforms like Cisco Webex and Microsoft Teams!
Thanks to the integration feature, you can also import your recordings to one of the platforms mentioned above. This makes Otter a fantastic tool choice for those who prioritize efficiency! The company also lets its clients make orders at affordable prices, which is great if you're on a budget. Plus, you have the option to look for keywords in your document, alter the playback speed, and more!
This program's Ambient Voice Intelligence feature lets it learn while converting your audio to text. In other words, the software improves at recognizing different voices and understanding context-based languages with each transcription! Also, the platform developers have nothing against users getting 600 minutes of free software-powered help with their transcription projects per month! Now, that's what an extended free trial looks like!
Advantages
Real-time transcription on platforms like Zoom and Microsoft Teams
Available as a desktop, iOS, and Android app
Able to identify different speakers on a recording
Flexible prices
Supports a variety of export formats, including MP3, PDF, and DOCX
Let's you feed names and terms
Prices
For individuals:

Basic plan: Free 600 minutes per month
Pro plan: $8.33 for 6,000 minutes per month

For organizations

Business plan: $20 per month
Enterprise plan: prices might vary
4.Popular for Its Superb Accuracy: Sonix
A prodigy in the world of transcription software, Sonix is the go-to program for more than 40 million clients around the globe. The tool is famous for its outstanding accuracy, something that corporations like Adobe, Warner Brothers and Uber really appreciate. One could describe this speech-to-text converter as a featuristic; it comes packed with all the bells and whistles that make for quality transcripts and subtitles.
To make things even better, the tool's developers have ensured that no user finds it inconvenient, including transcription newbies. These dedicated creators designed the program with an easily navigable interface! Thanks to their thoughtfulness, clients can transcribe their recordings with absolutely no fuss! This makes the software equally attractive to beginners and those familiar with the benefits of an excellent transcript.
Being the first choice of many, the tool also makes the process of generating transcripts entertaining. You can enjoy the satisfying sight of words and phrases popping up on the screen as Sonix does its job! Furthermore, if you feel like you could tweak the freshly generated transcript or subtitles, the program lets you edit it! Now, that's how you get your texts to be perfect!
Advantages
Perfect for accurate transcripts that take about 5 minutes
Capable of translating files in over 30 languages
Ready to generate automated, custom-tailored subtitles in no time
Great for team projects and publishing
Automatically timestamps every word
Let's you leave notes and comments on your transcripts
Prices
Standard plan: available at $10 per hour
Premium plan: available at $5 per hour or $22 per month with a 25% discount for annual users
5.Great Overall: Trint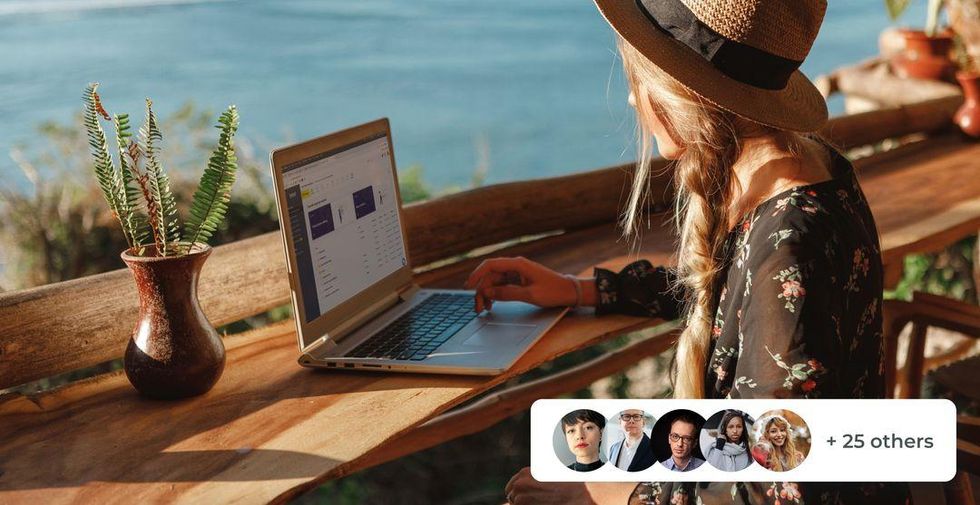 Trint is a transcription service that works in 34 languages.
Trint
Built to generate transcripts in 34 languages, Trint has a robust set of sophisticated technologies to make the program a fantastic choice for avid users. In other words, the tool is capable of understanding speech in many tongues! The program is compatible with macOS and iOS, which means that Apple users can have their transcripts done on their favorite devices!
Thanks to its mobile app, the software allows users to upload files to it and download them on their devices. If you're looking for something extra, there's also an option to preview transcripts and input phone numbers! Integrating the latest technologies in its design, the tool is infamous for its ability to transcribe both audio and video files. It's ideal for processing archives, interviews, and calls!
It's a fact that automated transcription solutions are yet to become more accurate, but for Trint, that's not an issue. More than equipped to quickly create flawless transcripts, the tool tops all other AI-based software! Furthermore, the program lets those who work with it edit their transcripts and search the texts for important words. Efficient and ready to deliver, this program is one of a kind!
Advantages
Takes less than 3 seconds to generate real-time transcripts in 31 languages
Features 99% accuracy
Integrated text editor
You don't have to download it
Let's you create a dictionary with names, lingo, and neologisms
Supports project collabs with a built-in comment tool
Prices
You can make a monthly or annual purchase and pick one of three plans :
Starter plan: costs $48 per month
Advanced plan: costs $60 per month
Enterprise plan: custom prices
*annual purchases are also available at a 20% discount
6.Fastest to Generate Transcripts: Express Scribe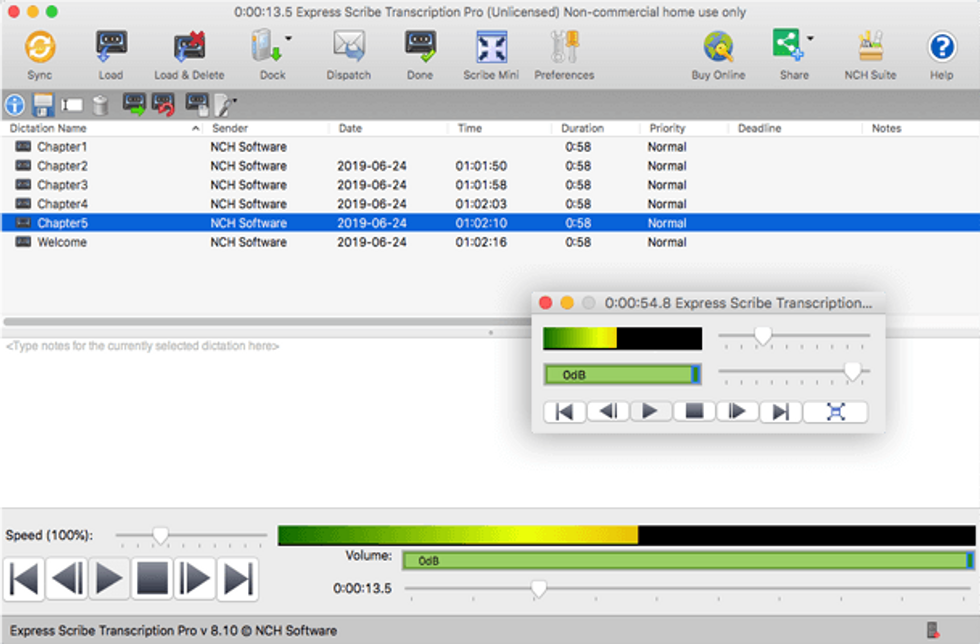 Express Scribe is a free transcription software
Express Scribe
With Express Scribe , you can invest your money into stuff other than transcription - this software is available for free! Regardless of the file formats you commonly come across during your projects, the tool has you covered! Packed with just the right features to give you a helping hand with transcription, the program lets you convert WAV, DCT, WMA, and MP3 recordings into text in a heartbeat.
Whether you have an analog, or a digital voice recorder prepped for the next interview, Express Scribe will generate decent transcripts for you. Its features are great for a satisfactory speech-to-text experience! All you need to do is toggle between its hotkeys, and it will prepare your document super-fast! Moreover, the software's automation option can help you send your documents to clients effortlessly!
Apart from file automation, the tool also offers useful plugins like Express Invoicing and FastFox Text Expander. These can speed up the transcription process and increase your productivity! The software's system requirements are low, which means that it won't slow your computer down while working. More than that, you can count on it to make transcription easier because it supports transcribing pedals.
Advantages
Free and Pro versions are available
You can integrate it with software like Microsoft Word, Lotus Word Pro, and Corel WordPerfect
Features hotkeys
Offers optional file automation
Compatible with digital and analog voice recorders
Allows users to work with transcribing pedals
Prices
Free version
Express Scribe Basic available for a one-time fee of $60
7.Available at Flexible Prices: Audext

Audext transcription service
Audext
If you're on a budget but still want your transcription needs met, you can try uploading your files to Audext . This service is available to clients who have a single file to get transcribed and those eager to join its customer family. With flexible pricing plans and two accuracy options available, the solution is ready to work with whatever requirements clients have in mind.
On top of that, the software has an integrated text editor to help you with the refinement of your transcript. You can either get professionals to help with your project or choose to finish your assignment with the software. If you decide to have experts handle your files, you can expect to get transcripts that are 99% accurate. On the other hand, the accuracy of the converter is 80%.
With the Enterprise plan being available for different businesses, organizations and companies can also make great use of this platform. The price for this plan is flexible, depending on the number of files a corporation wants to get transcribed. All in all, Audext is an excellent choice for those who're willing to pay the exact costs of their transcriptions.
Advantages
Automatic and Professional transcription are available
Integrated text editor
Interface that's easy to navigate
Multiple payment methods
Transcripts are generated quickly
Professionals working for the platform can transcribe files very fast
Prices
Professional method: available for $1.2 per minute, with the option to get access to additional parameters for $0.5
Automatic method: one-time purchase available for $12 per hour or a monthly subscription for $30
Enterprise plan: custom prices available with discounts for 10 and 20-hour-long audios
8.Favorite Among Beginners: Inqscribe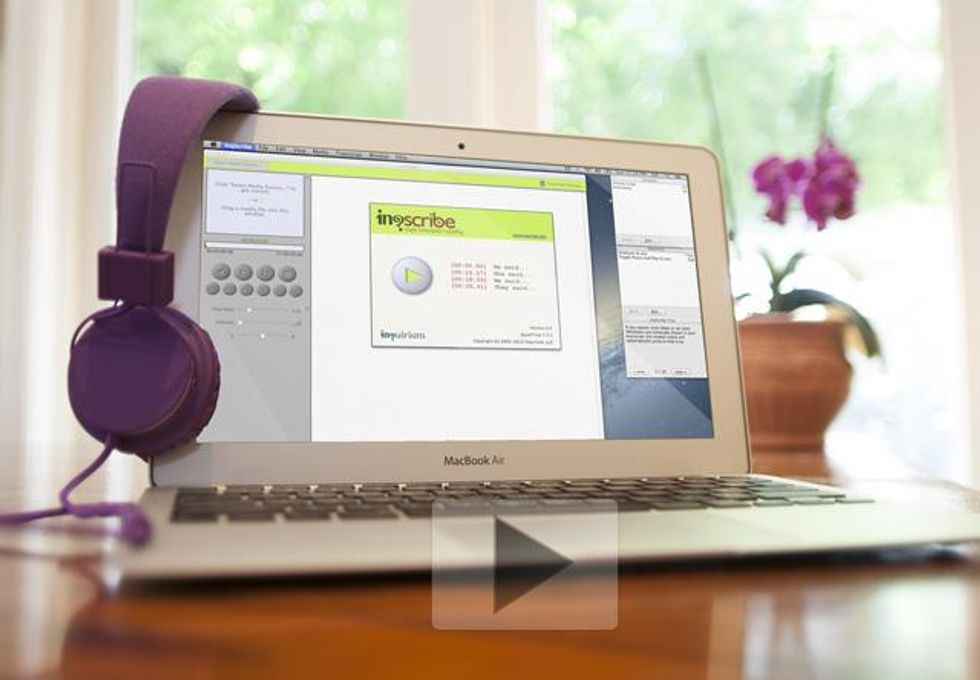 Inqscribe transcription software
Inqscribe
Inqscribe is another fantastic transcription software capable of generating transcripts from digital media. The main reason for it being on this list is its beginner-friendly design. With a simple interface, this program helps users excel in manually transcribing their audio or video files, even if they don't have much experience with transcription. The program's text editor lets you tweak the text to bring it to perfection.
To simplify things, the software shows the editor tool next to the video you want to transcribe. This makes the transcription process super easy! You can also leave a note or two in the transcript if necessary - that's another thing you can use the text editor for! Furthermore, the program lets you insert timecodes that can make your transcript more useful.
Despite being an incredibly straightforward transcription software, Inqscribe offers video tutorials, a great knowledge base, and screenshots to help users get the best of what the program has to offer. If you've never transcribed files before, you'll find this program useful. It's worth noting that its configuration requirements are super low, so you'll also have an easy time setting it up.
Advantages
A Unicode-supported transcription software
Supports export formats such as XML, Final Cut Pro XML, HTML, etc.
Easy to configure
Can be used together with a foot pedal
Can be controlled without a mouse
Compatible with different file formats
Prices
Free version
Paid version: available for $99 per person with discounts for students and multiple users
9.Created With Security in Mind: Transcribe by Wreally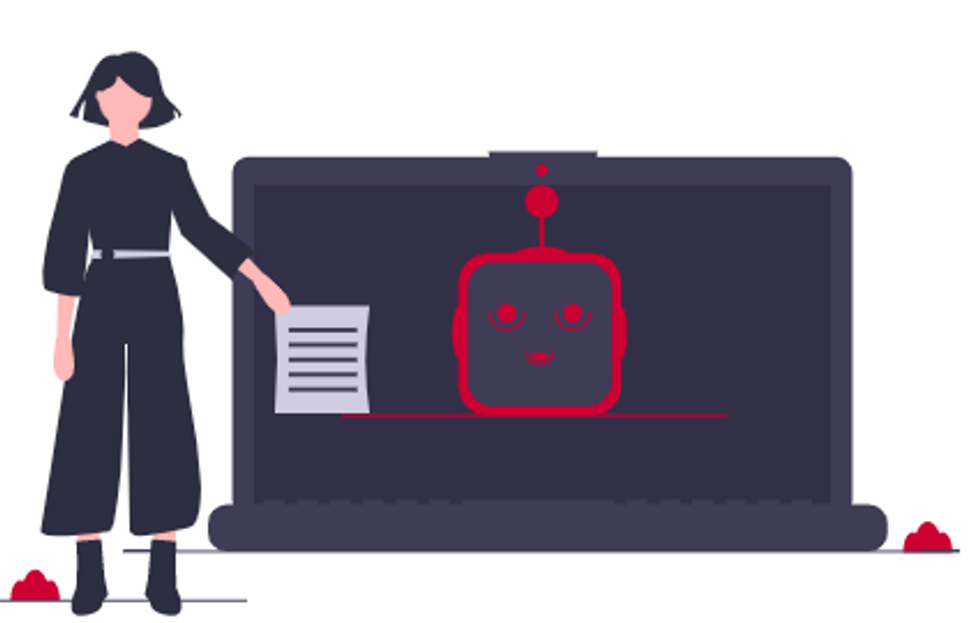 Transcribe by Wreally
Transcribe
As a transcription service, Transcribe by Wreally prioritizes its clients' privacy. The company offers secure methods that allow users to keep their files safe online while converting them to text in more than 60 languages! It provides audio and video transcription services, with the option to automatically transcribe recordings available as well. Ready to meet different requirements, it's the first choice of many.
This company gives clients three transcription methods to choose from. By picking the Magical Automatic Transcription method, you can get your transcript generated in under an hour. If, however, you need a professional to handle your material, you are free to choose between the Self Transcription and Voice Type with Dictation modes. That said, the agency is perfectly capable of helping you with simpler and more complex projects!
The Voice Type with Dictation mode comes in handy when the file you want to transcribe is very unclear. Thanks to it, you can dictate the words that are hard to understand and complete your transcript regardless of your recording's quality! To ensure that users easily get their transcripts, Transcribe also allows you to use a foot pedal and define your own acronyms.
Advantages
Highly secure
Transcription in 60+ languages
Three convenient transcription methods
Hand-free control with the option to use a pedal
Auto loop
Text expander
Prices
Automatic Transcription: available for $20 annually + $6 per hour
Self-Transcription and Voice Type with Dictation: available for $20 a year
10.Best for Collaborative Projects: Descript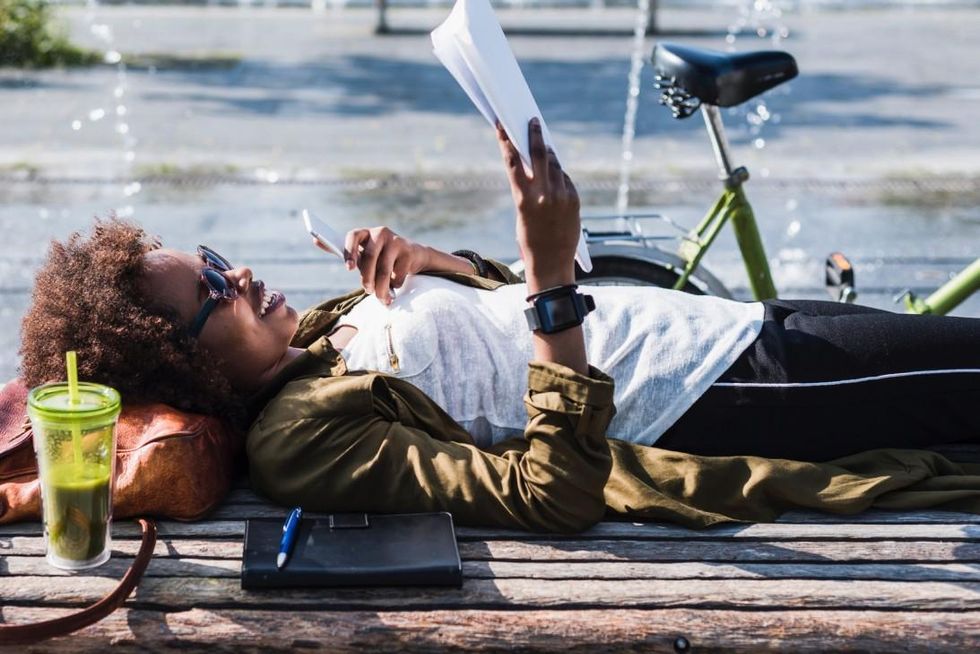 Descript is a 4-in-1 transcription software, podcast and video editor and screen recorder.
Descript
Descript is a four-in-one transcription software, podcast and video editor, and screen recorder. Busy content creators find it to be super useful! Your transcripts can be automatically created or done by skilled transcriptionists - it all depends on what works for you! The program, furthermore, facilitates the sharing of data between coworkers with the option to make it accessible through a link.
With Speaker Identification as one of its features, other transcription tools can hardly top this program. That's because adding speaker labels is literally a breeze! More than that, Descript's data protection policies are strict, so you don't have to worry about your files being unprotected. Instead, you can focus on exploring the program's features and using them to your advantage!
Those actively engaged in a collaborative project know the value of this software. Allowing users to sync their work in the cloud, this automatic transcription tool makes it possible for all team members to access projects and track their development. Furthermore, there's also an option to stitch audios that you've already transcribed, so all teammates are equally informed about things.
Advantages
A four-in-one transcription software, video editor, screen recorder, and podcast editor
100% accurate transcripts done by professional transcriptionists (White Glove service)
Guaranteed data safety
Data can be easily stored in the cloud on platforms like Google, Box, One Drive, and Dropbox
A simple removal of filler words
Overdubbing
Prices
Free version
Creator version: costs $12 per month
Pro version: costs $24 per month
Enterprise option: custom prices available
11.Designed for Complex Projects and Large Files: Happyscribe

Happyscribe
Happyscribe
It's safe to say that lengthy audio and video files are everything but easy to convert to text. Luckily, when you have plenty of extensive recordings on your plate, you can turn to Happyscribe ! The company provides both transcription and subtitling services at highly affordable prices, giving potential clients the option to get a better gist of what it offers before making an order.
Once your transcript is ready, you can rely on the easy-to-use text editor to help you make any corrections you deem necessary. But that's not all! Being among the greatest transcription services out there, Happyscribe lets you add timestamps to your text, and it even identifies speakers! Needless to say, the software really makes big files seem like less of a burden.
Another cool thing you can do with this tool is to choose between different subtitle formats. With an option like this at your disposal, you'll get more than a bunch of transcripts - you'll have text documents stylized with your brand's signature format! Furthermore, you can rest assured that the punctuation in your transcripts is on-fleek. The company provides highly accurate transcriptions both automatically and with the help of professionals!
Advantages
You can upload large files
Built-in text editor with interactive features
Great for teams and collaborative projects
Supports 62 different languages, including Mandarin, Italian, and Japanese
Integrates great data safety technology
You can share your data with only one click
Prices
Automatic transcription and subtitling services: costs $0.20 per minute
Human transcription and subtitling services: costs $1.95 per minute
*both of these services are charged individually
12.Effective Automatic Voice-Over Solution: Maestra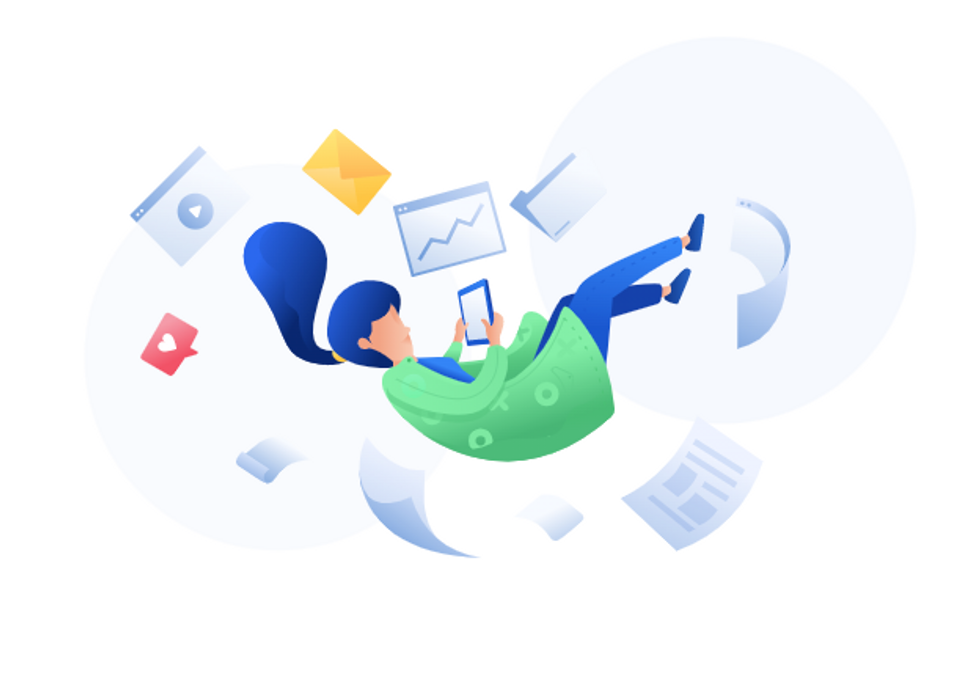 Maestra Software is a go-to-text-to-speach solution
Maestrasuite

Having a sleek text editor as a trademark, the downloadable Maestra software is the go-to text-to-speech solution for those looking for voice-over services. The program can voice-over videos in more than 20 languages in a heartbeat and engage your audience with a nice, computer-generated voice! On top of that, the tool is also able to generate transcripts, subtitles, and captions in 50+ languages.
Being kind, Maestra's developers allow clients-to-be to try their software for free. The brief free trial lasts 15 minutes; after that, potential customers are left to decide whether they want to purchase the program or not. The ones who buy it have the option to store their transcripts in the cloud. The program even has its own storage facility called MaestraCloud!
With this automated voice-over tool, you also have the option to create channels that facilitate team tasks. Furthermore, the software lets you choose whether your team members can view or edit the shared transcripts. Another great thing is that everyone's account can be shared, which is something that can help foster the team spirit of your organization. Users can also access the accounts through different devices.
Advantages
Capable of generating transcripts, subtitles, and captions in over 50 languages
Perfect for voice-over in 20+ foreign languages
Allows users to export subtitles in Cheetah, PDF, SubRip, WebVTT, Avid DS, and TXT
Integrates a top-notch text and subtitle editor
Protects its users' data with sophisticated encryption technologies
Free version available
Prices
Free Demo Version
Pay As You Go Plan: costs $10.00 per hour
Premium Subscription Plan: costs $5.00 per hour (per month)
Enterprise Plan: custom prices available
13.Top-Notch Free Tool: oTranscribe

iTranscribe is a top-notch free transcription tool
GearBrain
If you feel automated transcription software won't really serve you, you could give oTranscribe a chance. This free web app is nice to have on your device when you're about to transcribe a file manually. You can use it both online and offline! The program can help you optimize your transcription process by letting you pause, fast-forward, and rewind recordings and timestamp your transcripts.
Popular among beginners, oTranscribe creates an opportunity for an uninterrupted workflow with keyboard shortcuts available on the website. Once you become more experienced in transcribing, you can add your own shortcuts and manage the process the way you want. However, you should carefully pick the browser you use to access the program since the format compatibility of files depends on it.
To avoid any inconveniences related to the security of your recorded material and transcripts, your data doesn't get stored in the cloud but on your computer. The app performs automatic backups every 5 minutes and prompts you to export your work once a day. It's a good program to stick to when you want to minimize the costs of your project.
Advantages
Shows the video and text editor side by side in one window
Data is stored on your computer instead of in the cloud
Intuitive mouse-free navigation thanks to keyboard shortcuts on the website
Allows you to add timestamps to your transcript
Performs automatic backups and reminds you to export your work every day
Let's you reach out to customer support via email and Twitter
Prices
How Does Transcription Software Work?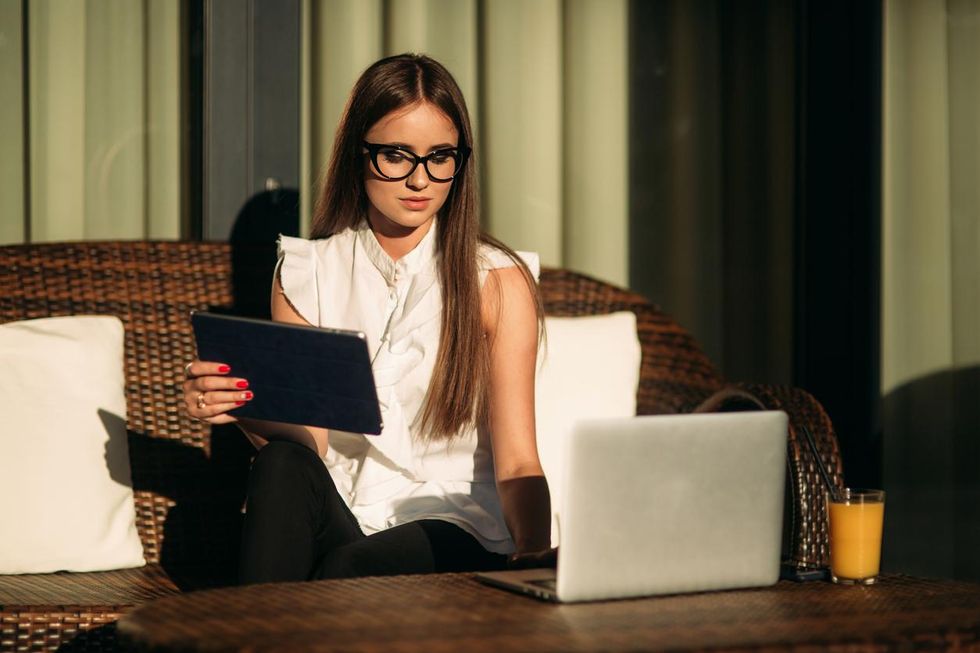 Transcription software
iStocki
Transcription software converts speech into text. It helps those who need to transcribe certain audio or video files do this faster, without putting much effort into the transcription process. However, only the best of these programs can generate readable, accurate transcriptions. So, how can you transcribe your recorded material with transcription software?
To convert your podcasts or videos into text, you need to first upload your recordings to the program of your choice and wait for your transcripts to get generated. Once the tool converts your file into text, you can edit the transcript if necessary. That's about it!
Advantages of Using Automated Transcription Programs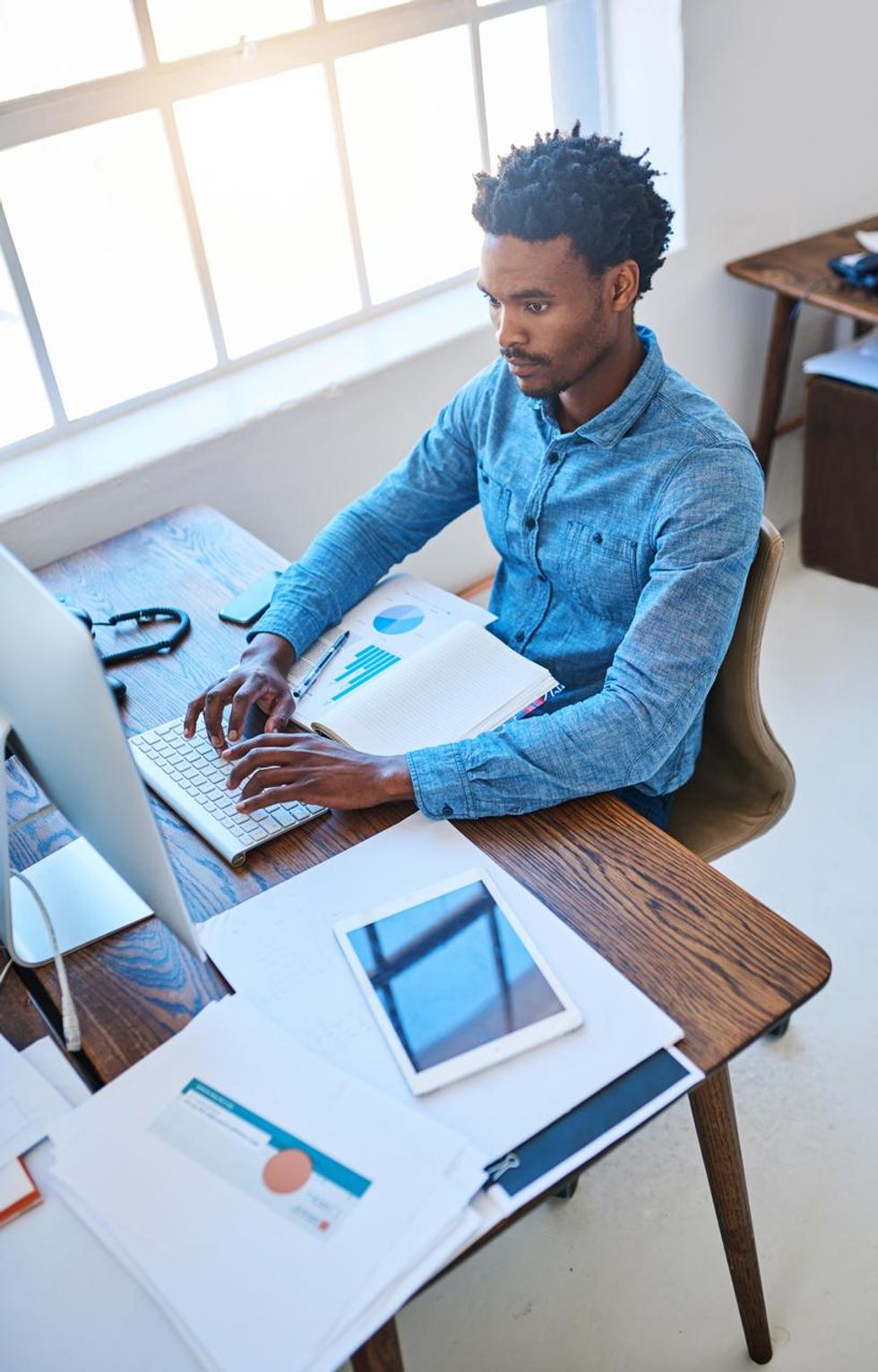 Advantages of Using Automated Transcription Programs
iStock
Although hiring professional transcriptionists is almost always the best thing you can do, there are some advantages of using transcription software. Here are a few of them:
1.Building a global audience
Getting your files transcribed can help you grow your audience! By creating text versions of your material, you're making your content accessible to people who'd rather read a blog than watch a video. More than that, it's easier to search for quotes or information in transcripts than listen for them.
2.Making your content understandable to the hard of hearing
If you want to reach a broader audience, you must be sensitive to the needs of different populations! By getting your content transcribed, you're making it understandable to the hard of hearing! Audio and video transcripts can be a gateway to a world of news and entertainment for everyone interested in your ideas!
3.Improves your content's visibility
Nothing can boost your ideas' expansion as much as their visibility on search engines. Search engines can't crawl audio and video content, but that doesn't apply to text. Therefore, transcripts can help your content show up on Google, for instance, making it easier for people to find it! That doesn't sound bad, does it?
Disadvantages of Using Transcription Software
While transcription programs can be useful in certain situations, they also have some disadvantages. These are the two most important ones:
1.Unable to accurately transcribe challenging audio and video files
Transcription software isn't really successful at generating accurate transcripts of unclear and heavily accented audio. If you're thinking about transcribing a tricky file, your best bet would be to hire a professional transcriptionist. Otherwise, you might end up with a transcript that hardly makes any sense.
2.Grammar and vocabulary issues
It's no secret that transcription software is limited in terms of grammar and vocabulary. Because of that, it's advisable to double-check your automatically generated transcripts for grammar, syntax, and punctuation errors. If the program fails to transcribe specific terms mentioned in your recording, you'll have to edit the transcript and add them manually.
How to Choose an Excellent Transcription Tool for Your Needs
Choosing transcription software that's right for your needs can be a bit challenging. However, knowing what distinguishes the good tools from the average and bad ones can help you make a better decision. These are the things you need to consider when picking a transcription program:
Accuracy of the software
Accurate speech-to-text programs do decent at identifying different voices, dialects, and aspects of speech. Furthermore, they can differentiate between tenses, analyze the pauses in a speaker's speech, and more! Therefore, look for automated transcription tools that can generate accurate transcripts!
Price
Most transcription programs will charge you on a per-minute basis. If you need your transcript faster, there might be some additional fees. Furthermore, many of these tools usually come with a few payment plans that are supposed to meet the needs of different customers. Smaller businesses and digital creators most often purchase monthly packages. On the other hand, custom packages are preferred by larger companies.
Audio quality
Transcription software will do a better job of converting your files to text if they're background-noise-free. To record high-quality audio, make sure that the speakers use good microphones and don't talk over others, and get yourself a digital voice recorder. You can also hire a skilled transcriptionist if you feel like your recording might be too complex for a program to process.
Turnaround time
The lengthier a file is, the longer it'll take the software to convert it to text. As a result, you might have to wait for a while before you get the transcript of your lengthy audio or video ready for you. On average, hour-long files take about 30 minutes to get processed.
Intuitive interface
If you're not very tech-savvy, you could consider a transcription tool with a user-friendly interface. A dashboard that's easy to navigate will simplify your transcription process! Therefore, look for software that has simple buttons and commands and supports the import and export of commonly used file formats.
Integrated text editors
Built-in text editors are one of those basic features that most transcription programs come with. They can help you edit your transcript by rearranging the text, highlighting specific parts of it, and more! If you're planning to use transcription services consistently, you'll need software with an integrated editor.
Limits to the number of transcription hours
Rare are those transcription software developers who allow users to enjoy unlimited transcription. Most of them limit the minutes of audio or video you can transcribe each month. Therefore, don't expect to run into a lot of programs that you can use for free forever!
Safety policy
The confidentiality of your data should always be guaranteed, regardless of the program you choose. Remember to read up on the software's safety policy and data encryption techniques before you make your purchase! The safer the tool, the lower your risk of becoming a victim of phishing attempts!
Optional timestamping
Timestamps can help you figure out the exact time of a recorded sound event. They are tags within your transcript that are very useful for making last-minute edits. Always look for automated solutions that allow you to add timestamps to your transcribed document.
Clean vs. full verbatim transcription
Some programs let users include the little details in a dialogue, like stutters and pauses. These tools are often essential for people working in high-pressure work environments that prioritize accuracy. If this is your case, it might be best to choose software that can generate transcripts in full verbatim.
API integrations
Application Programming Interfaces or API is a feature that allows programs to integrate with other software. It's great for facilitating team projects, especially if you have branch offices in different countries. API can help reduce your organizational costs and improve scalability.
App availability
Some transcription tools are available as Android and iPhone apps. For example, GoTranscript, Rev, Otter, and Temi let customers use their apps to record audios and place transcription orders. These apps can generate transcripts from smaller files; they aren't suitable for lengthier recordings. However, these applications are great extras to have access to.
Is it Time to Wave Manual Transcription Goodbye?
Although there are many transcriptions software to choose from, only the best programs can generate good-quality transcripts. However, keep in mind that only professional transcriptionists can provide you with top-notch, highly accurate transcripts. Therefore, having experts handle your audio or video files is never a bad idea. Happy transcribing!
Like GearBrain on Facebook