Like GearBrain on Facebook
Apple typically releases new devices in the fall. The last iPhone 11 and iPhone 11 Pro, for example, all came out in September 2019. With a new September here, Apple users are on edge for their latest fix. And Apple has delivered — in part — with a new emoji that shows up only when you type "#AppleEvent2020" into Twitter.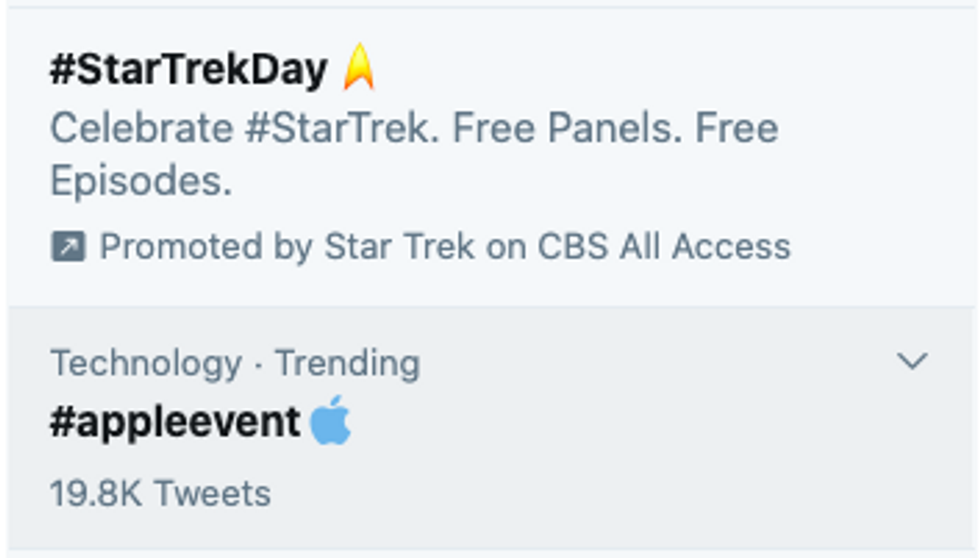 The new hashtag, #appleevent2020 started trending almost immediatelyGearBrain
Rumors had been flying over Labor Day weekend that Apple was about to drop a new iPad and Apple Watch on Tuesday morning, right at 9 am ET. Instead, the new hashtag floated across the social media site, shooting the resulting emoji, shown below, to start trending almost immediately, with nearly 20,000 tweets by mid-morning. In many cases tweets just included the hashtag and nothing else, which turns into Apple's iconic bitten apple in a sky blue and the words, "#appleevent," when tweeted.

Immediately, people pushed into the code for the campaign name, "#AppleEvent2020," finding that the new hashtag emoji — also called a hashflag — actually started on September 8, 2020 and ends on Sept 28, 2020.
Tech analyst Jon Prosser had been tweeting all weekend that new products were dropping Tuesday morning, which by mid-morning had not happened. Instead, the Twittersphere started playing with the new hashflag, much like when Facebook drops new animations on to its social channel causing people to use hashtags indiscriminately just to see the reactions.

Twitter caused some to even read into the color of the emoji itself — blue —and wondering if new blue colors were coming to some of the iconic devices, like the iPhone.
Apple just dropped a new iPad Pro in March, a very high-end version of its tablet device, that is as close to a laptop — without being a laptop — that the iPad has come to in its lifetime. The tablet has enhanced microphones, cameras and a LiDAR scanner making it more able to render augmented reality imagery. It even works with the new Magic Keyboard.

But a new iPhone is where most eyes are peeled, as the last smartphone Apple released was the iPhone 11, iPhone 11 Pro, back in September 2019. The so-called iPhone 12 and iPhone 12 Pro are expected this fall, with updates that are sure to include 5G capability. Early rumors placed this launch into September, and then pushed it back to October. Now that almost appears to be a guarantee we'll hear something about the new smartphone this month — potentially even this week.
From Your Site Articles
Related Articles Around the Web
Like GearBrain on Facebook