Like GearBrain on Facebook
As has been an annual tradition since the iPhone 5 of 2012, Apple is expected to announce a new flagship smartphone family this September.
These handsets will be the first from Apple to have 5G connectivity, giving them access to far faster cellular connections than their predecessors (depending on 5G coverage where you live, of course.)
Read More:
The new iPhone family for 2020 is likely to include two distinct models, called the iPhone 12 and iPhone 12 Pro, with the latter also available as a larger Pro Max variant. There could also be, according to often-accurate Apple analyst Ming-Chi Kuo, a fourth new 5G iPhone, potentially replacing the iPhone XR.
As ever, there have already been plenty of leaks and rumors relating to the new iPhone family. And with Apple staff currently working from home — and reportedly testing unreleased products away from the safety of their offices — it is likely we'll hear much more between now and September 2020. As such, this article will be updated regularly over the coming weeks and months.
iPhone 12 leaks and rumors: Launch and release date
Although it looked like the coronavirus pandemic would delay the iPhone 12 — and there is still talk that select models could be held back by a few weeks — Apple has managed to launch a whole range of new products with much of the world in lockdown.
None of these were completely new products, as the iPhone 12 family is likely to be, but with mass production not required for another month or so yet, we remain hopeful that easing of lockdown restrictions across Apple's supply and distribution chains will allow for a September launch.
Apple tends to favor the second or third Tuesday of September for revealing the new iPhone, meaning a likely debut of 8 or 15 September, followed by pre-orders opening three days later, and sales commencing the following Friday. It will be interesting to see if Apple reveals the iPhone 12 in a pre-recorded, online-only event, as it produced for its WWDC developer event in June. This will depend on the global pandemic situation in September.
Update: As of late-August it looks as if the iPhone 12 will be held back until October, with claims that the event could take place online on the 13th, approximately a month later than normal. If Apple sticks to its usual schedule, this would mean in-store availability from October 23. However, it is still thought that the iPhone 12 Pro and Pro Max will be held back further, until sometime in November.
However, it has been reported that one model of the iPhone 12 family — the most expensive one with mmWave 5G capabilities, will be revealed as normal, but won't ship for a few extra weeks. This is exactly what happened with the iPhone X and XR in previous years.
iPhone 12 leaks and rumors: Design and colors
Having used the same basic design since the iPhone X of 2017, Apple is well overdue an aesthetic overhaul - and that's exactly what we expect to see.
The new handsets are said to borrow design cues from the iPad Pro family, meaning a utilitarian look with flat sides, squared edges, and shorter-radius corners. This all suggests a phone resembling the iPhone 4 and 5, both widely regarded as the best-looking of all iPhones. Unlike those, however, the new model is expected to have a glass back as stainless steel does not work with wireless chargers.
Dummy models published on Twitter on June 21 give our best look yet at what the iPhone 12 is expected to look like. These models are often used by case manufacturers to start production of new accessories in time for the new iPhone to go on sale.
We've included some fan-made renders below, created based on speculation of the new handset, to give you an idea of what the iPhone 12 might look like.

Other small changes will likely include thicker antenna lines to cater for 5G, a slightly larger rear camera module, a reduction in overall thickness, and potentially the inclusion of an accessory input like the Smart Connector on the side of the iPad Pro.

As for colors, we expect to see the usual silver/white and gray/black options, plus potentially a gold/white model and the introduction of navy blue, plus a set of more playful colors for the iPhone XR's replacement.
iPhone 12 leaks and rumors: Display
The biggest change in this department should be a doubling in refresh rate from 60Hz to 120Hz. As it did with the iPad Pro a couple of years ago, this upgrade makes for a smoother experience, as the display is refreshing twice as often per second, resulting in less stutter as you scroll, and more fluid gameplay.
Called ProMotion, the technology will likely switch between 60Hz and 120Hz depending on how the iPhone 12 is being used, to save battery life when the extra refresh rate isn't needed.
However, there remains some confusion over which models of iPhone 12 will get a ProMotion display. Ross Young, the CEO of Display Supply Chain Consultants, tweeted on July 1 to say he doesn't expect Apple to produce a 120Hz iPhone in 2020, claiming he has heard 2021 is more likely. This would be a shame, given how many other phones now offer 120Hz, but it is believed Apple doesn't want to sacrifice battery life for the faster refresh rate in 2020.
On August 25, regular Apple leaker Jon Prosser tweeted what he claimed to be screenshots from a prototype iPhone 12 Pro Max. He said it has a 6.7-inch display, and the screenshots show the option to "Enable High Refresh Rate'. A second option is described by the software thus: "If enabled, the device will alter the refresh rate from 120hz to 60hz in accordance to the content displayed on-screen."
This would suggest at least the flagship iPhone 12 Pro Max will have the option for a 120hz display, but it is likely that lesser models, like the iPhone 12 (non-Pro model), will miss out and stick with the same 60hz rate as their predecessors. That said, we won't know for sure until the full iPhone 12 range is announced in the fall.
Display size options are expected to be 5.4 and 6.7 inches for the iPhone 12, then 6.1 and 6.7 inches for the iPhone 12 Pro. As is so often the case, this would mean consumers can't buy the most powerful configuration with the best cameras in the smallest body. If you want the best iPhone, you have to also buy the biggest.
These size options were mentioned (although not for the first time) by Sonny Dickson, who published photos of iPhone 12 dummy models on Twitter on June 21.
What will be particularly interesting is whether Apple will fit a Touch ID fingerprint reader beneath the display of the iPhone 12, as Samsung has done with the Galaxy S series since early 2019. It has long been rumored the iPhone 12 could offer this alongside Face ID, making it convenient to unlock without a password in more situations (such as when wearing gloves, or a mask/sunglasses).
Economic Daily News has said repeatedly that the 2020 iPhone will offer both technologies, while Kuo and Bloomberg believe 2021 is more likely.
iPhone 12 leaks and rumors: Cameras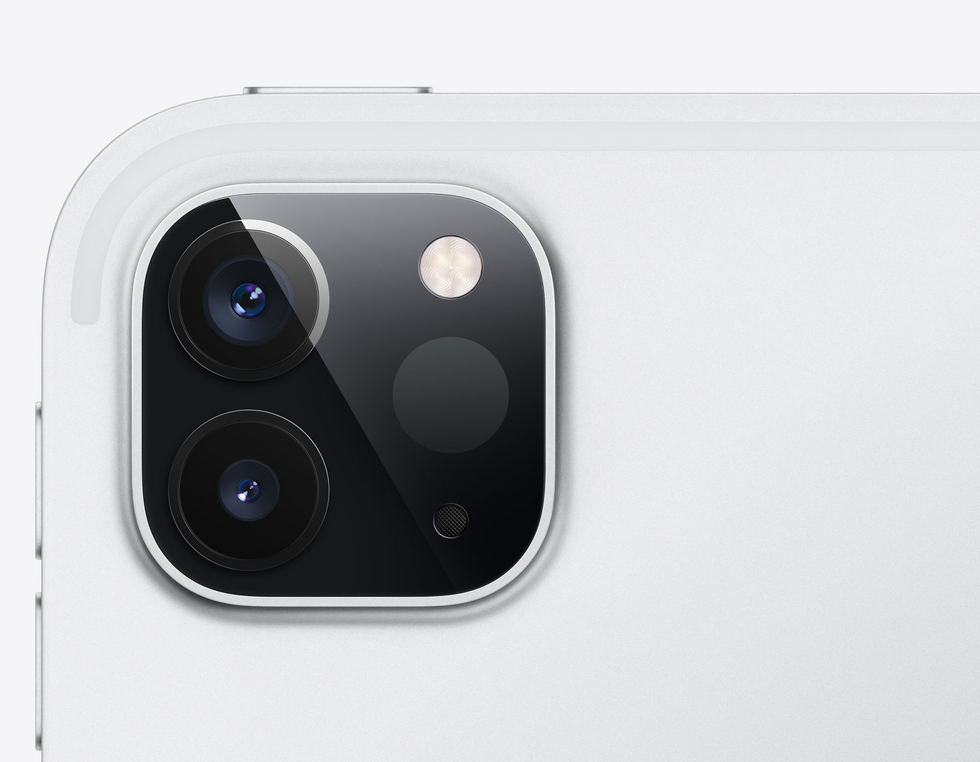 The iPad Pro's Lidar sensor will likely appear on the iPhone 12Apple
Improved cameras are a given for any new iPhone, and the 12 will be no exception. We expect to see the Lidar depth-sensing system from the iPad Pro appear on the iPhone 12 Pro (but not the regular 12). There will also likely be a larger image sensor, more intelligent computational photography technology, and an upgrade in optical zooming from 2x to 3x.

There will almost certainly be a difference between the rear cameras of the iPhone 12 and 12 Pro, with the former likely getting a dual-lens system and the latter having a three-lens setup, as with the 11 and 11 Pro.
Given our reliance on front-facing cameras for quarantine video calls in 2020, it would be great to see Apple fit a much improved Facetime camera to the front of the iPhone 12 and 12 Pro.
Speaking of the front camera system, the iPhone 12's Face ID module is expected to shrink, reducing the size of the display 'notch' in the process.
iPhone 12 leaks and rumors: 5G connectivity
When it comes to new cellular technology, Apple is always deliberately late to the party. This was true of the iPhone 3G and 4G-equipped iPhone 5S, and it will be true of the 5G iPhone 12, too.
For the U.S. and European markets, it can be safely assumed that all versions of iPhone 12 will have 5G. However, it has been said that only a high-end model, potentially the 12 Pro or just the 12 Pro Max, will get access to mmWave 5G, which offers the fastest download speeds, but over short distances.
It was reported by Kuo that mmWave-equipped iPhones "will be pushed back" to later in 2020, due to the coronavirus pandemic affecting Apple's supply chain.
iPhone 12 leaks and rumors: Software
The iPhone 12 family will ship with iOS 14, which was released as a beta to developers in June during Apple's virtual, quarantine-compliant Worldwide Developer Conference. It will be available as a public beta in July, before rolling out as a finished product in the fall.
The main new feature of iOS 14 is home screen customization, thanks to the addition of widgets. These can be made various sizes and show live information like weather and calendar events. iOS 14 also includes a new App Library page, just like the app drawer in Android.
There's also picture-in-picture video, so you can have a FaceTime call or watch a video while doing something else on your iPhone, and Messages has been updated with a mentions system and inline replies. The Maps app now has EV routing, and the iPhone can be used as an NFC car key (with compatible vehicles).
iOS 14 also includes a new Translate app for real-time audio translation, and the Home app has been made more powerful, bringing facial recognition to security cameras, and a way for the HomePod speaker to announce who is at the door when the video door bell is rung.
As of late-August, Apple is releasing new beta versions of iOS 14 to developers on a weekly basis, suggesting the software is almost ready to launch to the public.
iPhone 12 leaks and rumors: Price
Apple's iPhones are not cheap — apart from the $419 iPhone SE.
We expect to see the iPhone 12 start at around $749 for the iPhone XR replacement, then head to comfortably north of $1,000 for the Pro models with extra storage. Speaking of which, storage options will likely start at 64GB and extend out to 512GB.
Catalyst iPhone XR Case Impact Protection, Military Grade Drop and Shock Proof Premium Material Quality, Slim Design, Stealth Black
Like GearBrain on Facebook