Apple said this week it will give $390m to US technology company Finisar, which produces the face-scanning lasers in the iPhone X's Face ID system.
The money will be used by California-based Finisar to build a manufacturing plant in Texas, where it will produce vertical-cavity surface-emitting lasers, or VCELs, in vast quantities.
The lasers are used by the iPhone X to scan your face for Face ID, take photos in portrait mode, and for Animoji. They also appear in the AirPod earphones to sense when you are listening to music and when you have removed them from your ear.
Looking ahead, VCSELs will also be used by Apple as it doubles down on augmented reality in future products, and could appear on the AR smart glasses the company is reportedly working on for the next decade.
The new factory will create over 500 jobs in Sherman, Texas, Apple said in a press release. To give a sense of just how many VCSELs Apple will need in the coming years, it claims to have purchased 10 times as many lasers in the fourth quarter of 2017 as were previously produced worldwide over a similar three-month timeline. Apple says it expects the new factory to be up and running by the second half of 2018 - around the time the next iPhone is expected to hit mass production.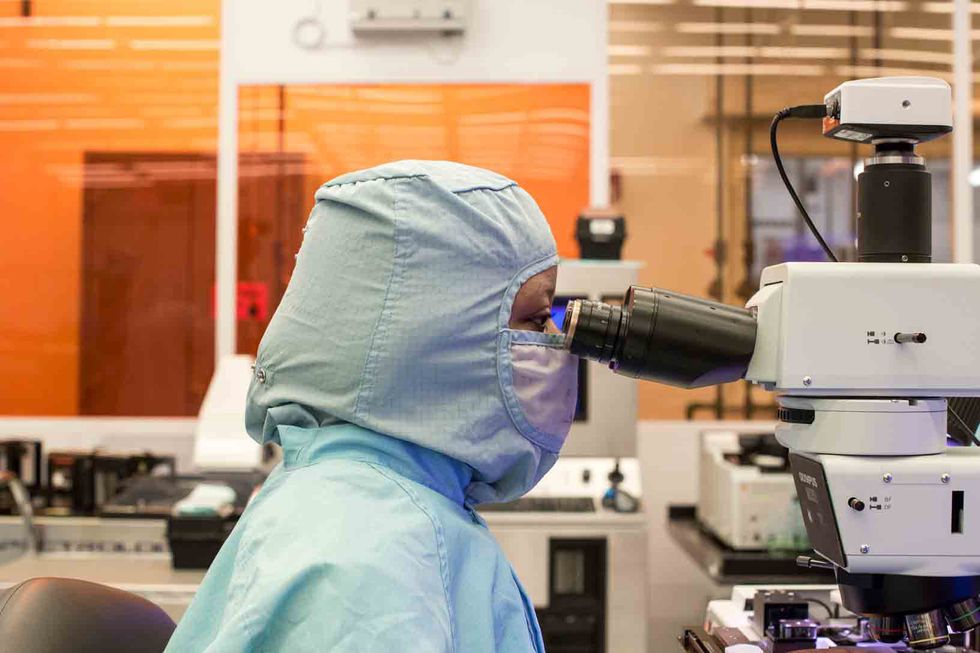 A Finisar technician examines a wafer during production.Apple
The cash injection is part of a $1bn fund Apple is spending on US-based companies, in a bid to kickstart a new era of "technology-driven manufacturing" in the US. Earlier this year, $200m of the fund was awarded to smartphone glass producer Corning.
"VCSELs power some of the most sophisticated technology we've ever developed and we're thrilled to partner with Finisar over the next several years to push the boundaries of VCSEL technology and the applications they enable," said Jeff Williams, Apple's chief operating officer.
Sherman mayor David Plyler said: "Sherman is the perfect place for Finisar's significant investment in their operations and facilities and we couldn't be more grateful for their confidence. We're thrilled that Finisar and Apple will be a part of the Sherman business community. The City of Sherman has invested significantly in improved infrastructure and amenities, and that's translated into an unparalleled quality of life."