Ed Note: This is part of our "In The Sandbox" series, where we invite teens to test and review connected toys, giving their perspective of what's fun to them—and what works.
In The Sandbox: AuraBox
Divoom's new AuraBox includes a Bluetooth speaker, an alarm clock, the temperature, an art platform for both animation and design (complete with a gallery for inspiration), and even a lamp that will project the color of your choice. What's more, AuraBox can be completely controlled by your smartphone or tablet.

I opened my box to find a cord, a short, but fat, instruction manual, and the AuraBox itself. At first, I was nervous about the manual—it looked like a lot of pages to read. But thankfully, the majority of the book was dedicated to information in other languages. In fact, the instructions were quite simple: Open the AuraBox, charge it, pair it with your iOS or Android mobile device, and start playing.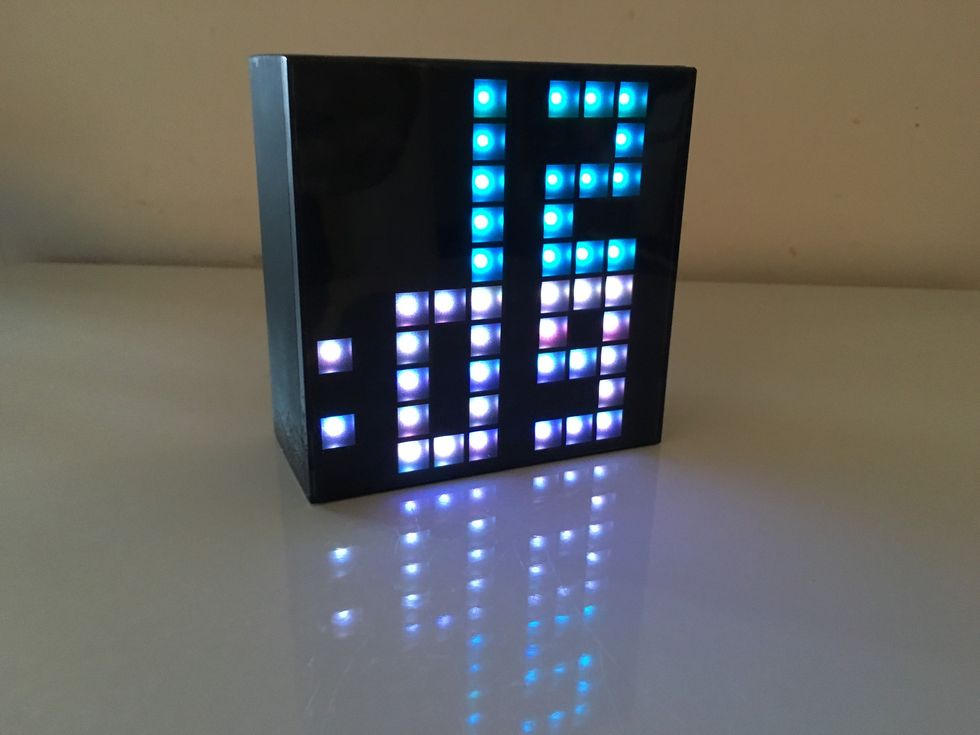 AuraBox tells the time—but that's just the beginning of what the device can do.
I was first given a quick introduction to what the five buttons did. That was easy enough to remember, but the buttons were very stiff and hard to press. Unfortunately, this was not a problem that fixed itself, and the buttons didn't loosen up over time. Later that day, I downloaded the app and charged my AuraBox overnight.
I encountered another issue when I put the AuraBox on my dresser—the small cord would only reach the plug if the box was on the very edge of the dresser. That limited where I could put the device, and I had to move things around to suit the AuraBox.
Getting started

Once charged, the AuraBox quickly paired to my phone and corrected its display of the time. I went straight to the art section. There, I could draw what I wanted on my iPhone or iPad and then click 'Play,' where the image would show up on the pixelated face of the AuraBox until I wanted to make a change. If I wanted to switch back to displaying the clock, for example, but I didn't want delete what I'd made, I'd just save my work and come back to the image later. The catch? I had to draw it Minecraft-style, because the AuraBox is a 10 by 10 grid of pixels.
Next, I wanted to make some animations. I planned to draw a little cartoon of a spaceship landing on a moon. But again, my plans were cut short—I only had six slides available to me to make my pixelated animation. So I settled for a dart going into a dartboard—a success.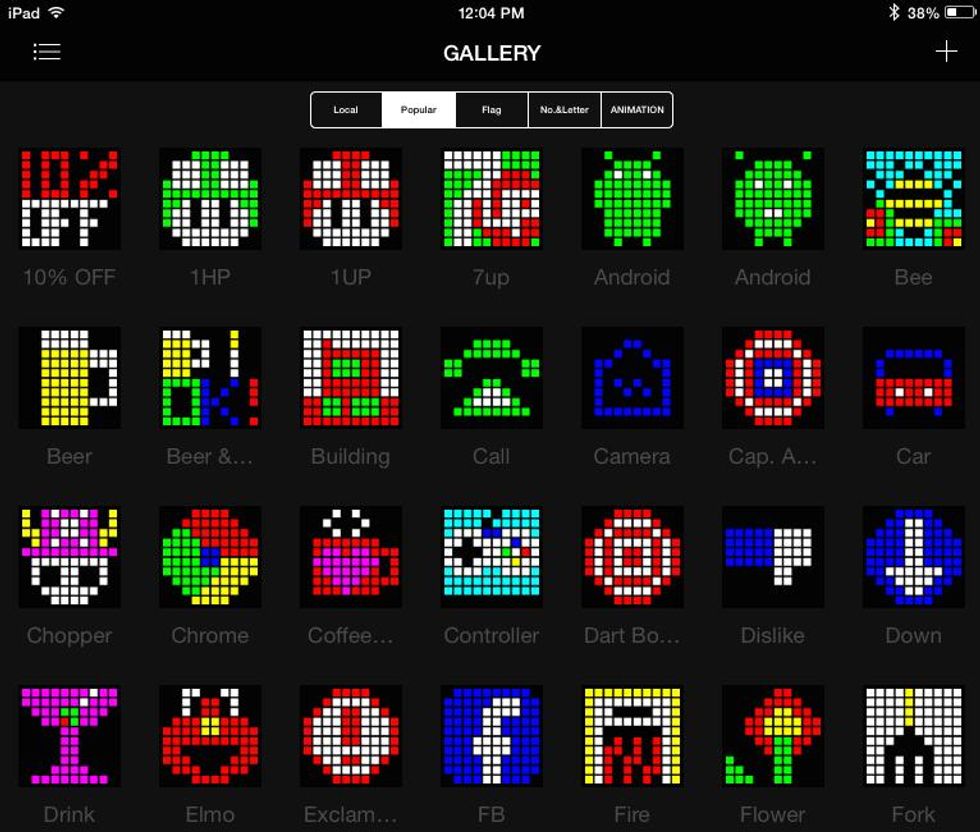 AuraBox has a gallery of images you can pick.
I also turned on notifications. Whenever I got a text or phone call, a blinking notification button would temporarily appear all across the screen. What's better, if I got a call, a call icon would appear and if I got a message—you guessed it—a message icon would appear. I could know if anyone was trying to contact me, even if my phone was in the other room. I could also turn on notifications for Skype, WeChat, WhatsApp, and more.
Each notification has its own little pixelated symbol. That was helpful, but it would have been better if there was an option for the notification to make sounds, because if I wasn't looking straight at the AuraBox when the notification came I would miss the alert.
I quickly learned that the AuraBox doesn't hold a lot of charge, so it's easier just to keep the box plugged in full time. But remember, that cord wasn't very long, so the permanent spot for my AuraBox is officially the edge of my dresser.
I left the display on what the AuraBox app calls "The Soul-Relaxing Halo" which is a light that will shine any color that you choose. I chose yellow, and the device complied.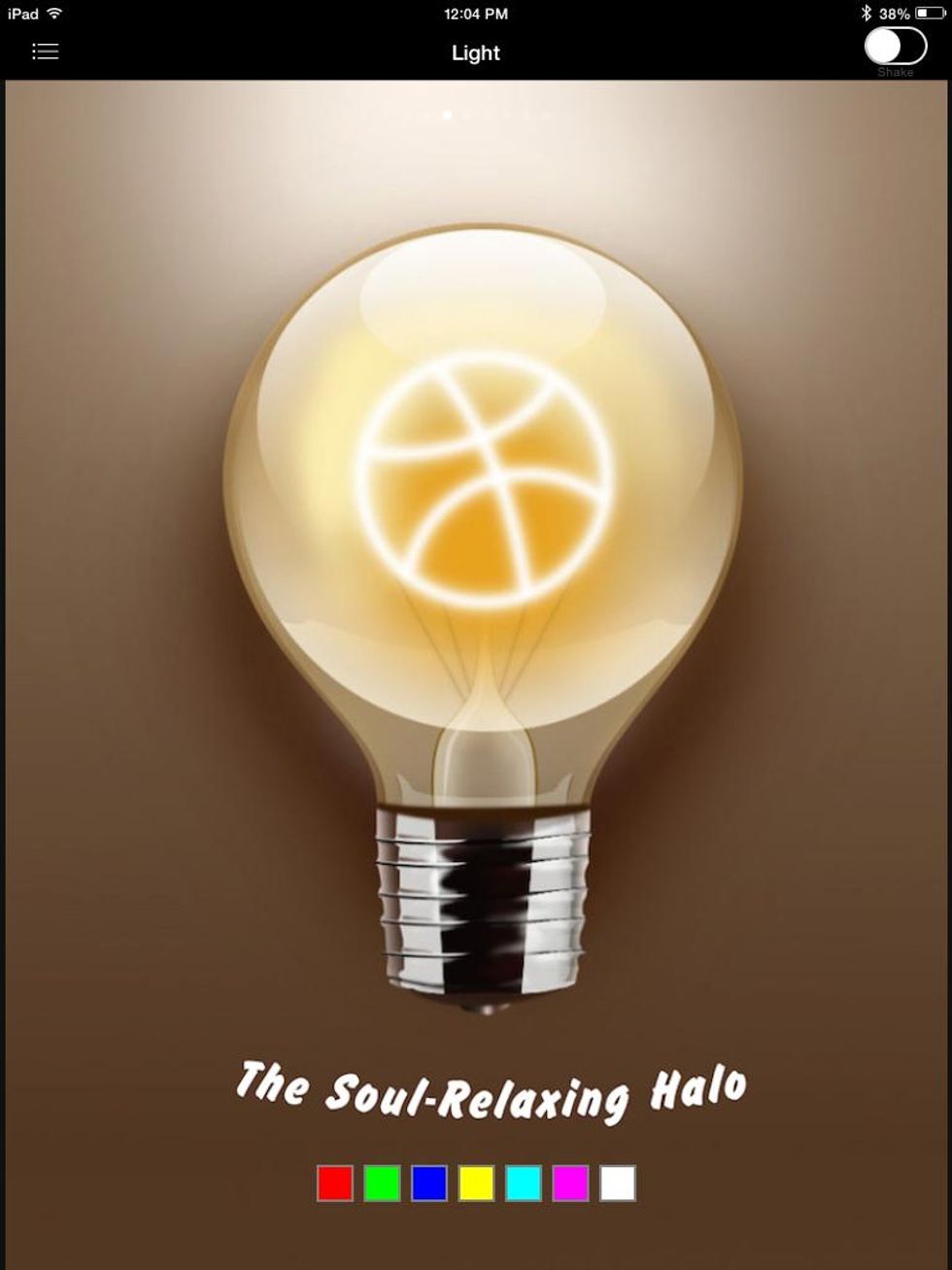 Ahhh...relaxing yellow.
Anyone there?
Another issue—at first, my AuraBox would spontaneously disconnect from my smartphone, usually when they were both in different rooms. The box would beep and flash the bluetooth icon until I brought my phone back and reconnected. This happened twice while I was home. But my dad says there weren't any issues when I took my iPhone with me on a trip to Los Angeles, Ca. with my mom.
Stiff buttons, hard to catch notifications, and spontaneous disconnections aside, my AuraBox was definitely better than an alarm clock— there's simply more you can do. You don't just wake up to your alarm and turn it off. You can wake up, turn off the alarm, check the weather, do something to keep your mind busy until you're awake enough to get out of bed, and turn on music while you get ready to leave. An AuraBox will support you through the entire morning process and—for those of us who are not morning people—make that a lot less painful.

Pros: The device has a speaker, alarm clock and an animation and art studio so you can customize the pixelated screen.
Cons: Buttons are hard to press on the box, notifications don't make sound, which make them hard to notice, Bluetooth sometimes disconnects when the device is in another room from your connected smartphone, only holds one-day of charge.
-Harper Learmonth is a GearBrain teen reviewer, who last wrote about Moff Band for our "In The Sandbox" series.