Like GearBrain on Facebook
One of Alexa's most convenient features is how the voice assistant can be used as a morning alarm clock. As well as playing a generic alarm sound at the right time, Alexa can also be set to play music or a radio station, read out the morning news headlines, and go on to adjust the lights and fire up your coffee machine.
We're going to tackle all of this in three stages. First we'll look at generic alarms, then we'll introduce music and radio, and finally in stage three we will dig into Alexa's 'routines' system to create a morning alarm that can do almost anything you like.
Read More:
How to use Alexa as an alarm clock
First, the easy bit. All you have to do here is say something like: "Alexa, set an alarm for 7 o'clock". The assistant will then ask if you mean AM or PM, and once you've confirmed that the alarm will be set.
This won't be a repeating alarm though. To have the alarm repeat at the same time every morning, say: "Alexa, set an alarm for 7am every day," or to be even more specific say: "Alexa, set an alarm for 7am every weekday."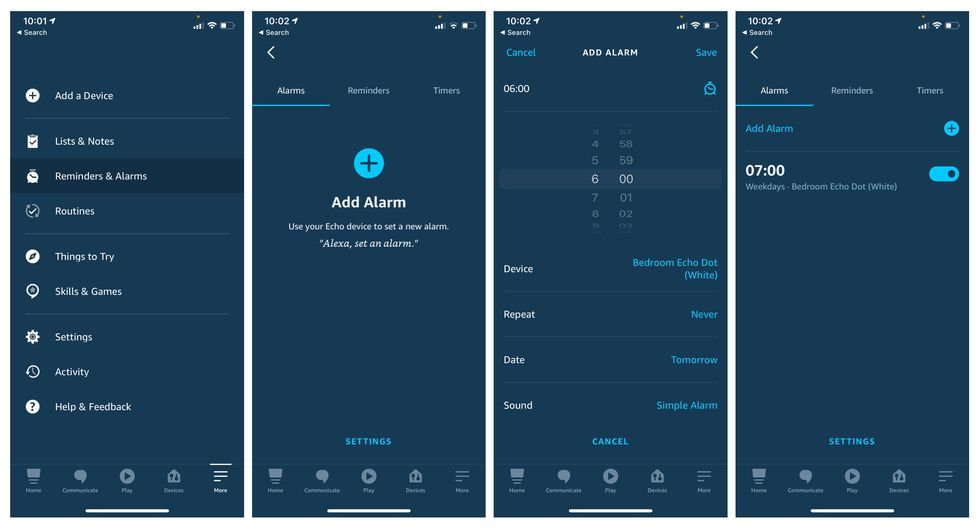 Setting an alarm with AlexaGearBrain
When the alarm goes off, say: "Alexa, stop" to switch it off for the day, or: "Alexa, snooze" to get an extra 10 minute in bed before the alarm sounds again. If you have multiple Alexa devices, then you need to speak to the one you want the alarm to come from. If you ask the Echo in your kitchen for an alarm, that's where it will play by default, not from the Echo in your bedroom.

What's missing here is the ability to set what the alarm sounds like. For that, you have to jump into the Alexa smartphone app. Here, you can adjust an alarm you've already set by speaking to Alexa, or you can create a new one from scratch. This is how you do that:
Open the Alexa app
Tap on 'More' in the lower-right corner
Tap on 'Reminders & Alarms'
Tap on the large blue + icon to create a new alarm
Swipe at the scroll wheels to adjust the time
You can then pick which of your Alexa devices the alarm plays from, select which days of the week you want the alarm to repeat (or pick a single, specific date), and finally pick the sound. Alexa has 14 sounds to pick from, plus a handful created in association with some of Amazon's biggest TV shows. So if you really want Jeremy Clarkson to yell at you every morning, pick the 'Grand Tour' alarm.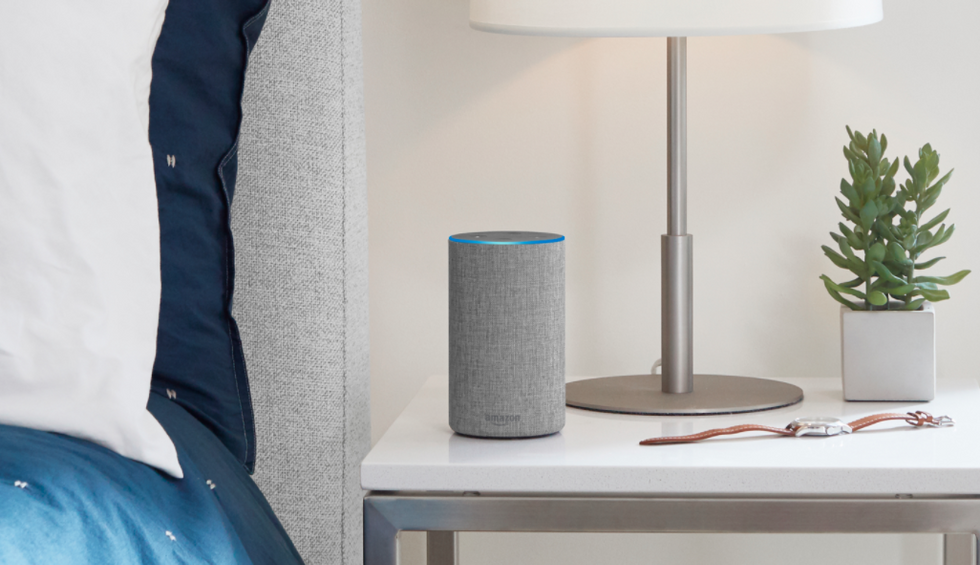 Alexa's new wake-up skill works on all Amazon Echo devicesAmazon
How to use Alexa as a music or radio alarm
If you'd rather have music or a radio station instead of a generic alarm (or Clarkson and pals), Alexa is ready to help out.
To set a specific song or piece of music as your alarm, say: Alexa, wake me up to [song name] by [artist/composer] at [time]." As before you can be more specific here and say what time, and on which days of the week, you'd like that music to play. So long as the track is available on whatever music streaming services your Alexa device is logged into, it'll play just fine.
Remember, you can log into accounts for Amazon Music, Apple Music, Spotify, Pandora, SiriusXM, TuneIn and iHeartRadio, so as long as you have an account (and subscription, where required), then you're good to go.
This also works with radio stations, which are provided via the TuneIn skill for Alexa. Just say: "Alexa, wake me up to [radio station name] at [time]."
However, this system doesn't work quite as well as it used to, and some radio stations are now no longer available through TuneIn on Alexa. The BBC has removed all of its stations from TuneIn, in favor of its own BBC Sounds service, which can play live on Alexa devices, but cannot be used in conjunction with an alarm. Also, to listen to other radio stations without TuneIn's adverts, you'll have to pay $2.99 a month (or $3.99 if you aren't an Amazon Prime member).
Echo Show 5 -- Smart display with Alexa – stay connected with video calling - Sandstone
How to set an Alexa music alarm using Routines

Finally, you can create a routine to handle the morning alarm, then automatically perform other smart home functions. For example, a routine could start music or a radio station at a certain time, then adjust the smart lighting in your bedroom to a brighter setting, switch on your internet-connected coffee machine, and then have Alexa read out the news headlines and weather forecast.
You can also create a routine that is triggered whenever you dismiss an alarm. This works fine if you only have a morning alarm, but if you have several set during the day, you might not want the routine to play out every time you dismiss each one.
It is worth noting, however, that BBC Sounds is still not available here, so you can only pick radio stations from other providers, like TuneIn, or play music from whichever service you normally use with Alexa.
To create a morning alarm routine:
Open the Alexa smartphone app
Tap on More in the lower-right, then tap Routines
Tap the + icon in the top-right corner
Tap the + to enter a name for the routine, like 'Morning Alarm'
Tap the + next to What Happens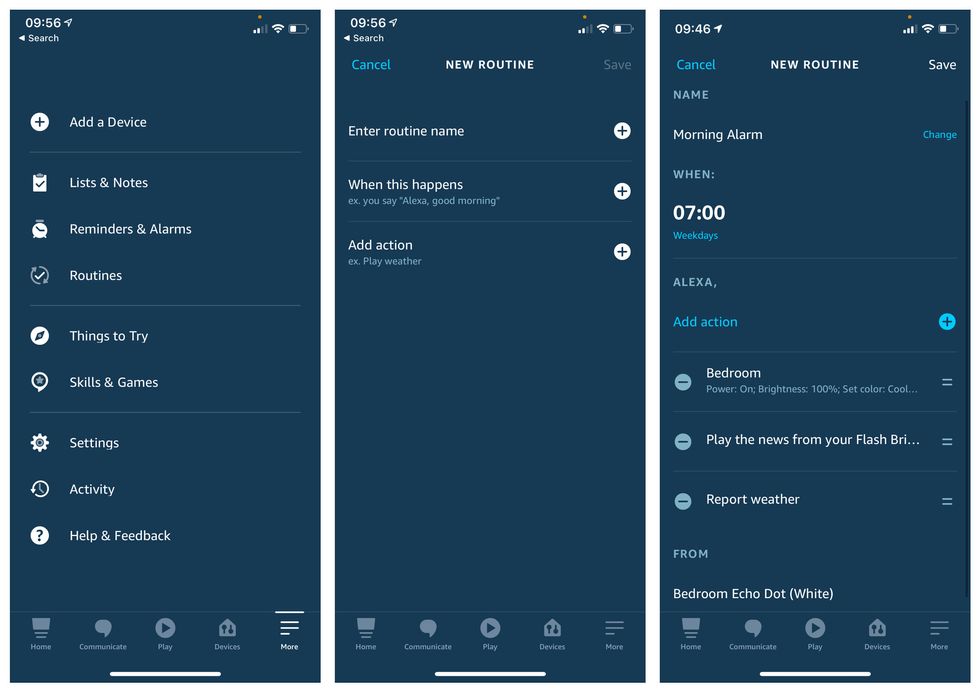 Creating a morning alarm routine with AlexaGearBrain
Here you can tap on the Alarms icon, to have the routine start when you dismiss an Alexa alarm. But this will happen when you dismiss any alarm, so if you have others set during the day this might not be helpful for you.

Instead you can tap on Schedule and set a time for the routine to start. This could be one minute after your regular morning alarm, as set in step one of this article.
Next, tap the back arrow in the top-left corner
Tap the + icon next to Add Action
Tap on News to add the day's headlines via your Alexa Flash Briefing
Tap on Weather to add the day's forecast to the routine
With those selected, Alexa will read out the news and weather forecast when the routine is triggered. You could also add music playback to the routine, or a report of the traffic on your commute.
Finally, tap on the Smart Home icon to have Alexa control all of your smart home devices. This could include switching on smart plugs, interacting with a smart coffee machine, or adjusting smart lights. In our case, the routine increases the Philips Hue bulbs in our bedroom.
Check out The GearBrain, our smart home compatibility checker to see the other compatible products that work with Amazon Alexa.
Echo Spot - Smart Alarm Clock with Alexa - Black
From Your Site Articles
Related Articles Around the Web
Like GearBrain on Facebook