I'll admit, I hated brushing as a kid. The only thing that would maybe make it even a little bit fun was my "Hannah Montana" electronic toothbrush that played one of her songs for the duration of my brushing.

My childhood could have used an IoT makeover, like the one launched by Bleepbleeps, a company that makes connected devices for parents. Among their seven devices is Benjamin Brush, a smart music toothbrush that connects with the Bleepbleep app on your smartphone.
The company recently launched a Kickstarter for its latest gadget, which the company says can plays your kid's favorite song as they brush — a whole two minutes just to be thorough. When you sync the toothbrush up with your smartphone, it keeps track of points and scores so your kids can compete with each other.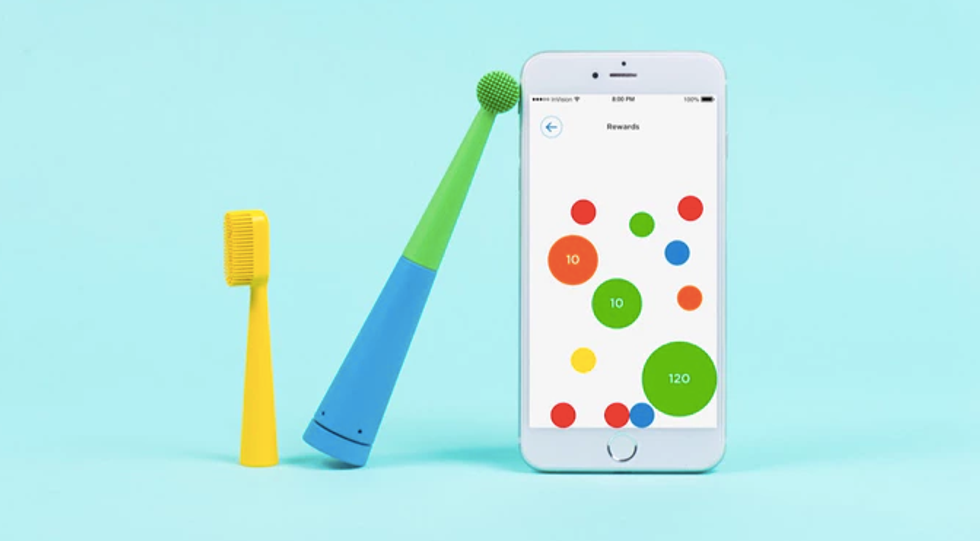 Benjamin Brush says its links to your smartphone to play music as you brush.Kickstarter
The toothbrush also uses what the company calls Sonic Vibe technology, a high-speed motor pulses for the two minute time period and prevents plaque, tartar and cavities. Pulsating toothbrushes are usually better at keeping teeth clean than regular brushes. The silicone bristles reportedly won't damage growing enamel or gums either — along with protecting against over-brushing.
Parents can choose from the pom-pom brush head — an omnidirectional head for toddlers and younger children — or the big brush head that's suitable for older children and adults. The brushes come in six different colors to match your children's different personalities.
The speaker is located at the smart base with the electric motor — it's waterproof and has a long battery life so you won't have to regularly plug in its USB charger.
It's a pretty great product for the task that it's trying to accomplish — getting kids to be interested in a mundane routine task is pretty hard. The company recently completed its Kickstarter, raising more than $16,000. For those who want to pre-order the device now, you'll need to pay $79 for Benjamin Brush — which has a retail price of $102, which we think is pretty steep.
Other electronic toothbrushes would probably do the job, but this is the only one I've found that claims to connect with your smart home. If you're looking to expand on that front, then this product might be perfect for you and your family.