Fashion wearables hit the runway in 2015 with flair. From necklaces to rings, the ability to link our connected life to our fashion sense felt playful and fun. Now clothing designers are thinking even more fashion-forward with wardrobes that are slowly becoming the device themselves.
At the Sands Convention Center during CES, "Project Runway's" Nick Verreos hosted a mini-fashion show replete with wearables and connected tech that turned quite a few heads during the live event on Friday. Models walked a mini-runway showing off jackets, hats, tops and even the requisite wedding dress—a requirement of every fashion show.
Wearable have flooded CES this year from brands including Misfit, and even Carnival Cruise, which promoted its new Medallion, a connected coin-like device that will link passengers to every facet of the ocean voyage. But clothing has, until now, yet to hit the consumers' daily lives. But that may be over.
"Five years ago we thought [connected clothes] was "Star Trek" stuff," said Verreos. "But it is now."
Gleaming garb
Designer Jazsalyn McNeil showed off her frothy creation, a white, floor-length gown (pictured above) that actually lights up to your heart beat. The dress glowed, appearing beaded with the light.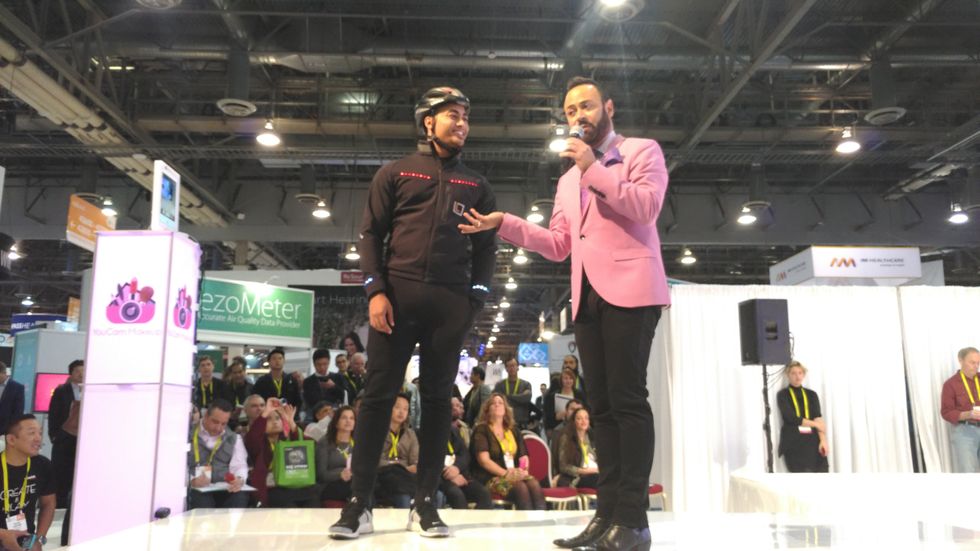 Verreos showed off a biking jacket that blinks depending on the way you turn.
A black, zippered, biking jacket featured blue and red LED lights that link to your smartphone's GPS actually lighting up depending on the way you're turning, or even if you stop at a red light. Verreos called the Psychedelic Cycle jacket "the perfect dog walker jacket, at night."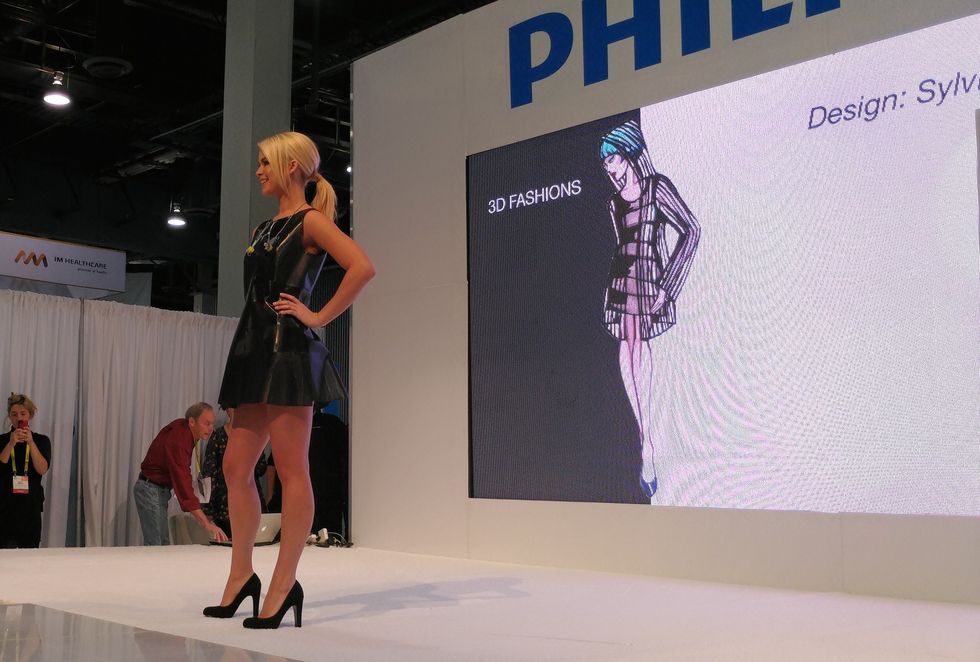 A black mini-dress belied the technology within.
Lasers made this
A barely-there, black, sleeveless mini-dress actually managed to pack quite a bit of tech into the garment. Designed by Sylvia Heisel, the dress is 3D printed from carbon fibers—each panel stitched together, with the squares fashionably visible. The model also wore a hooded jacket, mesh-like and oversized.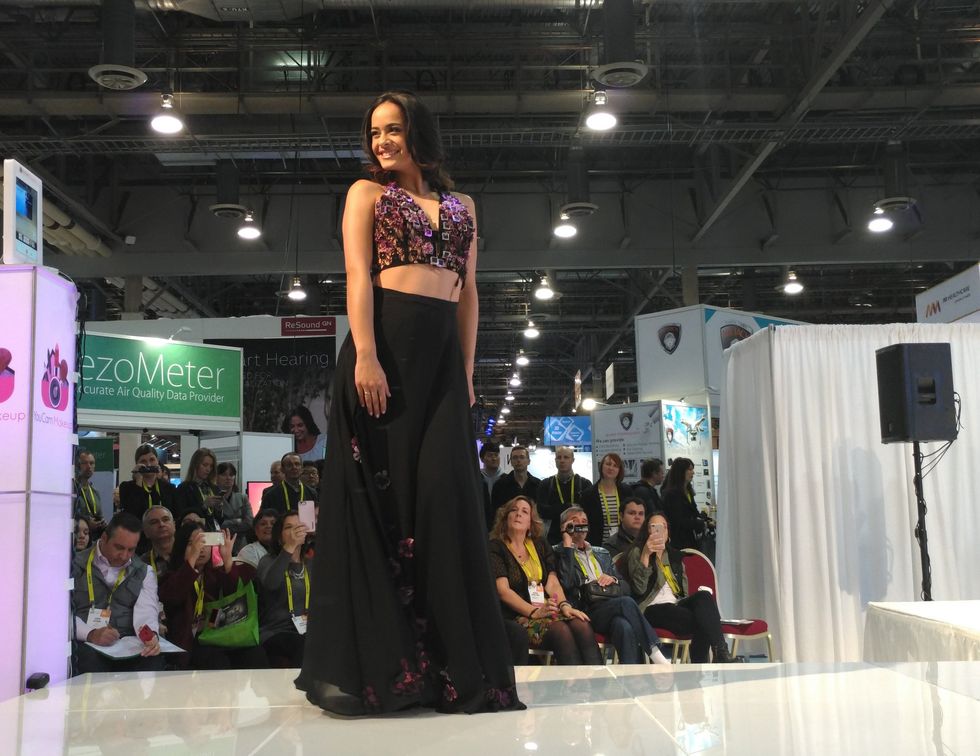 A floor-length gown blinked from top to bottom.
Maria Pinto Orduz crafted a gown sure to attract attention on New Year's Eve, on the red carpet or anywhere you'd want to make a statement. LED lights studded the dress from its beaded mesh, V-neck top, to the floor-length skirt that featured lights and beads along the bottom. A thigh-high slit along the side seemed an almost unnecessary distraction.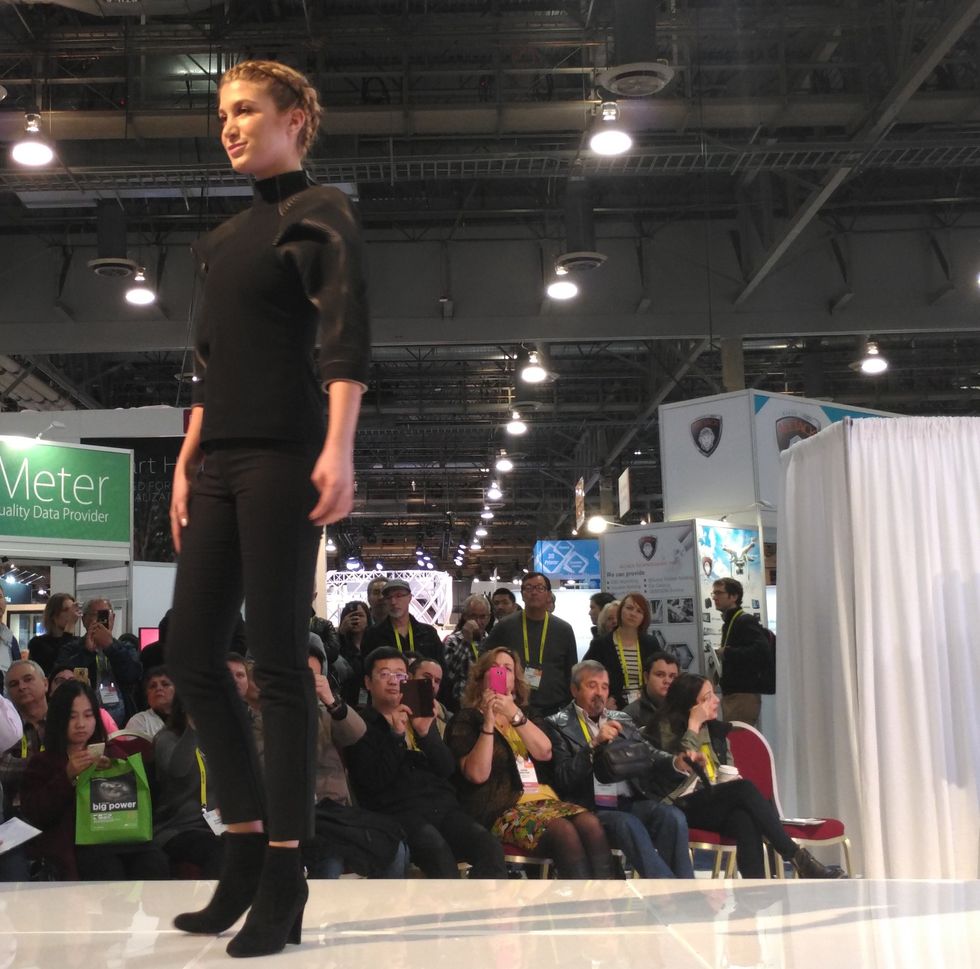 A sleek, black neoprene top looked appropriate for city wear.
Just one of Pauline van Dongen's designs, a fitted black top featured raglan, mid-length sleeves. Made of neoprene, the top emanated both a sleek and cool look, along with laser-cut detailing along the bodice.
Even make-up has taken a turn to high-tech. The show featured the app, YouCam Makeup, both an iOS and Android app that projects free looks on to a user's face for a few seconds so they can try on a new look. The app works with a smartphone, and keeps the virtual make up in place even if you turn your head. All the model—including Verreos—tried several looks allowing viewers to see the app in action. (And yes, it's free.)
While these design's are unlikely to appear at your department store now, some of them are starting to gain the attention of fashion brands. Will you wear an LED gown to your next dinner party? Perhaps not. But expect to see these tech advancements weaving their way into your ready to wear in short order.