Like GearBrain on Facebook
The iPhone X opened for pre order this morning, and within hours eBay was full of overpriced auctions for the Apple handset, which is available in store from November 3.
Despite the already-high retail price of $999 for the 64GB model and $1,149 for 256GB, shoppers eager to get their hands on Apple's latest wasted no time in bidding over $2,500.
GearBrain found a 256GB iPhone X in space gray which had attracted 21 bids, the highest being $2,650 — a full $1,400 over the recommended retail price.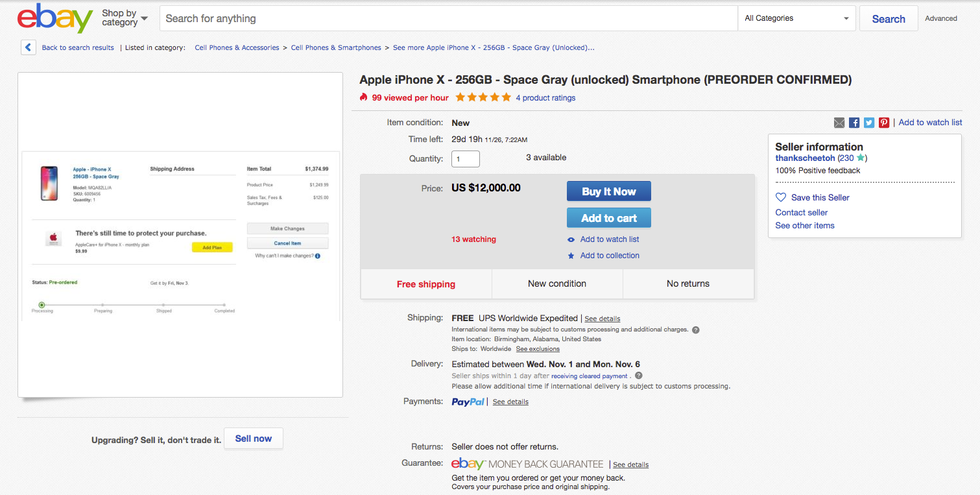 Ebay listing shows iPhone X being advertized for $12,000Screenshot
But this was pocket change compared to some of the more optimistic iPhone X auctions. The highest we could find at the time of writing asked for no less than $12,000 for a 256GB iPhone X. This was followed by one at $10,000 and another as $6,000 — at least these two were also open to offer.
As the online Apple Store quickly sold out of release day stock, carriers also struggled to keep up with demand, having set up virtual queuing systems for gaining access to their online stores. AT&T held buyers up for at least 50 minutes when the iPhone X went on sale Friday morning.
It was a similar story across the Atlantic, where Brits were asking £5,000 for the iPhone X on eBay. The highest we could find with any bids — 30, in fact - was priced at £1,700 at the time of writing, giving the seller a profit of £551 ($710) before eBay's fees.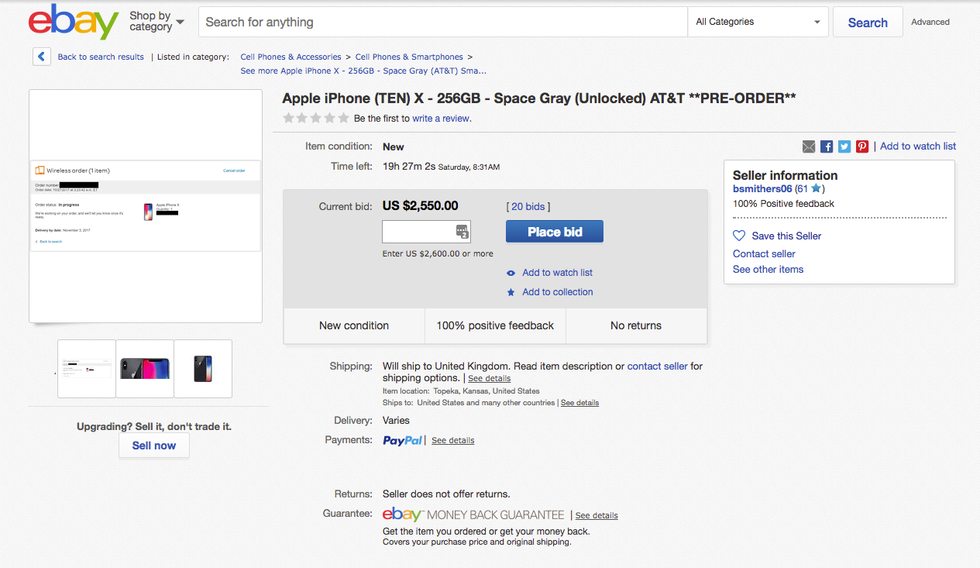 This Ebay listing shows bid are being placed on a $2,600 iPhone XScreenshot
Craigslist also featured a number of handsets at inflated prices. We found several being offered for between $2,000 and $3,500 in New York, some with screenshots proving the seller had received confirmation of their order and delivery date from Apple.
Meanwhile, Apple's website in the US and UK both estimated iPhone X's ordered now will arrive between five and six weeks after ordering — that's for both storage options and both colors.
Apple claims it will offer the iPhone X to walk-in customers at its retail stores in 55 countries on the November 3 release date, but suggests buyers arrive early before stock runs dry. It has been widely speculated by analysts that Apple will suffer iPhone X stock shortages into early 2018 due to its OLED screen and Face ID system being fragile and complex to manufacture.
Like GearBrain on Facebook