Although we're not yet into the official NFL season for 2020, the sport has headed online to keep fans entertained while global sport is on hold due to the coronavirus pandemic.
Also like many others, the NFL has convinced real-world professionals to get involved, and is currently running the Madden NFL 20 Celebrity Tournament, which ends with the championship match this Sunday.
Read More:
As the name suggests, the tournament uses the latest NFL Madden video game by EA Sports, and sees pro players and celebrities compete online from home.
The tournament is being broadcast by ESPN on television, as well as on the network's esports Twitch and YouTube channels.
Real-world NFL players taking part include:
Cam Jordan
DeAndre Hopkins
Devonta Freeman
Drew Lock
Marquise Brown
Melvin Gordon
Stefon Diggs
Travis Kelce
Like other current esports tournaments, the NFL has also talked a handful of celebrities into competing. These include UFC stars Chris Weidman and Daniel Cormier; Lil Yachty, Snoop Dog and rapper YG, and ESPN personalities Katie Nolan, Omar Raja and Pat McAfee.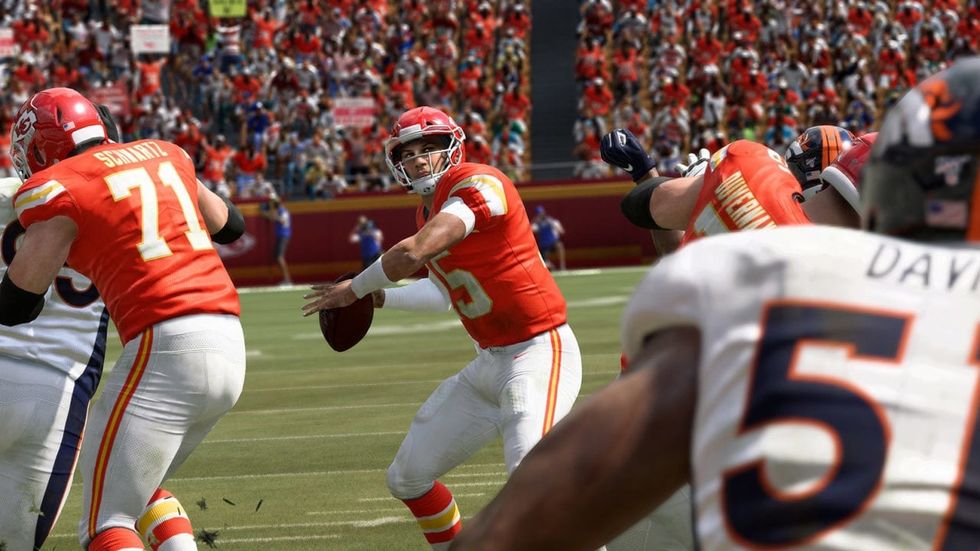 NFL follows Nascar and Formula One with televised esports EA Sports
When to watch Madden NFL 20 Celebrity Tournament:

The tournament began on April 20 and has been running all week, with matches airing daily at noon ET. This weekend's action kicks off at noon ET on Saturday, April 25, followed by the championship match at noon ET on April 26.
How to watch Madden NFL 20 Celebrity Tournament:
All matches are being broadcast on ESPN2, as well as on ESPN's esports Twitch and YouTube channels, making it easy to catch the live action on your television, computer or mobile device.
Although this tournament is almost over, on April 24 ESPN announced it will be covering more Madden NFL to keep fans entertained during lockdown. This schedule extends all the way to May 16, and includes broadcasts of every round of the Madden NFL 20 Bowl - the esports equivalent of the Super Bowl.
These matches will be shown live on the EA Sports Twitch and YouTube channels, and on ESPN2 and the ESPN app.
You can see the full schedule below:
Saturday, April 25
Sunday, April 26
12 pm ET: Madden NFL 20 Celebrity Tournament Championship (ESPN2)
1 pm ET: Road to the Madden Bowl, Episode 1 (ESPN2)
1:30 pm ET: Road to the Madden Bowl, Episode 2 (ESPN2)
2 pm ET - 5 p.m. ET: LIVE Madden NFL 20 Last Chance Qualifier (ESPN2)
Saturday, May 2
11 am ET: Road to the Madden Bowl, Episode 3 (ESPN2)
Wednesday, May 6 - Saturday, May 9:
Thursday, May 14
Friday, May 15:
Saturday, May 16:
Madden NFL 20 - Xbox One