Like GearBrain on Facebook
Watching competitive video games played online is nothing new. But with the coronavirus pandemic pressing the pause button on almost all global sport, the entire industry has stepped up a gear.
Thrust into an all-new spotlight, esports now features many real-world sporting professionals, is broadcast live on television to record audiences, and is called by pro commentators.
Read More:
Sports including soccer, basketball, football and various forms of motorsport have all headed online to keep fans entertained during lockdown.
Updated weekly, this article will feature highlights of upcoming esports events for you to watch online and on television. While we can't promise to include every single esports event — there are hundreds — we will try to highlight events where real-world professionals are taking part.
So kick back, pour yourself a cold one, and get your lockdown sports fix.
English Premier League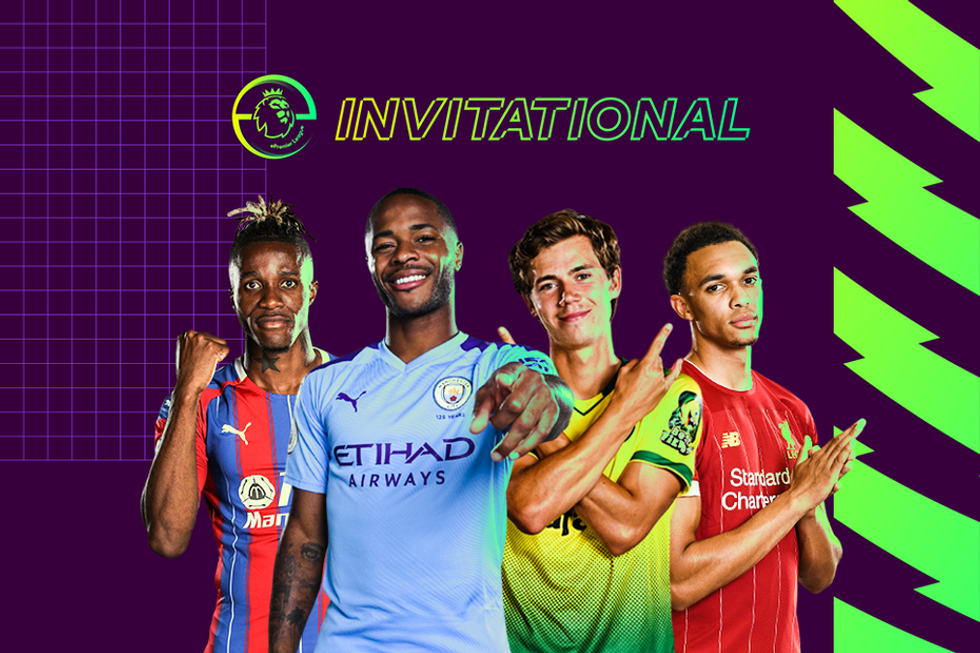 All 20 clubs are represented by one player each Premiere League
What is it?
Soccer was slow off the mark compared to other esports, but the wait will be worth it for many fans. Starting this week (April 21), the English Premier League is running a week-long knock-out tournament, with a professional player representing each of the league's 20 teams.
Stars taking part using the Fifa 20 video game by EA Sports include Raheem Sterling, Wilfred Zaha and Moussa Sissoko, representing their clubs of Manchester City, Crystal Palace and Tottenham Hotspur respectively.
When?
The tournament bracket was announced on April 20 and will run daily through April 25.
Coverage on April 21-24 starts at 07:00 EST (as all players are based in the UK), while the semi-finals and final on April 25 start at the more internationally-accommodating 10:00 EST.
There is no word of a follow-up just yet, but we wouldn't be surprised to see a second tournament shortly after.
Where?
All matches will be shown on the Premier League website, as well as on its YouTube, Facebook and Twitter channels. It will also be covered on the YouTube and Twitch channels of Sky Sports, plus the Football Daily YouTube channel.
The event will also be broadcast on television in the US on NBCSN, and in the UK on the Sky Sports News, Sky Sports Premier League, and Sky Sports Main Event channels.
NFL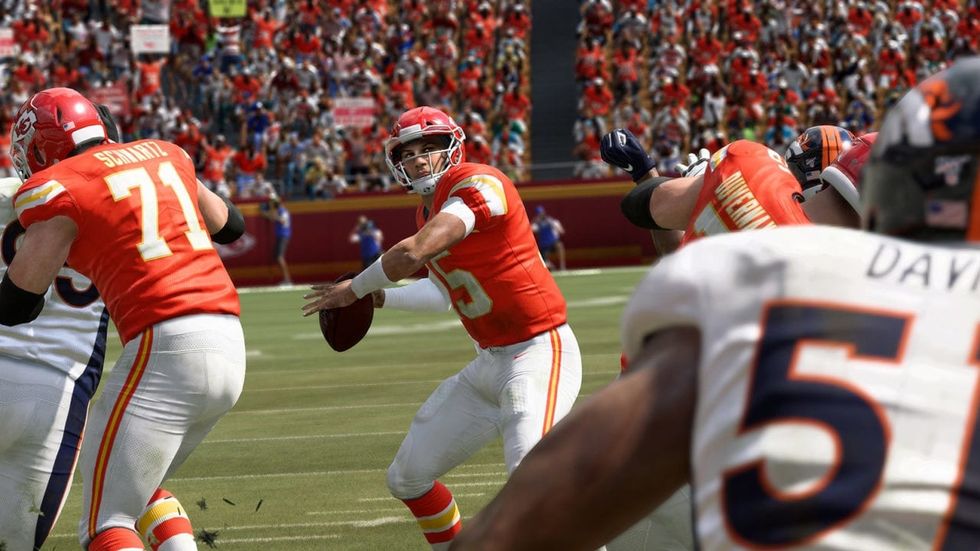 NFL follows Nascar and Formula One with televised esports EA Sports
What is it?
NFL players, plus celebrities and other athletes, will compete this week in ESPN's Madden NFL 20 Celebrity Tournament. Pro players include DeAndre Hopkins, Ca, Jordan, Marquise Brown, Drew Lock and Travis Kelce.
The tournament is played using the Madden NFL 20 video game.
When?
ESPN's Madden tournament started on April 20 and will run all week at 12pm ET daily, with the final airing on Sunday April 26 at noon ET.
Where?
The action will be broadcast on ESPN2 and streamed across the network's digital and social platforms, as well as on Twitch and YouTube.
Formula One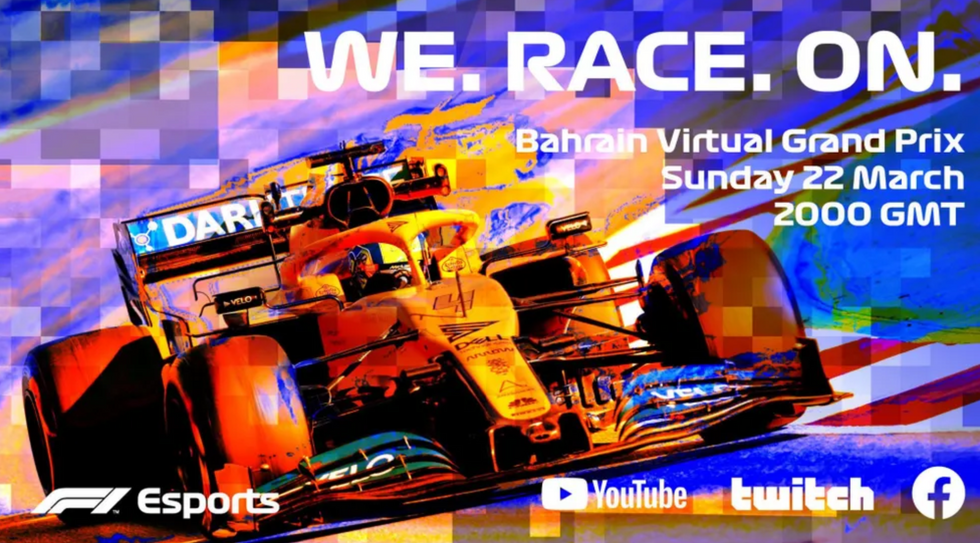 F1's esports races have attracted several real-world driversFormula One
What is it?
With the 2020 F1 season yet to start, drivers have quickly turned to video games pass the time and keep fans entertained. Most drivers already have their own simulators at home to practise on, so are already competitive with (or even quicker than) the best pro video gamers.
An official F1-backed tournament began in March, using the F1 2019 game by Codemasters, with an increasing number of current and past pro drivers taking part, alongside celebrities and other sports stars. Pro drivers include Charles Lecler (Ferrari), Lando Norris (McLaren) and George Russel (Williams).
When?
Races take place on Sunday afternoon and follow the same dates as the real-world 2020 season. The series also aims to use the same circuits as the postponed season, but the year-old game is missing a couple of venues (such as Vietnam and Holland), so replacements are used instead.
The next race will take place on May 3, on what should have been the day of the 2020 Dutch Grand Prix. Because that track is missing from the 2019 game, the esports race will take place at Interlagos, Brazil instead.
The time of the race is yet to be announced, but last week's Chinese virtual GP broadcast started at 13:00 EST, with a 15-minute qualifying than a 28-lap race, equal to 50 percent of the real thing.
Where?
The official F1 esports races are streamed on f1.com, as well as the YouTube, Twitch and Facebook channels of Formula One. TV broadcasts are shown live on Sky Sports F1 in the UK, and on ESPN in the US.
Nascar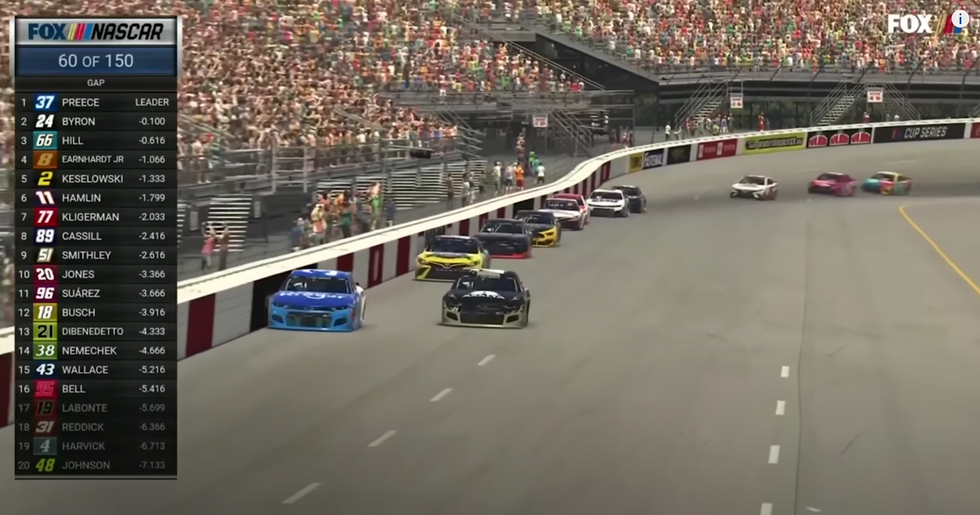 eNascar Pro Invitational SeriesNascar / YouTube
What is it?
Kicking off in mid-March as a temporary substitute for the real thing, the eNascar iRacing Pro Invitational Series drew a massive audience of 903,000 viewers on cable network FS1. It was the most-watched US sport event of 2020 so far, and the highest-rated TV esports event in US history.
The grid is made up of real-world Nascar drivers and sim-racing professionals. Racers include Dale Earnhardt Jr, Bobby Labonte, Kyle Busch, Denny Hamlin and Christopher Bell.
Such was its popularity, Fox Sports will cover the remainder of the eNascar season, complete with the Fox Nascar broadcast team.
When?
The next eNascar race takes place at the virtual Talladega Speedway at 13:00 EST on April 26.
Where?
The eNascar iRacing Pro Invitational Series is available to watch on Fox, FS1 and through the Fox Sports app. For a complete list of which broadcasters are covering the event globally, click here.
IndyCar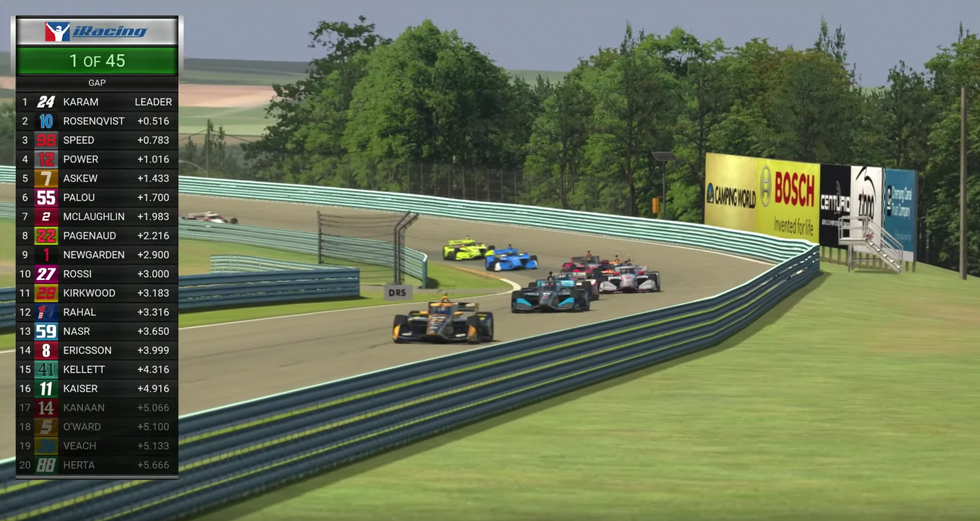 NBC broadcast of IndyCar esports with pro driver NBC / YouTube
What is it?
The NTT Indycar Series headed online in late-March and will run a six-race digital tournament featuring real-world racers through May 2. Each event lasts for between 90 minutes and two hours, with commentary throughout and interviews with winning drivers.
Over 30 drivers are expected to take part in the next race, including professionals Scott Dixon, Josef Newgaren, Will Power and Sebastien Bourdais.
When?
The next race will take place at the virtual Circuit of The Americas on April 25, starting at 14:30 EST and expecting to last for approximately 75 minutes.
Where?
The race will be broadcast on NBCSN with a fully-fledged NBC broadcasting team and commentary from Marty Snider. It will also be available on indycar.com, and on the series' YouTube channel.
Like GearBrain on Facebook