Facebook-owned Oculus Go is taking a step forward in virtual reality (VR) with its innovative app, Oculus Venues, a social experience, where users can now not only view an event but also interact with other Oculus Venue avatars.
The app, accessible through Oculus Go's library, is compatible with Gear VR as well, and comes preloaded on the Oculus Go VR headset. Once you select the app, you are prompted to connect it to your Facebook account which is essential and required for the feature to work. Having done so, you can immediately begin to access the extensive lineup of events.
The main advantage to connecting your Facebook profile is the app's social-sharing add-on, and perhaps its most innovative feature. Sparking up conversation has never been easier, since mutual friends and shared interests with spectators near you automatically pop-up on screen.

Participants can interact through the app's pre-installed voice chat, just like in real life. You can even hear the faint murmur of neighboring conversations, as you would in a real-world event.
Due to the encouraged social interaction, Oculus Venue users are advised to respect the Oculus code of conduct, which the company introduced when the app launched. If a user were to suffer from harassment, racially offensive commentary, or sexually explicit content, they can actively report the offender to Facebook.

The setting design enhances the experience even further, as it replicates a stadium, where other VR participants also appear as avatars, jointly watching the event. Avatars are personally customized, which means you can even fashion your character to look like you.
If you're not feeling overly extrovert, you can dive into the Solo Viewing mode on Oculus Go as well, and avoid crowds all-together, by going into a private booth, the audience extended below you, and the show materializing directly in front of you.
Oculus Venues kicked off its live-events lineup with Vance Roy's concert on May 30th, which took place on Colorado's Red Rocks Amphitheater. And the excitement keeps escalating as Oculus Venues incorporates FIFA World Cup matches to its events fixture. The app streams the matches from Fox Sports for free, for those who can't get to Russia, giving you access to the crowd from inside the stadium.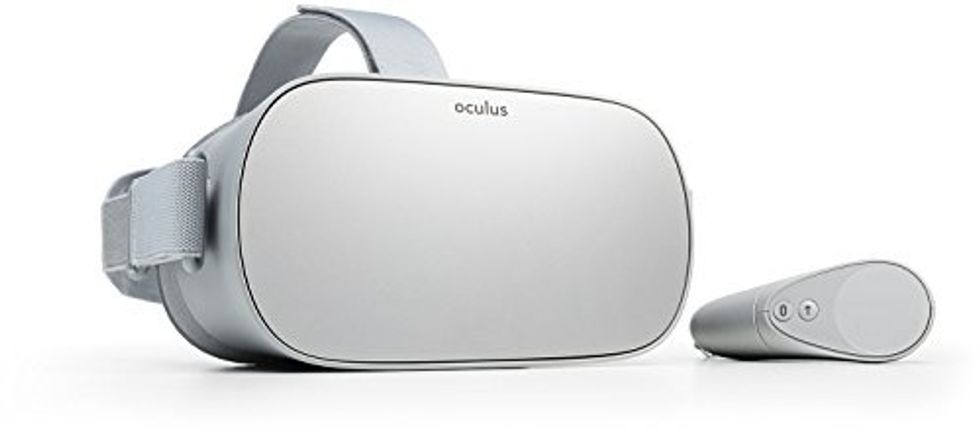 You can enter Oculus Venues through the Oculus Go headset and a Facebook accountOculus
Other events featured on Oculus Venues include weekly MLB games and stand-up comedy acts from the Gotham Comedy Club, and live music events. Below is Oculus Venues' already announced summer show time content, yet keep in mind much more is planned to come our way. Including NBA League Pass Games, additional concerts, and hopefully more World Cup Games.
— Oriana Carisa De Angelis is a New York-based writer
July Showtimes
July 2 // School Night! Live from Hollywood // 8:00 pm PT
July 5 // Gotham Comedy Live // 7:00 pm PT
July 9 // School Night! Live from Hollywood // 8:00 pm PT
July 12 // Gotham Comedy Live // 7:00 pm PT
July 16 // School Night! Live from Hollywood // 8:00 pm PT
July 19 // Gotham Comedy Live // 7:00 pm PT
July 23 // School Night! Live from Hollywood // 8:00 pm PT
July 25 // International Champions Cup: Manchester United v AC Milan // 8:00 pm PT
July 26 // Gotham Comedy Live // 7:00 pm PT
July 28 // International Champions Cup: FC Barcelona v Tottenham Hotspur // 8:00 pm PT
July 30 // School Night! Live from Hollywood // 8:00 pm PT
August Showtimes
August 2 // Gotham Comedy Live // 7:00 pm PT
August 3 // Lionsgate Presents: Reservoir Dogs // 7:00 pm PT
August 5 // Lionsgate Presents: Sinister // 7:00 pm PT
August 6 // School Night! Live from Hollywood // 8:00 pm PT
August 9 // Gotham Comedy Live // 7:00 pm PT
August 13 // School Night! Live from Hollywood // 8:00 pm PT
August 19 // Lionsgate Presents: Apocalypse Now // 7:00 pm PT