Like GearBrain on Facebook
OnePlus could be preparing to ditch the screen notch entirely for its next smartphone, the 7, and instead use a pop-up selfie camera.
This is according to renders of the handset published by @OnLeaks , an often-reliable technology tipster, along with website Pricebaba .
Read More:
The images show a smartphone with a 6.5-inch display which stretches right to the very edge in every direction. Only a very small chin at the foot of the display stops it from being entirely bezel-less.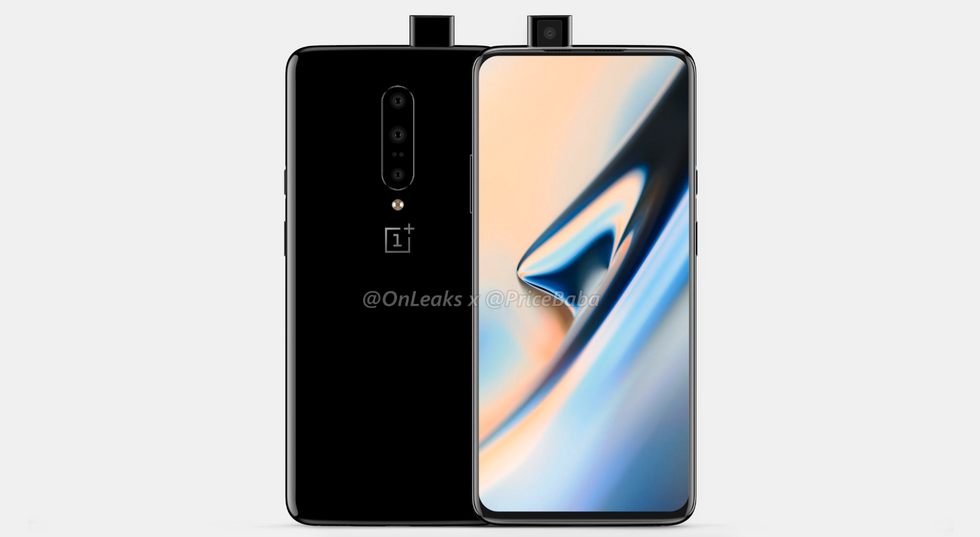 new OnePlus set to have a pop-up selfie camera Onleaks
The OnePlus 7 is expected to soon replace the OnePlus 6T from 2018. That handset employed a teardrop-shaped notch to house the front-facing camera. But for the 7, OnePlus looks set to remove the notch and instead install a motorized front-facing camera which pops up when needed.

Vivo was the first company to fit such a camera, to its Nex S smartphone, in June 2018. The motorized pop-up system activates when the user wants to take a selfie, or use the camera to authenticate their appearance and unlock the handset. The system appeared to work well, but it has been suggested that fine dust particles from the owner's pocket could cause the mechanism to malfunction over time.
OnePlus seems undeterred by this potential problem and, if these renders are accurate, will push ahead with a pop-up system of its own. It isn't clear at this point if the camera will be used for authentication, or if the OnePlus 7 will feature the same in-display fingerprint reader as the OnePlus 6T .
The renders also suggest the new phone will feature three rear cameras, one more than the 6T. The phone will likely be powered by the new Snapdragon 855 processor, but it isn't expected to have 5G just yet; that will probably arrive with the OnePlus 7T later in 2019, if the company sticks to its two-flagships-per-year launch schedule.
If OnePlus sticks to its usual timings, the 7 will likely arrive in May or June, and we can expect to see the cost continue to creep up, as it has done for several years now from OnePlus. That said, at $549, the 6T was still considerably cheaper than many of its flagship rivals; even if the OnePlus 7 leaps to $600 or more, it will still be a comparative bargain compared to high-end phones from Samsung and Apple, which have breached the $1,000 barrier.
Related Articles Around the Web
Like GearBrain on Facebook