Like GearBrain on Facebook
Apple TV vs. Chromecast vs. Roku 4 vs. Amazon Fire TV
GearBrain breaks down the best from the rest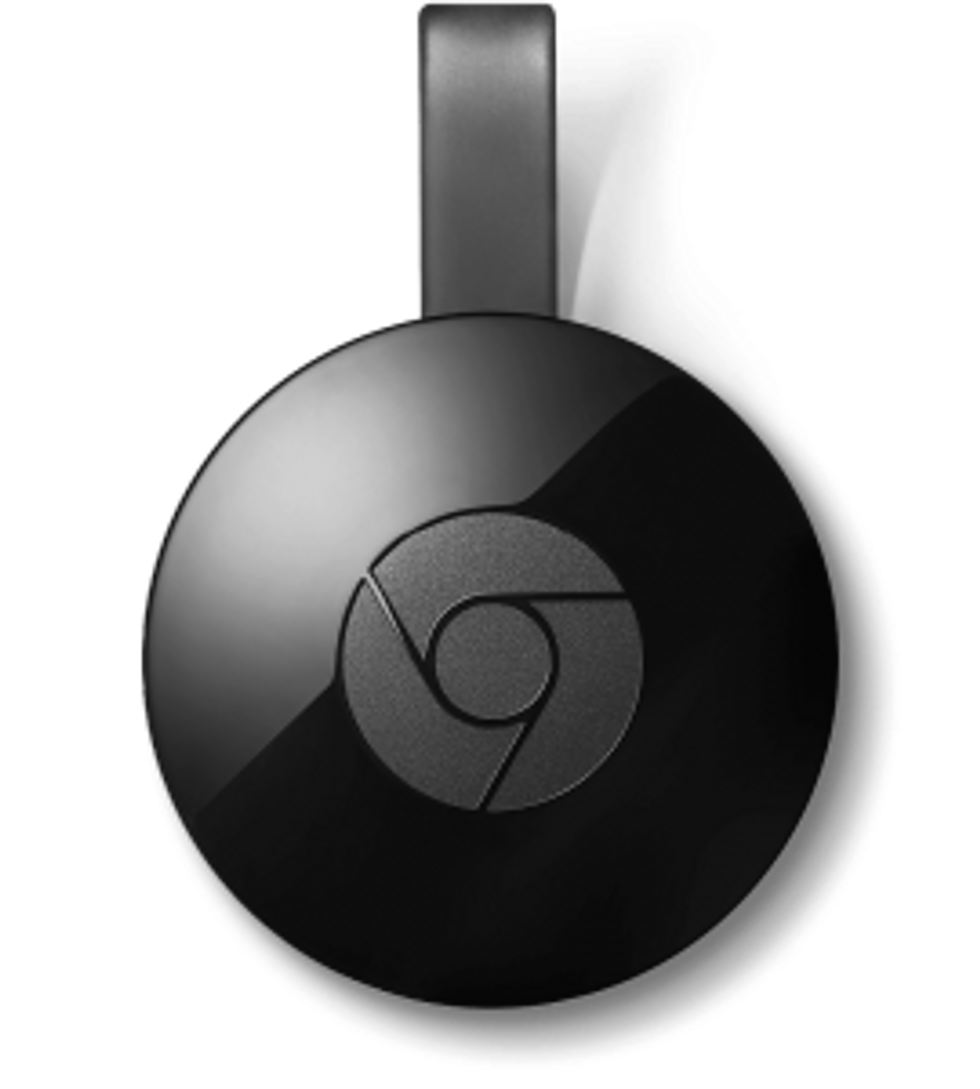 Google Chromecast ($35)
Pros: cheapest streamer today, compact size fits well in tight spaces, great selection of apps
Cons: no remote, doesn't include 4K, a smartphone, or tablet, required
If you are looking for a streaming device on a shoestring budget, look no further. Google's new Chromecast is very much like its predecessor — mostly a good thing,
Still priced at $35, the device works when you use your phone to stream (or "cast'")" video from a smartphone or tablet, still supports just about every popular streaming service, and is compact enough to hide neatly out of sight behind your TV.
What's new and different? Google has departed from the stick form factor, opting instead for a circular design in three different colors. Visual design matters little for something that sits behind your TV or AV receiver, but the little puck now can fit three custom WiFI antennas, capable of connecting to 802.11ac WiFi for faster wireless streaming speeds.
The new Chromecast also has a built-in HDMI cable that extends from its base. This make it fit easier into tight spaces – exactly what's going on behind most TVs – without the cumbersome HDMI extension cable Google shipped with the original.
The Chromecast's beefier innards make "casting" from your phone faster than on the original model – but it could still be a lot faster. But when you're not streaming to the Chromecast, the device showcases photos, art, news and headlines with an interesting feature called Backdrop.
While Backdrop is great for people who want to keep their TVs on when they aren't watching, there is no true on-screen menu or guide. Instead, Chromecast relies on your phone for that, making switching from Netflix to YouTube a bit more tiresome than on Chromecast's (pricier) competitors.
Since the Chromecast does not have a remote, your smartphone plays that role, making you dependent on your device every time you want to pause a TV show or movie. If your phone needs a charge and the nearest outlet is across the room? Not ideal. You're also going to have to unlock your phone every time you want to pause for a popcorn run — unless you want to leave your phone's display on at all times. Plus physical remotes also have real buttons, which some users might find easier to locate in the dark.
Still, one benefit to the Chromecast's dependence on your smartphone is it links the low-priced dongle to the powerful graphics-processing hardware already in your phone or tablet. Eventually this could lead to decently advanced gaming on the cheap, with your smartphone as a touchscreen controller. For now, though, with an average selection of games, that's not why you'll want to buy the device.
Google has taken a holistic approach to selling a streaming device without a remote, arguing that consumers do not want or need another remote in the living room. Models like the Roku Streaming Stick ($49) or Amazon Fire Stick ($39 and up) offer smartphone remote apps in addition to their physical remotes, but both are older and a bit slower than the new Chromecast.
Google's new Chromecast is not wildly different from its predecessor — not necessarily a bad thing — and does offer the most streaming for your dollar. But with a lack of support for 4K, the new ultra-sharp resolution found in the latest upscale television models, nor an ability to work with Amazon Prime Instant Video, pound-for-pound, you might be better served by paying a little bit more for a larger streaming box from Amazon or Roku.
Amazon Fire TV ($99)
Pros: fast performance, wide selection of games
Cons: cheap remote, annoying ads for premium content
Amazon has given its Fire TV the customary annual upgrade, and the result is a premium streaming device that falls short of some of its more expensive rivals.

The Fire TV's menus look good, like a slicker (and much quicker) version of a cable box's on-screen guide. However, the entire experience is geared around Amazon's own services. For example, Prime Instant Video gets its own tab, while everything else is under "Apps." Therefore, if you are not a Prime customer, much of the Fire TV can act like an annoying advertisement for the subscription service.

If you have Amazon Prime, you have access to the company's streaming video and audio services at no extra cost. That isn't the case on the Apple TV or the Google Chromecast, since these three tech behemoths refuse to play nicely with each other. Typing usernames and passwords with a remote control is no fun when setting up any streaming box, but Amazon customers can get the Fire TV shipped with all of their account information already loaded.
The Amazon Fire TV ($99) has a voice search feature that works when you press a microphone button on the remote. It's like the voice features on your smartphone. That is: maybe it's more convenient sometimes, if you remember to use it. Plus Amazon's digital assistant, called Alexa, does not work with the most popular streaming service, Netflix, which makes voice searching a lot less useful.
The Fire TV has the biggest gaming catalog so far of any streaming boxes, for now. Gamers can purchase a "gaming edition" that comes with a full-size controller for $40 more, which is required some of the Fire TV's games. The Fire TV is also $30 less than the Roku 4 and at least $50 cheaper than the Apple TV. At the moment, it may be better for gaming than either, but only if you're willing to shell out the extra cash for the controller.
The latest Apple TV ($149 for 32GB, $199 for 6GB), however, has an included remote with a touchpad and motion sensors. Thanks to the iPhone-maker's enduring popularity, it is likely that game developers will quickly make use of the company's latest to eventually offer a wide selection of games – all of which must work with both the included remote as well as any third-party controller.
The Roku 4 ($129) and Roku 3 ($99) also offer a limited selection of games that work nicely with the included remote control. Both Roku models have a headphone port built into the controller, whereas the Amazon Fire TV offers a wireless connection to Bluetooth headphones.
In terms of app support, the major players all appear on the Fire TV, such as Netflix, Pandora and Hulu. But too much is missing, including popular music service Spotify and many Google apps.
The Fire TV runs Amazon's customized version of the Android software developed by Google. Therefore, the Fire TV relies on the Amazon App Store, where there are no apps for YouTube or Google Play. Fire TV owners can view YouTube through a link to a special version of the website made for smart TVs, but it is not as easy or enjoyable to use as the actual app.
The bottom line is that tech-savvy GearBrains will be able to work around Amazon's custom software to sideload Google's apps onto the Fire TV. Prime members will likely enjoy the easy access to Amazon's streaming video and music services. Everyone else might be better off spending a little bit more on the Apple TV or Roku 4.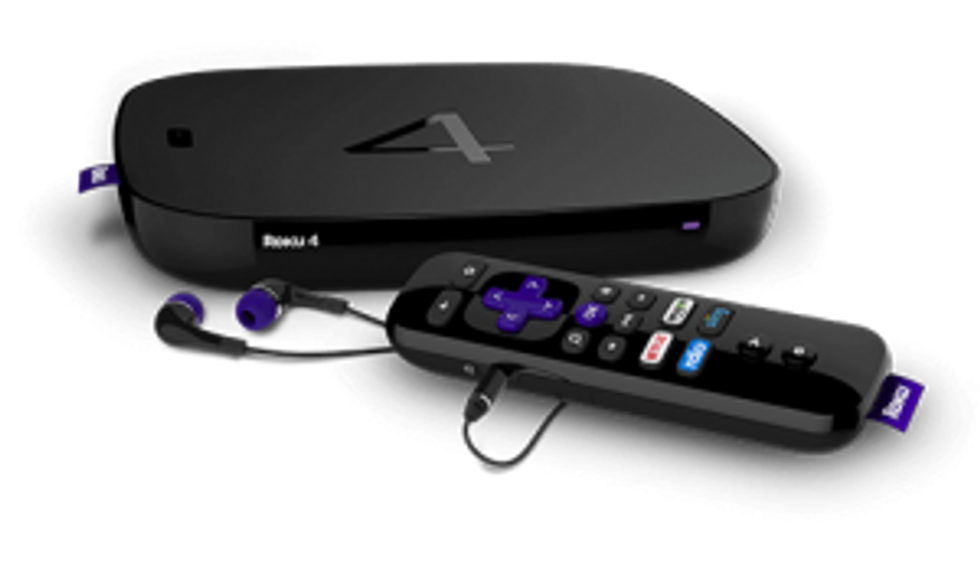 Roku 4 ($129)
Pros: supports more services than Amazon or Apple, built-in headphone port, best 4K
Cons: weakest gaming experience of any streaming box, more expensive than most
Roku has been at the streaming media device game longer than anyone else, and it shows. The company's latest Roku 4 ($129) streams 4K better than any other box out there, and it knows a few neat tricks that competing products don't.

The Roku 4's design has been updated to be more sleek and slimmer than puck-like previous models. It has upgraded hardware, including a quad-core processor and 1.5GB of RAM, which is triple the memory of the Roku 3. This allows it to turn on, open and switch apps faster.
Roku's standout feature is not its upgraded internals so much as its software. The Roku 4 features OS 7, a new operating system that makes it easier to navigate different apps and programs. The same software is also available for earlier models, including the Roku 3 ($99),
Using the Roku 4's cross-platform search function, you can look for one movie or TV show title simultaneously between Netflix, Amazon Prime, HBO Go and a host of other apps. If you find yourself frequently looking for a specific movie, cross-platform search is a major convenience.
Much like its rivals, the Roku 4 features faster (802.11ac) Wi-Fi and can stream at sharper-than-HD 4K (or UHD) resolution. However, the Roku 4 stands apart from competitors like the new Amazon Fire TV and Apple TV because it can stream a higher frame rate of 4K (60fps), which makes video appear smoother on most TVs.
A smartphone app allows you to control the box without the remote, and the Roku 4 has a remote finder button, which causes connected remote controls to beep – a useful and thoughtful touch. The remote itself features voice search as well as a headphone plug – which essentially turns any set of standard headphones wireless.
Competitors like the Fire TV allow you to connect to Bluetooth headphones, which is great if you use Bluetooth headphones. If your favorite pair is not already wireless, the remote itself makes the Roku 4 a great value, especially if you live in a tight space or want to be able to watch without disturbing others.
The app catalog offered for Rokus is vast, and features both Google Play and Amazon Prime – the only streaming device on the market to work well with all three. Google's Chromecast does not work with Amazon Prime, and Amazon's Fire TV does not have access to Google Play (unless you are willing to spend time doing some complicated under-the-hood tinkering).
The bottom line is, if you're looking for the best streaming media device on the market, then you can immediately go buy the Roku 4 without looking back.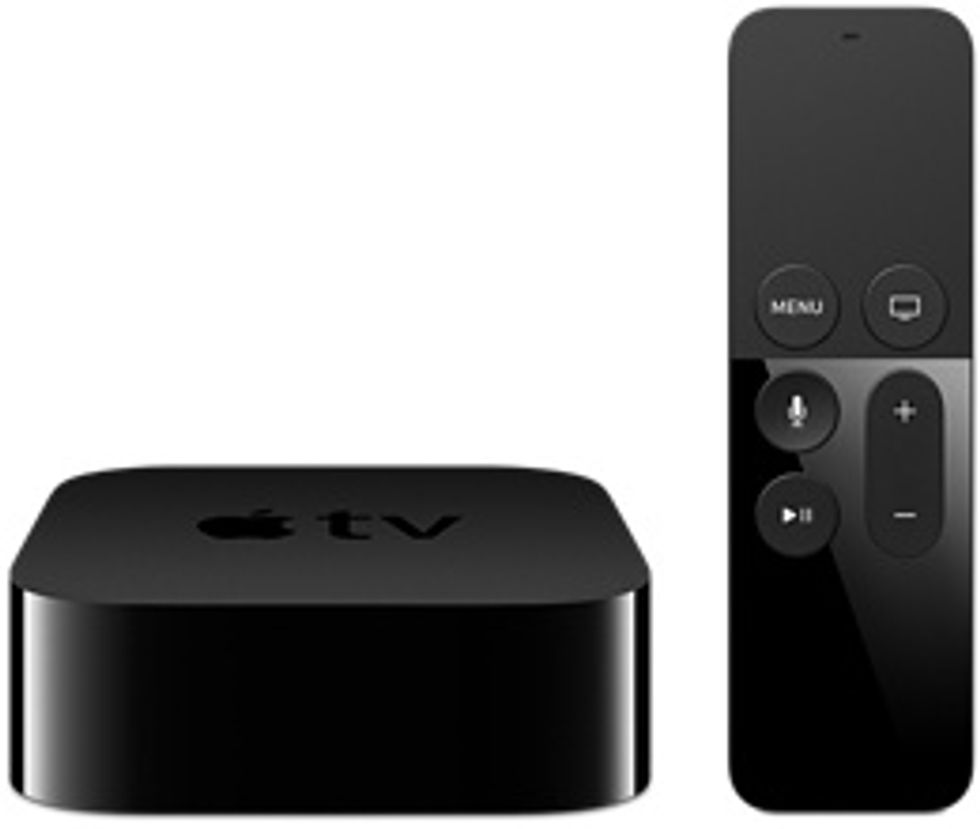 Apple TV ($149 for 32GB, $199 for 64GB)
Pros: best voice search (Siri) of any box, controller offers unique gaming experience
Cons: does not support 4K resolution, more expensive than more full-featured competitors
One of the more expensive connected home theater devices, the new Apple TV ($149 for 32GB, $199 for 64GB) may appeal to us GearBrains looking forward to features Apple has yet to roll out — but there's no promise any of those features will actually be good.

The biggest change from the last model (first released in 2012) is the Apple TV's new game-centric remote, which features Wii-like motion controls and a touchscreen you can click to select an option. The current selection of games is unimpressive.
While the Apple TV's current game library is not very compelling, Apple is big, and its products tend to be very popular. Game and app developers will likely make tvOS a priority over the coming weeks and months. The remote itself is easy to figure out for gaming and viewing, and more serious gamers can separately purchase a third-party gaming controller.
The Apple TV's remote now features a microphone to interact with Siri, a feature also found in competing products from Roku and Amazon. Siri on the new Apple TV also allows you to search across different services, including iTunes and Netflix.
Siri's search feature works well, letting you locate something specific, like a movie title, as well as more broad topics – like a genre or an actor.
There are a few too many things that the Apple TV lacks for us to strongly recommend the option for now. The streaming box does not support 4K resolution. And while the sharper-than-HD resolution is not found in most living rooms, it's only a matter of time before that becomes standard. 4K support can be found on the less expensive Amazon Fire TV as well as the Roku 4.
The new Apple TV could play a central role in HomeKit, the iPhone-maker's "smart home" service, but the company has not offered any details on how. The bottom line is that there are currently better and less expensive home theater devices for movie and TV watching, like the 4K-streaming Roku 4.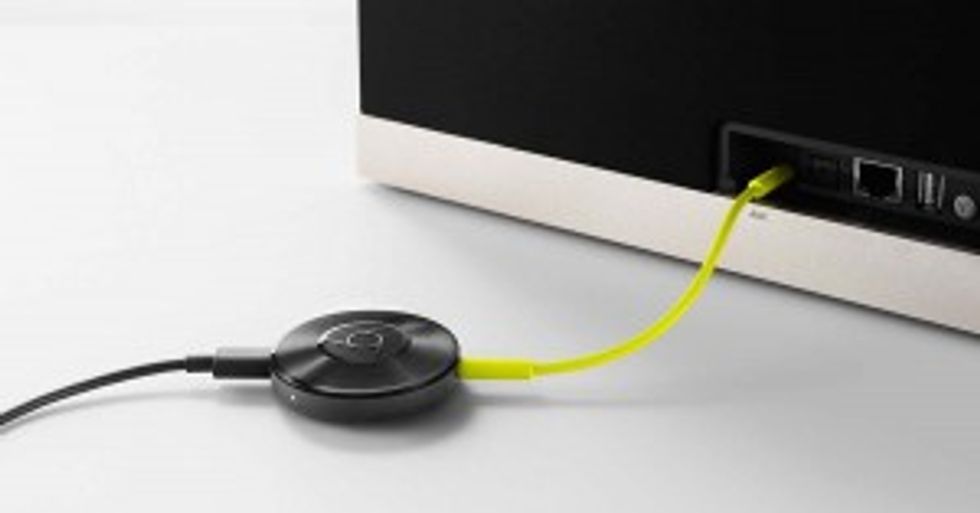 Chromecast Audio ($35)
Pros: outstanding value, works with any speaker, way better than Bluetooth, simple setup
Cons: controls can be glitchy on bad Wi-Fi
If you have powered speakers that you would like to be able to wirelessly stream music to – anywhere in your house – the Chromecast Audio is a must-buy. It is crazy cheap for what it can do – offering a Wi-Fi connection to your speakers and the ability to stream and control songs from every major music service.
Unlike products like Sonos speakers, the Chromecast Audio offers multi-room wireless control of any brand of powered speakers in your house. Google says that the tiny puck will soon be able to synchronize with other Chromecasts, allowing you to play the same audio in different rooms at the same time.
Most similar products use Bluetooth, which has a shorter range and lower sound quality. It also drains more power from wireless devices than WiFi. The only competing Wi-Fi-enabled wireless adaptor literally costs 10 times as much (Denon HEOS Link, $349).
Like GearBrain on Facebook