Like GearBrain on Facebook
Chinese smartphone maker OnePlus is teaming up with McLaren, the British supercar company and Formula One team, to launch a new product.
Likely a smartphone based on the company's new 6T, a flagship Android handset launched in late-October, the device is expected to pick up some design cues from the McLaren brand.
A teaser website set up for the new product has 'McLaren 6T' in the URL, suggesting this will be its name.
Read More:

Details to set the phone apart from the regular 6T could include carbon fiber components, a custom software skin, McLaren's logo, and perhaps its 'Rocket Red' corporate color, as used by the company's F1 cars.
That said, OnePlus could be better off linking the new phone with McLaren's road car division, which has seen huge success in the last few years, accelerating from launch in 2011 to posing direct competition to 70-year-old Ferrari today.
Meanwhile, the McLaren F1 team, although one of the most successful in the sport's history with past drivers including Ayrton Senna and Lewis Hamilton, has struggled in recent years, having not won a race since 2012.
Given this situation, it perhaps isn't a surprise that the team is looking for partnerships like this, in a bid to help bring in some sponsorship revenue and boost its flagging profile within the sport. The timing of the announcement is also interesting, as it comes just days after the end of the 2018 F1 season. The next season begins in March.
A teaser video posted by OnePlus to Twitter, above, shows vintage photos, possessions and cars of Bruce McLaren, founder of the F1 team. Although there is no mention of the company's road cars in this material, invitations to the event claim the partnership incorporates both McLaren Racing and McLaren Automotive.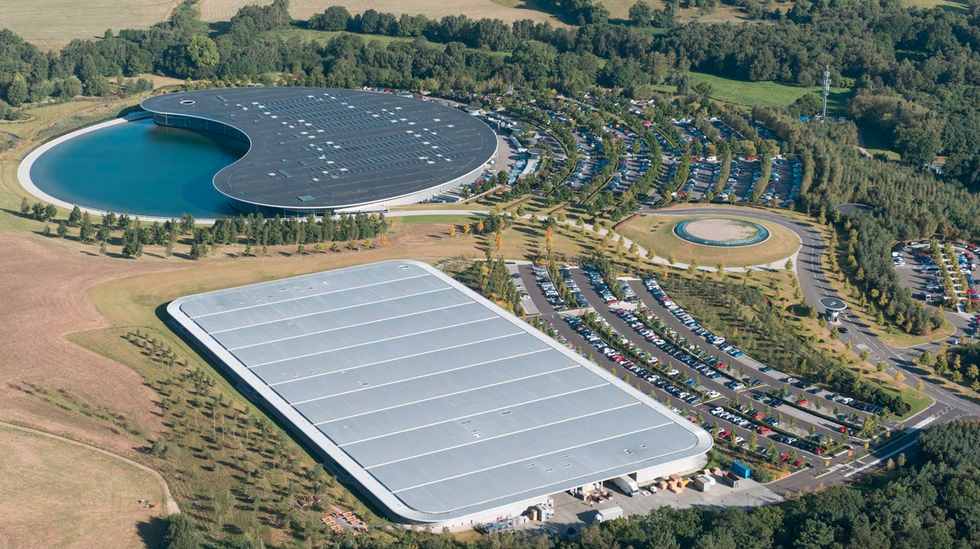 The launch will be held at the McLaren Technology CentreFoster + Partners
Called Salute to Speed, the launch event will take place at the McLaren Technology Centre, a futuristic building in Woking, Surrey, around 30 miles south of London. This is where McLaren builds its race and road cars.

The partnership will likely be similar to that shared by Huawei and Porsche Design, which has produced limited-edition Huawei smartphones with Porsche Design cues and elevated prices. BlackBerry also used to work with Porsche Design, and fellow Chinese firm Oppo has a partnership with Lamborghini.

Partnering with a luxury car maker goes somewhat against the OnePlus grain, given the company is best known for producing high-end smartphones with lower prices than its rivals. However, if the McLaren edition is priced below 'regular' phones from the likes of Apple, Samsung and Google, then it could still be an enticing offer for McLaren and OnePlus fans.
OnePlus has previously partnered with Marvel and the Star Wars franchise.
GearBrain Reviews the Huawei Honor 7x smartphone www.youtube.com
Related Articles Around the Web
Like GearBrain on Facebook