Skully Done? Skully has reportedly shut-down production of its Iron Man-like motorcycle helmet that captured interest with its AR abilities. While the site is still live, and you can still seem to order a $1499 Skully AR-1 helmet, the site says all sizes are sold out when you try to pay. Still, Digital Trends reports that Skully is scrambling to raise another round of funding.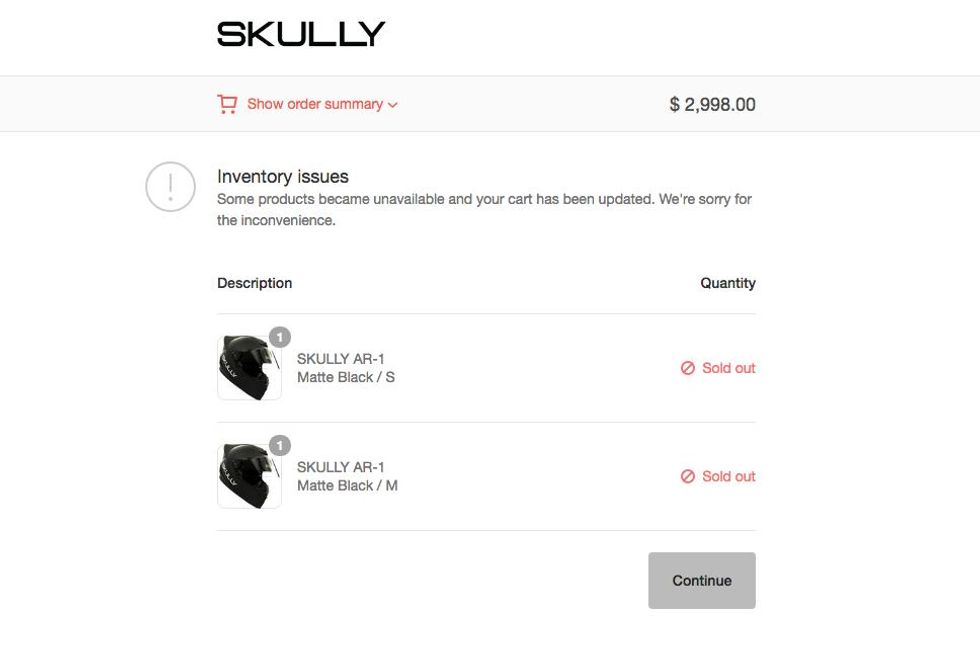 You can put the Skully helmets in your basket—but you can't buy one.
VR Gaming Deals Some popular VR games from game maker Steam go on sale this weekend including Subnautica, Kismet and Vanishing Realms meant to work with HTC Vive and Oculus Rift. Twenty of the titles will also be bundled together for $255—cutting $40 off the price of buying them one at a time. (Via TechSpot)
Slide On, Slide Off Apple has patented a new feature for iOS that can sense when the phone is touching material. Pulling an iPhone from a purse, pulling the sleeve back from an Apple Watch, or lifting an iPad out of a backpack would tell the device to turn on—and conversely turned off when returned. (Via Patently Apple)
Apple Nests You may need to wait to have your shirt sleeve operate your Apple Watch. But you can use your Apple Watch to control your Nest thermostat now. First step? Downloading an updated Nest app. (Via Engadget)
Digital Overload Listen, we get it. All these new devices that connect your smartphone to your refrigerator, your car to your lights: They're fun. But everything pinging and beeping and flashing and ringing can send us over the edge. We're not saying toss your smartphone, tablets, smart watches, ring and trackers out. But we have some very specific ways to regain control of your time by putting your devices and tech in their proper place.