A set of new Snapchat filters have been released to help remind us all about the importance of social distancing and hand washing during the coronavirus pandemic.
The app update includes two new filters. The first is called My Social Distance and uses augmented reality to draw virtual circles around you to show how far you should be from anyone who isn't a member of your household.
Read More:
Generally speaking this is a distance of approximately two meters or six feet, as prescribed by the World Health Organization, which collaborated with Snapchat to create the new filters.
The filter echoes attempts made by supermarkets the world over to promote social distancing, where markers are placed on shop floors to help people keep their distance while queuing to get in, and at the checkout.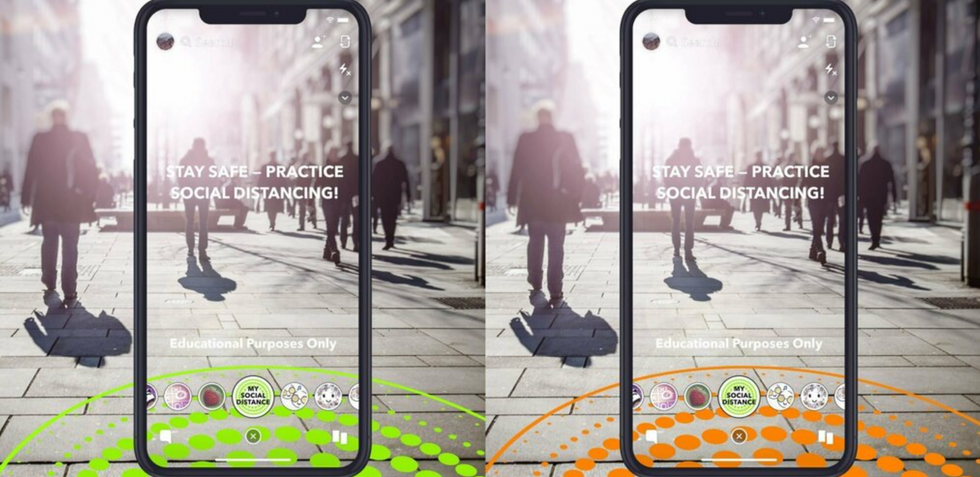 Social distancing filter in SnapchatSnap
The second new Snapchat filter includes animated reminders to wash your hands regularly, stay at home unless buying food and medication or exercising, and try to stop touching your face.

Both of the new Snapchat lenses link to the World Health Organization's website, which has further tips on staying safe during the pandemic.
Earlier in March, Snap, the company behind Snapchat, released a filter in partnership with the WHO, showing the steps we can all take to reduce the spread of coronavirus. This includes icons encouraging users to wash their hands, stay home, social distance, and cover their mouth when coughing.
New stickers added to Snapchat in arch included the same messages, to stay home, wash your hands, and stop touching your face.