Like GearBrain on Facebook
Find yourself with a Google Cardboard headset or Mattel View-Master Virtual Reality Viewer this year? Perhaps received one over the holidays and still haven't unwrapped the box?
You're probably just wondering where to find virtual reality apps to install easily. Luckily GearBrain gathered the top ten free—or close to free—VR apps to give you your first taste. These not only work with Cardboard-like devices, but they're well-produced so they don't look too bad on a device that was, in fact, originally just a folded-up piece of cardboard with a couple of lenses attached.
Who knows? If your Google Cardboard viewer is, in fact, actually made of cardboard, then maybe some of these app might encourage you to upgrade to a more durable headset. To get started, you'll need to download these to your iOS or Android phone, then follow the instructions on your specific VR headset to link to your device. Ready?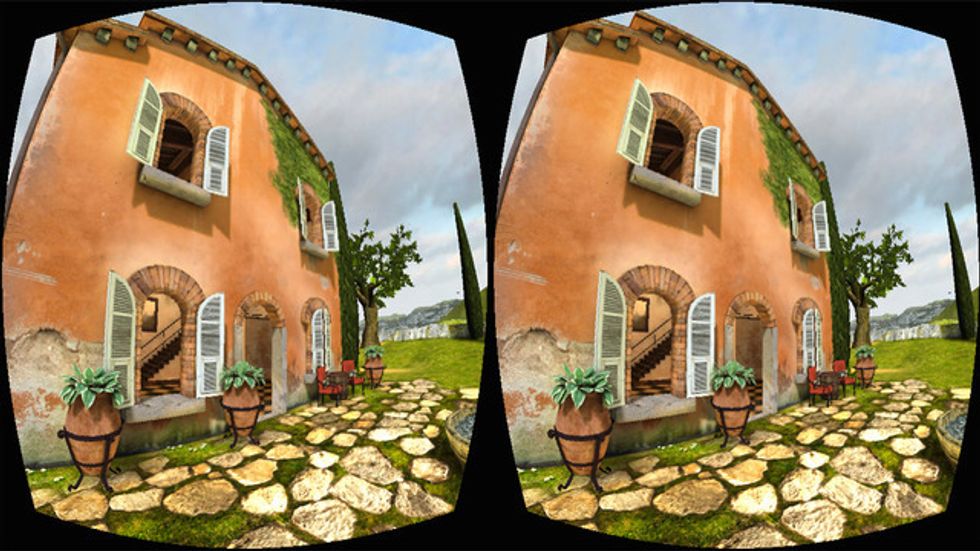 10. Tuscany (free)
Remember that video of the grandmother trying out the Oculus Rift for the first time? That was the Tuscany demo, one of the first virtual reality experiences created for the Oculus Rift. You can try it out, too–without having to pay hundreds for an Oculus Rift VR headset. (If you can get your hands on one.) This is a very simple app for both iOS and Android devices, where you look down at your feet to start and stop walking, then look in the direction you'd like to walk. Go around the villa and check out the view, then go inside and look out through the windows.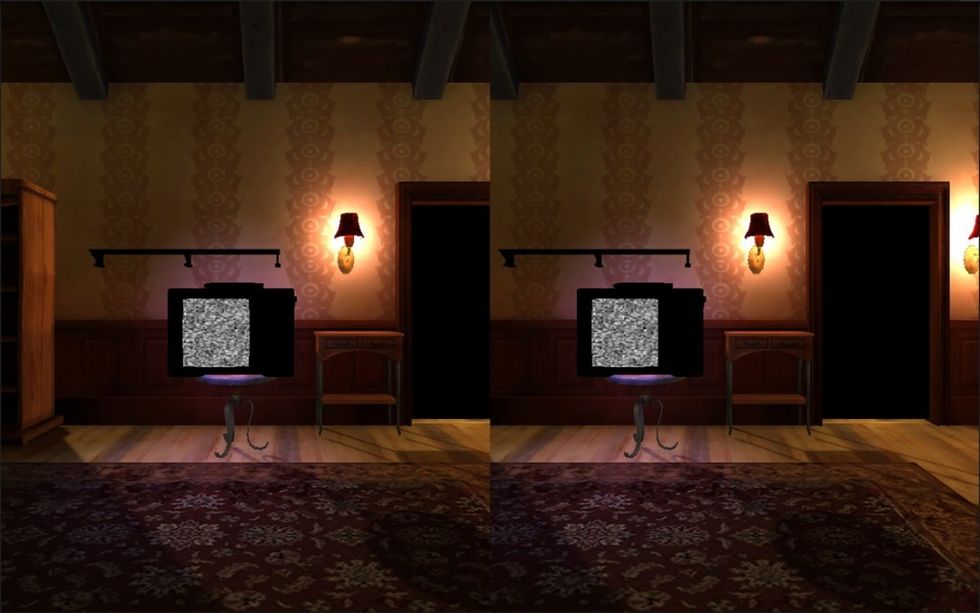 9. Sisters (free)
Enjoy a good ghost story? Sisters is a virtual reality version that's relatively easy to play. One launched you move around a wallpapered old house, complete with crows and of course creepy dolls. For the best experience, attach a headset to your iOS or Android phone before donning your headset, and prepare to get scared. No movement is required, so there should be minimal discomfort for those users who find virtual reality a bit dizzying.
8. Hidden Temple – VR Adventure ($1.99 on iOS, $2.99 on Android)
Hidden Temple is an Indiana Jones/Tomb Raider puzzle game, but without shooting. The app is not free. But there's hieroglyphics and, of course, lava. Make your way through darkened chambers to uncover treasure—and your escape. For both iOS and Android phones.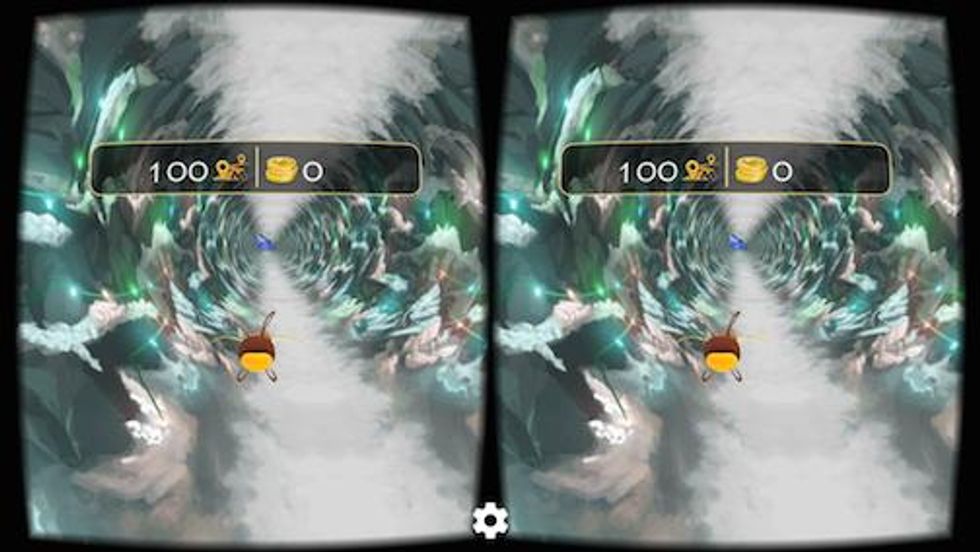 7. Lamper (free)
Help a firefly navigate through a tunnel filled with obstacles and prizes. Simply look at the start button to activate the game, then tilt your head slightly to move the firefly. This is a fun, fast-paced game that's great for children. There's a higher-end Gear VR version of Lamper in the Oculus Store for $2.99—but for Cardboard both the iOS or Android option are free.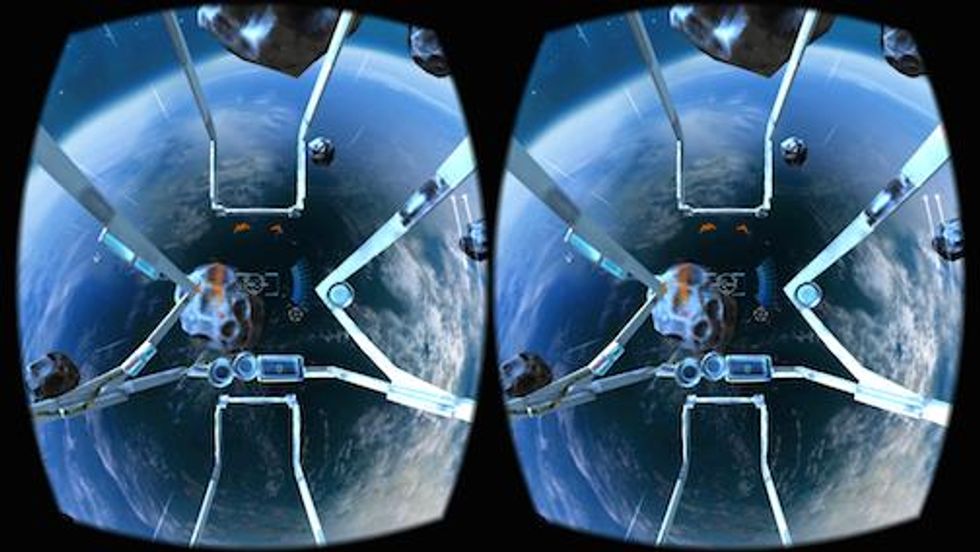 6. End Space VR ($1.09 on Android, $.99 on iOS)
You're in the cockpit of a spaceship, and your goal is to shoot down enemy ships as they approach. Activate your guns either by looking at the targets, or by pressing a button on your headset or a Bluetooth controller. For the best experience, sit in a swivel chair to play. The cockpit environment reduces VR motion sickness.
Other fun shooter games include Deep Space Battle VR (free for Android), GeoBots VR (free for iOS), Aliens Invasion VR (free on iOS and Android) and Proton Pulse, a 3D version of Breakout ($2.99 for iOS and $1.99 for Android).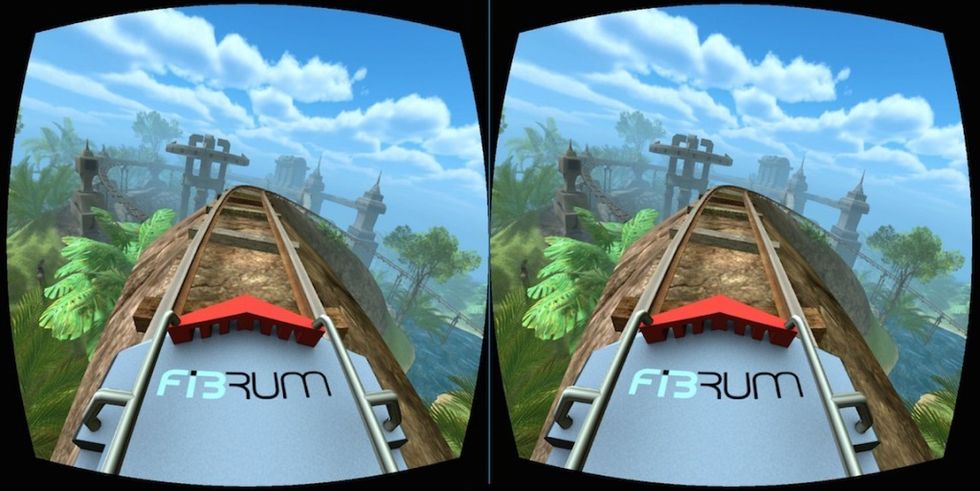 5. Fibrum Coaster VR (freemium)
Fibrum's RollerCoaster has long been my go-to virtual reality demo.The best-looking roller coaster app for both Android and iOS devices, the app has been downloaded millions of times. You get an initial taste of two free rides, before the app asks 99 cents. That's a pretty good deal if you spend a lot of time doing demos of virtual reality. (Which I do.) To start the ride, look around for a wooden lever, then look directly at the lever until it flips—and the coaster starts moving.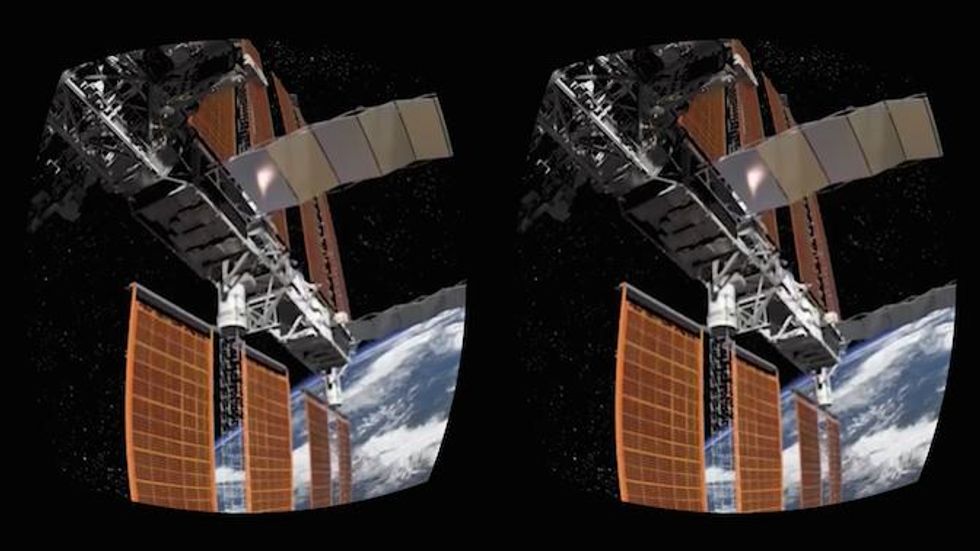 4. Discovery VR (free)
Watch the Discovery Channel's virtual reality versions of the Puppy Bowl, MythBusters, Survivorman and nature documentaries. Or dive virtual reality versions of the world's most interesting travel destinations with both your iOS and Android device.
Other apps that feature virtual reality videos include Vrse (available for both iOS and Android), Jaunt VR (for both iOS and Android) and NYT VR (also for both iOS and Android.)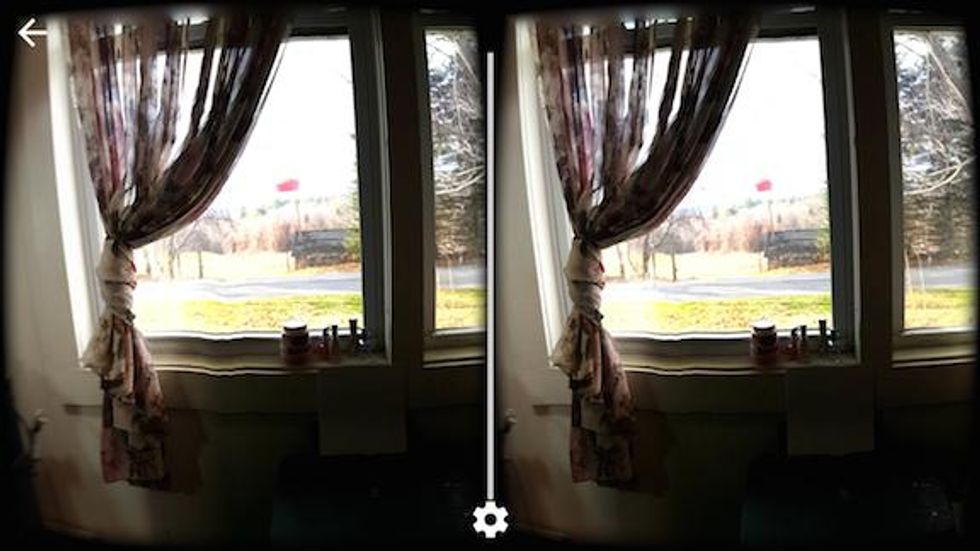 3. Cardboard Camera (Android only, free)
Take and share panoramic photos, and view them in immersive virtual reality. To shoot a panoramic photo, hold your smartphone vertically, then turn in place as prompted by the app. All your individual photographs are stitched together into a 360-degree view. Select the audio recording option to get a short snippet of sound to go with your image, such a birdsong in a nature scene, traffic noises in a city panorama, or children's laughter at a family party. Putting on the headset and viewing the scene later feels like stepping back in time.
Before Cardboard Camera, there was Orbulus (free for both iOS and Android).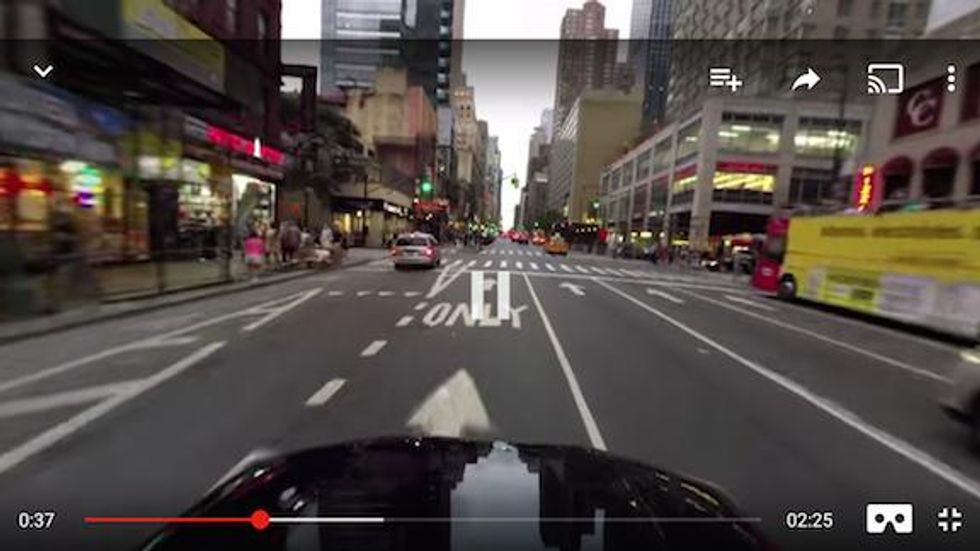 2. YouTube (Android only, free)
Watch thousands of 360-degree videos in immersive virtual reality–or traditional videos, on a giant personal movie screen. Just look for the little cardboard icon to activate the VR view. Depending on what kind of video you're watching, the cardboard icon will either be at the bottom right, or behind the three dots of the settings options at the top right.
Other video players include the Homido 360 VR player (free for both iOS and Android), Mobile VR Station (free for iOS), VaR's VR Video Player (free for Android) and VR ONE Cinema (free for both iOS and Android).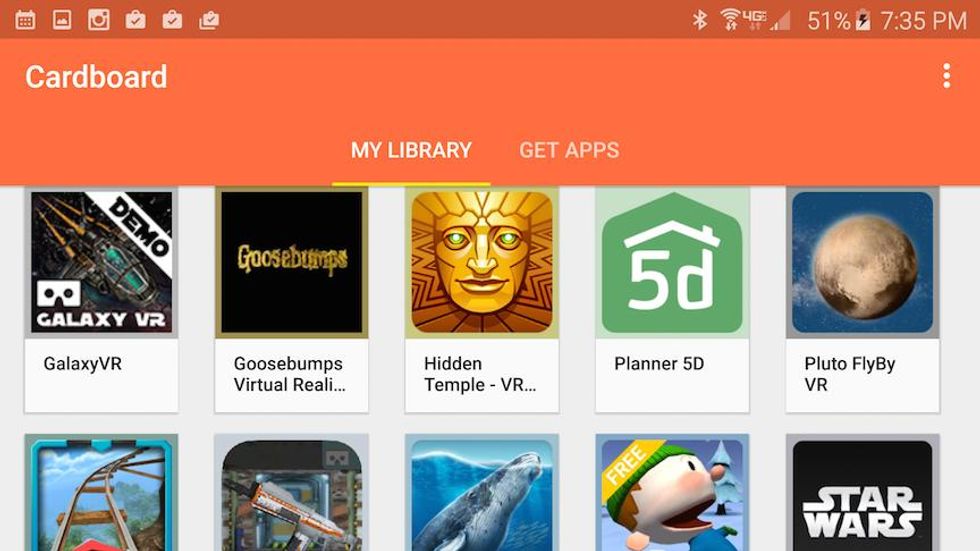 1. Google Cardboard (free)
Download this app first. Immediately. Why? You'll want to calibrate your headset—and this app, for both iOS and Android devices, will assure you get the best possible view for your particular device. Every headset is different. Lenses distort the image in different ways, are set closer or further apart. To adjust the picture, go to the Settings section of this app, click on "Change Viewer" and then point your phone's camera to your viewer's QR Code. Many viewers have the QR Code pasted right inside the device. If not, you can look you QR Code here.
Once you've got the headset properly calibrated—and the picture is in focus—start traveling virtually through the Google Earth app, watch videos on a giant virtual movie screen, or take a stroll through museum exhibits.
For more applications, search the Google Play and iTunes stores for "VR" or visit the WeArVR site for new and popular releases for all platforms.
[AMAZONPRODUCTS asin="B015GDVMIO"]
Like GearBrain on Facebook