Like GearBrain on Facebook
NATICK, MA | November 29, 2016 - VDC Research has released a new report estimating that the market for IoT & embedded operating systems is expected to grow at a relatively sluggish, 5-year CAGR of 2% through 2020. The study, entitled The Global Market for IoT & Embedded Operating Systems 2016, quantifies and qualifies market dynamics by vendor, industry, region, and OS type. It also includes an in-depth discussion of recent mergers and acquisitions, end-user trends, and vendor strategy.
Embedded operation systems are an important piece of the software stack that billions of new connected devices use every year. However, the embedded OS is losing its commercial value as a standalone product due to free open source devices. As a result, vendors who build OS need to find new ways to help themselves stand out in order to compete the reduction in pricing and demand of commercially-licensed products.
"The embedded OS will not lose its importance as the foundation of the entire software stack, but it will lose its value when disintegrated and sold separately from that stack." - Roy Murdock, IoT & Embedded Technology Research Associate at VDC Research.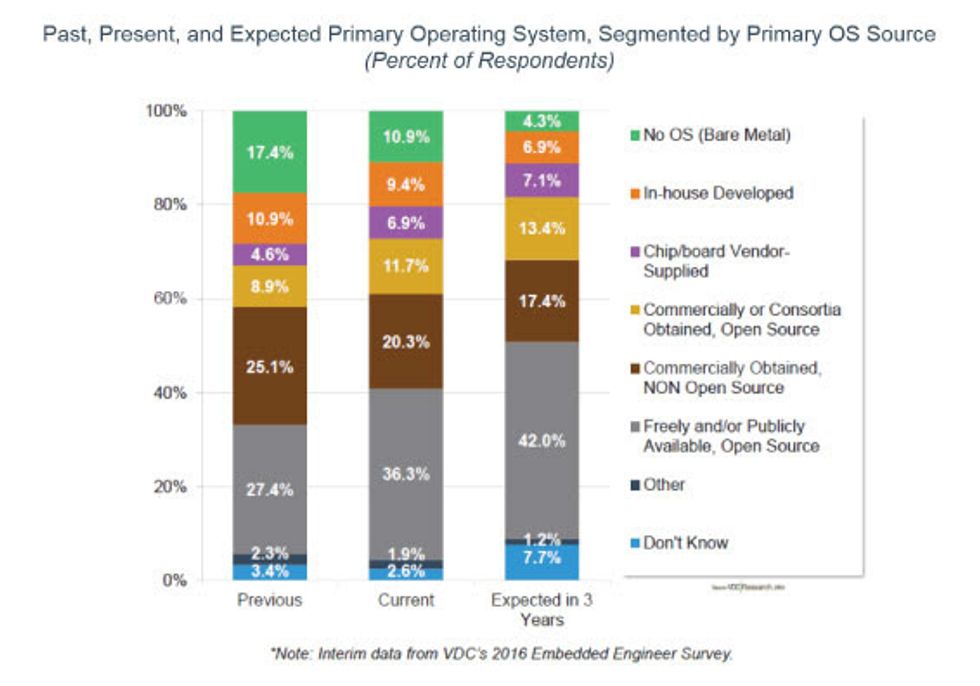 Free and/or publicly available, open source operating systems such as Debian-based Linux, FreeRTOS, and Yocto-based Linux continue to lead new stack wins, with nearly half of surveyed embedded engineers expecting to use some type of free, open source OS on their next project. The prevalence of commercially obtained, non-open source operating systems continues to decline, albeit slowly, with only 1 in 5 embedded engineers citing usage as a primary operating system on their current project.

Frequent acquisitions and restructurings are adding volatility to the market as companies across both the hardware and software landscape navigate the challenges of producing, marketing, and selling IoT-enabled products.
"In the long term, the IoT services platform will be the key combination of integrated products with a connected device-focused business model that will allow the successful IoT & embedded vendors to thrive," says Murdock, a Research Associate at VDC Research. "Tightly, vertically-integrated portfolios that span hardware, software, and services will shorten time to market while providing vendors with a steady and reliable revenue stream from a growing number of connected devices. Independent software vendors need to think long and hard about positioning and partnerships as market forces push vendors towards this new paradigm."
Like GearBrain on Facebook